Learn more about improving your TikTok marketing strategy with social listening and monitoring.
With over one billion daily users, TikTok has become an indispensable part of life for creators worldwide. Ask Gen Z'ers, and they'll tell you how it is an entirely new world of creativity and authenticity.
TikTok users spend an average of 52 minutes per day on the platform, either for recording and sharing short videos of themselves or watching the existing content uploaded on the platform. Since they consume a lot of content and interact with other influencers, it also helps influence their purchase decisions.
Earlier, TikTok was used to share only the frivolous content and dancing videos – but it's quickly becoming more than that. Many major brands worldwide have started to leverage this platform for creating micro-content for promoting their products and services and providing valuable content to their audience.
However, posting TikTok videos won't do any good if you aren't tracking what people are saying about you and what content they're interacting with.
This is where social listening on TikTok comes into the game.
In this guide, we'll walk you through everything you need to know about social listening on TikTok and how you can leverage it to increase brand awareness and drive more sales for your business.
Let's dive into TikTok social listening!
What is social listening on TikTok?
Social listening on TikTok refers to tracking conversations, mentions, and trends across the platform related to your brand and industry, giving you insights into what your customers expect from your brand or how you can help make their buying journey effortless.
At the same time, it enables you to plan out better TikTok marketing campaigns on the platform based on the type of content your customers have shown interest in. because let's admit it, not all trends were a hit – no matter how fun they seemed!
Don't believe us? Before diving into the blog, read all about these TikTok myths we uncovered using social listening.
Why is social listening on TikTok important?
Many organizations prefer Twitter, Instagram, and Facebook, when it comes to social listening. But that's changing as new social media platforms are becoming popular and brands such as Nike and Pepsi are using TikTok to reach out to their customers.
Here are some reasons why brands should leverage social listening on TikTok:
TikTok is a popular social media platform that can prove to be an excellent source of business insights and customer feedback.
This app is exploding among millennials and the Gen Z population and has been downloaded over 2 billion times on the Google Play Store and Apple App Store.
TikTok users are highly engaged and spend an average of 21 hours on the platform per month.
Various new trends have been introduced from TikTok, and they are showing no signs of slowing down.
These numbers are overwhelming and indicate the involvement of TikTok in people's daily lives. Imagine the information you can get if you analyze the users' activity and take a closer look at the insights it has to offer.
What should you be listening to on TikTok?
Now that you're aware of what TikTok listening is and why you should leverage it, let's look at what you should be listening to on TikTok. We're not suggesting you to track all your videos on the platform. But, there are a few important metrics that you can consider when running TikTok monitoring and TikTok listening:
Brand mentions
When someone name-drops your brand online, that's brand or social mentions. These can be positive or negative, but each mention is an excellent opportunity for you to engage with your customers and form your brand's public perception. '
On TikTok, brand mentions mean when a user tags your business in their videos. Maybe they used your product or service and wanted to provide their honest reviews, or maybe they wanted to grab your attention—it could be any reason.
These mentions can give you insights into what your audience feels about your products or services and how they relate to your brand. If they're spreading the positive word about your brand, this could generate more leads and revenue. On the other hand, negative feedback could result in a poor reputation among your customers.
Tracking your brand mentions on TikTok can help you address the negative reviews online and build brand trust and loyalty with your audience.
Track topics
Since trending topics change rapidly, it can be difficult to keep track of what's working on social media. However, discovering a new trend at the right time can be a great way to understand your audience better and create relevant and engaging content. Plus, it can keep your brand ahead of the competition.
TikTok is the home of fast-moving, up-to-date content. Numerous trends have erupted from this platform and will continue to in the future also. Tracking these trends can help measure your brand's social media reach. Plus, if you include a unique hashtag along with your trending content, you can easily spot the users who share your content and use your hashtag the most.
Consumer insights
Every brand needs to understand the needs, interests, and pain points of potential customers so they can deliver the type of content they like. While it's possible to derive consumer insights from various places, you can use relevant hashtags on TikTok to find and observe your target audience and create strategies based on their preferences.
Influencer marketing
TikTok is one of the most effective platforms when it comes to influencer marketing. With a vast global presence, many businesses are looking to collaborate with the most prominent influencers. To find the TikTok creators you want to work with, follow these tips:
Use relevant hashtags in your industry to look for the most loved creators that can raise your brand awareness and promote your products or services.
Make sure you choose the influencer whose audience and content align with your brand values.
Your target audience must know and trust the influencer.
The creator must be the thought leader in your industry. For example, you can't work with a gaming influencer if you have a clothing brand.
Competitor analysis
Every brand needs to keep an eye out for new players to remain ahead of the competition. By tracking mentions and hashtags on TikTok in the particular category, you can learn about what your competitors are up to.
You can further drill down to discover the kind of conversations they appear in. This way, you can compare your strengths and weaknesses and identify the marketing strategies working for them.
Learn more about competitor analysis here.
Sentiment analysis
Social listening on TikTok also helps you identify the sentiment behind the content that people create and share. In other words, it tells what they were thinking and feeling when they made the video. This helps you gain an in-depth understanding of where your brand is doing great and where it needs improvement. You can learn more about sentiment analysis.
Creating a social listening on TikTok strategy
Before you get down to social listening on TikTok, you need to have a strategy in place so that your efforts remain aligned. While the steps may marginally vary depending on your goal or purpose of listening, here are some must-haves.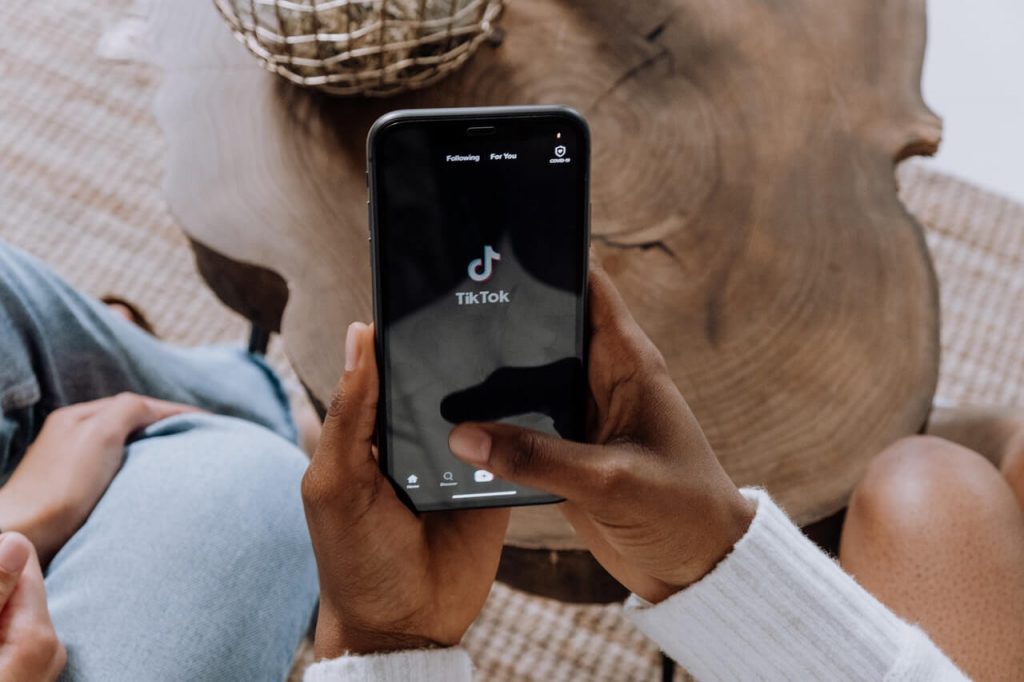 Identify the goals of your TikTok social listening strategy
To make the best of your social listening strategy, you need to identify the goals you want to achieve. Setting clear goals will guide all your plans and actions going forward. Some brands want to focus on increasing engagement with the target audiences, while others prioritize creating engaging content for their customers.
Here are some common uses of social listening around which you can build your strategy:
Conducting a thorough market research
Generating new leads
Improving your promotion strategy
Managing your brand's reputation
Providing better customer service
Staying ahead of your competition
Spot existing and upcoming TikTok influencers in your industry
One of the ways to go about it is by talking to other departments to know about their challenges. Also, take a closer look at your different business processes, identify gaps, and determine what you can do to resolve them. 
Get started with TikTok social listening here.
Choose a social listening tool for TikTok
Once you understand what you're listening for, it's time to choose a TikTok listening tool. Since a plethora of social listening tools are available in the market, selecting the one that aligns with your needs can be pretty challenging.
You need to pick the tool which can help you track mentions and trendy topic ideas in one place, spot relevant influencers, provide actionable data, measure sentiments, and integrate effortlessly with your brand strategy. Plus, make sure it helps to stay updated with the current trends happening on TikTok.
This is where Radarr can help. Radarr is an effective social media listening tool that provides valuable insights for creating powerful strategies. It covers the following areas:
Campaign monitoring
Daily social media monitoring
Daily KPI monitoring
Competitor tracking and intelligence
Audience insights
Crisis management
Trendspotting and predictive AI
Real-time alerts and notifications
Sentiment analysis
Use actionables to achieve better results
Just listening to social conversations is not enough – it won't do any good to your brand. Instead, make sure you put the insights, and actionable gathered to work to achieve the desired results.
Generate TikTok social listening reports on a daily, weekly, or monthly basis and share them with other team members so they can know what is to be done to bring the change. Further, create tasks based on the insights and set up the KPIs to measure the performance.
This way, you can keep track of what strategy is implemented and what is pending. Plus, you can monitor the impact it has on your business growth.
How to use insights from TikTok listening
Now let's see how you can use insights from TikTok listening effectively.
Identifying influencers that are relevant to the brand's audience and content can be valuable for many businesses. Social listening can help you find these influencers on TikTok.
For example, if you're looking for creators in the food industry, just search for the relevant hashtags, and you'll be presented with many influencers whose content aligns with your business goals.
TikTok can also help brands during qualitative market research. Most of the trending videos are either entertaining or meme-focused. If you want to better understand the customer journey for your products or services, you need to consider some untapped market research opportunities.
One such opportunity is to follow those people who spend their time sharing experiences and issues that are important to them. For example, you must have noticed many people talk about their mental health, diseases they live with, their fight for gender equality, getting over the loss of a loved one, experiences of living abroad, or struggles with their jobs.
Studying the content of such people can help you understand your target audience better – their pain points, needs, and preferences. Plus, you can plan out better social media campaigns based on what people actually want from your brand.
How Vita Coco used social listening to turn into TikTok success?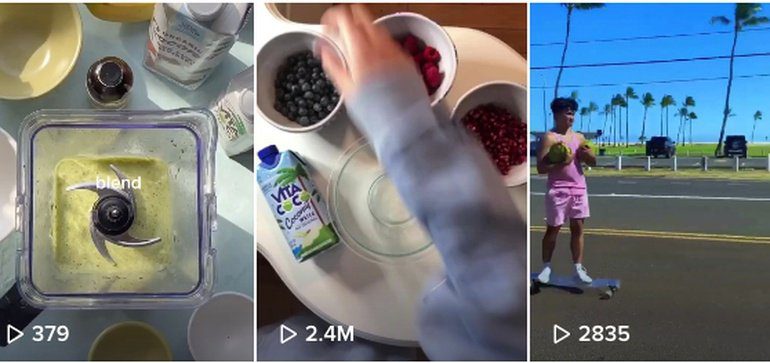 Vita Coco, a coconut water brand, has leveraged social listening as a crucial part to create a buzz about products on TikTok. Their goal was to engage more and more users on the platform. The brand collaborated with a technology company to identify relevant trends on TikTok.
They produced content on trending topics and didn't shy away from experimenting with new content. Plus, they quickly participated in online conversations before they disappeared.
Vita Coco launched a campaign focused on sharing different recipes with berries, pomegranate seeds, ice cubes, and coconut water as the key ingredients. The campaign was so successful that it increased the brand's following on TikTok by 100%. Here's what they had to say as well, as covered on Marketing Dive:
"If you don't have ears to these platforms, by the time you read about a trend in the press, it's already peaked in popularity, and you're too late."

Brittany Harshbarger

Senior manager of growth, Vita Coco

Additional reads on TikTok marketing and TikTok social listening:

– Understanding the TikTok algorithm for faster growth

– TikTok marketing statistics you need to know

– Top TikTok transitions and why they work for marketing
Do you really need social listening on TikTok?
Various businesses feel that TikTok is not the right platform to promote their products or services or that brands cannot track their ROI from TikTok campaigns. In fact, it is just a lip-synching and dancing app that's used only by Gen Z'ers.
However, this is definitely not the case.
TikTok is a popular social media platform used by millions of people every day across the world. Tons of content gets published and consumed on this platform, which means a lot of your audience is either participating in creating content or interacting with it in one way or another.
With so much potential, if you're still confused about whether or not you should leverage TikTok listening for your brand, the answer is a big YES.
Done right, social listening can shape a positive perception of your brand among your audience and allow you to build meaningful relationships.
Ready to see how social listening on TikTok can help you reach your audience and engage them, way faster?
Book a Radarr demo today.