Think of the best social media campaigns by brands. Think again. Make a quick mental list. Stop.
Chances are that a Pinterest campaign did not make that list. It's not surprising. Despite tremendous and meteoric rise, this four-year-old visual communication social platform has not managed to strongly resonate with social media managers. Brands that have a huge visual element such as apparel, cosmetics, and food have still managed to leverage on Pinterest. However, for others it has been an uphill task.
After looking at 5 best Vines, Instagram, and Twitter campaigns, we decided to explore 3 best Pinterest campaigns that not only were successful, but also taught other brands a thing or two about how to rock Pinterest.
Honda #Pintermission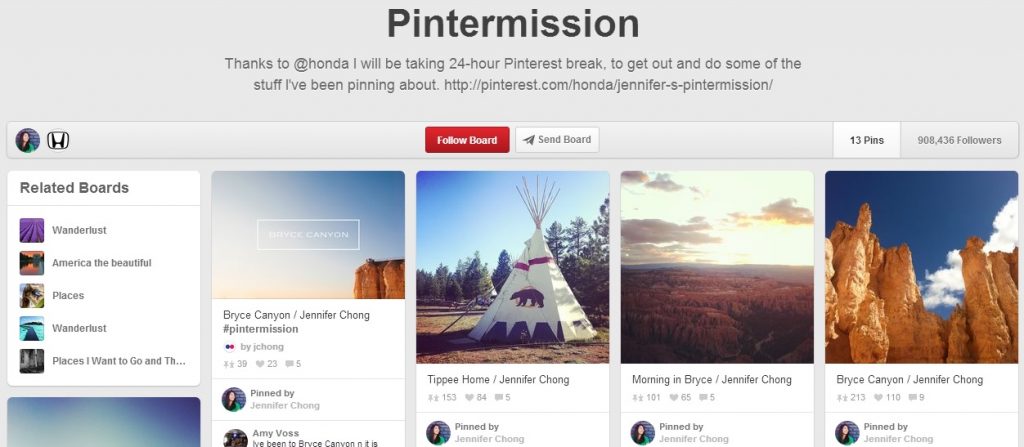 The Honda #Pintermission campaign hits the nail on the head when it comes to conceptualizing a Pinterest campaign. Honda used this campaign to introduce Honda CRV on Pinterest. The campaign was simple and low cost. Honda reached out to five most influential pinners, and asked them to take a 24 hour break from Pinterest to go out and do things they had been pinning about. The brand gave each of them $500 for taking the Pintermission.
Honda was promoting CRV as a vehicle of choice for the young. The car stood for fun, freedom and exploration. By asking pinners to go out and explore the things they had been pinning about, Honda managed to communicate the underlying brand message.
Honda created a personalized board for all five pinners on which they could upload photos of their Pintermission. The pinners also created Pintermission boards on their pages, giving Honda exposure to their network as well. For just $2500, 4.5 million people got exposed to Pintermission, which produced 5000 re-pins and 2000 likes.
Kotex Woman's Inspiration Day
What are the odds that a sanitary tampon and pad maker will be able to pull off one of the best ever Pinterest campaigns? Kotex Woman's Inspiration Day campaign demonstrates that even a company with obvious limitations in visual communication can create brilliant Pinterest campaigns.
For this campaign, Kotex especially chose Pinterest because of its large women user base. The aim of the campaign was to celebrate individuality and uniqueness of each woman.
The campaign involved identifying 50 most inspirational women based on their pins. Kotex went through the pins of these 50 women to figure out what inspired them. The brand then created customized virtual gifts for each of these 50 women based on their interests as reflected in the pins. The women who pinned the virtual gift, got the real gift delivered at their doorstep. All 50 women pinned something about their virtual gifts with a majority sharing something about it on their other social networks as well. The result: 50 customized gift boxes got the brand 694,853 total impressions.
MasterCard #AcceptanceMatters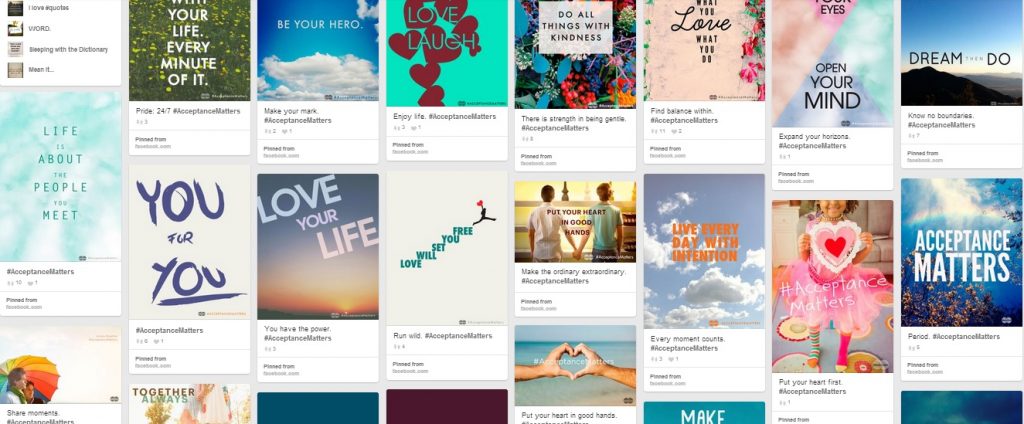 MasterCard is no stranger to outstanding communication. The brand that uses the iconic tagline "There are some things money can't buy. For everything else there's MasterCard." has succeeded in establishing a deep emotional connect with the user in the otherwise staid and harsh financial services industry.
In 2013, the brand came up with a Pinterest focussed campaign called #AcceptanceMatters. The campaign drove home the message of MasterCard being the most accepted credit card globally. However, MasterCard extended the message of 'acceptance' to different kinds of people as well, linking it to NYC Pride Parade and gay rights. For the campaign the brand shared inspirational quotes and words around acceptance on Pinterest, and partnered with influential pinners to spread the content. Simple, yet effective.
PinterestMasterCard chose Pinterest as the social platform for this campaign as it felt Pinterest was "a place where messages of love, encouragement, and acceptance were commonly shared". At the beginning of the campaign, MasterCard had zero followers on Pinterest. But in just 9 weeks the campaign received 24.5 million potential impressions, more than 13,000 re-pins, and 171 followers.
Why These Pinterest Campaigns Make The Cut
When Pinterest joined the social media bandwagon, brands started working aggressively to broadcast the most appealing, beautiful, and colourful visual communication without much thought to the larger aim of such a communication.  Some brands saw it as an extension of Facebook and Twitter, which are quite different from Pinterest because of their focus on conversations, and people-to-people connections. The unfortunate fallout of this was dull and ineffective Pinterest engagement. Honda, Kotex, and MasterCard broke the stereotype by understanding the pulse of Pinterest as a platform that thrived on aspiration (Honda Pintermission), inspiration (Kotext Woman's Inspiration Day), and community sentiment (MasterCard AcceptanceMatters). The other common thread between these three campaigns was the outreach to influential pinners in order to build the brand on Pinterest. But in the end it was an understanding of Pinterest's strength and reach, as well as evaluation of its distinctness from other social platforms that did the trick for these brands.
Complete guide to Instagram social listening, Tik Tok social listening and Twitter social listening.
Book your Radarr demo today!