Instagram is a social media platform best used with a good #Hashtag. With the right type of content, and a little bit of interaction with your followers, you'll be able to build trust with your social media audience, possibly go viral, and best of all – have some fun! Read on for five excellent examples from companies so far in 2014.
#IAmPorter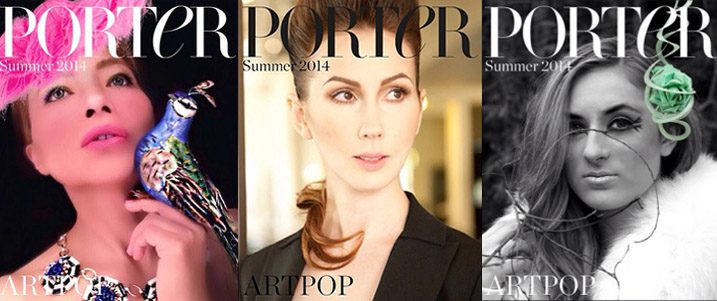 Net-a-Porter decided to promote their print magazine launch by making their news fans the stars. The magazine launched an iOS app titled "I Am Porter." The app would turn them into a cover models for the magazine using their own selfies which they would then tag #IAmPorter.
The success of this campaign is at the very basics of Instagram marketing: you take your fans and make them the stars. In this case, you make the cover models for a hot new magazine! Who wouldn't want in on that?
#JukeDNA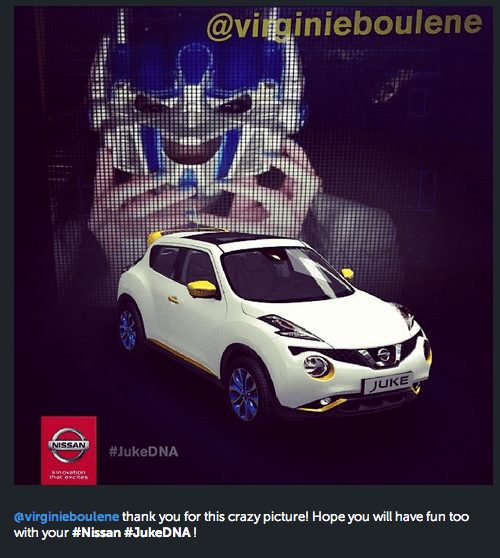 Nissan Europe looked to launch their popular new hatchback, the Juke, through a hashtag called #JukeDNA. Fans of the car were able to take a picture of themselves and use that hashtag on Instagram to have Nissan Europe tweet back a custom photo of themselves with the new Juke.
As the above photo clearly shows, they didn't take themselves too seriously and allowed their fans to just have fun with it. That was the true strength of this campaign, users had a laugh for a minute, got some notoriety from being mentioned by a major brand, and Nissan received a ton of free online content and exposure.
Burberry
Burberry used the power of the celebrity to launch their next fragrance. And when you have money like Burberry has money, you get the original supermodel Kate Moss, and currently trending Cara Delevingne, to smush their cheeks together.
Why was this so successful? It was a candid, behind the scenes and intimate moment with two women who are not often seen in this light. Kate Moss doesn't even have her own Instagram account, so fans of hers who go on Instagram are starved for content of hers.
#GetCovered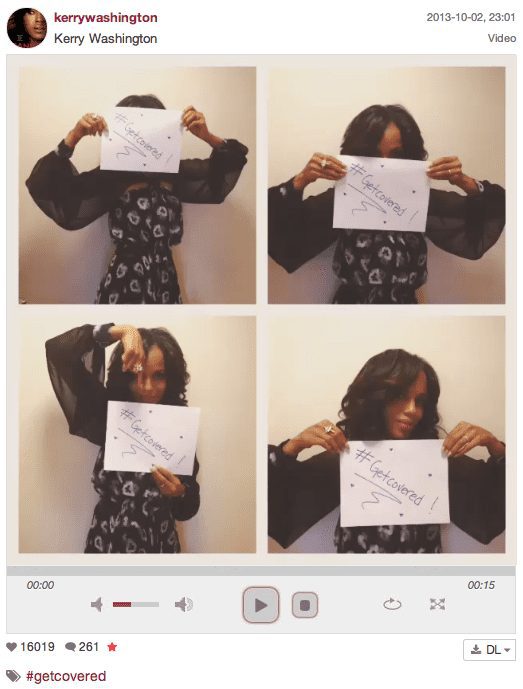 Following the complete #fail of the initial campaign to get people using the new healthcare.gov website, something had to be done to get people signing up. This was especially true of young people who would likely skip out on insurance. Enter the #GetCovered campaign. This took off on Twitter at first, but it took a piece of paper and a little star power to get it going on Instagram.
When Kerry Washington sent out this video of herself using the #GetCovered hashtag, not only did she get 16,000 likes, but she also got people talking about health coverage outside of the usual joke about the poor website.
#MyCalvins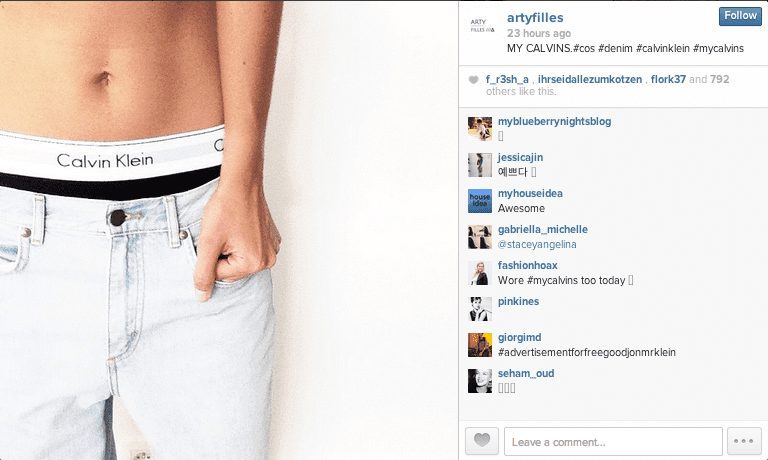 Calvin Klein has long been known for their ultra thin, highly airbrushed models. On Instagram, they've decided to keep it real and have hired on a number actors, musicians, and yes, models to take unaltered pictures of themselves in their underwear, and encouraged every day people to submit photos too.
I can't quite figure out why this campaign inspired so many photographs, likes, shares, and media coverage…was it…do you think…maybe it had something to do with all the hot, half naked men and women in their underwear?
Why Did These Instagram Campaigns Succeed?
Four out of five of these campaigns (remember, Kerry Washington was not a regular Instagram user who decided to get involved) clearly show the power of user generated content. The other one of the five? Well, it shows the power of two beautiful supermodels smushing their cheeks together.
Outside of the supermodels, it's possible for you, the average business owner, to find a way to generate exciting user content for your next Instagram campaign. Truly engaging with your fans is the key. With some luck, you may go viral and create a true sensation. With any amount of luck, you'll gain new fans as your followers help spread your brand message.
Book your Radarr demo today!