Looking for Twitter marketing tools that can help you strategize better? This is the only list you need.
Be it keeping an eye on trending topics, becoming a part of proactive brainstorming sessions or simply tapping into some word (gossip) around your competitors in the industry, Twitter is the place to be.
But with 6,000 tweets being posted on the platform every second (on average), it's practically impossible to tune into the right conversations at the right time, and make the most of the engagement in the threads.
That's where having the right set of Twitter marketing tools comes into play.
Twitter marketing tools you absolutely need
We're listing some of the best Twitter marketing tools to help you get a headstart on the platform. But feel free to explore other options available!
1. Radarr
The trick to hacking your Twitter growth is to be able to tap into ongoing conversations proactively, gauge interest and sentiment, and leverage it to plan out tailored marketing campaigns to meet your goals.
Radarr is a powerful social listening tool powered by artificial intelligence that enables you to tap into online conversations with ease. It brings to you all the relevant tweets around topics, names, industries and themes you want to proactively contribute towards, making it easy for you to keep up with what your audience is talking about.
For example, here's how we tracked all the conversations around NFT in marketing with Radarr: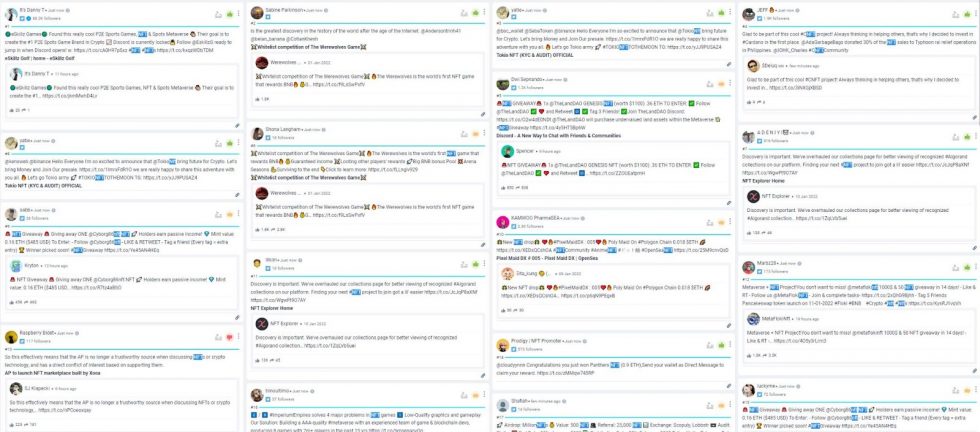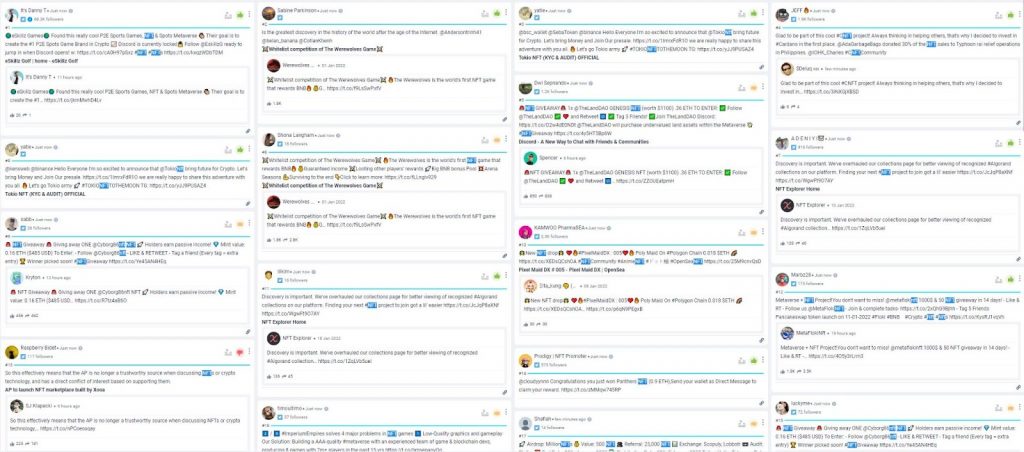 2. Radarr (sentiment analysis)
We mention the tool again because not every conversation on Twitter requires a response from you. You need to understand the true intent behind the conversations happening on the platform before joining them so that your tweets don't negatively impact your brand image.
Radarr also comes with a sentiment analysis tool that is able to break down a tweet's true meaning – beyond the words written. This lets you see how the person tweeting it feels towards the brand mentioned or the topic being spoken about. Using this information, you can always choose to contribute or not, or tailor your engagement approach.
3. Buffer
The second most important aspect to growing on Twitter is staying consistent. You need to consistently share valuable information with your target audience to be able to drive in the desired engagement and of course, follower growth. But managing your tweets manually can only go so far.
Buffer is a social media tool that you can use for scheduling your tweets for an entire week, month or even a year, depending on how you plan your content. It automatically publishes your tweets on the platform at optimal times (which you can edit if required), and also tracks the performance of your content pieces on the same dashboard. 


4. Followerwonk
With millions of active users on the platform, finding and connecting with the right accounts can be both time-consuming and overwhelming. This is especially true if your brand is looking for influencers or active micro-bloggers for a campaign.
Followerwonk is a Twitter marketing tool that helps you optimize the time spent on this search. It lets you find users that match the parameters of your requirements based on their bios as well as the content they post and build connections with them. It also lets you categorize your followers based on interactions or even demographics, letting you measure specific audience segment growth in a strategic manner.
5. Meet Edgar
As we said before, Twitter marketing works only when you remain consistent at it and are able to contribute to the right topics at the right time. This is where not just scheduling, but smart timing of tweets also comes into play.
Meet Edgar is a Twitter marketing tool that lets you add content to different categories and assign a publishing schedule for each. This lets you target certain niches and time zones effectively without having to manage your calendar on multiple platforms. It also comes with a feature that automatically reposts certain content based on its performance to reach a wider audience.
6. Twitter Lists
We can't exactly call this a Twitter marketing tool because it is an in-built feature of the social media platform. But at the same time, not many users are leveraging the potential this feature/ micro-tool has to offer for Twitter marketing.
Twitter Lists helps you declutter your account and really organize things on the fast-growing platform. It lets you sort users into various categories depending on the goal with which you're connecting with them. For example, partners, affiliates, influencers, industry experts, potential customers, etc; you can call it your very own directory wherein a curated feed of tweets for that category awaits you.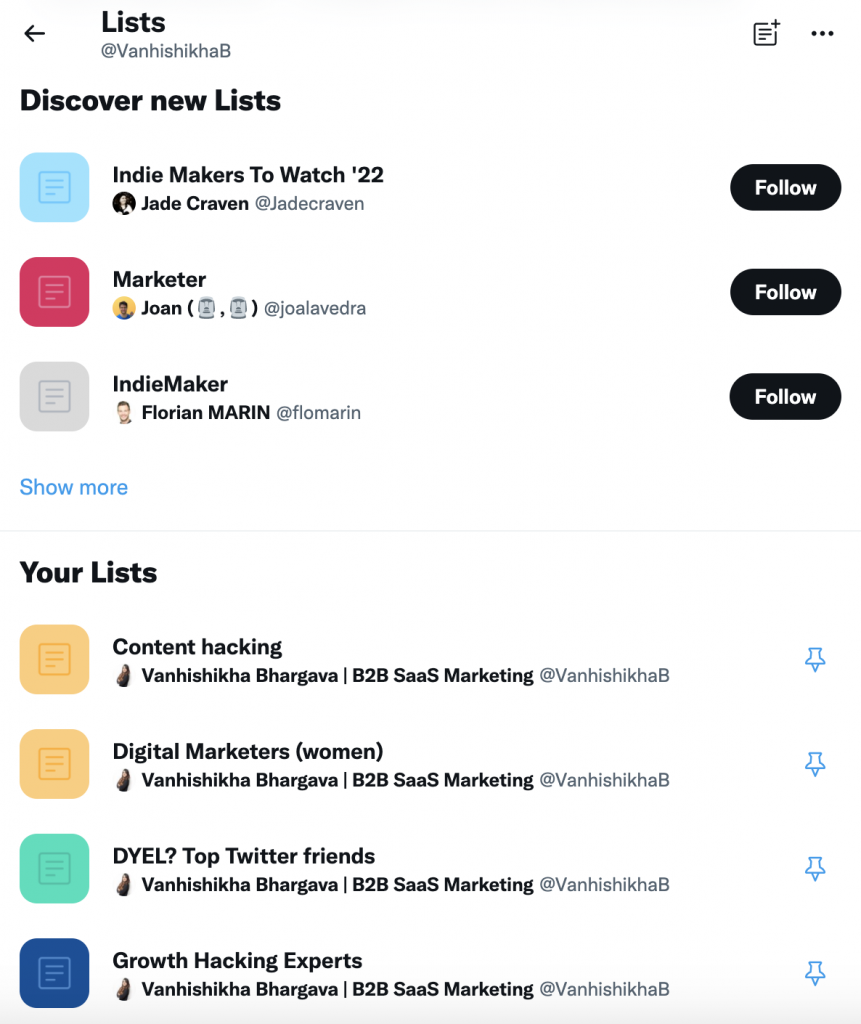 7. RiteTag
While Twitter is a lot about the quality of conversations and content you push, somewhere hashtags still play a crucial role in getting you discovered. But on a platform where trending topics change at the blink of an eye, how do you know which hashtags are really effective?
RiteTag is a Twitter marketing tool that you can use to get hashtag suggestions for images and texts you intend on publishing. You can also group hashtags to compare them on the tool to see how effective they have been in reaching your target audience or driving engagement.
8. Canva
The power of visuals is the same across all social media platforms. Canva makes it easier to create graphics for Twitter marketing at scale. It comes with a number of templates that you can leverage by customizing and creating your posts. Edit out the text or change the colors, and you're done!
Remember to find templates that are not-so-common. You don't want to look like just another person who picked a template for their content!
9. BuzzSumo
Being consistent on Twitter doesn't mean posting just about anything that comes to your mind. If you want it to add value to your end goal, you need to tweet about content that your audience is interested in.
BuzzSumo is a smart tool that lets you see what content performs best for absolutely any topic, and who shares it. It also gives you an insight into what content has been working best for your competitors.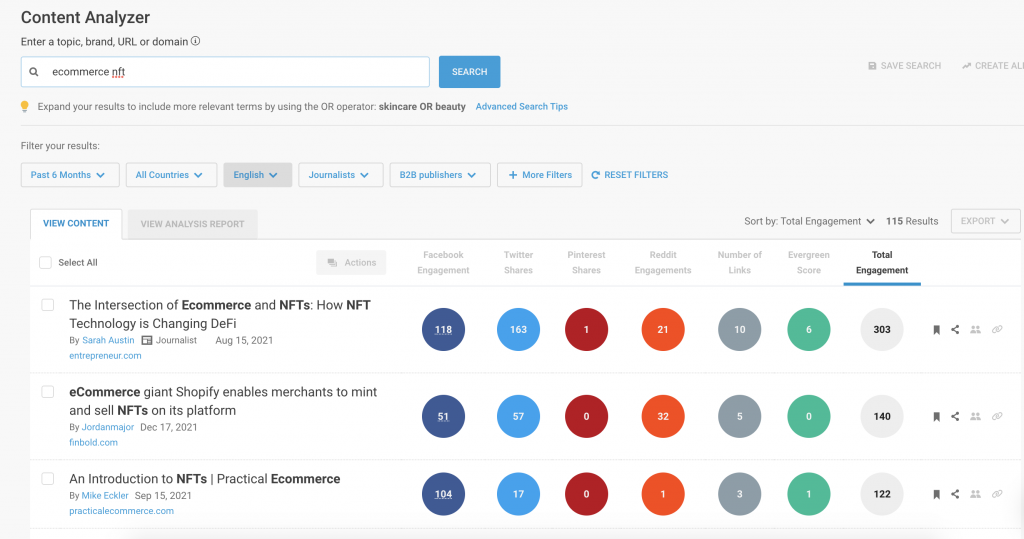 10. Twinder
Imagine if you could "match" with users on Twitter and decide who you want to connect with beforehand – before you even follow them or engage with any of their tweets.
Twinder is an interesting Twitter marketing tool that offers Tinder-like functionality. It presents one account from your follow list at a time and you get to swipe right/ left based on who you want to continue following and who you'd rather unfollow. It's almost like cleaning up your email list!
11. Nexalogy
With the growing user base on Twitter, there's also a growing base of spam accounts, bots, and irrelevant content. All of these things can actually harm your Twitter marketing campaigns by bringing down your engagement rates.
Nexalogy helps you sift through the users, hashtags, and keywords you follow to give you a comprehensive picture of what conversations are relevant to your brand. It lets you clean out irrelevant topics and bots to find meaningful, actionable data.
12. Foller.me
If you are someone who likes to run regular competitor analysis, it's time to bring that logical side to your Twitter marketing efforts as well. But you don't have to manually scroll down and go through all the content they have been posting.
Foller.me lets you scan public Twitter profiles for insights. It gives you a peek into when your competitor's followers are the most active, what their audience is talking about, and who they are engaging with the most. It also consolidates details like a user's join date and follower ratio.
13. Trends24
Twitter trending hashtags and topics change throughout the day. Your audience segment could be talking about ramen through the wee hours of the morning, and then suddenly switch to air-fried food. The pace at which trending content changes is hard to keep track of.
Trends24 lets you draw up a timeline of what has been buzz-worthy throughout the day. It gives you an insight into what the day's most prominent or important topic of conversation has been, and tracks trending hashtags globally.
14. Tweepi
Another Twitter marketing tool for spring cleaning your account will only equip you with the ability to truly measure your growth.
Tweepi basically scans through your Twitter account to highlight inactive or irrelevant accounts that may be following you. It also lets you analyze the value of active followers and engagement, so that you can focus on accounts that are proactively interacting with you or have more potential to.
15. Keyhole
If you're in a competitive industry, you will need to continually keep track of your competitor's strategies, learn from the responses their campaigns get and optimize your own.
Keyhole lets you do exactly that. It lets you create reports of your own accounts and benchmark/ compare them with those of your competitors. It also offers real-time data analysis so that you can identify ongoing trends and themes that your competitors may be cashing in on to grow.
16. Mentionmapp
Imagine if you could identify all the people, topics, events, places and more that your target audience is interested in or plans to attend. You could actually step up your marketing game and meet them on-ground, at the right time with the right message to talk about!
Mentionmapp lets you do exactly that. It lets you look into who your audience is talking to, what they're saying, what events they intend on attending and so on. This lets you diversify your marketing efforts.
17. Twitonomy
No number of tools are enough when it comes to doing a thorough competitor analysis on Twitter. That's why we're adding another Twitter marketing tool that you may like to explore to analyze various profiles on the platform.
Twitonomy gives you an insight into anyone's tweets, retweets, replies and even mentions. You also get a comprehensive view of accounts that don't follow you, and get detailed analytics on the keywords, hashtags and URLs you have been posting.
18. Daily140
Want an easier way to keep track of everything happening in your target market? Only if someone could send you a comprehensive email of it at the end of the day?
Daily140 is a simple Twitter marketing tool that sends out an email per day, outlining the most recent likes, tweets, retweets, and follows of accounts you want to keep an eye on. If there's a potential target account, influencer or competitor you want to continually watch, this is the tool you need!
19. Radarr (Social Media Response)
Once you get really active on Twitter, you're going to see your audience engage with you in different ways. Some might tweet to you, while others might tweet about you and you need to keep track of it all.
Radarr's Social Media Response enables you to monitor all the conversations happening around you and with you so that you can respond to your audience in a timely manner. You can turn positive tweets into ongoing conversations that have the potential to reach more people on the platform. Or you could use the negative tweets to show you care by responding to them in a timely manner. All from one dashboard – without having to browse through tweets manually!
20. Twitter Analytics
This one is a free Twitter marketing tool that comes as a feature of the platform itself. And is still underused, like Twitter Lists.
Make sure you constantly keep watch on your Twitter analytics. The dashboard gives you a view of how many tweets you have made, impressions and engagement you have created, what time and day have worked the best for you, and how different formats of content seem to be working for your business.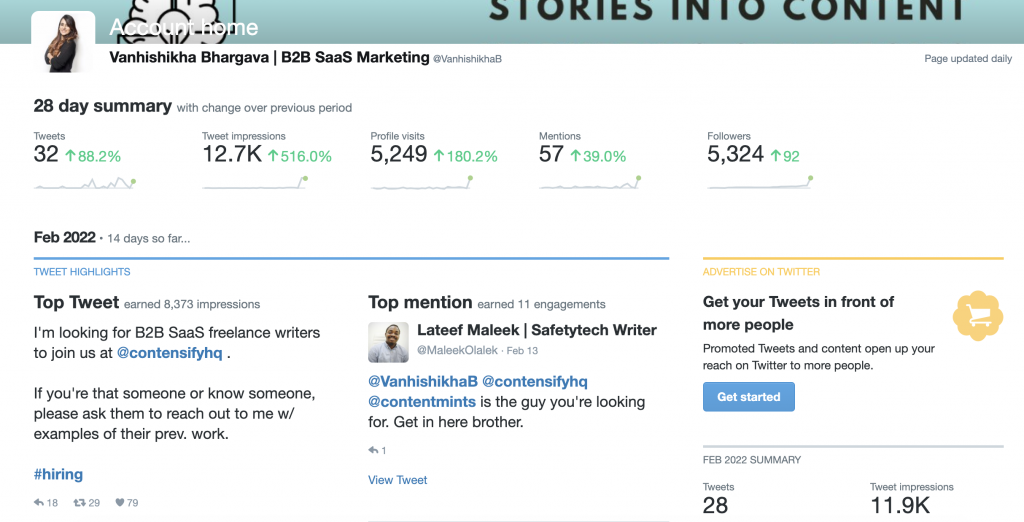 Which Twitter marketing tool is the best for you?
There are a number of Twitter marketing tools out there. Each comes with its own set of features and capabilities.
Ideally, you want to create a Twitter marketing toolkit that is multi-purpose. Having too many tools may overwhelm you or result in having to move back and forth between various solutions to tackle a segment of your Twitter marketing strategy.
This is where having an all-in-one Twitter marketing tool like Radarr comes in handy.
Radarr is a powerful social media listening, monitoring, response, and analytics tool all rolled into one dashboard. It lets you tackle identifying trending topics, hashtags, influencer accounts, respond to users, run competitor analysis, and much more.
Ready to see how one tool can do so many things? Book a demo of Radarr today.
Here is the complete guide to Instagram social listening.