The Ultimate List of Social Media Marketing Tools You Absolutely Need in 2022
The internet has changed the game of advertising, in a good way. Brands only had to advertise on the television and newspapers till a few years ago. And then social media happened.
Social media changed the way people perceived brands. We now have a generation that makes most of its purchasing decisions after consuming content on social media platforms, making it a mandate for brands to be present on them as well.
Now when the pandemic happened, businesses realised that social media was much more than just posting content occasionally. They now had to move from being a passive observer on these platforms to an active engaged member if they truly wanted to turn this new-consumer into a customer.
But imagine having to create a strategy and remain consistent on all the social media platforms out there, continually monitor ongoing conversations and engage with them – sounds overwhelming and impossible, right?
Wrong.
So this year, before the 'Making it to the top in 2022' begins, here is a list of social media marketing tools that you need to add to your arsenal to be able to do it all – without huffing and puffing your way through it!
Best social media marketing tools for 2022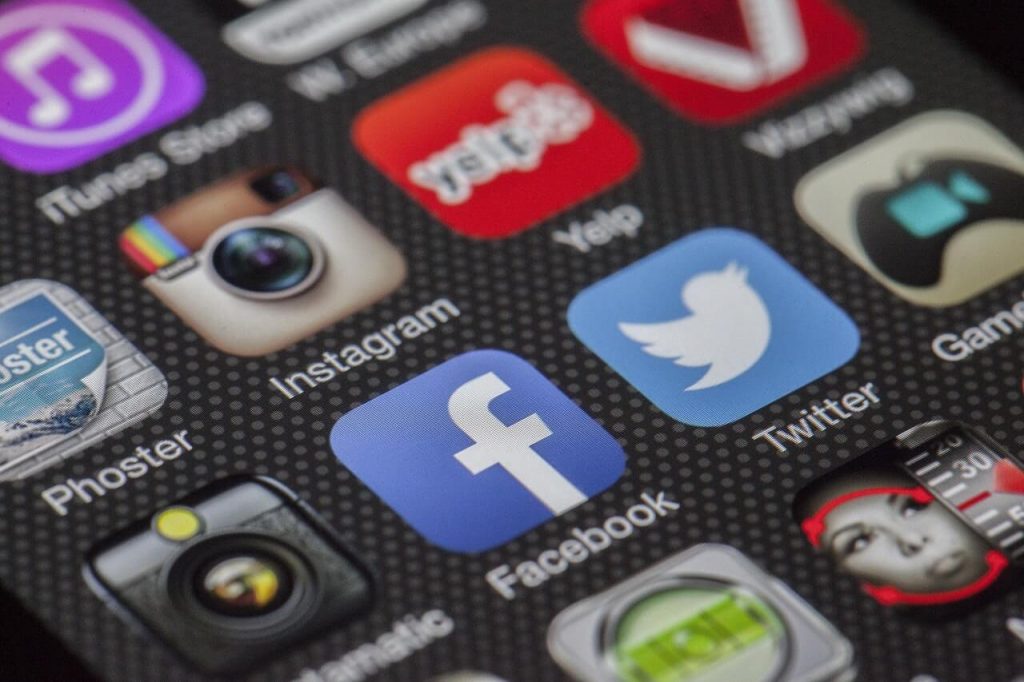 1. Radarr
If you want to succeed in the social media game, you have got to listen to what your consumer is saying about you and the topics that concern you – 24×7.
Radarr is a social media monitoring and listening tool that uses cutting-edge Artificial Intelligence to help you keep track of the millions of conversations happening online. It helps you identify what your target audience is engaging with, why they are doing so, and highlight the opportunities for you to create campaigns or have conversations that convert.
A social media marketing tool you absolutely need to gauge audience insights, track campaign performance across multiple platforms, monitor for brand crises, offer customer support, predict trends and create social content that engages your audience.
Want to know how Radarr works? Book A Radarr Demo.
2. IFTTT
If This Then That! Sounds like programming lingo? Well, it mostly resembles one.
This social media marketing tool lets you create Applets, which are a set of rules that triggers certain actions when something happens. For instance, if you want to track your competition, all you have to do is create an Applet in IFTTT that alerts you every time your competitor puts out a tweet or any other social media post, for that matter.
IFTTT helps you cut through the social media noise so that you can focus on the more important task, engaging with your target audience and never losing an opportunity to create a counter-campaign.
3. Buffer
The buffer used to be The tool you use to schedule your social media posts, but today, you can do so much more with Buffer. Using this social media marketing tool, you can access advanced analytics to see how your social media posts are performing.
There is also an option of creating a posting schedule if you want your social media posts to go out at different points of time on the same day across various channels, and upload custom photos and videos seamlessly. We call this a must-have for being able to manage your social media presence across multiple platforms!
4. Meet Edgar
Have trouble recycling your older social media posts? Need a handy content manager who can handle your content re-sharing and also populate your social media with posts? Look no further, Meet Edgar.
This nifty little tool allows you to monitor your content re-sharing and also monitor the traffic to your website. There is an auto-refill queue feature that makes sure you don't run out of regular posts to engage your audience and a category-based scheduling tool that makes sure there is a variety to your shared content.
5. Buzzsumo
Ask any content marketer what a good piece of content looks like, and they will say that it is backed by a lot of research. Lots and lots of it. And with tools like BuzzSumo, researching for your next blog post or social media post is child's play.
You can see what kind of content is being shared on social media the most, track competitors and analyze how your content is performing, and even do research on influencers in your niche that you can bring in to collaborate with you on social media marketing campaigns.
6. Canva
Designers are hard to find and even harder to retain. But what happens when you need a well-designed social media post for your campaign that is going live tomorrow, and you don't have a designer in your team? Canva to the rescue.
Canva lets you design professional-looking social media creatives in a matter of minutes, with the help of templates that are easy to use, and easy on the eye as well. You can come up with your own templates as well, combining the various in-built elements that the tool provides. You can also create videos in different formats for different social media platforms.
7. Feedly
Social media comes with a lot of noise, and information overload is a real thing, as any decent social media marketer will tell you. So how do you deal with this noise? There is a neat little tool called Feedly, that uses filters so that you are only presented with the relevant content for your niche.
Organize your feed, see only content that your brand needs to share, and also curate content that goes up on your social media at regular intervals, using Feedly. The tool also helps you keep up with the influencers who affect purchasing decisions in your niche so you can engage with their content.
8. Hashtagify
Managing hashtags on Twitter, Instagram, and other channels can be a huge issue, especially considering the sheer number of hashtags out there, and how they tend to phase out in less than a week based on different trends.
Hastagify will help you find the right hashtags for your social media marketing strategy. In addition to this, the tool also helps you identify the right influencers on social media platforms, explore the hashtags they are making use of to reach their audience.
Custom analytics and the ability to build your own reports come as an added bonus.
9. Biteable
Videos are a great way to boost social media engagement, there is no denying this fact. But when you are competing with companies who spend thousands of dollars on creating professional videos for their social media feeds, you need all the guns you have on your side.
This is where Biteable comes into the picture. Biteable has free templates, animated scenes, footage, and music, and was designed to be used with ease. Think of it as Canva for videos. As an added bonus, most of the features that make Biteable worthy are available in the free version itself.
10. Tweetdeck
Tweets, tweets and more tweets. That's what a social media marketer's day looks like, and Twitter is a platform that is growing noisier by the day. But like the light at the end of a long tunnel (that is filled with bird noises), there is Tweetdeck.
Tweetdeck helps you create and schedule your tweets, and then analyze these tweets to see how they are performing. Tweetdeck also lets you monitor Twitter lists, hashtags or user lists, and monitor and reply to multiple accounts simultaneously. Tweetdeck was acquired by Twitter a few years ago, so the support you get for this tool is also top notch.
11. ContentCal
Content Calendars can cause caustic cranial concussions. That's quite a mouthful, but it explains a day in the life of your Content Marketer, whose job it is to analyze, collaborate and create content with fellow team members.
ContentCal takes care of all these smaller details, but also goes one step ahead and creates a visual content calendar for your strategy; something that all of your teammates can see to help them plan their days better.
Honorable mention also goes to Planoly, which helps you schedule your Instagram posts and stories, and also manage your hashtags.
12. Instasize
Wondered how all those celebrities on Instagram always get their photos to look just right? Well, they may have teams of content moderators on their side, but you have Instasize!
With Instasize, you can use a bunch of filters to make your photos stand out, make and share premium videos, and also easily resize them to the various dimensions on social media channels like Instagram, TikTok, and Snapchat.
You can also add photo borders, combine multiple photos to make a collage, or add text to the photos with 20+ unique fonts. The premium version gives you access to over 130 filters, making it one of our favorite social media marketing tools.
13. Remove.bg
Okay so you click great pictures, but what about that ugly-looking background that is taking all the attention away? With remove. bg, worry no more!
Removing backgrounds from your photos won't need expert skills or professional software to do, and with remove. bg, you can accomplish it in a matter of seconds. Apply effects to your photo, change backgrounds, or just share it on social with a simple click. This is a neat little tool to have in your social media arsenal and we would definitely recommend it.
14. Tailwind
If you are catering to the millennials and your business uses Pinterest and Instagram a lot, then Tailwind is a powerful visual marketing tool to have in your arsenal. Use Tailwind to schedule posts, amplify your reach, and analyze the results of your social media campaigns.
All of your posts are visible in a single, filterable calendar and Tailwind even picks time to schedule your social media posts when your audience is the most active. For those who are keen on Pinterest, Tailwind lets you add pins to your account months in advance, check and board followers, among many other cool features.
15. Tweepi
Managing conversations on Twitter, growing your audience, and constantly engaging with your audience requires a lot of creativity and tact from a social media marketer. Thankfully, Tweepi, with it's AI-powered interface, makes your life easier.
You can easily analyze and manage your Twitter followers, extract details about them, and even find interesting people whom you might want to follow in the future. You can also manage all your current Twitter followers and establish more valuable connections on Twitter with the help of this tool.
16. Audience
Understanding your audience can make or break your business, and, as a social media marketer, your understanding of the target audience will determine how effective you will be at your job. This is where the Audience comes into the picture.
The audience has a unique customer segmentation engine that helps you learn "who knows who" in your audience, along with "how" they know each other and their shared interests. Combine this with a powerful graphical analysis tool, and Audiense helps you create a more holistic content and PR strategy with powerful personalization.
You can also achieve many more audience insights with social listening and analytics tools like Radarr, killing two birds with one stone. Learn more about it here.
17. Crowdfire
Manage all your social accounts from one place! While there are a lot of tools that let you do this, some of them on this very list, Crowdfire is probably the most elegant solution to this problem. Crowdfire lets you analyze your social media accounts, letting you see which of your campaigns are performing well and where you can improve.
Crowdfire helps you also curate content for your social media posts so that your followers see only the most relevant content. It also acts as a Social CRM, where you can reply to all your social media mentions from a single dashboard. And, like any other decent social media scheduling tool out there, Crowdfire lets you schedule your posts automatically at the best possible time, or a time chosen by you.
18. Oktopost
A social media marketing tool designed specifically for B2B marketers, Oktopost helps teams increase their reach and amplify their voice on social media.
Oktopost integrates with all your major CRM platforms, including Hubspot, Salesforce, Marketo, Eloqua, and Microsoft Dynamics 365, so that you can gather precious customer social data that improves your customer's experience. Oktopost also has a built-in employee advocacy board, which makes it easy for employees to share content, and enables you to track and measure the ROI with ease.
19. Quuu
One of the greatest challenges for any social media marketers who have grown a decent following on Linkedin is to keep their audience engaged with quality content. This is where Quuu comes in.
Using it's proprietary AI, Quuu handpicks some of the best web content from around the web and helps keep your customers from scrolling away from your social media page. Let the content be in the form of blogs, videos, or podcasts, Quuu handles them all. You can also connect Quuu directly to all your social profiles, and then use a scheduling tool so that your followers only see the best content on their feeds when they scroll.
20. Bit.ly
If you have the habit of cross-posting blog links or lengthy URLs from different websites onto your social media platforms, chances are high that you have heard of bit.ly. This is a neat little link-shortening tool that lets you shorten links to as many as 14 characters. But like other tools on our list, Bit.ly too has evolved and is today much more than a link shortening tool.
Bit.ly allows you to track click information on your links, see the number of people who have clicked on your link and the time, how they landed on your link (email, social media etc.), and also track a link's performance.
21. Social Flow
Are you a journalist who wants to harness the power of data and analytics to find out patterns in your customer's social behavior? If the answer to this question is a big 'yes'', then Social Flow is the tool for you. Social flow helps you, as a social media marketer, to manage enormous volumes of data so that they can make the kind of decisions that drive engagement and traffic, using logic.
The social media marketing tool also helps you monetize your content, with the AttentionStream Tool that matches brands with trending content.
22. Manylinks.io
Social media marketers face a particular challenge when dealing with Instagram bios because they can share only one link to showcase their best work. With a few other websites also copying Instagram's strategy to keep the user's profile less cluttered, this emerged as a challenge that the tool Manylinks.io has set out to solve.
Manylinks.io lets you showcase a collection of links to your audience so that you are never out of your depth when trying to show the world your best work. You can also track your link traffic and generate business enquiry emails using Many links.
23. Facebook Ads Grader
During the pandemic, Facebook hit a record high of 2.6 billion active monthly users, and if that isn't reason enough to upgrade your Facebook advertising skills, we don't know what is. This is where tools like Facebook Ads Grader come into the picture.
Working purely on the basis of your target audience, your business goals, and your budget, the Facebook Ads grader will help you make better advertising decisions with the help of curated information.
Facebook Ads Grader also analyzes your campaign goals in detail and shows you which campaigns are performing well compared to others. The tool also analyzes audience performance in detail, showing you the best and worst-performing demographics, so that you can make informed decisions.
24. Missinglttr
Writing blog posts can be a daunting task, as any content creator will tell you. Add to this the responsibility of extracting content from the blog so that it can be repurposed on social media, and your plate is already overflowing with work. But what if we told you there is an easier way?
With Missingltttr, you can extract up to nine social posts from a single blog post, saving you countless hours of going back and forth. Missinglttr comes with templates for Content creation, content scheduling, and custom URL shortener.
25. Sumo
Using a share button on your button leads to a potential increase of 7 times more shares for your content, according to this report. But if you have ever built a WordPress blog, you know that a menial task such as adding a share button also requires you to install a different plugin.
This is where tools such as Sumo can help. Sumo helps you to create share buttons, opt-in forms, and follow buttons easily on your website. This helps generate leads and followers, which in turn helps generate traffic to your website.
26. AdEspresso
Social media is already crowded with visual content that people can consume, from distracting cat videos to cute baby photos to your cousin's update about a new bike purchase. So how do you advertise effectively on social media? Say hello to Adespresso.
Adespresso allows you to analyze Facebook, Instagram, and Google Ads in real-time. You can better estimate if your campaigns are resonating with the target audience, and also test different ad copies, images, headlines, etc. If you want to streamline your social media advertising efforts, you should definitely give Adespresso a try.
Just how many social media marketing tools do you need?
The thing is, that your social media marketing toolkit needs to be as thought-through as your strategy. You don't want to be jumping from one tool to another, managing one platform at a time, or juggling to use data from one channel on another.
This tool list is just the tip of the iceberg, and there is a tonne of social media marketing tools out there, with new ones coming up in the market every other day. So the very first thing you need to do is identify what you want a tool for, what purpose you need it to solve, and who will be making use of the tool.
Thereafter, always look for social media marketing tools that can help you accomplish more than one thing.
This is why we built Radarr.
Radarr is not your regular social listening tool. It is a social media monitoring, listening and analytics tool all rolled into one, to help you create better marketing strategies and manage conversions online with ease. 
Here is the complete list of the Best Social Media Marketing Blogs We Recommend Subscribing to.
How do we do it?
Let us show you. Book a demo of Radarr today.