Learn how brands are using NFT in marketing.
If you like to read online or follow social media for micro-content and micro-news, we're pretty sure you have been hearing all about NFTs the past couple of months now. So we decided to look into how NFTs will impact marketing in the coming time.
Because, imagine JPEG images being sold for hundreds of thousands, and in some cases, even million dollars!
Considering how even industry-leading luxury brands like Gucci are hopping onto the NFTs bandwagon, it's safe to say that they aren't only a millennial-fad. It's a new element in the digital landscape that is going to become a lot more common in every industry.
That's exactly why it's time for marketers to get acquainted with NFTs.
What is an NFT?
To start with, NFT stands for non-fungible token; which in its literal sense means that each NFT is unique and is not interchangeable because of the data it holds.
So NFTs are essentially one-of-a-kind digital assets that can belong to you and you alone. Think about it as that limited edition Gucci bag that only one celebrity owns because it is exclusively designed for them.
Right now, the most popular forms of NFTs include artwork, music, videos, tweets and even memes!
How do NFTs work?
In the simplest terms, NFTs are part of the Ethereum blockchain, which is a cryptocurrency like bitcoin or the dogecoin that you saw Elon Musk talk about so much. But since NFTs are digital assets and hold more data, they work differently from the typical coins.
So NFTs live on the blockchain, which is a ledger that keeps track of any NFT activity like when it is bought and how much it is bought/ sold for. The complexity of blockchain is what further ensures that the data stored on the NFTs or the buy/ sell history of it does not get manipulated.
And that's what ensures each NFT remains unique.
If you're interested in learning more about NFTs and how they work, read this article by Ethereum.
How do netizens feel about NFTs?
Well, the potential of NFTs and the opportunities that they bring to the table are still being explored across various industries. There is no set use case of them yet and every time an NFT gets sold, the market identifies an opportunity.
But to give you an idea of how big the hype around NFTs is and how many people are talking about it, we tuned into online conversations with social listening using Radarr.
To give you a glimpse into just how many people are talking about NFTs, here's what our social listening tool pulled in – from Twitter alone.
In fact, there is an entire #NFTCommunity that is now active across all social media platforms talking about NFTs as an investment or even a business model.
But since NFTs are slightly complex, we're also seeing some people shy away from getting into the conversation. Just like cryptocurrency, NFTs too have a bunch of people who are excited about their future and those who are absolutely skeptical of it.
We ran a sentiment analysis on NFTs based on the online conversations happening across channels. Here's what we found:
26.6% netizens feel positively about NFTs and the opportunities it brings
2.9% netizens feel negatively about how NFTs work and how they change the digital market dynamics
70.5% netizens have a neutral feeling towards NFTs
Considering how some feel positively and others have neutral feelings towards NFTs, which can be swayed towards positive with the right strategies, we believe it's time for marketers to roll up their sleeves and start experimenting.
How to use NFT in marketing and examples to take inspiration from
Marketers across different domains and industries are experimenting with NFTs in various marketing strategies. Let's take a look at some of the best NFT marketing examples we have stumbled upon recently:
1. Creating exclusivity for retention marketing (Gucci and Burberry)
Luxury brands like Gucci, Burberry, and many others are partnering with designers, artists, and blockchain experts to tap into the NFT ecosystem to keep up with their target audience.
For instance, Gucci has partnered with Christie's to present its first NFT – a digital drawing for their spring 2021 collection, that is inspired by Aria, Alessandro Michele, and Floria Sigismondi's film presentation.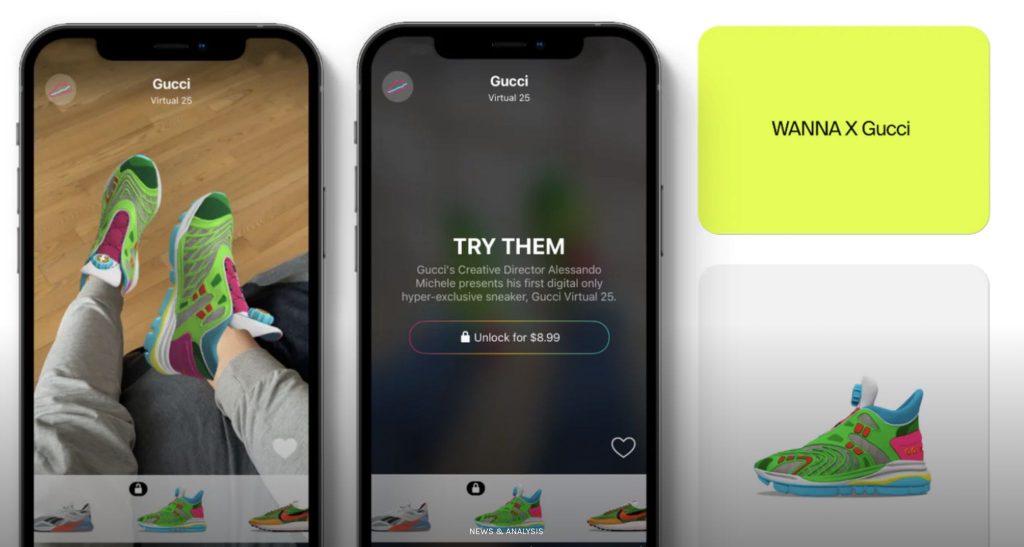 Similarly, Burberry announced a partnership with Mythical Games to release a limited-edition Blanko for the game. Mythical Games is known for its popular game Blankos Block Party which features NFT vinyl toys that can be collected, upgraded, and sold.
The luxury brands are chasing exclusivity and leveraging the hype around NFTs for marketing, which seems like a promising strategy in a world that is paying millions to build homes in the metaverse!
2. Building brand awareness with NFT marketing (Marriott)
Marriott is a popular chain of hotels with properties across the globe. The brand is experimenting with NFTs to boost brand awareness around their Marriott Bonvoy Travel Program.
They partnered with three artists to create different NFTs based on travel experiences to use them to build excitement around the travel program. They wanted them to be representative of the experiences the brand delivers to customers.
Marriott unveiled their NFTs at an event during Art Basel, which is a premier modern art show. They hosted an event wherein the winners not just got their own NFTs, but also 200,000 Bonvoy points that they could use to truly experience what the travel program offers. You can learn more about the NFTs created by Marriott and their meanings here.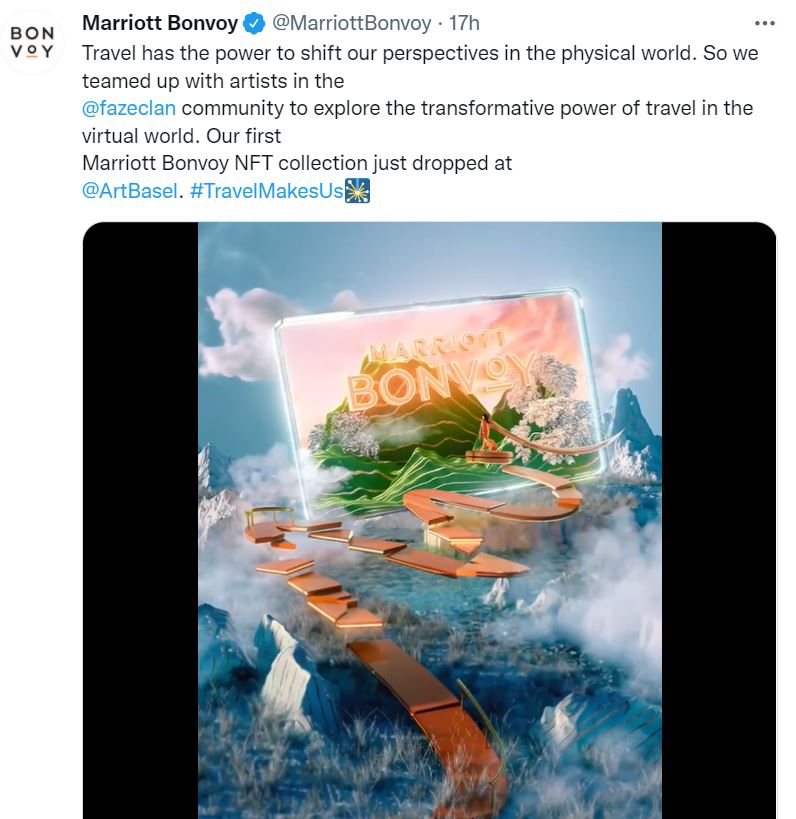 3. Establishing a digital consumer base (Nike)
Nike, an American multinational company that designs, develops, and manufactures footwear, apparel, equipment, and accessories for sports, has partnered with RTFKT, a virtual shoe company. The idea is to launch sneaker NFTs for the metaverse.
The goal of their partnership and marketing is to establish a digital consumer base and retain brand loyalty as the world moves to digital. Call it the first mover's advantage, but all the sneaker nerds are going to love building out their collection online! Read more about Nike's sneaker NFTs here.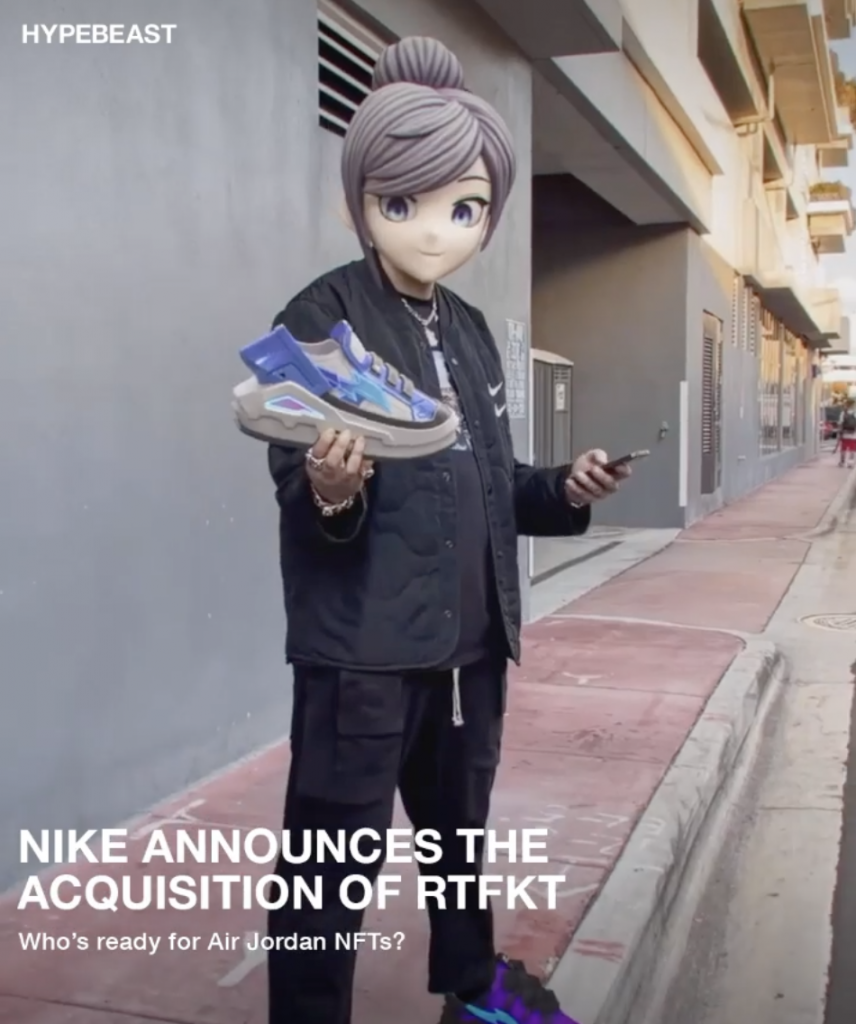 4. Promoting in-person events and functions (AMC/ Spider Man)
In times when everyone is all too used to Netflix and chill at home, getting people to actually attend events is tough. AMC got people to not just join their rewards program and reserve a ticket for Spiderman, but also actually attend the event by bringing NFTs into the mix.
When the tickets for the new movie went on sale, AMC offered the first 86,000 investors who bought a ticket the opportunity to receive a free NFT. But they also put a clause to the same, saying if the person did not attend the movie, they would no longer stand a chance to receive the NFT.
5. Supporting a good cause/ cause marketing (Kinetic Sand and Taco Bell)
According to a new survey, about 70% of consumers prefer to interact and buy from brands that address a cause proactively. When the world is moving to digital and the metaverse, why shouldn't your cause marketing?
Kinetic Sand, a popular brand known for its moldable sand, is using NFTs to raise money for the BGCA (Boys & Girls Clubs of America). The goal is to help them expand their arts and creative experiences programs. They created their NFT collection in collaboration with the artist Dan Lam. You can read more about it here.
Another good example of combining NFT in marketing with cause marketing is that of Taco Bell. They promoted a campaign called NFTacoBell on Twitter; the proceeds of which were donated to the brand's Live Mas scholarship, with the owner of each NFT getting a $500 gift card to the chain. Now also think about the number of tacos they'd be rolling out and how they also jostled their customer lifetime value!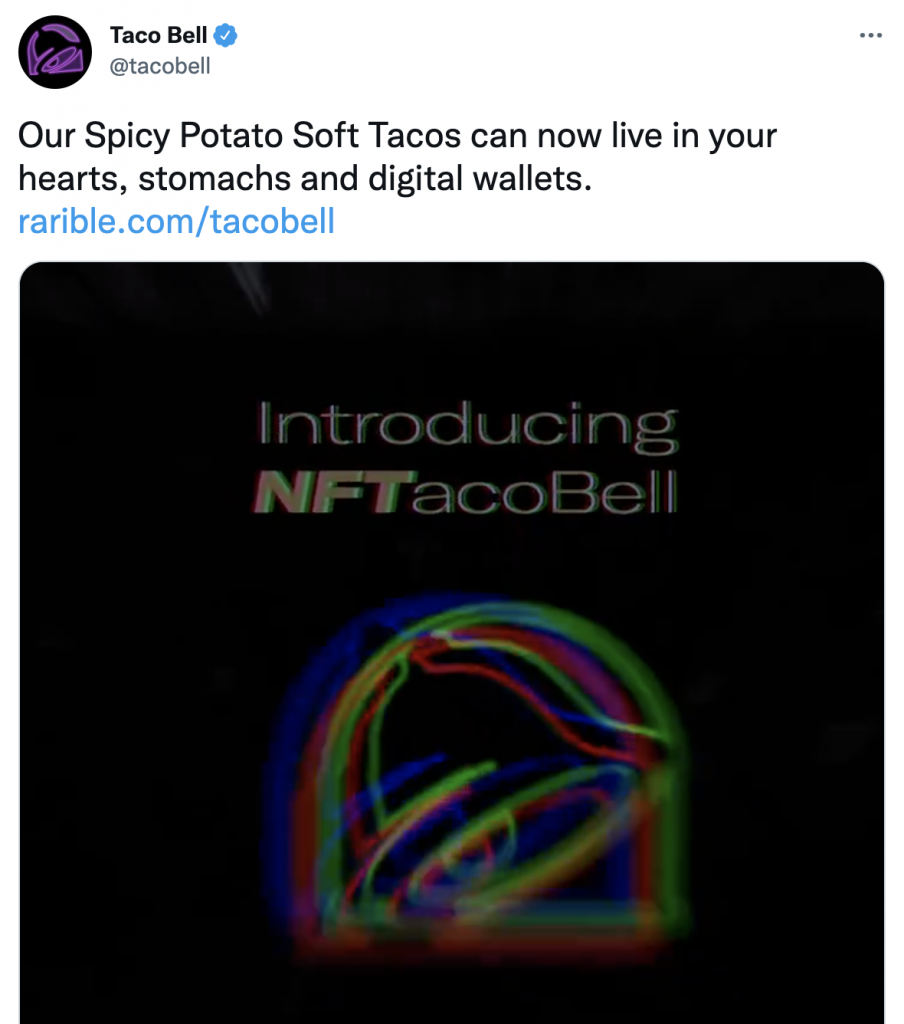 6. Securing pre-orders on new releases (Gary Vaynerchuk)
Gary Vaynerchuk has been extremely vocal about his projections about NFTs. To put things into perspective, he put NFTs to use in the marketing for his book, Twelve and a Half: Leveraging the Emotional Ingredients Necessary for Business Success.
For every twelve copies that buyers purchased in a 24-hour period, they got one NFT. Seeing the roaring success of the book in the market, the result of using NFT in marketing is pretty evident; the book got more than a million pre-orders on the very first day.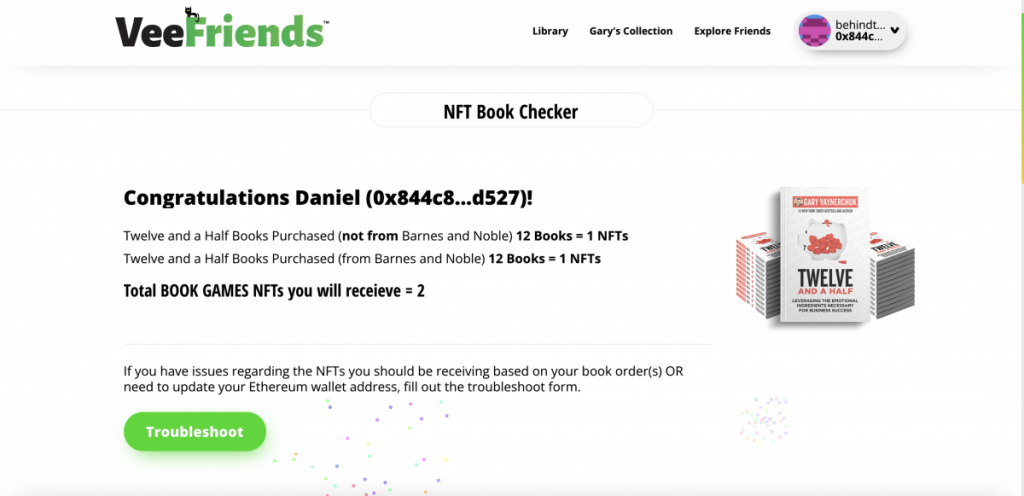 7. Protecting and promoting brand image (Robert Mondavi Winery)
Most legacy or popular brands tend to face product and brand copy knockoffs. Think about the last time you saw a Gucci bag that didn't exactly look like it was from the luxury brand, but somehow was a replica of their print. Yes, knockoffs are that common; but they do more damage than it may seem to a brand's reputation.
We're seeing legacy brands like Robert Mondavi Winery use NFT in marketing to protect brand imagery. Instead of trying to reach out to a new audience, they're focusing on securing their brand's collateral instead. They partnered with an artist called Clay Heaton to create a collection of wines featuring their patent porcelain bottles, and are using NFTs to authenticate the wine – remember how we said no one can manipulate that data?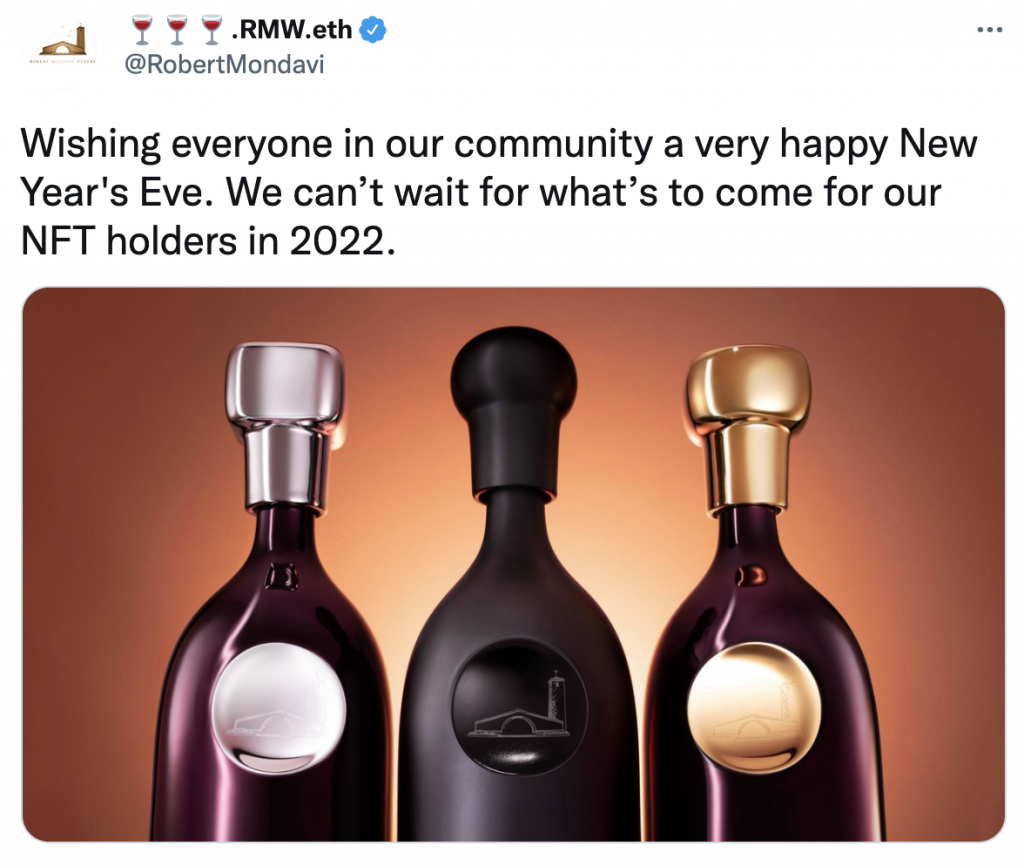 8. Growing your audience faster (Bicycle Cards)
Acquiring new customers is all about being in the right place at the right time, with the right message. That makes it important to pick up on trends that your target audience is genuinely interested in. With most millennials and the younger lot looking into NFTs right now, it's the one place you can get 'noticed'.
Bicycle Cards is using NFTs in marketing for exactly that. It's one of the oldest card-making companies in the market, but with the growing competition, they needed to upgrade their interests to match their target audiences (younger customer segment interests. So to do this, they launched a first-ever NFT collection, designed by artist Adrian Valenzuela.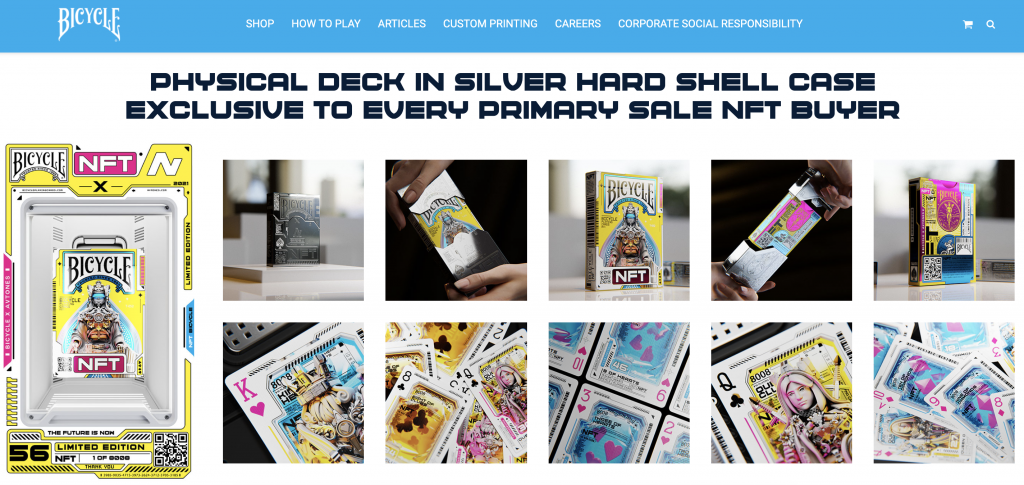 Is it time to use NFTs in marketing?
If you ask us and what we see in the conversations online, NFTs sure have the attention of most netizens. That only goes to say that if your target audience is looking into the new technology, it's time for you to be on the platform too!
The good thing is that you have nothing to lose and a lot of scopes to experiment with different branding and marketing strategies.
So tune into what your target audience and customers are talking about NFTs, gauge their sentiments on it and if you see a positive response, it's time to tap into NFTs in marketing!
Get ready to listen to conversations around NFTs using Radarr for social listening.
Here is the complete guide to Instagram social listening.