Surprisingly, Google+ pages is an underestimated and often under-utilized tool in the realm of social media marketing. However, the good people over at Android's online marketing department would doubtlessly swear by it. According to SocialBakers, Android is currently topping the list for the most likes on a Google+ page this month–an impressive 7 million!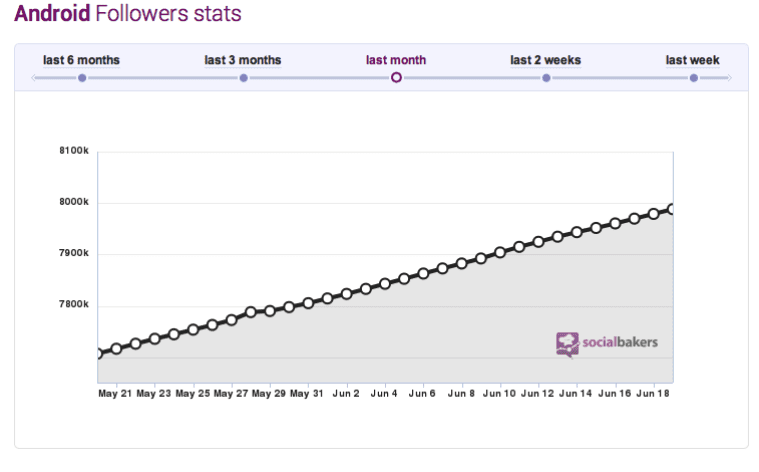 Visuals
Let's ease on in with some visuals, shall we? We can't stress how important visual presence is as an online marketing strategy. It is generally the first thing the public will notice, and often the most retained information.
Android has a good grasp on this factor; one glance at their Google+ page, and you will be greeted with a flurry of bright, colorful, aesthetically pleasing posts. Android's visuals essentially fall into 2 categories–their ads featuring the android mascot (that little, green, alien-esque dude), and functional ads, which feature a high resolution background, with an android device held in front of it, displaying a pertinent app.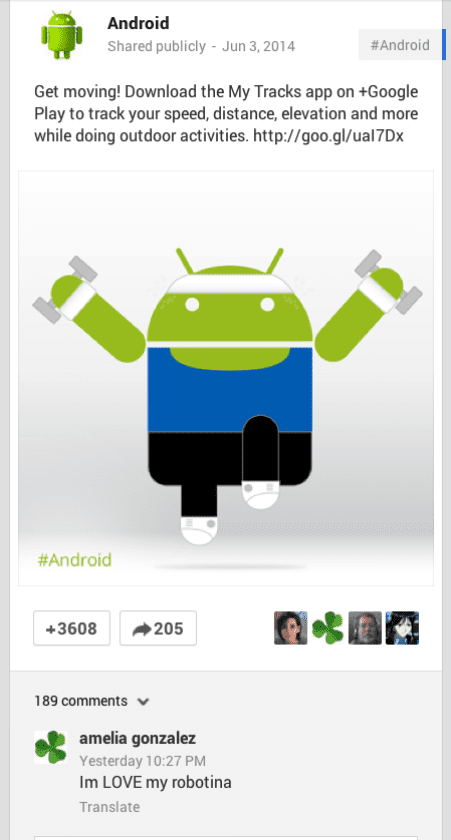 The Android mascot getting fit
The Android mascot apps are great – they depict the brand's martian-like spokesman in various activities related to current events or a product. These range from the little guy playing soccer for the World Cup, dressed in a graduation gown to congratulate recent college grads, or hoisting dumbbells and in full workout attire to promote the My Track app. These posts are surprisingly effective because they essentially cover three key marketing bases with one cute, entertaining image:
Android is providing the consumer with relevant information and current events, and linking it to their brand or product.
The use of the mascot in these ads reinforces their brand image. You see him, and you think "Android".
You are providing the consumer or follower with entertainment, a laugh or smile, and not just spamming them with "buy our product" ads.
The second type of visual that is present on the Google+ page are the ads which directly feature Android's products. In these ads, an Android device is in the foreground, with an attractive setting behind. On the screen of the device, we can clearly see some sort of app being used, often one which is relevant to the setting. These visuals do not seem to be as effective, and on a whole, have less likes than the Android mascot–and for good reason. They are essentially just screenshots of someone using an app, with a pretty background behind.
Android even has a Fantasy Baseball app
Content
Android's Google+ content is a bit of a mixed bag. There are copious amounts of attractive visuals and ads, which we just discussed, but they also make sure to employ interactive content, such as the Androidify app and video content.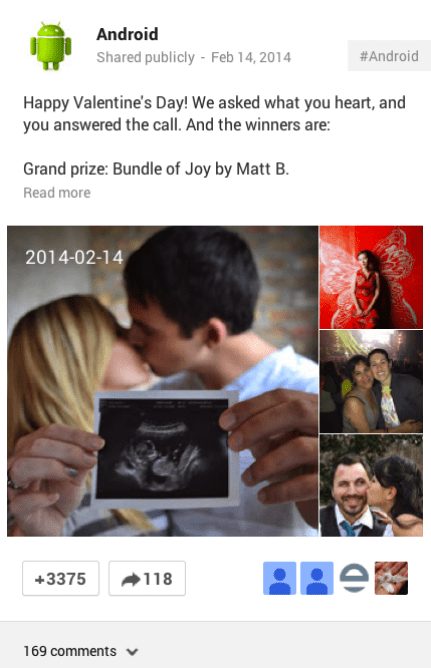 Android celebrates Valentine\'s Day with its followers
Android's page also offers the latest industry news, keeping customers and followers coming back to stay informed. They also engage customers by encouraging them to send in photos related to the current holiday, such as their "show us what you heart" promotion for Valentine's Day, where followers were asked to send in pictures of people, places, and things they love.
Having content that engages or encourages fans to participate is invaluable to any brand. It keeps fans coming back for more, and it makes them feel as though they are part of a community–this is undoubtedly what contributed to, at least in part, the recent spike in Android\'s Google+ popularity.
Insights From Jesse Stay
For further insights on Android\'s success with Google Plus, we spoke with social media expert and Vice President of Social Media at Fit Marketing, Jesse stay, Jesse is a seasoned speaker, author, and consultant on the topics of social media, and has written six books in this field. He was also featured as one of 20 developers to follow and one of 10 entrepreneurs to follow on Twitter by Mashable.
Why do you think Android has been doing so well, from an online marketing standpoint?
Jesse: I'll be honest – a lot of Android\'s success is because it\'s owned by Google, and the influence they have in their own products and cross-integration between those products. That, along with a strong interface that interfaces really well with Google products is the reason it has taken off so well. My experience is that the more a brand can \"own\" the experience and make it as easy for them to use their products, the more their products will spread.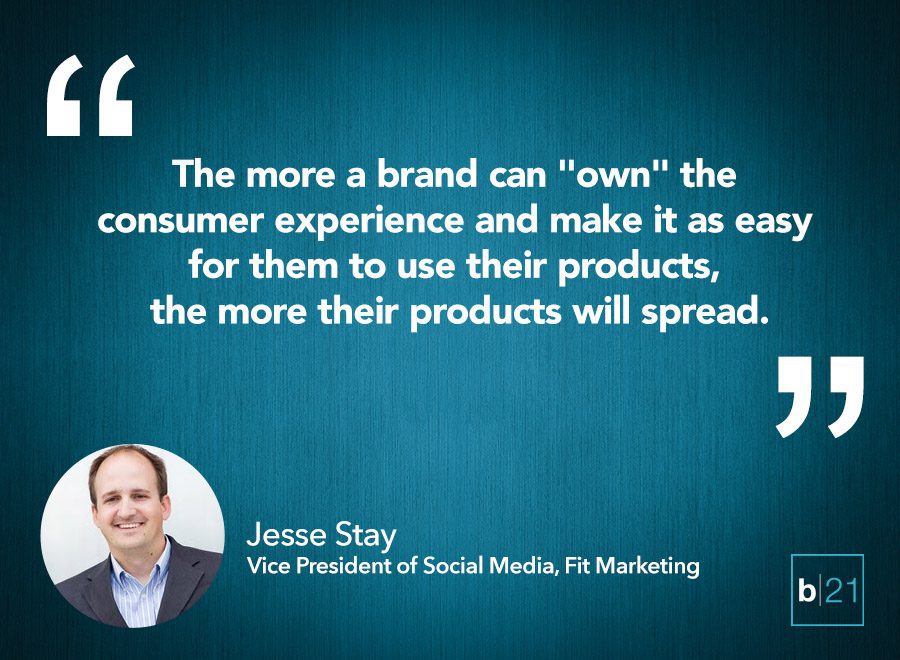 I\'m not privy to their marketing strategy, but I wouldn't doubt that they\'re also applying a strong SEO, PPC, as well as social ad strategy (but as you see in my response below I\'m not 100% sure of that – they may not be doing anything there). Also, just searching for \"cell phone\" on Google brings up a whole host of their vendors\' sponsored ads all promoting Android phones. I\'d say a strong and solid partnership with the major mobile phone brands (and the acquisition of Motorola\'s mobile division) has had a big affect on their success. Going open source also probably helped, as that made the transition for vendors even easier.
What tactics do you think contributed to Android's Google+ page, in particular, getting so much traffic?
Jesse: My experience is that many of Google+'s most passionate users have a strong bias towards Google products. Where Google+ is a Google product, and Android is a Google product, I anticipate psychologically Android\'s Google+ page would be one of the first places Google+ users flock to. In addition, Android is already on many suggested accounts to follow lists as users join Google+, giving them even more opportunities to grow.
All of the other Google+ accounts also share content from the Android Google+ channel frequently. I have no doubt that drives more followers as people recognize the Android brand, something many Google+ users are already passionate about. So to sum up, Android just fits the demographic of a typical Google+ user.
Why do you think there is such a large disparity between Android's Facebook page (1+million likes) and Android's Google+ page (over 7 million likes)?
Jesse: I think it's just further proof of my point earlier that Android is a much more familiar brand on Google+, and that it has an advantage on Google products. I\'m not seeing a ton of evidence that Google is advertising their Facebook Page on Facebook (and if they are they're doing a horrible job at it), so I\'m sure that contributes. Google needs to invest a little more into their Facebook Page to see growth there (in other words, they have to actually try over on Facebook). I\'m noticing they\'re not giving much enticement to their fans to engage in posts. The images they're using aren't quite sharable enough. Honestly, it doesn't look like they\'re putting much effort into Facebook. I anticipate it's the same on Google+, but they get more fans there because it's a Google product.
Complete guide to Instagram social listening, Tik Tok social listening and Twitter social listening.
Book your Radarr demo today!