Haven't read up on the first 3 myths uprooted with social listening? Check out myth 1, 2, and 3 before reading ahead!
MYTH 4: "Promoting your brand on TikTok is a waste of resources"
False! Unlike other social media platforms, TikTok's algorithm works to promote organic content that is engaging. For instance, if someone makes it through your entire video (which is a strong testament, in this day and age), it will be recommended to four other viewers. This opens up massive opportunities for brands to get on top of the curve – and all it takes is a smartphone and a creative mind.
Fenty Beauty actively posts on TikTok at least 4 times a week, ranging from product swatches to tutorials and comedy skits. One of their best-performing posts in July was a best-practices makeup tutorial that was relatively easy to create with little to no post-processing. (Learn how you can track this and more with social listening, here) By having the person in the video apply her make-up while speaking directly to viewers, gave the video an organic feel. Adding catchy and trending tunes in the background was also a great way to engage viewers. This video was viewed over 100,000 times and received 19,000 forms of engagement. Most commentators appreciate how easy the guide was to follow, and also shared their own makeup routines.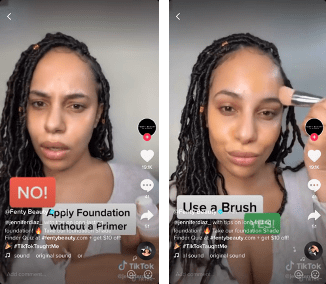 Fun fact: Jacob Pace, the CEO of Flighthouse, an entertainment brand and production studio, noted that when people try to learn a dance from TikTok, they need to watch the video numerous times. These repeated views are the reason why TikTok continues to recommend dance videos so often. Stay tuned for more insights uncovered on TikTok with social listening from Radarr.

Check out the next interesting myth about TikTok we blasted right here!