In the old days, the only way companies would hear from their customers was usually through an irate phone call to customer service or by reading depositions in a lawsuit or worse a media quote. But today the social networking wall has broken down that invisible concrete barrier between customer and company. Wanna' say something to billionaire Mark Cuban? Just Tweet him.
I just chatted with the @mcuban. Can't prove it b/c msgs go away after read. Feel like CIA. Add me cyberdust ID: ProudDad3

— Jason (@Stablier) June 17, 2014
Now companies are scrambling to find ways to make the allusion of proximity a revenue-boosting reality. They're using their social networks to get closer to their customers than ever before. But are consumers returning the love? If you've started a Twitter account, populated a Pinterest page, tricked out your Instagram, and spruced up your Facebook page yet aren't receiving boosts in customer love you may be doing it wrong. Here are some tips on how to get the most out of your social media relationship with your customers.
10 Tips To Build Customer Loyalty On Social Media
1. Serve First, Sell Later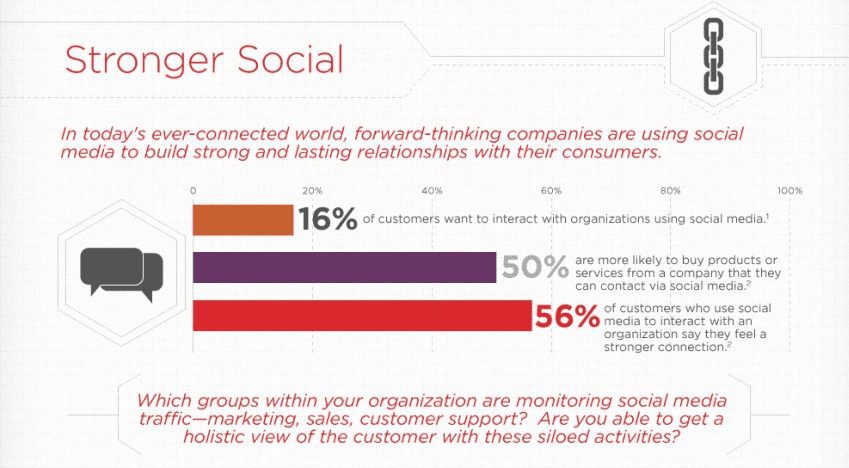 Consumers are savvy. They know a brand isn't just chatting with them for the heck of it. They know you're trying to sell. Don't sell them on your product. Sell them your service. Make your help desk line option two. Research shows half of the consumers surveyed will more likely buy from you if they can contact you through social media. Media Bistro shares how important social media has become for our customers. Let customers quickly take care of a matter rather than letting it fester while they slog through voice prompt hell on your 1-800-number.
2. Do Your Listening
Most companies make the worst assumption about their social media account – that it's for them. It's not. It's for you to listen to what your customer is saying. Even if they're not saying it directly to you. Use social listening tools to monitor the conversations your customers are having about you to their friends, family, and others. That's exactly what a little-known toddler clothing company called Total Bib did.
This As Seen On TV, the product was featured as a social media marketing guru was watching television with his toddler son. He Tweeted something silly about the product–it's kind of weird like a plastic armor coat for your two-year-old–and with minutes the company had found him on Twitter, followed him, and began talking to him. It's not uncommon to see the company Tweet out free product giveaways to people who mention their product. Listening can garner new customers but its real power is boosting the loyalty of the old ones.
3. Deliver Quick Replies
Did you know that most of Starbucks Tweets are replies to customers? And that in return 1 out of six Tweets about Starbucks is about a customer loving their brand? Yep, according to a study of top brands, Starbucks stands out as a social media customer loyalty juggernaut because it replies to its customers rather quickly. Of the four companies looked at in the Starbucks study half the time they replied to customers less than five hours after the Tweet was posted. A full 15% of the time they replied in 15 minutes or less. That's some great response time. It's no wonder that the majority of Tweets about Starbucks are positive.
4. Let Your Customers In
Any fan of True Blood knows once you let a vamp it you invite their horror as well. Many companies fear social media the same way thinking their customers will start airing all their dirty laundry through their Instagram stream. The reality is far different. Researchers analyzed more than 150,000 Tweets of 50 major brands and found only 22% were negative. But a full 60 percent were positive. (Love that research, don't we.)[1] Getting close to your customers can only increase brand loyalty even if they don't like you. Because you'll finally figure out why and if you're smart fix it.
5. It's About The Customer
Selfies aside, no one wants to see inside pics of your headquarters…unless you're the CIA. So if you're Instagram stream is filled with pics of your employees at cubicles or your CEO's golf game just know that's akin to watching paint dry. Jazz up your social media stream with some pics, Tweets, and communications of your consumer actually engaging with your product. No one does this better than Coca-Cola.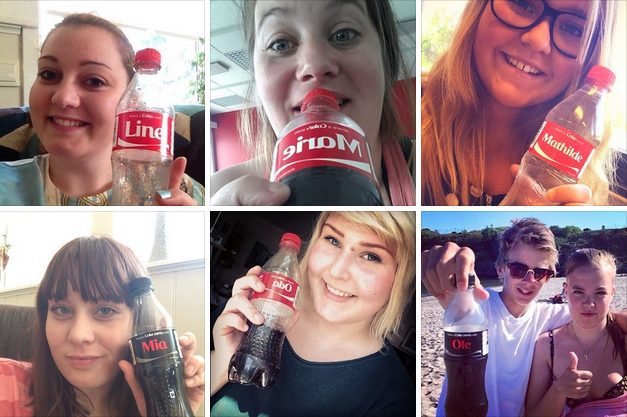 Coca-cola shares images of their Norweigan fans on their Facebook page.
From asking customers to post pics of their favorite Coke bottles to asking them to update their Facebook page their favorite Coke moment, Coca-Cola has hands down is the social media customer loyalty king. Unlike other big brands who've fallen into a social media engagement black hole (did someone say McDonald's) Coke has managed sit back and watch as its own customers drown out it's critics and comes to its rescue. This case study explain their strategy well. Remember it's not all about you and you'll build loyalty no sweat.
6. Create Great Campaigns
The Great Recession may be over but folks are still hurting out there and nothing builds brand loyalty like helping others in need. During Valentine's Day week Diet Coke asked its Twitter followers to "show their heart" with the hashtag "#showyourheart." They donated $1 to a charity for every heart posted. That's brilliant. That's helping. That's cool. Align your brand with a cause you actually care about and then engage your customers in that cause through social media. You'll get brownie points for charity support but also a boost in brand loyalty.
7. Build Influence
Building brand loyalty is more complex than just Tweeting customer pics and offering giveaways. What you're really after is emotional attachment. That's what breeds brand loyalty. The more affinity a customer has for your company, the more likely they are to buy your product. With social media that age-old marketing adage can be rewritten to "the more affinity your customers tell others they have for your brand the more affinity you can get from their friends." Would someone at Coke want to see the hundred of thousands of pics of their customers on their own Facebook page? Nope, they wanted all their customers' friends to see the pics of them holding Cokes. That's the power of influence and it's what social media tools such as Klout was built upon.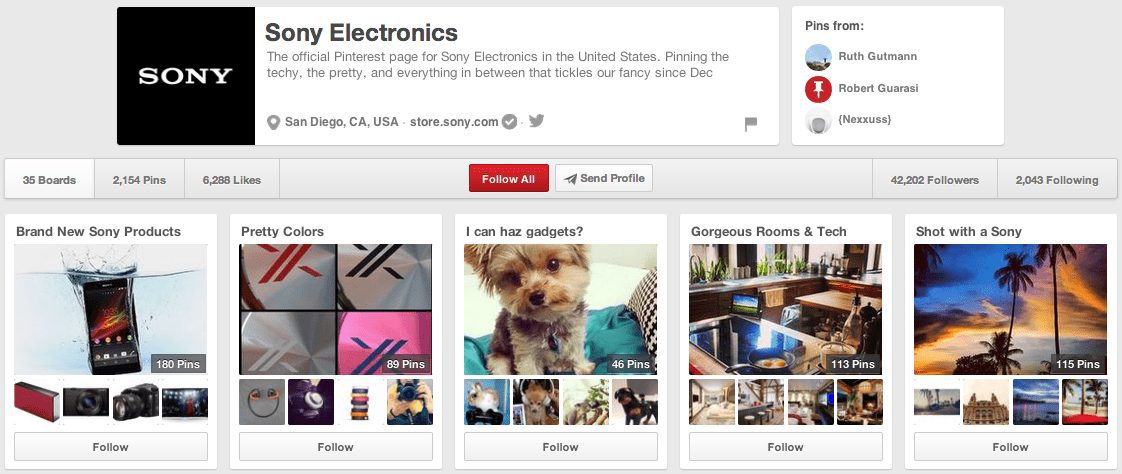 Sony Electronic's Pinterest Profile
It's something Sony Electronics social media manager Callan Green realized when going through her Pinterest page. She never wanted leather pants She told the Social Media Examiner in an interview that she never wanted leather pants but when she saw them on Pinterest, she immediately went out to buy some. Sold on the power of Pinterest, Sony began a push to pimp out its Pinterest page. The result was an 800% increase in traffic from Pinterest to the Sony Store website since it first launched and four million brand impressions.
8. Your Employees are Customers Too
You may be nobody if nobody loves you but you're certainly not winning friends if you're own employees don't at least like you. If every one of your employees followed you on Twitter how much would your list grow? If it grows at all you've missed a great opportunity. In the Sony example above, social media managers started their brand loyalty campaign with their own employees. They asked their employees to create their own Pinterest pages and invited them to share them with the brand's page. They instantly had several hundred followers and lots of re-pins. Don't leave your employees out when you're brand building. They can be your best ambassadors. In fact, they should be!
9. Increase Your Visibility
It's tough to build brand loyalty through social media if no one knows you have social media accounts. Make it monkey simple for people to share content – products, text, photos, video – to social media sites. Insert social media icons, sharing buttons, sharing prompts and so on, to enlist this type of engagement. Close the loop by linking back to your website on social media. Push customers through a content tunnel with your media right in the stream of it.
10. What Content Does Your Consumer Want?
There are all kinds of case studies on building brands through content but few do it better than Red Bull. The energy drink used to be known best for using bull semen in its product is now the official sponsor of adventurous bad asses and the people who love them. With it's Bulletin magazine, it's Red Bull sponsored events and it's entire Red Bull adventure network, the king of amp has ramped up the content creation competition and is winning worldwide.
Red Bull uses social media to inform its loyal followers about the many events its hosts around the world. They create the content their followers want to see and engage them to share it. From videos, music, blogs, magazine articles, pictures the works. They push an unbelievable amount of content through their feeds. But they also match bodies with buzz hiring legions of students to talk up the products and events on campus. The entire strategy is around creating content their target customer likes and pushing them to share that content with their friends.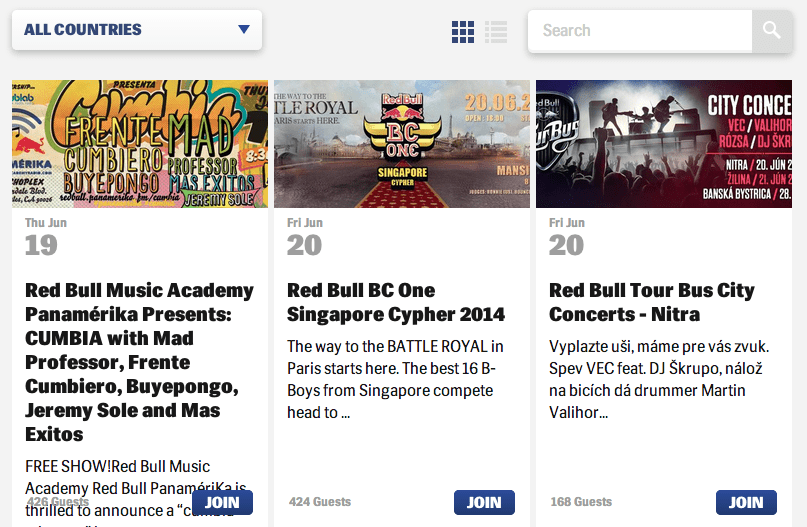 Redbull's Event page on Facebook
They leveraged the networks of the adventure athletes they sponsor and promote and get their name, marketing and messages pushed through their social networks. They even have a music academy where fans can apply to make Red Bull-esque music. Yes all of this costs millions of dollars but the key here is that Red Bull didn't create this community. The community existed. They just moved into the neighborhood and became the party house where all the other neighbors can come and gather.
When you create, don't dominate your customer's space. Integrate. Be apart of what they're doing and reflect that back to them.
RecaIf you want to build brand loyalty using social media you must remember one salient point – it isn't about you. If you remember that all the rest will fall into place. Good luck!
Complete guide to Instagram social listening, Tik Tok social listening and Twitter social listening.
Book your Radarr demo today!