Andrew Harasewych is one of the most popular faces in the marketing world on Google+ and beyond, primarily because of his live hangout every Saturday at 9 PM EST where he strips for viewers, free of charge.
Just kidding. Andrew's one of the smartest people in social marketing that I've come across. What's he good at? Engagement? Facebook ads? G+ marketing? SEO? What's his speciality, you ask? The best part is – that as far as I'm aware, he doesn't have a speciality. His speciality is basically being a no-nonsense marketer who knows a huge amount of every aspect of it. That's probably why he's COO of Weal Media, a digital public relations firm and internet marketing agency.
That, coupled with the fact that he's a reliable and trustworthy person, is why I asked him to be the expert on the General Knowledge section of the Social Marketer's Quiz.
Earlier this week, I stalked his new house, waited till his guard was down and then took him prisoner. This interview took place in the basement of his home.
Since you oversee a community of 150,000+ marketers – you're exposed to a lot of views, opinions and ideas. What's the biggest misconception that marketers have today?
That they are even marketers to begin with. Okay, I kid. But seriously… there are a LOT of people out there, who played around with Facebook in their spare time and decided to open a marketing firm. And what happens? We all get dragged down with them. I am, however, just so happy about how the Social Media Strategy community has turned out so far, from weekly Hangouts, which are growing in the audience, to the great discussions with excellent marketers, businesses, and independent professionals.
But I get off point here. As to the biggest misconception that I notice among even the more legitimate marketers, is this idea that EVERYONE and their mother has to blog, regardless of whether they can even generate new and original content themselves. Instead of immediately charging a business for writing content, you need to analyze the person's or business's budget, needs, goals, and target demographic(s).
Perhaps there is another marketing avenue which would require less of an investment with more benefit? Every business is different, thus we can't expect the same answer to be the best for every business.
How do you, personally, stay up to date with the latest trends, news and opinions online?
I don't sleep.
I'd say that's a joke, but as I write this, my wife is begging me to come to bed. I've been able to keep up on most things simply by visiting the communities each morning and evening to moderate posts. Sure, I still have a few newsletter and aggregator subscriptions, but more and more I've been finding that Google Plus really is the best place for me to find updates on the news and information I need, and discuss it with people who really know what they are talking about when it comes to… well, just about anything.
The last round in the quiz on general knowledge has been a tough one to crack, what do you think that says about marketers, and is it a reason for worry?
What I've noticed with any quiz that offers free prizes or discounts, you get a lot of… freebie hunters who are not at all the target demographic of the quiz, and although they can get through some of it, they get stopped up when it comes to more specific questions and information they otherwise would never have come across. That aside, there are definitely marketers who will still trip upon at least half of those questions, if not more.
I admit, there were two, that when I was reviewing them, had me thinking for quite a bit (and one of those I finally had to google to verify myself!). That's just the nature of the business. There are so many competing social networks, news sources, bloggers, and even local "Mom-and-Pop" brick and mortar businesses are all interacting with people on a global scale, meaning that there is an information overload for the average person, let alone the average marketer, spending most of their days online.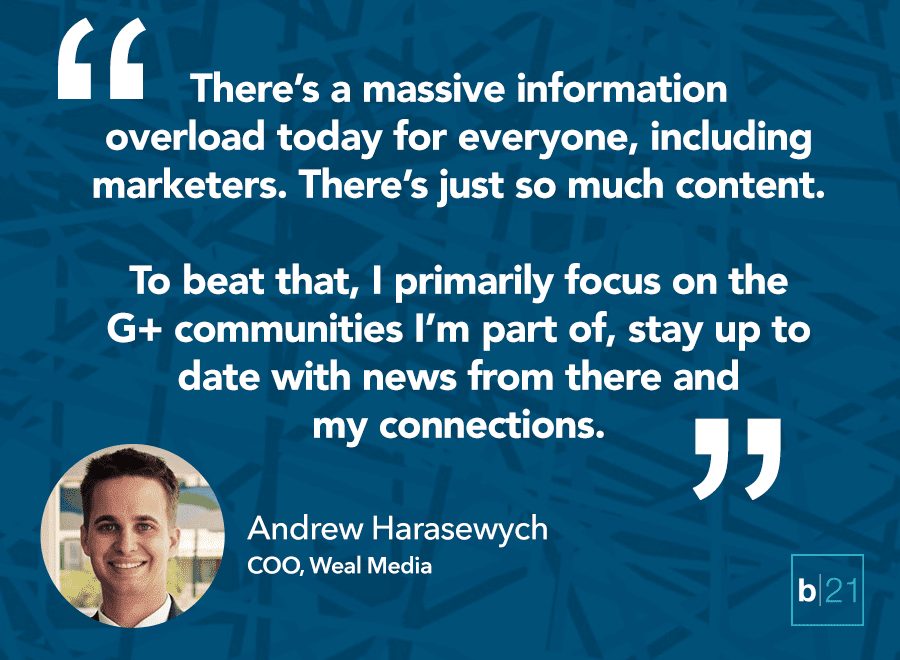 Did any particular questions in the quiz stand out for you as being incredibly interesting or useful?
Well, it's actually one of the questions that I immediately knew the answer to, as to whether Facebook or Twitter have a better SEO benefit for your business. It's NEITHER! There is no significant ranking benefit to using either Facebook or Twitter (as of writing this interview, who knows how things may change in the future, that's half the fun). And that is a VERY common misconception with "Marketers" and "SEO professionals" that do not know as much as they think they do.
That, or they are purposely trying to mislead potential clients on their site, by claiming that their social media engagement will improve the search rankings for their business (unless they use Google+, which is the only way to currently boost potential ranking thanks to social search). There are still certain industries that are VERY underrepresented on Google+, giving a small business an amazing foot in the door right now, if they just work out a Google+ strategy!
If you had to choose between a marketer who had incredible knowledge around marketing on various social platforms, but wasn't good with staying up to date with marketing news and trends and a marketer who had above average knowledge on marketing on various platforms and was always on the ball with the latest changes, trends and insights – who would you pick and why?
I don't want this answer to come off like I am copping out of the question, so if I HAVE to pick one, I'd say the first: general knowledge on marketing on various platforms may be more important than being up to date on every last trend.
This is a tough question though, and even now, I already don't like my selection. I've always been a huge fan of the "many hat" approach. No, I don't mean white hat and black hat, I mean being able to fill multiple roles and positions within a company, whether it's for a client, or for yourself. And that does require not only having that general knowledge base, but also keeping up on current trends.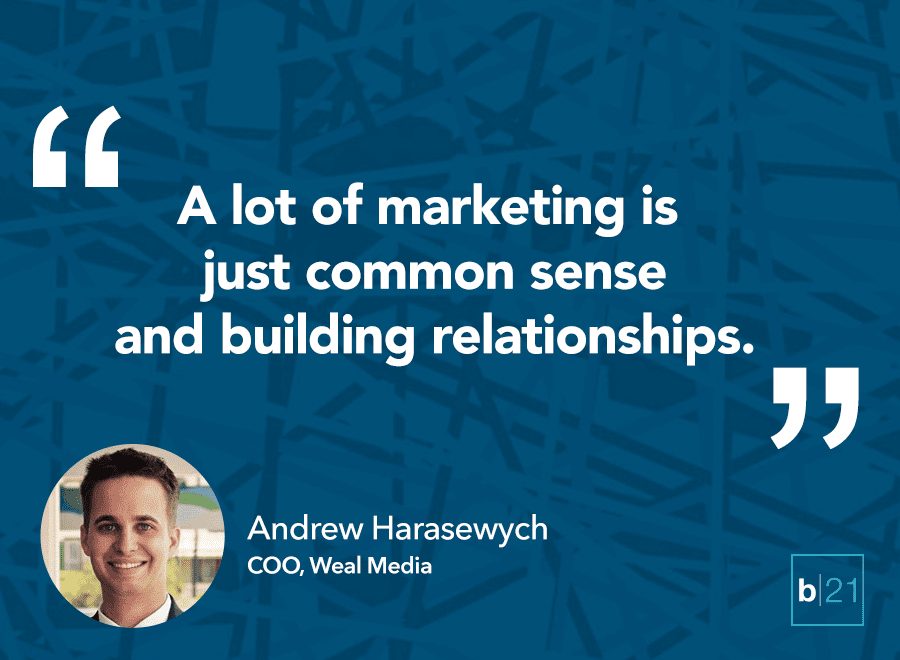 Social Networks do all have their differences (did you know you can, without being shamed, use up to 30 hashtags on a single Instagram post? Do that on Google+, and you'll have the villagers chasing you down with pitchforks), but in the end, A LOT of marketing is just common sense and building relationships. It's something that carries over all platforms, and it's something anyone with a pulse and a typing finger can do. You just need to be willing to listen, and then… /gasp/ respond accordingly and build the relationship!
[divider]
Due to the quality of his responses, I let Andrew go. He is now freely roaming the wild countryside of G+.
Andrew (and a TON of other well-known experts) hang around in SMHangout's Google+ communities. You should also tune into their Social Media Hangouts, that are littered with great advice from the usual suspects as well as some great guest experts.
Complete guide to Instagram social listening, Tik Tok social listening and Twitter social listening.
Book your Radarr demo today!