The latest buzz word on the Social Media runway is "Content", something that would put other aspects of this business to shame. A life without actionable content marketing tools is therefore baffling. With numerous options available today, picking up the best is a task and in our quest to provide you all with the very best, we are sharing with you all our chosen four.
Percolate
This tool is God sent, and quite literally too! If you are responsible for content marketing at your company or agency, Percolate would pass as your new BFF.
Key Features:
Say Goodbye to spreadsheets and welcome the 'Percolate Content Planner'. This feature would help brands plan content across platforms, schedule and streamline campaigns and events along with leveraging content across teams.
It recommends shareable content thus facilitating, curation. If you are brand with a huge network this aspect would help to find the right content and sustain conversations. It also offers focussed trends, images and media recommendation in sync with your brand, thus enabling the team to come with full form content based on the 'seed' ideas.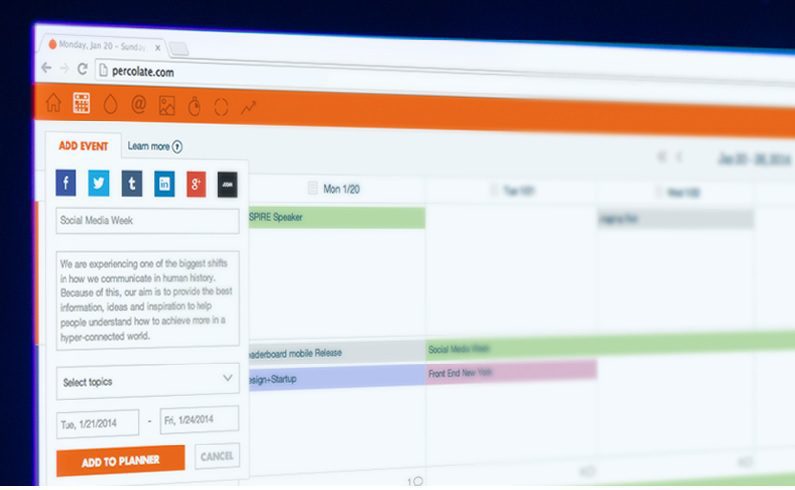 Percolate Content Planner
Images are an important part of content marketing and Percolate offers an exceptional suite including a Photographer App. This app helps capture images and syncs them to Percolate Media library along with the regular image editor and photo filter options. The app supports unlimited uploads and also allows customisation and branding, thereby ensuring brand consistency and quality. A great feature to involve employees!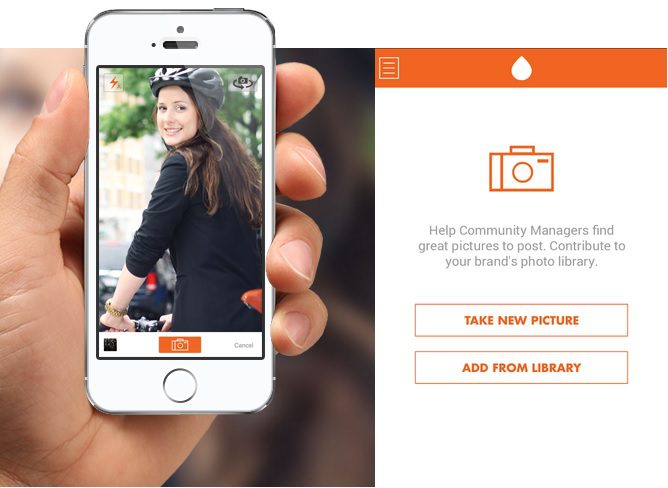 Percolate Photo App- A great tool to engage employees
Percolate also believes in shunning –Photoshop, and works closely with Getty, Shutterstock and more recently Aviary to yield more 'shareable human and real time images' for your brand.
Percolate has an excellent publishing, monitoring and analytics tool to elevate your usability.
Curata
An important aspect of content marketing is content curation. While you would want a great "story" to be told, it requires consistent planning and brands often struggle to churn quality content. This is when Curata, comes to your rescue. Here's how
Key Features:
Curata enables users to find content across platforms that includes social media, RSS feeds and even site without feeds. The interface also allows customisation to the extent of providing a self learning and recommendation engine.
It helps users to categorise content. Once a category is created, Curata follows an automatic process further! It also recognises important and trending topics and creates landing pages to boost SEO results. Curata also assists with pictures, quotes and recommendations, to improve the end user experience.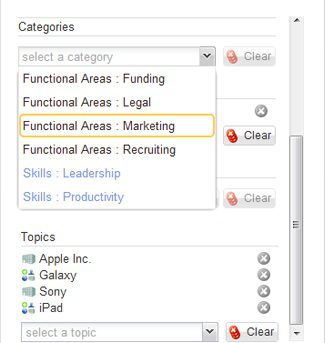 Categorizing Content is quick and easy with Curata
Curata offers great publishing options with CMS integration that includes platforms like WordPress and Drupal to name a few. It is also integrated with marketing automation systems like Marketo and HubSpot.
Curata is integrated with Google analytics to help analyze, measure and assess your content marketing strategy to the fullest.
Gather Content
Moving onto our 3rd content marketing tool, a hot favourite with agencies like JWT and Saatchi and Saatchi, Gather Content's marketing mantra is simple. It aims at gathering content from clients without much effort, thereby helping agencies and clients to work better and avoid project delays.
Key Features: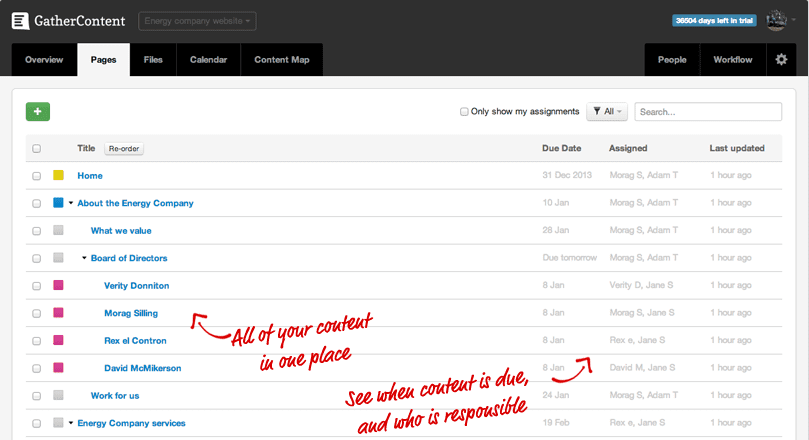 GatherContent is a pre- CRM tool, and puts a full stop to endless hours of agony that is caused by late content approvals or any other crucial delays impending at your client's end.
A campaign or a project usually involves endless mails, shared documents and the likes. With GatherContent all this data is under one roof, a big plus while working on multiple projects!
It enables client and agencies to interact by means of discussion and comments and also evaluate the status of their project at each step, thus keeping it under control. This video would explain its functionality to the T.
GatherContent also aids in auto-reminders and detailed progress reports. It also has a white-labelled platform providing your clients with a unique experience.
This web-based tool offers a seamless interface and with transferring docs in Word or PDF format along with real time back-up.
It is integrated with WordPress, Drupal and also has an API.
Divvy HQ 2.0
Number four on our list is Divvy HQ 2.0. It is a great content and workflow marketing tool, and is especially useful when you have a team spread across geographies
Key Features:
The dashboard aids in monitoring your team activity in real time and looks like a Facebook feed, apart from the same you can also monitor content that is due or is already published. It also provides an overview of your production task list.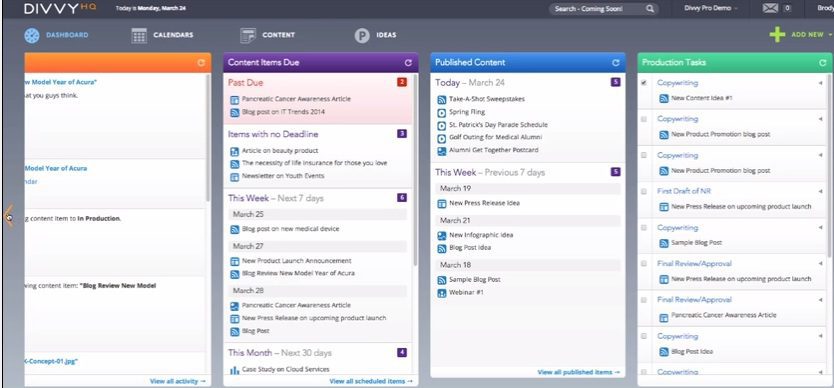 Divvy Dashboard
Divvy HQ offers multi- calendar architecture and customised solutions for that can be shared with your team. It offers a unique calendar admin that leads to customisation tab. This may include inter-department calendars, individual calendar, other topics or plain themes.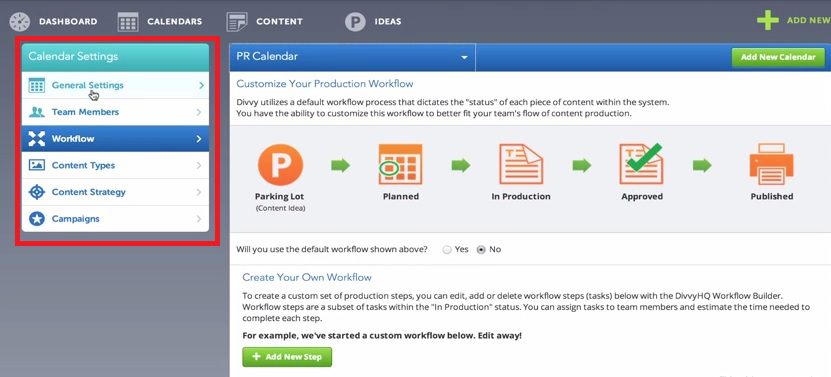 Divvy Calendar Dashboard
It also offers an amazing workflow mechanism. Explained effectively with this video
While content ideation is a regular process, we tend to shun them, missing opportunities for future use. Divvy HQ offers an amazing feature called 'parking lot', making brainstorming a cake-walk. It also provides opportunities to manage any type of content apart from the ones outside Social Media periphery. This may include webinars, e-books and print projects to state a few.
While this content marketing tools list is not exhaustive, you may also want to check our previous posts on Kapost, and Swayy, which offer some great features too! Before I leave you all with some time to explore these tools do have a glance at Coschedule as well, a brilliant social media editorial calendar for WordPress. If you are looking to analyze content performance or get some new ideas for content, then a social listening tool from Circus Social would be your best bet!
And yeah, we would love to hear more on this one, so let the comments flow!
Complete guide to Instagram social listening, Tik Tok social listening and Twitter social listening.
Book your Radarr demo today!