Whether you're a digital marketer tracking the launch of a new product or a content creator looking to up your game, the primary goal of any marketer remains the same – to promote a product or service to a target audience with the ultimate goal of driving awareness and sales.
To do this, marketers previously needed to invest in costly tracking tools and research programs. However, the advent of social listening has made it possible for marketers to monitor campaign performance, get consumer insights, source new influencers, and much more – simply by tracking mentions of a particular topic of interest on the internet.
Read on to find out how the role of a marketer can be made more manageable with the help of social listening.
Campaign Tracking & Reporting
Digital marketers who run marketing campaigns understand the importance of tracking conversions, CPCs, CTRs, and other quantitative metrics – but how sure are you that these are the right metrics to measure success? While generating traffic or making sales are great performance outcomes, it's important to dig deep into the organic conversations as well.
Social listening provides marketers with an insight into:
Key conversation themes being discussed: What kind of conversations is your campaign driving among audiences?
Overall sentiment: Are there any aspects of your campaign, brand, or product that may be receiving negative sentiment? What are these negative sentiments in relation to?
Campaign share of voice: How much more or less is my campaign being talked about online in comparison to my competitors' campaigns?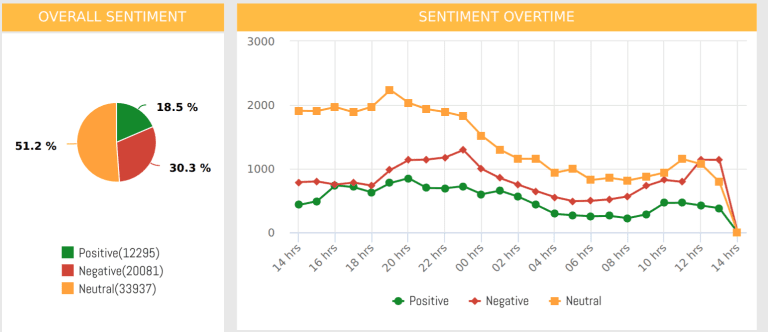 At the end of a marketing campaign, having a combination of qualitative and quantitative insights will provide more holistic learnings that can be integrated into future marketing campaign strategies.
Gone are the days when marketers could rely solely on their sixth-sense and gut feeling to direct their content strategies. Given the time and resources it takes to develop content, why wouldn't you want to ensure that it's engaging and relevant to your brand's audience?
Social listening offers content marketers a wealth of data to get inspiration and ideas from, such as user-generated content and viral content.
Coming up with fresh content can be a daunting and lengthy task, especially if you're feeling uninspired. What could be a better way to promote your brand or product, besides leveraging on existing content created by your own consumers? By using social listening to track what consumers are sharing about your brand or product, you're bound to find high-quality photos, videos, or reviews that can be re-shared on your brand's social pages.
Once upon a time, memes and viral videos were only circulated on social media by the average person. Brands have since recognized the engagement and interest driven by these memes, hijacking them and creating marketable content out of it.
Take the 10 Year Challenge for instance – what started as a challenge for individuals to share side-by-side photos of themselves 10 years apart, became an avenue for brands to show how they have evolved (the glow up of the Xbox controller), or remained the same (like Lego).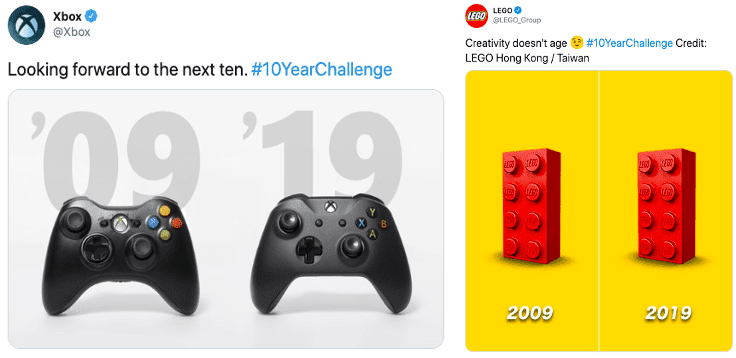 But how can you stay on top of trends? And more importantly, how do you know if a trend is worth riding on? The 20/Twenty social listening platform offers some useful features to determine if a trend may go viral:
Impact Score™: Radarr's proprietary algorithm that assigns scores to online content depending on the volume and type of engagement received. The higher the Impact Score, the more engaging the content is.
Virality™: A predictive feature that uses advanced machine learning technology to identify content that is already viral, as well as content that is likely to go viral. If you spot content that is likely to go viral, it may be worth leveraging on it.
In addition to the above metrics, our Trendspotting Checklist is another great way to assess if, and when, your brand should hop on a social media trend.
Influencer Identification
With the rise of social media, celebrities are not the only ones brands are engaging for endorsement. Consumers are now looking to online influencers for product information, and these advocates definitely help nudge purchase decisions. Despite numerous studies supporting the impact of these online personalities in driving conversions, most brands lack a data-driven approach in the selection of their influencer community.
There are many layers to consider when qualifying an influencer, and since most of their content is on social media, social listening comes in handy for marketers who wish to discover and track their online performance. If your brand is just starting to leverage influencer marketing, your team will likely find themselves asking "Who should I engage?" and "Where can I find them"?
Step 1: Quantitative Analysis
The first step is to explore the digital ecosystem and narrow down who are the main personalities driving conversations in your industry, what their persona is, and if it fits your brand proposition. Metrics to consider include:
Impact Score™: A proprietary algorithm that assigns scores to online content depending on the volume and type of engagement received. The higher the Impact Score, the more engaging the content is.
Engagement scores (likes, shares, comments, views): Influencers with high engagement metrics such as likes are great, but individuals with more comments and shares are indicative of a stronger engagement with their followers.
Overall post sentiment: If your influencer is driving more negative sentiments than positive, they may not be the best fit for your brand or product.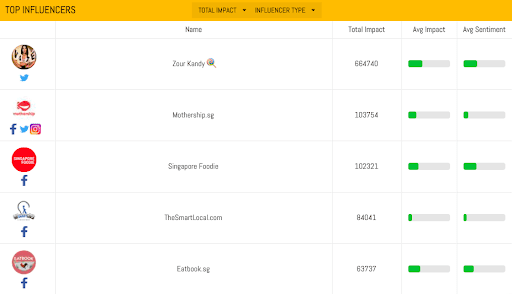 Step 2: Qualitative Assessment
Once you have qualified prospective influencers based on digital metrics, the next step will be to deep-dive into their posts and conduct a qualitative analysis on their page personality, content, and overall alignment with your campaign objectives. Even if you are only engaging the influencer for a short period of time, their profile and identity outside of your campaign will shape consumers' perceptions of your brand.
---
If you have any questions or are interested in finding out more about how marketing teams can leverage social listening, drop us an email at insights@www.radarr.com and we'll be in touch!