Content Marketing
..is still in news!
With the rise in the importance of social media marketing and SMO, content marketing has been the hot topic of conversation amongst digital marketers for some time now. However, creating unique content on a regular basis can be time-consuming as well as really expensive (if you're outsourcing), restricting the budget for all other business promotion activities.
Here's where user-generated content (UGC) comes in to save the day! It is one of the most affordable and engaging ways for brands to produce content without having to rob the nearest bank. According to a study conducted by Millennials, over half the Americans trusted user-generated content way more than the content offered by the brand itself on its website. UGC is becoming a common practice today and is no longer only restricted to small-sized businesses on a budget.
User Generated Content 101
User-generated content refers to the information related to the brand published by the consumers instead of that framed by the brand itself or by contributors paid for it. The information can be in the form of photos, videos, forum posts, product reviews, guest posts or posts made on the brand\'s social profiles. Here\'s an interesting infographic on UGC by Ipsos MediaCT:

6 Benefits Of Using User Generated Content
Still having second thoughts about using the user-generated content in your strategy? Here are a few reasons that will convince you a 100% into optimizing it:
1. Understand Your Audience Better
When you use the content posted by your user, it not only helps you with the content strategy, but also lets them raise their opinions – good or bad, regarding your products. UGC makes understanding what your customers love (or hate) the most about your products and services, easy; which gives you the chance to better them.
Note: Make understanding your audience your primary goal.
2. Positive Customer Experience
Once they know you\'re paying heed to their conversations and trying to cater to all their needs, the customer experience you offer automatically becomes better.
Note: If there are far too many complaints from your customers, try and resolve each individually (not commonly) and DO NOT ignore them. Build a stronger community!
3. Your Posts Reach Knows No Boundaries
People love UGC!
Internet users love browsing through content on what people have got to say regarding a brand that interests them. UGC is as good as customer reviews and the freedom to post these reviews in any form (text, images, audio, video or any other multimedia ) makes it all the more fun for the customers. Almost everything we come across on social media is UGC.
Note: The stronger the bond you establish, the stronger is the probability of them promoting your products in their circles (and better the reach of your posts).
4. Trustworthy Content
A lot many people out there (like me), consult existing users of products/services of a brand, before investing in them. UGC serves as real-time content that people trust more than the content offered by brands on their websites, which is usually tagged as fabricated by audiences the world over.
Note: If you encourage UGC, chances are that your potential customers will trust your product's services more; automatically increasing your sales.
5. Social Media Optimization
Tired of working towards optimizing on social platforms? UGC helps up your social presence with the help of your community. The community helps you create a lot of content around the keywords you\'re focussing on without having to spend hours doing so yourself.
Note: The hashtags your customers use while posting content related to your brand, aren't always useless!
6. Affordable And Profitable
And should not be left unused. Brands set aside their marketing funds for different campaigns and focussing primarily on content marketing is just not possible. Hiring in-house or freelance writers isn't always an option for brands (small or big). UGC is an effective alternative for the same.
Note: You not just get great content, but establish better bonds with your audience and become more socially present. Profitable from all angles.
How Do You Implement User Generated Content?

Too busy with other promotion activities to come up with ideas to use UGC? Here are some ideas we think are awesome:
1. Customized Cover Pictures
We are always about how you should keep updating your social profiles, be it Facebook or Twitter, and since you can't really do much about the about for your brand, here is something that you can frequently change – cover picture. All thanks to UGC!
Starbucks has been making use of this one for some time now. They change their Facebook cover picture on a weekly (or monthly) basis to feature images that have been Instagrammed by their customers using the hashtag #starbucks.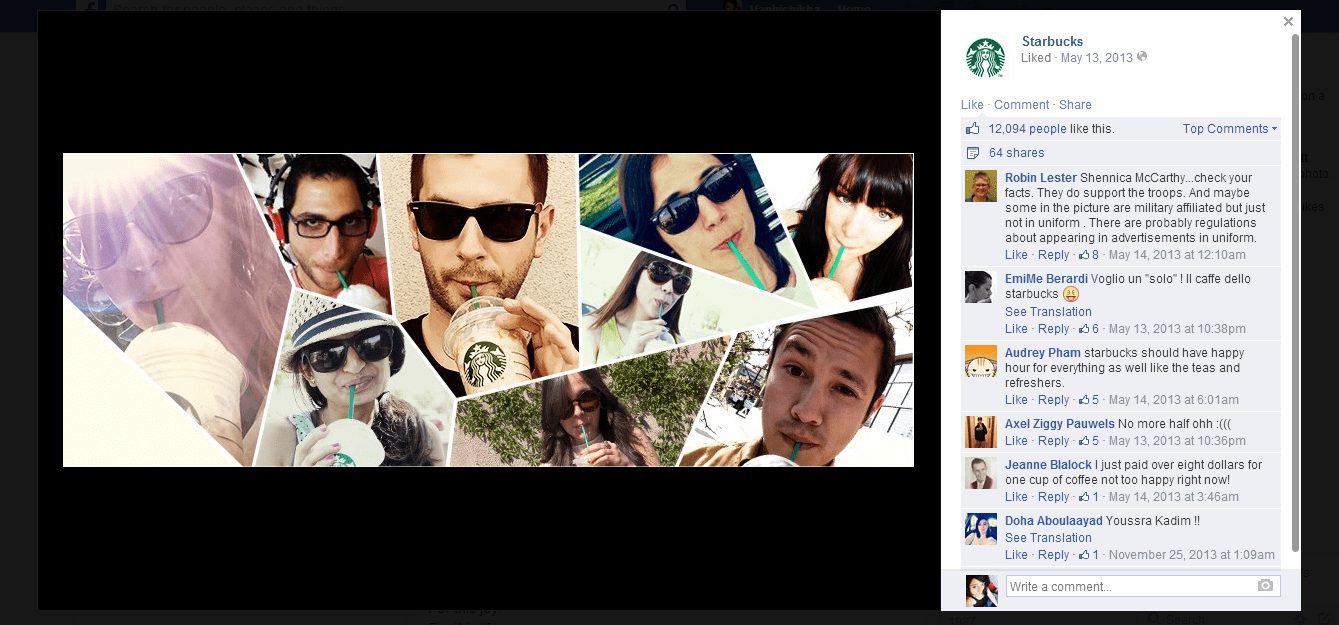 Starbucks – Customized cover picture on Facebook
Psst.. our Cover Photo Live App lets you pull in images from Instagram and create customized cover pictures for your social profiles. Give it a shot!
2. Run Contests
Who doesn't like winning? Run contests that encourage your audience to post their content related to a new product of your brand on your social profile along with a custom hashtag and share them in their circles. Give away small prizes (it could merely be a feature on your cover picture) to the one who is able to draw a maximum number of likes. (Smart promotion happening here!)
3. Acknowledge Consumers
It\'s always a good idea to encourage your audience to keep contributing content and to do that, you need to acknowledge them! Incorporate a 'featured contributor' of the month post in the content strategy of the week, that tags the person who has been posting about your brand the most.
Starbucks leverages from this one too!'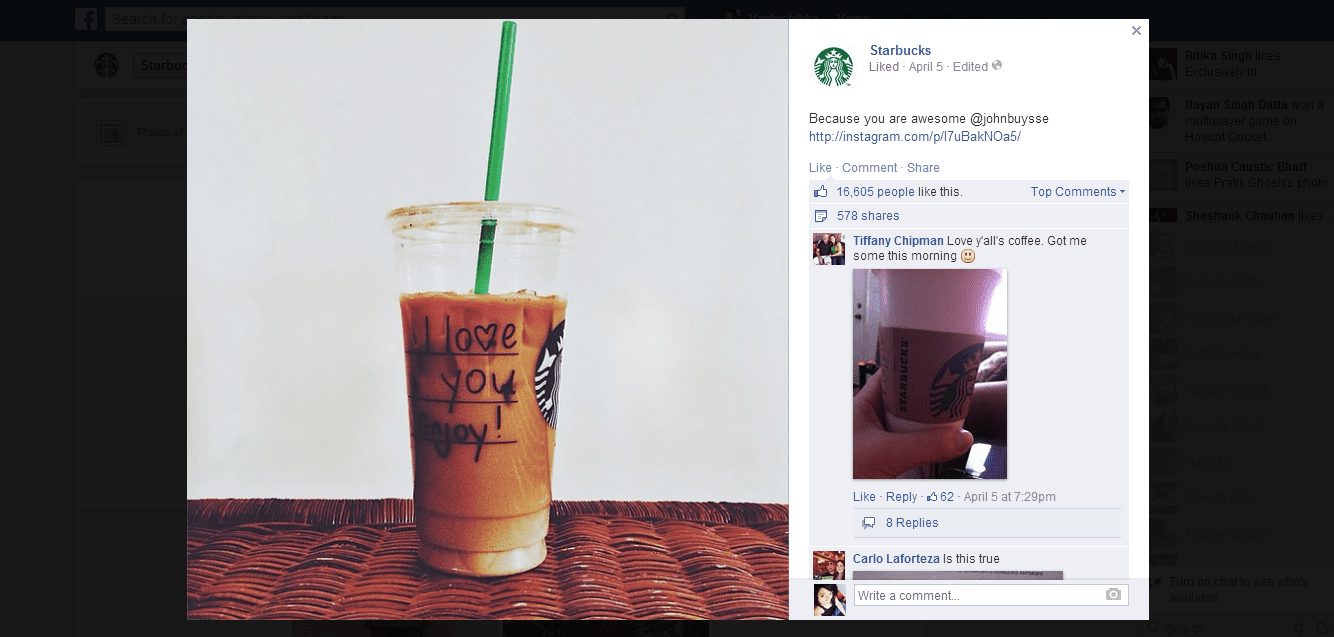 Shout-outs by Starbucks
Many brands are already leveraging from user-generated content. It's either taking over your audience's hearts or giving your competitors the chance to do the same. Choose wisely and get going!
Book your Radarr demo today!