As Circus Social steps into the next phase of growth, we're excited to announce our rebranding. Our refreshed identity isn't just a new logo, but a name that is truly representative of what we do, live and breathe every day.
Your chosen social media intelligence tool, Circus Social is now Radarr.
After launching with the name Circus Social, in 2012, we thought it was time to step up and this is our first step towards our bigger goals. Here's a glimpse of what we have been working on all these months to make Circus Social bigger, better and more powerful.
But this time, with a name that's all set to speak of our solution's true meaning.
Why did we choose to move from Circus Social?
Circus Social is a name that has defined what we do as a business and what we're known for, for almost a decade. But we knew it was time to give it a fresh look as we grew our team and our target market.
It was a playful name at the time we started out and was well positioned to leverage on our agency work. But as we grew and pivoted to build a cutting-edge SaaS platform company, the name felt a little out of place.
And as our platform started to get recognized, we realized that Circus Social as a name did not do justice to what the product offered.
Radarr is more than our identity
The world is changing and digital has become the center of our universe. From following trends, how we interact with one another and engage with businesses, a lot of our activities have moved online.
There are billions of conversations, posts, reviews, social media content, news stories being generated every minute.
This massive burst of data coupled with the emergence of new platforms and mediums to communicate and connect on – requires brands, marketers, analysts, customer service and security teams to track, monitor and predict trends, derive insights, and maintain foresight into their digital ecosystem.
"Our international clients now view Asia as the epicenter of social media development and innovation. In order to build a strong global strategy, we're seeing more and more brands focus their attention on understanding what is happening here in the region and then building out, as opposed to the old way of executing North American or European strategies in Asia. Being able to preempt developments and predict trends in the social media world is becoming critical for businesses, and Asia is at the forefront of where that change is happening fastest.''
Prerna Pant, Co-Founder & COO of Radarr
To be able to do this they need a system for detecting the presence, direction and other aspects of conversions. Similar to the radar used on aircrafts and ships, we're equipping brands with something as powerful when it comes to picking up signals.
Meet Radarr.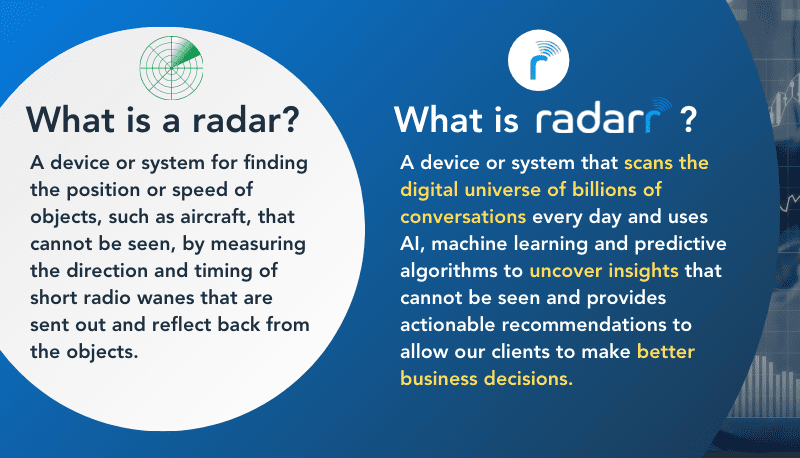 "We are moving beyond real-time analytics. Clients are much more sophisticated and want partners with tech-stacks to match. Our clients no longer want to know about what is currently happening in the digital space, or rudimentary metrics, they want a Radarr to see what is about to happen so that they can anticipate the opportunities and challenges that could make or break their businesses.''
Prerna Pant, Co-Founder & COO of Radarr
And now, meet our new logo.
To match our new name and what we do, we obviously had to also change our logo.
After going through endless iterations over the last few months (we have lost count), here's what our new identity will look like across all platforms.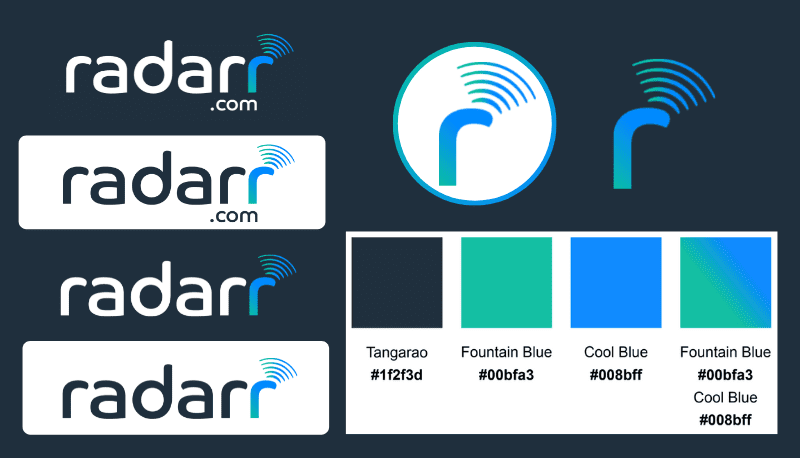 So when you see the Radarr logo, know that it is your old friend at Circus Social who just had a massive makeover!
But those of you who haven't met us before, let's tell you a little about what Radarr is.
So, what is Radarr?
Formerly known as Circus Social, Radarr is a social and digital intelligence company powered by AI and data analytics.
Specializing in Asia Pacific and linguistic algorithmic permutations in social media, Radarr provides actionable insights, through monitoring and predictive analysis to businesses who need to make high-stakes business decisions in real-time.
Leading brands and Fortune 500 companies partner with Radarr, utilizing their proprietary tools like 20/Twenty and the Radarr Command Center, to navigate Asia Pacific's complex languages and fast moving digital landscape.
Radarr is a SaaS platform that offers businesses of all sizes, from large enterprises to SMB's, a powerful digital and social media recommendation engine for:
Media monitoring
Digital prediction
Deep consumer insights
Data visualization
Our system is built to scan the digital universe of billions of conversations every day. It uses AI, machine learning and predictive algorithms to uncover insights that cannot be seen and provides actionable recommendations to allow our clients to make better business decisions.
"At the core of Radarr's new offer is an intelligence platform that delves deep into the billions of conversations happening online to deliver digital monitoring and predictive analytics. Bespoke dashboards provide targeted intelligence on select areas such as crisis monitoring or influencer management, whilst industry-centric dashboards on topics like Crypto and Gaming provide a bird's eye view of trends emerging across specific sectors. This intelligence informs actionable, data-driven recommendations for brands, enabling them to anticipate the future effectively and act rapidly."
Ram Bhamidi, Co- Founder and CEO
Ready to take a step into the digital ecosystem with a strong partner for your brand?
Explore our new brand collaterals
We've added a lot of new content to our website and social media pages to highlight everything that is new about us.
Visit any of the links below to get to know Radarr better.
PS. If we have been connected on Circus Social email addresses, don't fret. Our team will continue to receive your messages and will be getting back to you as promptly as ever!
But if you want to get to know why leading brands have been raving about Circus Social and our move to the new name Radarr.