When it comes to social media, the number of platforms and the daily active users on each of these platforms seem to be growing exponentially with each passing day. That's exactly why there is now a need for social media monitoring, more than ever.
There are more platforms and options that people can engage on on any given day, and there is something for everyone depending on their demographics and preferences.
With newer platforms such as Clubhouse and Houseparty taking the world by storm, there's so much diverse content waiting to be created by brands who want to engage meaningfully with their audiences.
However, all social media platforms have one thing in common – endless conversations.
Now, if you monitor closely, these could be about your brand, your competitors, your audiences' challenges and aspirations, and so much more.
Not knowing what conversations your potential customers are engaging in about your brand could be extremely risky.
For instance, some of these conversations could be bad for the brand. You need to identify them quickly so you can take corrective measures to create more positivity about your brand on social media.
This is where social media monitoring comes in.
Social media monitoring allows you to keep tabs on how your audience is engaging with your brand on these platforms so you can respond to all mentions. Stay up to date with all conversations regarding you or the industry you're in.
What is social media monitoring?
Simply put, social media monitoring is nothing but the process of keeping a tab on what is being spoken about a particular brand or product on various social (or digital) platforms.
It involves keeping a track of every online comment, response, and mention so brands can appropriately react to the same in a manner that is best for their online reputation.
Social media monitoring entails keeping a close eye on reviews, complaints, queries, questions, or mentions about the brand that don't just happen directly on official posts – and so they can't be tracked via notifications. These could be on any online platform or community that may or may not tag your official handle.
Simply put, social media monitoring helps marketers keep a track of all conversations about their brand, industry, or vertical by tracking certain keywords, terms, or phrases – in the earned and organic ecosystem.
Let's tell you a bit more about it to explain how this works.
How does social media monitoring work?
Social media monitoring tools like Radarr crawl and index sites to search for the relevant terms, strings, hashtags, taglines, words, or phrases on specific pages of social platforms that you want to be notified of.
These mentions are then stored into the tool's interface and can later be analyzed and even sliced and diced to get granular details. Here's what it looks like:
What is the difference between social listening and social media monitoring?
While social media monitoring and social listening are often used interchangeably, the two are quite different in their approach.
Social media monitoring involves tracking and responding to mentions about your brand on social media or any other online channels to gather insights into your audiences' perceptions of your brand.
Social listening is done more from a future-proofing perspective. Data on brand mentions is collected and conversations are tracked and analyzed to better inform future business and marketing decisions. Learn more about social listening in our comprehensive guide. 
Social media monitoring is all about instantly dealing with pressing issues and incoming queries on social channels to maintain a positive brand image and keep followers constructively engaged. Therefore, monitoring focuses on the micro. On the flip side, social listening is a macro concept that helps a brand strategize better for the overall brand image in the long run. Therefore, social monitoring is a short-term concept, while social listening is a long-term one.
Also, social listening is proactive as it helps brands position themselves better based on what their audiences want and expect. It helps them study social interactions and unlock growth opportunities that they didn't know existed.
Social media monitoring, on the other hand, is more reactive as it entails addressing customer concerns, questions, hesitations, or comments with agility to maintain a consistent brand image and deploy quick fixes to stop the spread of negativity that could harm your brand.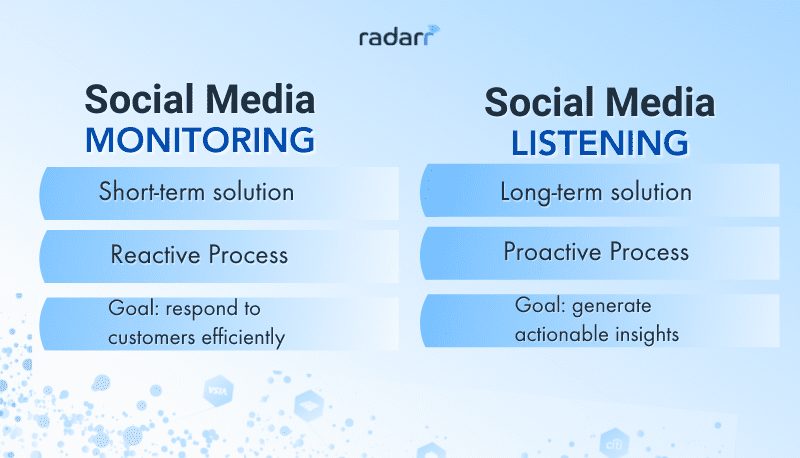 Why is social media monitoring important?
There are plenty of reasons why you shouldn't underestimate social media monitoring, but here's why the technique is crucial in today's day and age:
To make your customers feel heard and valued
Social media monitoring allows you to engage with your audience on various social channels by responding to their queries, clearing their doubts and hesitations, thanking them for their praises, and addressing their concerns. Therefore, your followers and customers who take the time to post or comment feel heard and valued if you, as a brand, are considerate enough to respond swiftly and suitably.
Your consumers want to be a part of conversations and be heard when they have something to say. They don't become advocates for your brand by just swiping through your posts silently. Social media monitoring, thus, empowers you to build dialogue, encourage communication, and drive better and constructive engagement.
Here's an excellent example from Netflix:
Netflix going out of their way to explain the real reason behind their customer's complaints is a testament to how incredibly their teams monitor social media so that no customer, follower, or audience member goes unheard.
To encourage brand loyalty and advocacy
Not all social mentions you receive would be negative or concerning. Some might actually be encouraging and positive. To illustrate, your customers often take to social platforms to share praises about your products, services, or principles. This is obviously more common in cases when they are incentivized to do so.
Make sure that all positive comments are encouraged, appreciated, suitably rewarded, and if possible, even featured on your official handles so you can proudly showcase your brand loyalists and advocates.
Take a look at Lush Cosmetics nailing it:
Such replies keep your social media community engaged and ensure that customers who genuinely love your products are thanked and rewarded for doing so. The bottom line remains that only if you value your current customers can you attract more of them.
To provide enhanced customer support
In many cases, the comments and mentions you receive on social channels would be complaints, queries, or concerns regarding a purchase. You want to address them as fast as humanly possible since these are nothing but public customer support tickets. You can't afford to delay or offer unsatisfactory resolutions. Since all your followers and your customer's followers are witnessing the exchange of dialogue in real-time, social monitoring actually allows you to be on top of such scenarios and ensure they are taken care of as soon as possible.
Thus, social monitoring enables you to enhance your customer support game by constantly tracking incoming complaints or queries on social channels and responding to them in real-time.
Take a look at how Sephora does it perfectly:
Notice how Sephora made sure customer complaints were addressed then and there so that the matter was closed and didn't attract more attention than required.
To get in depth insights on what your customers want
No matter how many surveys you run or the number of times you ask for customer feedback, you might never understand the full story regarding what your customers want or how they feel about your products or service. Think of social monitoring as a complementary dataset to getting those insights your customers never directly tell you. These comments aren't fabricated or crafted as they could be while filling out a survey form but are completely raw and organic, and hence would yield some actionable insights.
Social monitoring helps you keep an eye on all such public conversations wherein your existing and potential customers discuss what they feel about your brand, what they wish was improved, or about their challenges in general. This is a goldmine of insights you can use to inform your future decisions and align your brand with your customers' expectations.
Take a look at a really impressive example of the same from Delta Hotels:
To learn what your competitors are up to
Social media is filled with your competitors trying to steal your share of voice, followers, and ultimately, customers. You cannot stay ahead of the curve when you don't know what your competitors are up to.
Social media monitoring allows you to stay updated with how your competitors are engaging with their followers and the tactics they are employing to interact better.
By monitoring keywords and phrases relevant to your competitors and the industry, you can analyze what does well on social media and how you can implement it. Not just that, you also get a sneak peek into what the audience has to say about both – your competitors' product/ service vs yours.
To help stop the spread of negative comments
By constantly monitoring social conversations regarding your brand, you can stay on top of any negative comment you receive that could tarnish your brand image. Not only can you respond to it in real-time, but you can also prevent negativity from spreading. Social media monitoring, thus, gives you the power to tackle negative comments appropriately before they become a problem.
Here's an example from Wendy's:
Wendy's has always been at the top of their social media game, but this example just goes on to show how closely they monitor every comment on their posts and the effort they take into crafting brilliantly witty yet satisfactory replies.
To crowdsource product or feature ideas and enhancements
Social media is filled with your audience telling you what they wished your product had. Well, social media monitoring enables you to cherry-pick all the great ideas and incorporate them into your products or services.
It's your opportunity to hear straight from the horses' mouth (i.e. your target audience) and give your customers exactly what they need. These insights needn't necessarily be features or enhancements that your customers wish for, but could also be full-fledged product or campaign ideas that you get to crowdsource at no additional cost or effort.
Believe it or not, many great consumer products were built the way they are today just by closely monitoring audience feedback and incorporating user-generated ideas. The next million-dollar idea could be hidden within those noisy social conversations and if you are smart enough to find it, the future belongs to you.
Here's an excellent example from Dunzo:
To identify relevant influencers
There are already plenty of influencers or celebrities talking positively about your brand on social media, but you might not have discovered them yet. They might genuinely enjoy your products and might want to support your brand's principles and core values. They could be the face of your brand or the influencer for your next big bang campaign.
Social media monitoring allows you to discover all famous personalities mentioning your brand or products so you can reach out to them and get them on board as advocates or influencers. This is a great influencer marketing opportunity just lurking in plain sight, waiting to be uncovered.
Keep track of fast moving trends
Trends on social media change on a daily basis. The reel going viral today might not be relevant tomorrow and the filter being used in every story today might lose its significance tomorrow. No matter the size of your social media marketing team, it is virtually impossible to stay ahead of each and every trend that pops up in the middle of the day. With social media monitoring, your job is half done.
By monitoring closely, you can discover the most popular trends being followed by consumers in your industry, which you can quickly incorporate into your product offering, use the relevant hashtag, post it on your official channel, and voila! You get to jump on the bandwagon and stay at par with any and every trend relevant for your target audience.
All of this, in real-time.
Take a look at how brands leveraged the Friends Reunion episode trend for their campaigns:
Imagine if you weren't aware of this trend well in advance, such posts or campaigns can still be created and posted within a few hours, provided you get notified about the ongoing trend. And social media monitoring ensures those notifications come to you in real-time.
How to create a social media monitoring strategy?
Just like any other marketing activity, social media monitoring cannot be done effectively unless you devise a step-by-step strategy. In this case, creating a strategy from the ground up isn't as complicated as it sounds. So, let's get right into it!
Zero in on your social media monitoring goals
The first obvious step would be to decide on what you are going to monitor. What search queries, phrases, hashtags, slogans, taglines, catchphrases, or keywords are you looking for? Are you going to search for brand mentions, specific campaign keywords, top-of-the-funnel keywords, industry-specific hashtags, or even names of your employees?
You could start with one or all of these, but the important thing is to make a note of it beforehand. You might not hit the bull's eye in one go, so will have to experiment rigorously to get to the phrases and terms that actually yield insightful results. What this means is that you might know which keywords to crawl right from the beginning.
While some might be of little or no help, others might just unlock a goldmine of insights. Be consistent with your efforts and you will surely nail down those terms that you need to be monitoring to get the most detailed insights.
Shortlist the tool you will use for social media monitoring
Again, you have more choices here than you can possibly evaluate. However, this step is critical because you need to pick a tool that best meets your requirements. Radarr is a social and digital data analytics platform that can make the job a breeze for you.
Radarr enables you to granularly monitor every customer issue, question, and query, track campaigns, ongoing social conversations revolving around your brand, and offer real-time resolutions to your followers.
You not only get to stay updated with every industry trend in the social ecosystem, but also monitor your daily KPIs, assess your brand health, and track your share of voice with real-time alerts so you can react accordingly. Book a demo for Radarr to evaluate its magic for yourself.
Dig deeper to uncover insights from your results
You will need to spend some time making sense of the results of social media monitoring or the alerts or notifications you receive, or else they wouldn't be of much help. For example, you will need to segregate and bucket mentions, conversations, and comments into feedback, questions, pain points, user-generated content, praises, influencer comments, negative comments, trends, and so on.
By bucketing the results you receive, you will be able to decide the next steps accordingly. Do you need to respond immediately, raise a support ticket, nurture advocates, escalate the matter to another team, promote press mentions, share the post or story, or something completely different?
Add a layer of sentiments on top of your insights
Don't just stop at being reactive.
The next step needs to also be understanding the sentiments behind conversations. This will help you gauge what triggers positive and negative emotions in your audience, and use that data to tailor marketing messages in your campaigns or efforts to improve the customer experience.
You can do this by using social media listening and you don't need a separate tool for it.
If you use Radarr, you get to leverage both social media monitoring and social listening on one platform. Take a look at it here.
Act on the insights discovered
Create a roadmap as to how you plan to respond to the alerts and notifications. You need to be ready with replies for positive comments and praises, tokens of appreciation for advocates, apologies for customers who share negative experiences, shareworthy content that you can reply with to answer questions, links to your self-help and FAQ pages, link to your customer support, how-to videos with detailed and descriptive answers, and so on.
You need to have everything in place if you wish to take action immediately or else you will miss out. Therefore, having a detailed roadmap that each of your teammates can refer to would be of great help here.
Social media monitoring in various industries
While social media monitoring has more or less the same use cases for every industry, there are a few specific scenarios in each that are worth mentioning.
Travel and hospitality
Social media has become a popular destination among travelers to share their complaints and negative experiences. These could be around flight delays, complicated hotel check-ins, extra charges, lost baggage, and so much more.
As a travel partner, social media can be one of the biggest sources of complaints and queries for your business. If not addressed in time, such complaints and feedback can spread like wildfire and sway your followers' opinions about your brand.
Social media monitoring helps travel and hospitality service providers to stay on top of any such negative mentions or complaints so they can resolve them in real time or at least route them to one of your support specialists, and prevent them from spreading.
Education Technology
Even though the pandemic has generated unparalleled growth opportunities for EdTech businesses, the industry is relatively new. And with every new industry, comes the challenge of hesitant or ill-informed customers. Therefore, EdTech businesses will more often than not find an endless number of questions and confusions surfacing their social channels in the form of comments.
Social media monitoring allows such businesses to answer them in real-time and avoid missing out on any conversion opportunity due to hesitant customers. It also helps them stay updated with ongoing conversations among parents around the challenges they are currently facing with their children being educated remotely. All such conversions are great fodder for making improvements and enhancing the overall EdTech experience for students.
Retail, Online Commerce, FMCG
The retail space is massively influenced by trends and pop culture, making it extremely hard for brands to be constantly aligned with their target audiences' worldview, needs, aspirations, motivations, or wants. Social media monitoring can help bridge that gap by keeping brands in touch with the latest trends and happenings on social media. By receiving constant alerts for the online buzzwords, phrases, and hashtags doing the rounds on social, marketers can plan on leveraging them for their campaigns or even day to day posts.
B2B
In the B2B space, reviews have enormous credibility, especially when they are shared on social media. As B2B marketers, it is important for you to be notified of all such reviews and feedback being shared for your brand or product so you can accordingly respond to them. Negative ones are going to require some quick crisis management, while the positive ones would need to be amplified, rewarded, and thanked. Either way, if you aren't regularly updated with the ongoing conversations and mentions regarding your B2B brand on social media, you will be missing out.
Health and wellness
The health and wellness industry is constantly popularizing sharing updates and achievements on social media, especially in the form of stories. These achievement posts and stories make for increasingly shareworthy user-generated content that brands can leverage, only if they are updated about them in real time. Social media monitoring allows brands to get alerts when any such stories are shared mentioning the brand name or hashtag, and immediately repost on their channel. This is some really credible and inspiring content that brands would otherwise completely miss out on.
Do you need social media monitoring?
If you want to build a brand that people remember, YES.
If you want to build a brand that evokes positive emotions in the market, the answer is YES again.
If you want to build a fool-proof growth trajectory without risking negativity around your brand, well, you know the answer – YES.
So if you haven't been keeping track of what your audience has to say on social media? It's time to start now.
Start social media monitoring with Radarr.