When you talk about marketing or even establishing a name in the market, the very first thing that experts recommend is defining your target audience. Without knowing who you're speaking to through the content or the campaigns you create, you're broadcasting messages into the entire universe hoping to drive engagement and conversions through them.
That's as good as not targeting anyone at all.
With a plethora of digital platforms and the data they collect, businesses have easy access to information. The individual insights and reporting dashboard provide them with concrete information on their target audience. But when it comes to creating a unified dashboard with audience insights, marketers and organizations lack the effort to do so and the data continues to remain and be read in silos.
This results in incomplete audience insights, leading to half-cooked target segments and definitions of ideal customer personas.
And that's exactly where the importance of audience intelligence comes in.
What is audience intelligence?
Audience intelligence refers to the practice of collating key and valuable insights about audiences through data from various platforms and sources. This allows you to form a more holistic viewpoint of your target audience and consumer base, enabling you to make better-informed and defined growth strategies based on real-time data.
What does audience intelligence include?
Audience intelligence essentially means looking into your target audience based on their demographics, behavior and other indicators of interaction or interest in what your brand/ business has to offer. It typically answers the following questions:
What are the common attributes of your consumer base?
Where is your target audience the most active on social media?
Who are the influencers and KOLs that capture your audience's attention?
What type of news and publications does your audience listen to?
What geolocations is your audience located in?
What values, likes, preferences does your audience exhibit?
What does your audience feel about ongoing and emerging trends relevant to you?
What are the demographic and psychographic characteristics of your audience?
What does your target audience feel about topics relevant to you?
What are the expectations your audience keeps from you?
Simply put, audience intelligence sheds light on extremely specific attributes of your target audience and consumers. Attributes that impact what they perceive your brand as, how they choose to interact and engage with you, and what makes them actively purchase from you or a competitor.
If you ask us, these are the insights you need to reach your audience at the right time, on the right channel and with the right message.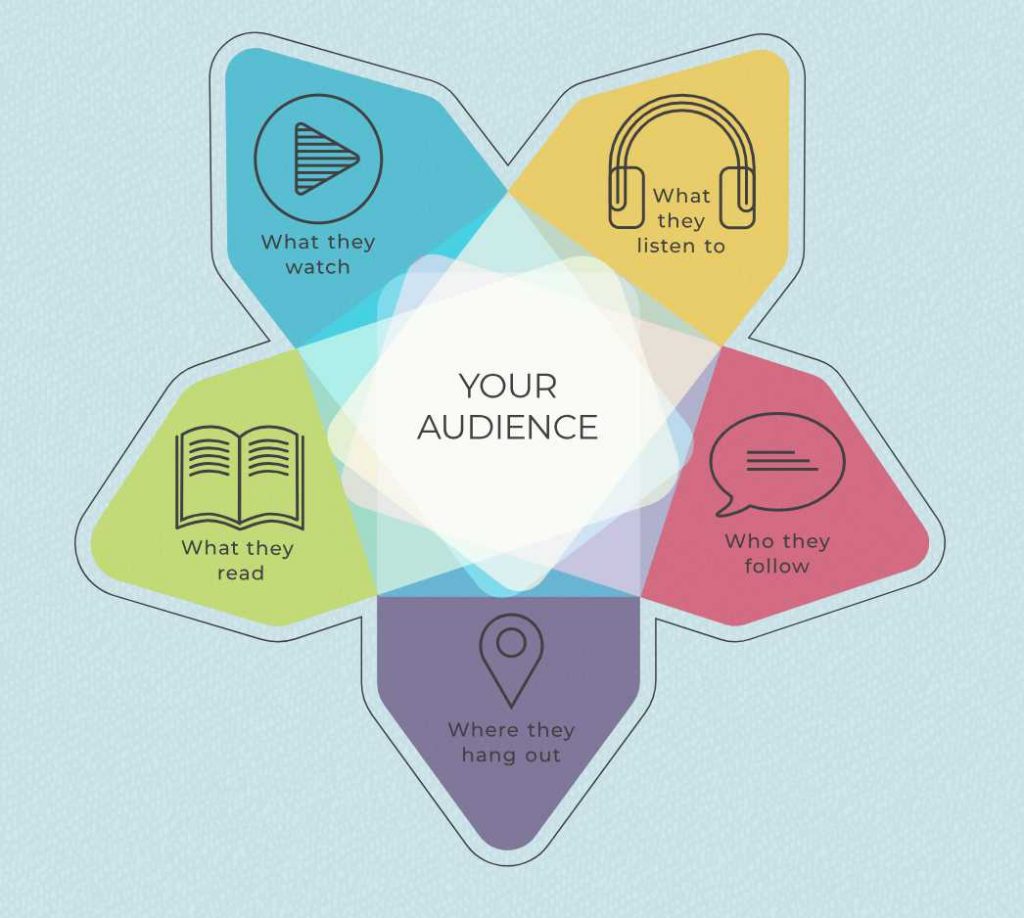 What is the difference between audience intelligence and social listening?
Social listening refers to proactively monitoring online conversations across social media platforms and digital channels to identify what your target audience is talking about your brand, or topics that are relevant to you. The process is more real-time in nature, enabling companies to respond proactively to their audience expectations and the engagement they generate on campaigns.
On the flip side, audience intelligence is more about pulling in data from the same sources and platforms as that of social listening, bringing it together into one dashboard and creating audience insights out of the same. Instead of real-time, the data displayed here is typically within a defined time range to be able to create audience segments or identify common demographics and characteristics.
Can social listening and audience intelligence be used together?
The answer is YES.
With social listening tools like Radarr, you can actually get access to audience intelligence as well. The tool not just keeps track of all the activity happening around you, but also takes out actionable insights and information from it. This typically includes identifiers of the various segments of your target audience, their sentiments, expectations, the accounts they tend to engage with the most and what can influence their decisions in your favor.
Simply put, it helps you stay up-to-date with what's happening online, keep up with ongoing conversations relevant to you and also actively identify target segments that add the most value to your business goals and objectives.
If you're looking for an all-in-one solution for social listening, monitoring and audience intelligence, book a demo of Radarr today.
What are the use cases of audience intelligence?
Audience intelligence finds its use across all business functions – be it marketing, sales, support, branding, competitive positioning or even the overall business strategy. Brands using Radarr are continually finding new ways to use the audience intelligence provided to fuel their business growth and optimize their resources on-the-go. Let's look into some of the most valuable use cases of audience intelligence:
1. Target audience identification
First things first, it's becoming increasingly important for brands to identify their target audience. This especially holds true if you sell niche products and services that are tailored to suit specific interests.
Audience intelligence helps uncover valuable insights about an audience, giving businesses the 'exact' information they need to reach out to and engage them through campaigns. It even helps in narrowing down the audience based on parameters that are closer to or have a direct impact on business conversions.
2. Audience segmentation
Audience intelligence by default focuses on categorizing people with common traits, demographics and behavior into smaller groups. This helps brands identify the different segments in their target audience and every segment's individual needs that may impact the performance of their campaigns.
This has enabled brands to create unique value propositions for different segments based on what appeals the most to them, resulting in higher ROI from both organic and paid campaigns.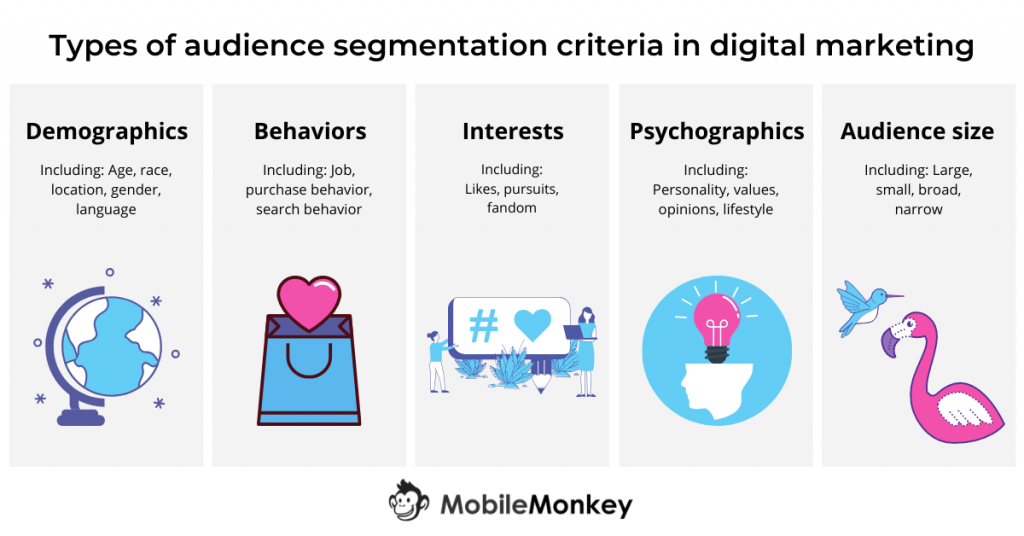 3. Social demographic segmentation
With the need for personalization increasing by the day, it is becoming important for brands to not just look into basic demographics to segment their audience, but also social demographics – these are parameters that lie beyond age, gender, location, etc to look into the psychographics that connect people within every segment, and one segment to another, to create a culturally relevant picture of who you're targeting.
This helps gain a deeper understanding of what values your audience segments are driven by, what influences their decisions the most and how you can create positive stimuli through your campaigns to engage them.
Also read: What is sentiment analysis and why is it important?
4. Influencer identification
Consumers trust people more than what the brands promise to them. That's why even leading brands are now working with influencers to reach out to their target audiences in authentic and unique ways of presenting their value proposition.
With the help of audience intelligence, you can actually segment out your target audience, identify who they tend to look up to for inspiration, aspiration or have an affinity for. This helps you collaborate with different influencers in different ways to speak to their interests more specifically instead of a generic campaign that speaks to all.
For example, if you're someone that sells to new mothers as well working professionals, you may actually tap into some common influencers like new mothers pursuing their passion and sharing their stories. Or you may want segregate campaigns of each to speak individually to each segment through different influencers to tap into a more tailored storyline.
5. PR and media planning
Similar to influencer identification, audience intelligence can also help you uncover the varied interests and source of information for different segments. You can then correlate those interests with what your brand has to offer and predict the overall impact it has on your business goals and objectives, leading to better resource allocation – both in terms of media budgets and efforts towards advertising, creating and distributing content.
Your PR and media planning has a big impact on how your target audience perceives your brand. Imagine getting a mention in a magazine that may have a vast subscriber base, but is more known for circulating negative news – this may backfire for some campaigns like promotions or cause marketing.
Also read: The ultimate guide to media monitoring and analysis
All in all, if you ask us, social listening and audience intelligence is what can help you run better marketing and advertising campaigns. These are the insights you need to strike a chord with your target audience, stand out from the noise and ensure you're headed in the right direction in times when one conversation can trigger a million others, impacting how a brand is perceived across the globe.
Do you really need audience intelligence?
Consumer expectations, needs and digital trends are changing all too rapidly. From purchase preferences that would change in months or even years, you see them evolve overnight owing to various reasons – especially global exposure through digital platforms.
So if you ask us, just keeping up with what your audience is talking about, is no longer enough. You need to understand the various characteristics that drive their behavior or play in as purchase motivations, and segment them to narrow down to individual traits.
Surveys have found that brands using audience intelligence have been able to improve their ROI on marketing campaigns and ROAS on advertising efforts by multifolds.
Want to see how you can bring siloed audience insights from channels like Instagram, Facebook, TikTok and others onto one dashboard to identify clear segments for better targeting?
Frequently asked questions about audience intelligence
1. What are audience analytics?
Audience analytics is another name for audience intelligence. It is a system that allows brands to gain a deeper understanding of their current and potential customers by uncovering insights into their demographics, social behavior, purchasing habits and other parameters. This enables crans to create better marketing strategies and improve customer experiences across the entire lifecycle.
2. How do you analyze your audience?
To analyze your audience, you need to start with a basic framework that describes a set of people who are likely to find your products/ services valuable. Post which, it looks into deep diving into the segments day-to-day behavior including social media channels they use, type of content they engage with, brands they buy from and even psychographic data. You can do this with the help of social listening tools like Radarr that pull insights from thousands of digital sources.
3. What is audience marketing?
Audience marketing refers to the process of aligning your marketing messages and content with the specific needs of your target audience and the various segments that form it. An audience-first approach to marketing focuses on the consumer more than the brand itself, nudging the business to focus on experiences more than selling. This is possible only with the help of audience intelligence.