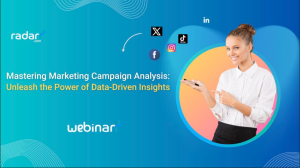 Ever wondered how to maximize your campaign's ROI and transform data into
marketing gold? Join us for our upcoming webinar on campaign analysis,
where you'll learn how to track your progress, identify areas for
improvement, and make data-driven decisions to boost your results.
Creating social media campaigns takes a lot of time, effort, and money.
Hence, every marketing team needs to have a sound assessment and feedback
mechanism to track the campaigns they create. We will touch upon the
following topics in our webinar :
What is Campaign Analysis?

Why is Campaign Analysis important?

How to set clear goals and objectives for your campaigns?

What are the key metrics to track, and how to measure your campaigns'
success?

How to use your findings to improve your future campaigns?