Gone are the days when you thought the only way to register your complaint against a brand or a product is to dial that ever-busy customer care support. As brands increasingly use social media as a marketing tool, many young customers are also finding the platform an effective way to voice their woes. In an ebook by Microsoft Dynamics CRM, LinkedIn's Senior Content Marketing and Social Media Manager Jason A. Miller perfectly describe social as a "telephone which can turn into a microphone." He said,"The voice of the customers are becoming bigger and louder." Hence, it is no surprise why some of the brands are now heavily investing a lot of their time on social networking sites to engage with customers and listening to their audience.
We chose three such brands who actively listen to their social community to improve their services or make visible changes to their products based on the needs of their customers.
Microsoft
Microsoft's Xbox One case stands out fresh when we talk about the power of listening to feedback on social media, also better known as social listening. When the gaming console was revealed in May last year, the company faced severe backlash on Twitter and Facebook. Gamers were particularly upset with the idea of connecting the console to the internet once every 24 hours. Many took it to their social pages to vent their anger against the new changes. Some went as far as threatening to change their loyalty and adopt Sony's PS4 console. Microsoft had to finally give in to their demands as the liability of not listening to the customers became high. Soon, Microsoft scrapped the new policy, retained some of its old features and implemented changes as desired by their customers.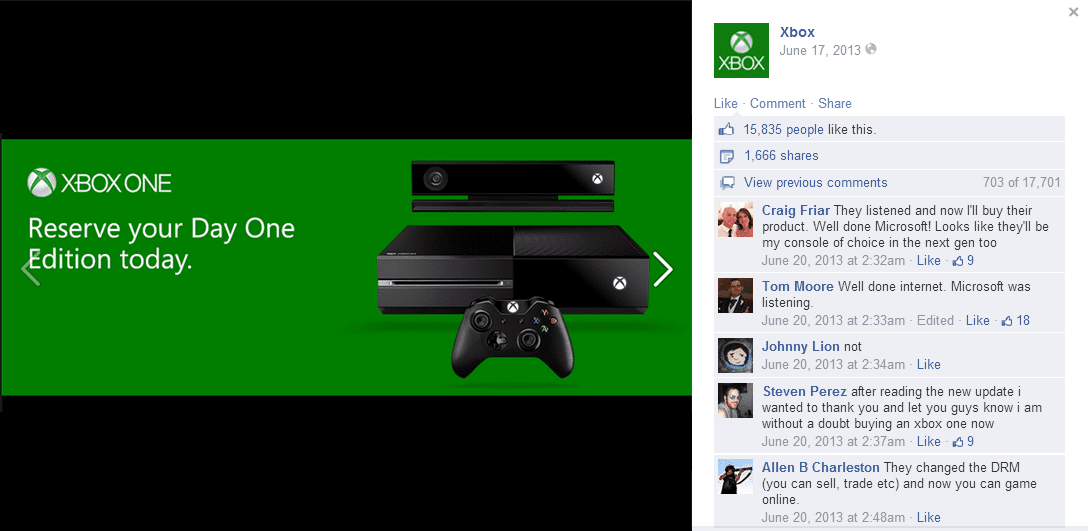 Fans show their excitement after Microsoft changed their policies to use Xbox One after they were bombarded with angry messages on their Facebook page.
Starbucks
Starbucks has consistently been listed among the most engaging brands on social by many social media enthusiasts and outlets. A look into their Twitter handles and Facebook page will tell you so. With over 6 million followers on Twitter, it constantly seeks ideas, listens to suggestions and closely monitors its services through feedback from its social community. In fact, they have a separate twitter handle @MyStarbucksIdea dedicated only to hear out customers' suggestions. Their responses to tweets and posts are direct, quick and at most times, they nonchalantly apologizes to disgruntled customers. Whether it's that complaint of serving stale milk or a follower\'s suggestion to provide non-dairy milk in their stores, Starbucks responds to each one of them giving assurance to incorporate suggestions or fix their complaints.
@deLIZZcious We want to make this up to you! Pls email details to twittercustomerservice@starbucks.com (store info: http://t.co/J2nKeeRzbV)

— Starbucks Coffee (@Starbucks) July 21, 2014
@REALTORLorettaT We\'re working on that idea. Stay tuned.

— My Starbucks Idea (@MyStarbucksIdea) June 30, 2014
JetBlue
Jetblue's marketing strategy has always been heavily digital ever since its existence. This California-based airliner is much ahead the race on how to use the social media pages to its best. Their online conversations are prompt, real and interactive, and is evident they try shaping their services taking into account feedback from customers. Tweets and Facebook post on flight delays, bad customer service or suggestions are all taken care with a tinge of fun and a lot of warmth.
@roydem We're always open to suggestions, Roy! How about we make it official? #ContactUs http://t.co/ycXxMfWamN

— JetBlue Airways (@JetBlue) July 24, 2014
Here's how you benefit by listening to customers on social media:
1. Build Relationships
Social media allows brands to forge a more personalised relationship with customers than what a traditional media can offer. By being a keen listener and responsive to customers, brands can make them feel valued. According to a study by J.D. Power and Associates, about 65 percent of customers expect companies to reply to them if spoken directly via social media. Hence, responding to feedback can show a brand's transparency and willingness to take responsibilities. This will go a long way in retaining loyal customers
2. Gives Brand a Personality
Discussions on social networks spread far and wide. Issues get magnified and louder, and if not tracked on time brands can run into the risk of a public disaster. Studies have shown that consumers who get quick and effective response are more likely to recommend to others than those who were not responded. Further, a special advantage of addressing feedback on social media is that it allows you to customise your response, make it more human, fun and real than just being a corporate entity. It gives a face and personality to the brand.
3. Garner Product Insights and Tap into New Markets
Keeping a close tap on what customers say on socials can give a good insight into how brands can improve their products and services. It gives ideas and first hand inputs on how a firm should proceed further in its strategies, what to end and what to start. As JetBlue\'s Senior Vice President (Commercial) Marty St. George puts it in an interview "I spent a lot of money and waited a long time to get feedback via traditional market research. Now I'm getting instantaneous feedback. To me, that was the power of it."
Get Your Feedback App
So if you have been using social media as a one-way road to reach out to the customers, it's time to change the game. Make it a platform for two-way communication between your brand and its fans. To make your work easier, Circus Socials' plug and play apps have specially designed feedback apps.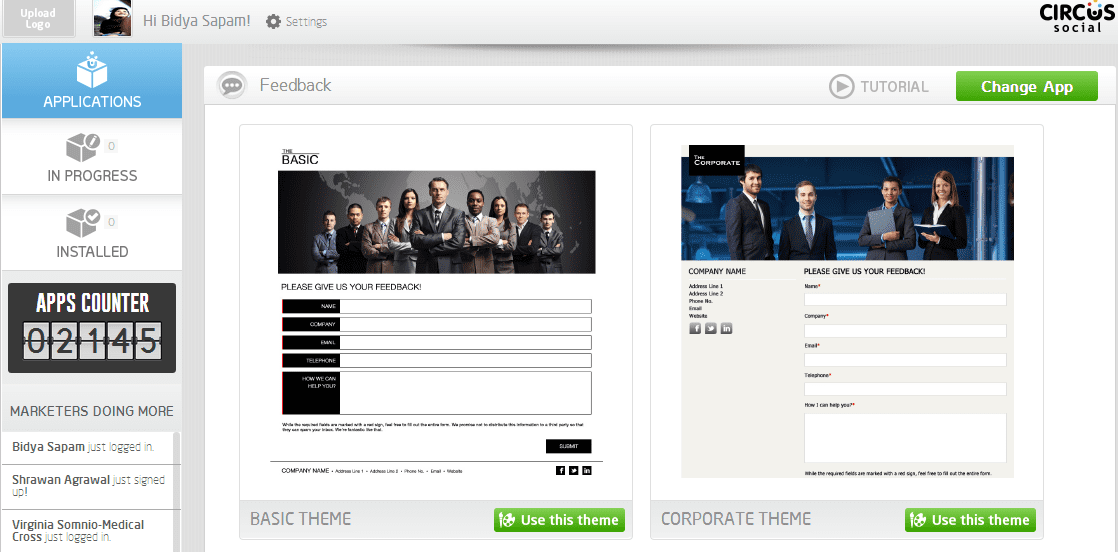 The dashboard provides a view of all the apps designed by Circus Social. It's got the Feedback apps too.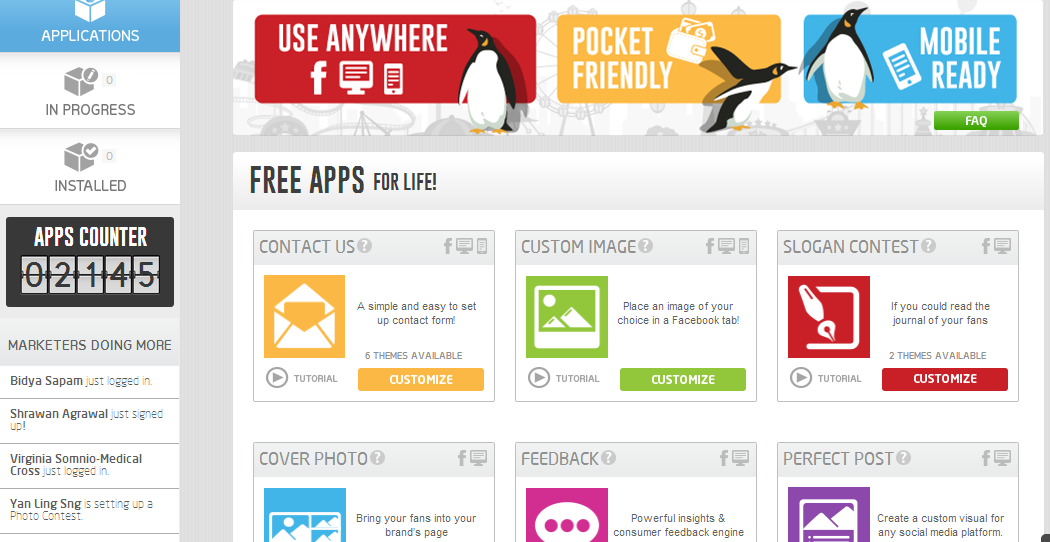 Customization
These apps can be customized and used for your businesses. It has different themes from which one can choose according to what suits best. It can be incorporated smoothly with your Facebook pages or your website. So go ahead and explore your customers. Time to listen to them.