Learn how to deliver the best social media customer service. 
"Why social media customer service?" is a pretty self-explanatory question.
Around 4.5 billion people are active on social media globally. That is 9.9% more people are using social media today, compared to 2021.
The average amount of time spent on social media worldwide is 147 minutes per day.
All this means social media channels are globally the greatest gateway to reaching your target audience – irrespective of the industry you are in. But apart from marketing, this also highlights the potential these platforms hold to serve your customers better.
In this article, we look into social media customer service, why and how your brand can improve the support it delivers to prospects and existing customers over the various platforms.
Social Media Customer Service Statistics
Social media customer service is a growing phenomenon that offers an easily accessible alternative to the crucial element of customer support – which was traditionally delivered over channels like live chat, email or phone calls.
Here are some statistics that prove the same:
Within 15 minutes, 59% of brand responses to user Tweets are made
When businesses don't have a separate Twitter account for customer care, this figure falls to 30%
In 2021, Forrester forecasted a 40% rise in digital customer service interactions
Around 69% of Facebook users from the US who message brands directly, claim that doing so increases their trust in the company
40% of holiday shoppers claim that businesses that allow for messaging increase the likelihood of them making a purchase
On Facebook Messenger, 1 billion messages are sent and received each month between people and brands
For customer support, 64% of customers would prefer sending a message rather than making a phone call
18.7% of social buyers in the US completed their most recent transactions within the social app; it makes little sense for people and brands to look elsewhere for customer service when buyers are making purchases directly from social media
Banks that respond to social media customer service messages within an hour, rank higher
Answering complaints and customer queries on social media results in a 25% increase in customer advocacy
And that's just tip of the iceberg; social media customer service is rapidly becoming the new norm owing to smart social media monitoring tools like Radarr making it simple to keep up with the conversations.
Social Media Customer Service Examples
While there are innumerable companies that have put social media customer service in place, here are some we absolutely love:
1. Morton's Steakhouse
How should brands react to jokes and challenges on social media? Peter Shankman light-heartedly asked Morton's Steakhouse to deliver a porterhouse steak when he landed at Newark airport. Morton's had a whole meal including the 24 oz steak and shrimp ready at Newark, to greet him.
This is especially impressive as the logistics were tricky to pull off. The whole meal was prepared and delivered to the right location at the right time. All this effort is just to reward a loyal customer! The whole point of listening to social media customer support messages is in being able to surprise buyers in a very positive way building a company's customer-friendly persona.
2. Starbucks
Starbucks has a very neat system to monitor relevant keywords of the brand, by using social listening. Not all posts on social media will tag the brand account, even if they mention the brand. This way they can reach out with relevant social media support responses whenever needed.
For example, if a buyer tweets randomly hoping Starbucks to reply, the social team can promptly respond with details to clear their queries.
3. Samsung
Samsung takes an interesting approach when interacting with customers. The story of Shane Bennett and Samsung is a great example of a good customer-business relationship. Shane Bennet, a loyal Samsung buyer, along with a drawing of a dragon, asked for a free unit of their soon-to-release product; a Galaxy S3.
Samsung sent a "No" along with a picture of a kangaroo riding a unicycle. Shane shared this on Reddit and the story caught on like wildfire. In response to this going viral on Reddit, Samsung Canada sent a customized Galaxy S3, with his dragon artwork on the back.
4. Sainsbury's
Being one of the largest supermarkets in England, Sainsbury needed an active and accessible social media support system in place to meet customer queries and complaints. They set up a Twitter feed that answered a lot of customer support questions related to products, services and prices.
Sainsbury has real conversations with customers that are funny and interesting. The business goes beyond just marketing to have fun with the customers. If this doesn't reflect positively on the brand then what will?! Both the support team and the buyers can develop an engaging and meaningful business relationship this way.
5. Nike Service
On Twitter, one of the best customer service accounts is that of Nike. Nike Service is a dedicated account that provides 24/7 support in seven different languages. Nike sets an example by approaching customer queries with a tone of concern and kindness.
When a customer posts a question which is unclear, the response remains kind and makes the customer feel comfortable and cared for by the support being provided. Even when the fault is on the customer's side, providing support kindly, leaves a positive impression.
6. Zappos
Zappos gets that social media platforms are the primary location where buyers share negative reviews and complaints about brands.
They aim at turning this fact over its head, making Zappos a brand known for its exceptional social media customer support. Instant, effective responses to queries mixed with a casual and friendly tone are enough to make the name.
7. Lush
Even when your support team is occupied, social media self-service options could hold the fort when customers are in need. Lush does this by using Instagram Stories to answer doubts and common queries related to curbside pickup, packaging, and accessing product consultations when stores are not open.
They create story highlights so that customers can easily access info from their profiles. Some of the stories provide links for additional support and FAQ pages. This way buyers always have access to valuable support without even involving the support team.
8. Bollé Brands
Bollé Brands also ingeniously uses Instagram to provide social support. Their customer support experience makes use of the AR features of Instagram filters to let customers know what their frames look like on their faces. The customers can even get a glimpse of how it is to look through their polarized lenses.
They have even created new AR filters to virtually try on their ski goggles, during the ski season. This way, engaging social media services can be used to provide an engaging alternative to the normal in-store shopping experience.
9. JetBlue
A JetBlue customer complained on Twitter about getting static seatback TV during a four-hour flight, while the rest of the passengers got normal functioning TV screens. Instead of ignoring the tweet or coming up with excuses, they replied empathetically, asking him to DM them with his confirmation code to offer credit to compensate for his unfortunate experience.
The customer reacted to this instantly claiming the airline as one of the fastest and best customer services. What's the takeaway here and from similar social media customer service examples? One of the benefits of using social media for customer service is that brands can put themselves in the customer's shoes to empathetically and actively respond and compensate for their shortcomings.
10. Delta Hotels
What does your customer want from their experience with a business? Social media support can aid in alleviating even minor inconveniences a customer might have to construct a positive image of the business.
When a customer tweeted that the view he got from his Delta hotel room wasn't nice, he was offered a better room with a better view, all within an hour, including a dish of sweets and a card from the staff waiting for him in his room.
This explains how social listening can be a handy tool. Your business's popularity can grow organically when word gets around about your instant and dependable support.
11. Xbox Support
Xbox has a dedicated elite tweet fleet to tackle any issues customers post about on Twitter. They have posted more than 2 Million support tweets since the creation of the Xbox Elite Tweet Fleet's inception in 2010. They have 27 support experts working hands-on to provide the finest social media support to their customers.
Their support team, besides the volume of interactions they have, provides follow-up messages after addressing issues. The level of commitment to your social media customer service can greatly impact the way your brand is seen. And Xbox is an excellent example of a fully committed social support provider.
How to Deliver a Good Customer Service On Social Media
1. Create Dedicated Accounts for Social Media Customer Support
In most examples above, businesses have a dedicated social media handle for customer support. Your customer service team is in a position to answer client queries faster than your marketing team can. This is the reason why creating a separate customer support social media handle is important.
By creating a dedicated social support account and adding links to this in your brand's other social media profiles, you let people know where and how to reach out to you.
Even PayPal has a separate social media customer service account: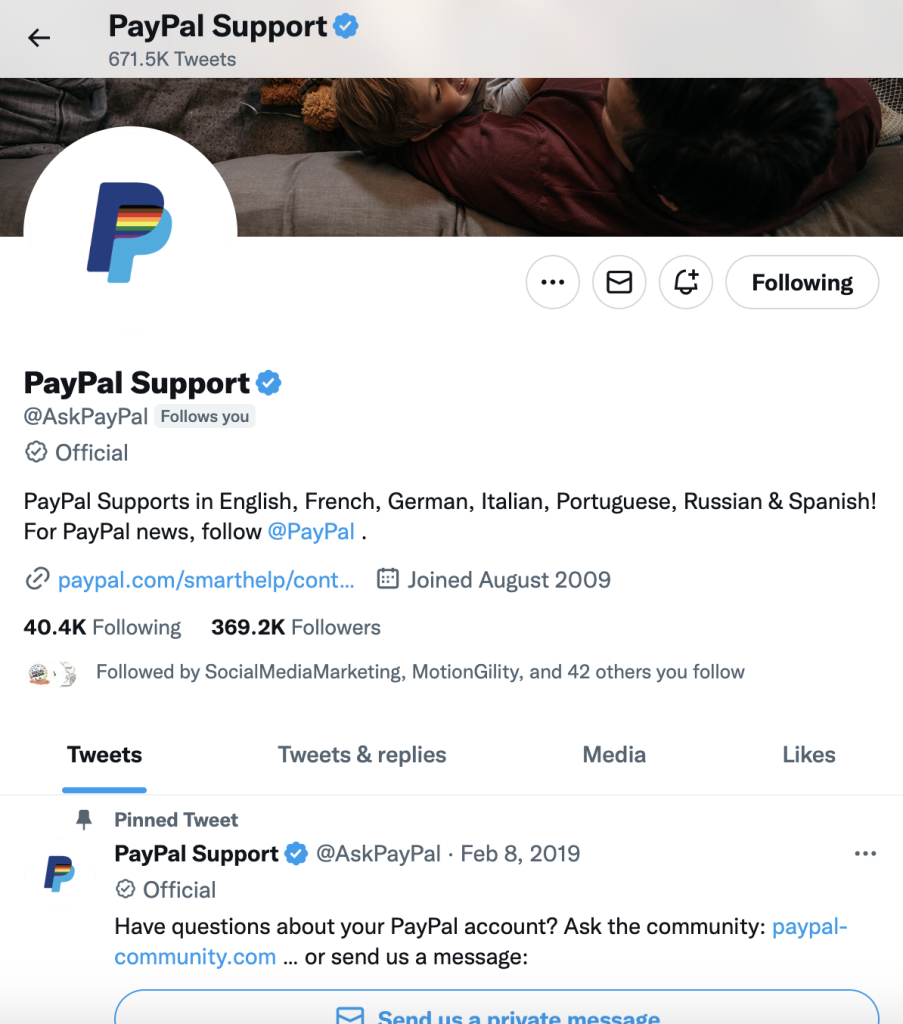 2. Find Conversations Relevant to the Business
Many will comment and post about your brand on socials without tagging. Some of these might want a customer service response, but you might not know if you are only looking at content where you are tagged in. You should find, monitor and respond to those comments and messages that are relevant to your business, even if the customer hasn't reached out to you directly. This is where Radarr can help!
3. Set up Social Media Guidelines
Irrespective of the challenges in social media marketing, having a social media guideline can put your business on the right track. Align these guidelines with your brand values and the social marketing team, and cover things such as;
Tone
Response time for different channels
Answers to FAQs
Protocol for customer issues and escalations.
A permission management system and procedure for message approval
4. Expand the Idea of What Customer Service Is and Can Be
What qualifies as a customer support issue? Ask yourself that and identify how you want to use social media customer support with maximum effectiveness. Customer service includes anything and everything that makes buyers feel connected and comfortable with a brand. Keeping this in mind, expand your idea of customer service to make buyers feel comfortable interacting with your brand.
5. Be Proactive
Customer service accounts can be a great channel to share educational info and other resources. Be proactive by sharing how-to videos or sharing links to informative blogs by using social media monitoring to identify conversations. You can do this using platforms like Instagram. Help buyers learn and make the most out of their purchases. These strategies can reduce service requests significantly, making it easier for your social support team to do their jobs.
6. Use Chatbot automation
When repetitive questions pop up on socials, you will need chatbots to automate your answers. Smart automation can deal with common questions like "How long is the free trial?" or "What is your return policy?", that come your way too often.
8. Be Quick
Response time becomes especially important in social marketing due to the fast-paced structure most social media platforms have. Social media experience is built around live feeds and hence the expectations of such platforms are different. People need faster responses to their queries on social media, and only by meeting this requirement can your business provide good social media customer support.
9. Use the Correct Tone
The tone of voice matters a lot as it greatly affects the impact of your social media support. In social media platforms where there might be certain limitations, this can prove a challenge. The easiest way to identify the tone you should have is to study what tone your customers use. Some brands even tailor the tone for each customer to sound more personal and interesting.
10. Address Customer Expectations
Buyers have different expectations from social media customer support offered by brands. For example, customers who pay more for service expect a better service experience. The service being provided can depend greatly on the team size. But still setting appropriate customer expectations and clearly communicating things like when your service team will be available, response time etc. can change how customers set expectations of your service.
11. Always Respond
This can sound simple but it is a rule that should be strictly followed. The questions that come towards your brand may not always be from your existing buyers. Only by responding to all queries and comments can you access all the potential that your social media customer support system can offer. If potential buyers don't get the support they wanted, they would easily become disinterested in your business.
12. Use The Right Channels
The most effective social media support channel is the channel that works best for your brand goals. That being said, it's best to be where your audiences are already at. You should monitor the channels where your brand is talked about often. This way you can prioritize those channels to provide social media support.
13. Have Private Conversations
Usually, customers contact you on social media platforms in the public sphere. When questions or queries that can be responded to better on a private channel come up, try to respond with a private message. These can be cases that need confidentiality, where information like booking number is involved. On mediums like Instagram where you respond with a DM, make sure you alert the customer to check their inbox.
14. Use Different Channels when It's Necessary
Social listening and responding are important parts of social media customer service but not always an issue to be resolved online from a single channel. When complex issues rise up and require more than social media, transfer it to other mediums like email or a phone call. Getting transferred from one channel to another or from one agent to another can annoy people so communicating what the issue is and doing this in a seamless and justifiable way is important.
15. Make Use of Your Knowledge Base
Using a knowledge base for social media customer service has a lot of positives. It can help reduce support tickets, and make customer support faster and more effective, all contributing to creating a group of satisfied customers. Link knowledge base articles so that you can save a significant amount of time and make things easier for buyers.
For example, Shopify has an extensive help center to address common audience queries:
Level Up Customer Support Using Social Media
Social media support isn't new.
Businesses like Xbox and Nike have been using them for a long time now.
As social media makes up most communication in the modern world, using social media for customer support and creating a good social media support strategy in place before the year ends, is a crucial step to take.
With Radarr, you can respond to social media comments proactively and consistently remain a dependable brand to your audiences.
Our social media monitoring tool helps you stay on top of all conversations, monitoring all digital channels proactively. But at the same time, it is our sentiment analysis tool that enables you to truly understand the sentiment of the consumers seeking support on social media, leading to better responses that create a positive brand image.
Want to explore how we improve social media customer service for brands?