Being the massive RuPaul fans we are, Radarr has been tracking the social media buzz around season 13 in Southeast Asia to uncover which queens are the fan favorites, who has the biggest social media following, and what viewers are saying about each episode.
In this post, we'll bring you the highlights from the first 6 episodes of season 13!
Social Media Follower Leaderboard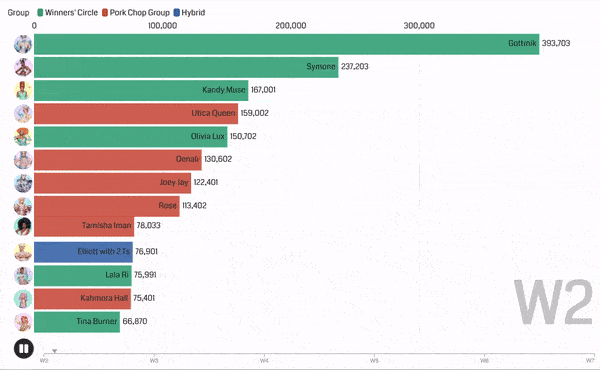 If you've been following RuPaul for some time, you'll notice that season 13 is a little special. In a surprise twist, the first episode saw half the cast immediately "eliminated" (well, sort of) and grouped into the Pork Chop Queens. The "eliminated" queens were not really given the ax, but instead, given another chance to showcase their talents separate from the first group of queens who won the challenge in episode 1.
Interestingly, queens who were eliminated saw significant growth in their follower count post-elimination, even surpassing some of the remaining competitors on the leaderboard, as seen by Kahmora, Joey Jay, & Tamisha Iman's placement in W4, W5 and W6 respectively.
Social Media Share of Voice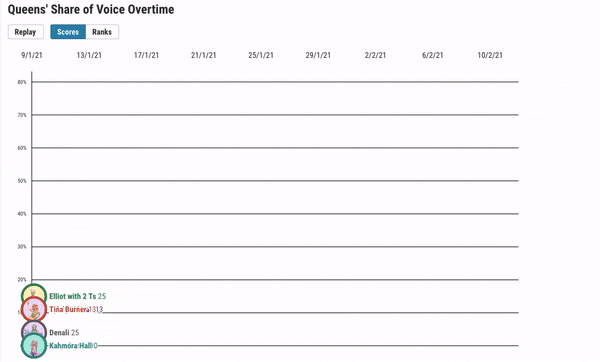 The Share of Voice chart measures which queen is driving the most organic mentions on social media. The higher the share of voice, the more mentions a queen has amassed.
Despite Symone's high follower count on Instagram, her relatively low share of voice of 4% indicates that she may not be a fan favourite in Southeast Asia. The most discussed queens on social media in the past 4 weeks were
Denali: 28% of all social mentions
Tamisha Iman: 13% of all social mentions
Gottmik: 12% of all social mentions
With the help of Word Clouds, a visualization of the most frequently mentioned keywords, we'll uncover what kind of conversations are happening on social media in relation to the queens.
Denali's WordCloud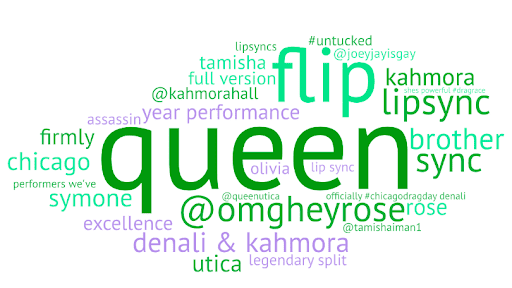 Words like flip, lipsync, legendary split, and assassin are a testament to Denali's showmanship and her branding as a fierce and captivating performer. Social media mentions about Denali typically peak after her performances on the show, as well as from her now-viral ice-skating video on Twitter.
Denali and Kahmora Hall's lipsync battle in episode 4 also created buzz on social media, given her close bond with the fellow Chicagoan.
Tamisha Iman's WordCloud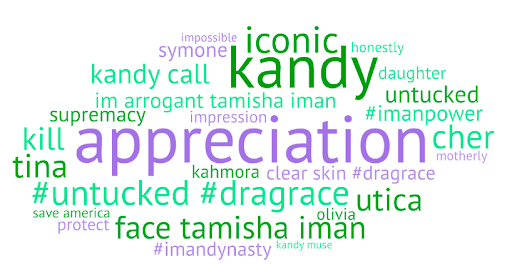 Tamisha Iman's extensive experience as a drag queen has seen the emergence of fan hashtags such as #imandynasty and #imanpower. While she is known for her motherly presence, viewers caught a glimpse of her not-so-nice side during a heated argument with Kandy Muse in episode 5.
In the episode, Tamisha accused Kandy of being arrogant, which caused a clash not just between the 2, but also divided the entire group of queens to take sides. Her departure from the show in episode 6 was an emotional exit for many viewers.
Gottmik's WordCloud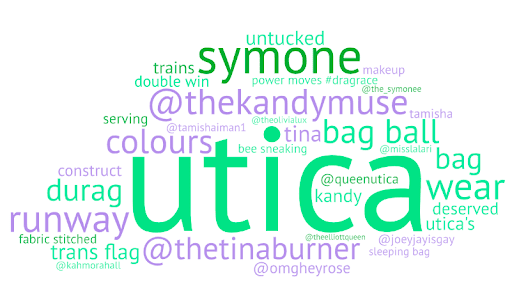 From winning the Ball challenge wearing outfits constructed using just bags, to the iconic Train Runway look which incorporated the colours of the Trans flag, Gottmiks' outfits are a popular topic of discussion among viewers. The outcome of episode 5 was also a huge subject of contention, with fans hoping for both Utica and Gottmik to win.
Bee sneaking also appeared in the Word Cloud because of the hilarious bee scene in episode 5, where a bee interrupted the friend group's discussion outdoors, causing them to break out in hysterical laughter.
---
RuPaul's Drag Race Season 13: Mid-Season Highlights
We are only ⅓ through the competition at this point, and we'll be sharing more RPDR updates in the coming months. Keep your eyes peeled and check our Instagram page every Monday for weekly updates!