Learn how to use social media for market research.
Most brands today know the importance of using social media platforms to spread the word about their products and services. But every marketer worth their salt knows that social media's potential doesn't end with building brand awareness. Social media is not just the key to reaching your target audience; it can also help you conduct market research and provide insight into who your target audience really is. 
Given that consumer behavior changes like the wind, market research is a never-ending ordeal which gets time-consuming and expensive over time. If you want complete clarity of your audience and want to stay top of mind, leverage social media to learn customer preferences and get their feedback on your product.
Only when you have accurate information, you can craft messaging that resonates, drive engagement, and boost customer loyalty.
This blog will tell you everything about using social media for market research, along with some examples and best practices to follow!
Step by step on using social media for market research
While there is no one way of going about how you use social media for market research, let's take a look at the key steps you need to cover:
1. Track trends on social media for real-time insights
Social media channels like Twitter or Facebook offer several ways to analyze emerging trends and conduct market research. Following their latest posts, most engaged audience time, most common posting day, and most popular terms can help you gain insight into the upcoming trends and identify what customers are talking about in real-time.
Here's an infographic that shows the most popular channels used for social media market research: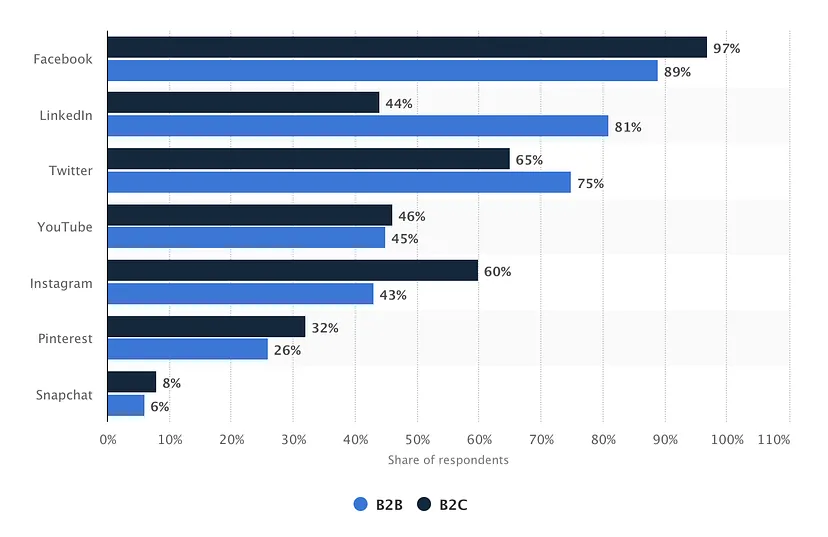 Twitter and Facebook provide real-time insights into trends and opinions, which helps a business cater to the changing needs of their consumers. They also provide valuable data about what a company does to attract customers, what to avoid, and develop effective plans for future campaigns around ideas that will benefit consumers.
You can conduct hashtag research on Twitter. Set up a few searches with hashtags related to your brand, product, or service, and you will start receiving instant notifications when consumers or competitors use those key terms. Twitter is the perfect platform to understand your target audience's preferences and behavior.
You can use polls to engage Twitter's massive audience and determine their thoughts about your product. For instance, Starbucks asks its consumers how their first Chai latte sip feels.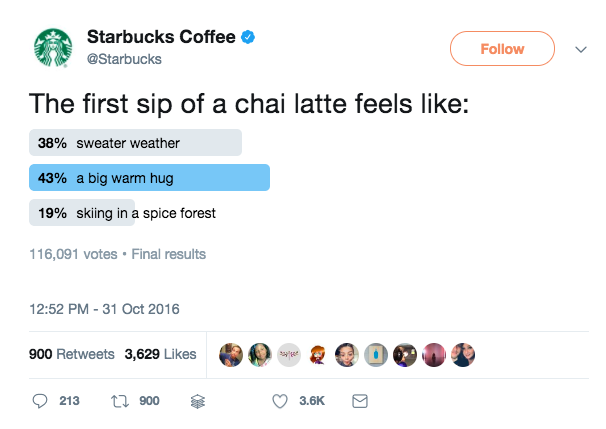 Pro tip: We recommend using a social listening tool like Radarr instead to be able to take into account conversations across other social media platforms as well. Manually monitoring each channel can result in missing out on crucial insights and not being able to connect the dots for an omnichannel marketing strategy.
2. Know your audience at a personal level
The advantage of social media channels is that they encourage two-way communication between brands and consumers, leading to a surge in social media market research. It also enables brands to get to know their audience individually.

While social media enables you to identify and understand your audience, it's up to you how well you leverage this opportunity. For instance, you can leverage this opportunity by using Facebook groups and communities to know your consumers. Gathering data and stats from these groups helps provide relevant information about the consumer's preferences and pain points.
Businesses have a lot of opportunities to get hold of valuable customer data, as about 1.8 billion people are using Facebook groups every month. Facebook groups and communities offer consumers a space to connect with others, share their challenges or celebrate personal milestones.
Understanding the consumer's motivation and preferences while sharing victories helps build a strong brand. For example, the Peloton group tries to know and understand the people who make up their audience. They also have huge communities where riders find inspiration and support from their peers, while Peloton gets to acquire more information about the people who make up their audience.
Pro tip: This is where using technology to your advantage can make engaging with your audience simpler. With Radarr's social media monitoring capabilities, you can keep track of conversations happening in online groups and communities, and actively participate in them.
3. Collect consumer pain points
One great way to collect your follower's pain points is by asking them for their ideas and opinions for developing or reviewing your products. You can use their data for market research, developing upcoming products, and understanding your target market better.
It can act as a communal focus group for brainstorming ideas, and you might use your followers' suggestions to modify the product or service accordingly. It's also an excellent way to build your FAQs by opening the floor for followers to ask questions!
If you're looking for ways to start conversations with your followers, you can conduct a poll or survey on Facebook or Instagram Stories using their question stickers. The questions sticker allows you to ask open-ended questions through your stories. Your followers can post their feedback in words without being limited to a set of choices to select from. This is an excellent way to collect customer pain points to offer better solutions.
For example, Grammarly has a new feature called a tone detector, where when you type text, the detector will analyze and tell you its tone, whether the writing sounds casual. In this Instagram Story, Grammarly asks its users what tone the tone detector tells them frequently. This is an interactive and exciting way to get feedback on this newest feature and get a great perspective directly from their users.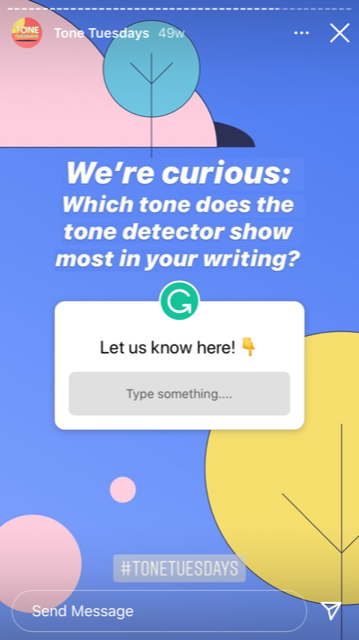 Pro tip: You can also make use of the sentiment analysis tool by Radarr to see what your audience thinks about the brand through the conversations they are having online. With an AI-powered engine, we are also able to actively segment positive, negative and neutral conversations around brands or their campaigns to help them derive actionables for more favorable outcomes based on the feedback being shared.
4. Qualitative content analysis
Consumers are not shy about sharing how they use certain products and what they like or dislike; they will rush to share their opinions on social media. The number of likes or shares can be a vanity metric, but evaluating the consumers' engagement rate on social media will suggest the appeal of a marketing message or product.
When your consumers' want you to know something, they won't hesitate to mention or tag your brand. There are several ways you can find feedback about your brand.
You can search for branded phrases and keywords organically on Facebook, Instagram or Twitter and monitor the conversation around your brand. It will help if you are watchful of what consumers are saying about your competitors for a competitive analysis that can help you track and understand your consumers' attitudes toward the competition.
Gathering feedback from your consumers through social listening can help you monitor opinions about your brand or competitors.
5. Leverage gamification
You may think, how can gamification be used in research? Well, it has several uses and applications, as gamification revolves around making it easier for consumers to express themselves. They have the freedom to describe their opinions and give honest feedback through interactive surveys.
Gamification elements improve the whole survey experience, making it fun for followers to engage with your brand.
Make it exciting by turning your Twitter or Facebook polls into a game or a light-hearted quiz. Use the power of intrinsic engagement, and play games to transform how you conduct research, collect data, and improve your brand products or services.
Instead of just scrolling through your feed, a quiz or poll encourages people to participate, which is a great way to get users to engage with your brand. People might even retweet or share the poll or quiz with their followers, boosting your response rate.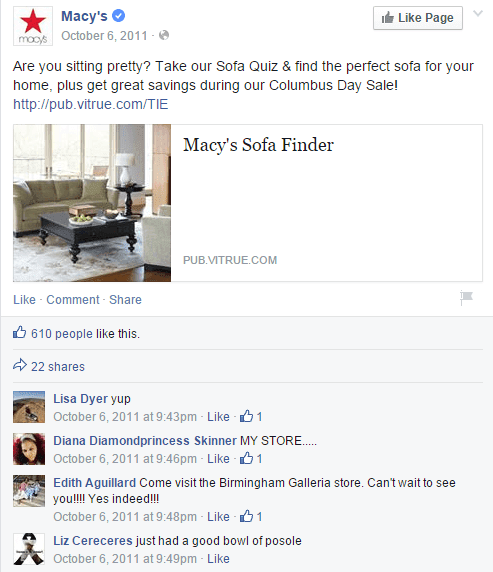 Best practices on using social media for market research
Now that you've discovered the power of social media for market research, it's also essential to keep certain factors in mind before you dive into research mode. Here's a list of best practices when leveraging social media for market research:
1. Set goals before you begin
Although social media provides a lot of data, it's only valuable if you can extract the right insights from it. Establish a set of goals before you begin your research. Perhaps it's to conduct competitor research or to get customer insights after a product launch. Either way, once you have clarity, you will know the right metrics to track and the right way to approach market research.
2. Focus beyond vanity metrics
Social media analytics are a boon when you're tracking your campaign's success. However, it doesn't always show the whole picture. Vanity metrics such as likes, shares and engagement rate can only tell you so much about the impact of your marketing efforts.
You must consider various other factors that impact your brand reputation. This includes tracking brand mentions, sentiment analysis and share of voice. If you want a complete picture of how consumers perceive your brand, you must extract the right data to optimize ongoing efforts with better targeting and messaging to drive successful outcomes.
3. Avoid taking data out of context
Data can be a powerful asset, but they're just numbers if taken out of context. Don't focus on one-off viral posts from competitors and presume that it's the key to a successful campaign.
Conduct thorough research and consolidate your findings to ensure your campaign is responsive and reaches the right people.
4. Invest in a social listening tool
It's clear that using social media for market research is a nuanced process and would take your team days to conduct research manually and implement their findings. If you want your marketing team to focus more on revenue-generating initiatives, why not automate the process with a social listening tool?
Using a social listening tool can simplify your market research efforts by giving you real-time audience insights and can track your campaign ROI as well. Make sure you invest in a solution that meets your requirements and helps you track relevant social media channels.
Wrapping it Up
When brands prove they understand their customers' wants and needs, they strengthen their bottom line, boosting customer acquisition and retention.
Data from social media empowers brands to make smarter decisions that contribute to their business goals. Radarr offers actionable and data-driven insights about your brand reputation and customer sentiment in its intuitive dashboard, so you never miss a beat when it comes to creating campaigns that resonate with your consumers.
Book a demo today to take your social media market research to the next level!