Consider this, whenever you make a purchase from an online store, you probably proceed to checkout and actually place the order only after going through the product reviews, ratings, and testimonials. That is, you need some concrete social proof before you make a purchase decision.
A recent study by Invespro showed that 90% of consumers read online reviews before visiting a business. And 88% of consumers trust online reviews as much as personal recommendations.
These numbers are so high because nobody would want to invest their money in brands that don't seem trustworthy. Your social proof helps you stand out as reliable. These 'proofs' could be product reviews, ratings, testimonials, social media posts, to name a few.
And the importance of each isn't just applicable to eCommerce businesses. From mobile apps to online tools, enterprise softwares and even services, a good review can make your business – and a bad one can destroy all the hard work you put in.
But as simple as it may seem, getting a customer to review your business in a way that it looks like they actually vouch for it, isn't that easy.
Worse still, it becomes really tough to monitor negative reviews that you may be garnering as there are so many channels that a consumer can post reviews on – based on what type of business you run – eg. Apple App Store review, Google Play reviews, Google My Business reviews, e-commerce reviews (Flipkart, Amazon, Shopee, Lazada, Tmall, jd.com) and more.
So how should you be asking for these reviews from your consumers?
What can you do to monitor all the incoming reviews – good or bad – then? How do you ensure you get more positive customer reviews?
We'll explain that in detail in this blog but before that, let's start from the beginning.
Why are customer reviews important?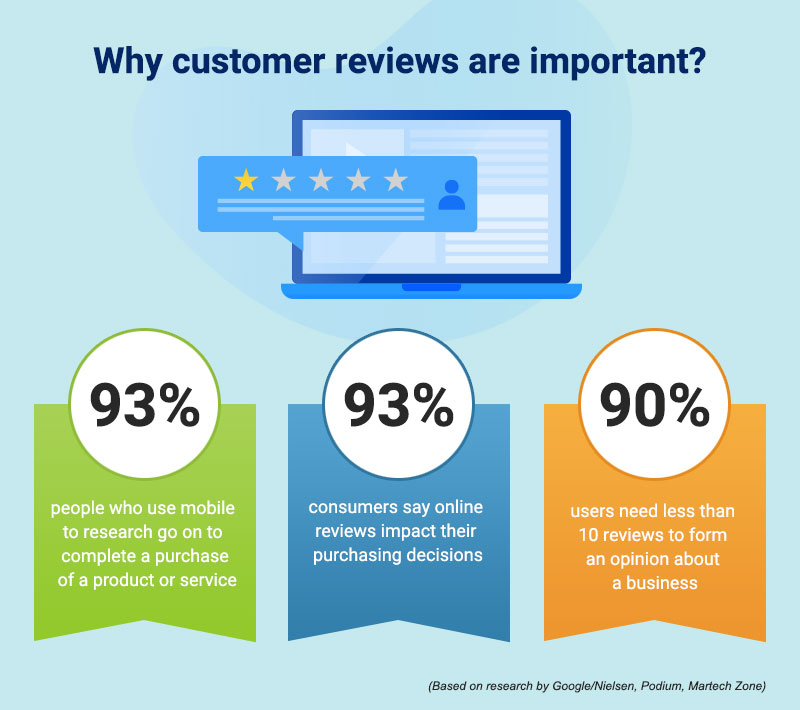 1. Social proof drives purchases
Other customers' reviews on purchased products/ services can affect a consumers' evaluation of the same and persuade them to make purchase decisions better and faster. It is a crucial aspect in customers' decision-making process.
Take a look at these numbers if you don't believe us:
About 85% of consumers state that online reviews influence their purchase behaviors drastically
63% of consumers are more likely to make a purchase from an online store which has customer reviews
Consumer reviews are trusted 12 times more than product descriptions from manufacturers
2. They increase your visibility
Most shoppers choose to do a quick search on search engines like Google when choosing where to make a particular purchase from.
This means that your SEO needs to be top-notch.
Customer reviews on any website will always be original and fresh content – something that the algorithm favors. So, customer reviews are in fact going to increase your website's indexing rate too.
And when you're ranked higher, the algorithm and consumers begin noticing you. This is going to help you gather more brand exposure and sales.
3. They make you look more trustworthy
If you cannot win the confidence of your consumers, you will obviously not make it.
Customer reviews can help your brand stand out amidst your competitors.
Your brand can build trust, reliability and credibility through product reviews, testimonials and ratings. They can help you significantly in building and shaping your brand's online identity.
4. They help increase the conversation about you
Encouraging consumers to review your company and/or products/services is an easy yet assured way to improve your brand's online presence and reach.
Yes, reviews on your website are going to be super useful, but if your customers are happy with their experience of shopping from you, they are more likely to share their thoughts on other platforms as well, like Quora for instance.
This will ultimately increase your online footprint and make you visible in the right circles.
5. They have a clear impact on sales
Did you know that 50 or more reviews on a product can increase its conversion rates by 4.6%? Also, customer reviews produce an 18% uplift in sales on an average.
This is because social proof enhances your customer's shopping journey.
With the increased brand exposure and trustworthiness, customer reviews do help you increase your overall revenue.
6. They give you an open line to consumers
Consumers expect brands to reply to their comments and reviews. These reviews are a medium for you to have an honest conversation with them.
When you respond to these reviews, it also shows that you, as a brand, care about your customers a lot and that they matter to you.
But like we said before, getting a customer to review your business is easier said than done – let alone nudge them to drop a positive one. So let's tackle that bit next.
Now, how do you ask customers for a review?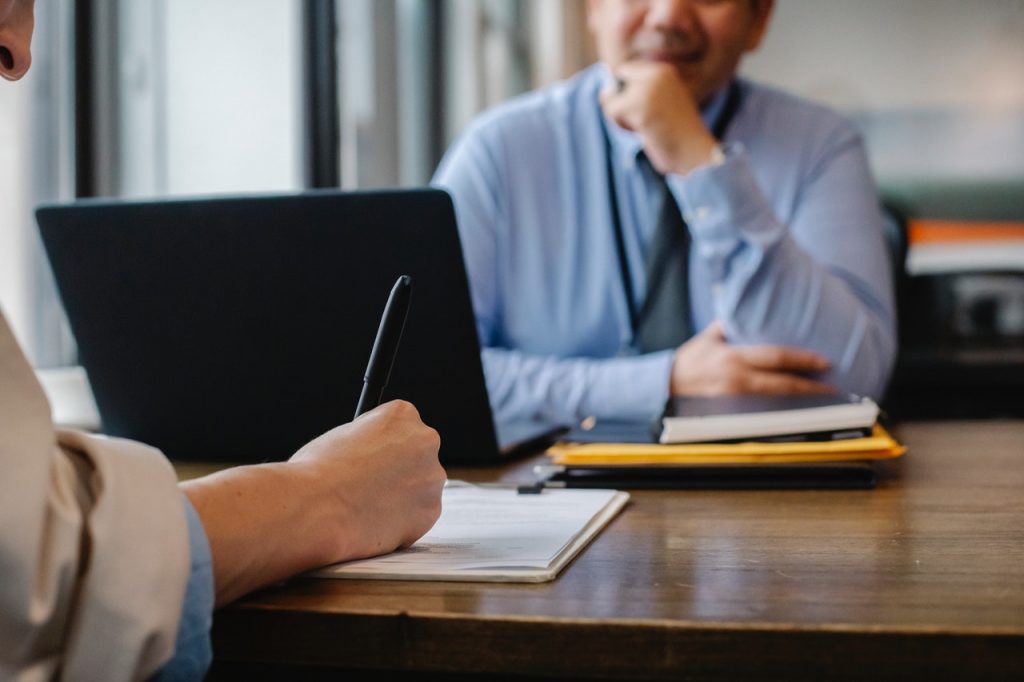 1. Identify the right moments to ask according to their shopping journey
To get the best results, you need to know when exactly in the customer's shopping journey should you ask for a review.
If you ask a customer for a review at the wrong time, it could lead to the customer leaving a negative review in a fit and fury, which will obviously be read by your other customers. This is going to ultimately affect your brand image and sales.
You want to obviously avoid that at all costs.
To maintain healthy relationships with your customers and also bag their positive reviews, you need to carefully and strategically plan when to politely ask for one.
Here are some instances of when you can ask for a customer review –
When they re-order from your store/ business
When they tag you in a social media post
If they are browsing through other products/services on your website a lot
If they ever refer a potential client/customer to you
However, remember that when you ask for reviews, it is also very subjective to the market and field you belong to. For instance, if you were a food delivery app, you will have to ask your customers for a review immediately after the delivery. On the other hand, if you were a skincare brand, you cannot ask for one immediately after the delivery. You'd have to wait longer so the customer can notice and feel the visible changes.
2. Choose a method that works for you at scale
Collecting testimonials, reviews and ratings should be an integral part of your sales process. You should:
Make it a point to ask for customer reviews after every successful delivery of product/ service
Add review requests in your automated email, SMS, Messenger and other communication channel marketing campaigns
Follow up with customers to nudge feedback and share the importance of it for you
The idea is to figure out what works best for you and then work on bettering that approach while also trying and experimenting other modes for better results.
3. Leverage moments of customer happiness
Consider this, you are an online gifting store, and you just helped one of your customers pick out a beautiful present for their significant other for their upcoming anniversary. They then reach out to you a week later to let you know that the gift you suggested was a total hit!
Leverage this exact moment. Do not let it go.
If you ever make remarkable progress in achieving customer satisfaction, that customer will very happily leave you a review – and a good one for that matter. While this can help you collect plenty of social proof, this also helps you avoid asking a customer for a review before knowing they had a bad experience shopping from you.
1. Begin with an open-ended question
You do not want to abruptly ask your customers for a review. Instead, what you should consider doing is starting a conversation.
You can use an open-ended question as your conversation starter. By asking your customers "Did you like the product XYZ" or "Was your recent interaction with our customer support satisfactory?" you can start a conversation and then ask for a review after analyzing their experience.
2. Reduce the hassle and let them know
In a fast-paced world like ours, your customers don't have all the time in the world to leave a positive review for your store. If it's a hassle for them, they'd choose to rather not go about it at all.
You could include multiple options that a customer could choose from to leave a comment according to their comfort or add a direct link to the review page when sending out a review request email, SMS or WhatsApp message.
So the basic idea is,
Keep your review-writing process as simple as possible and
Let your customers know it is hardly going to take a minute or two
This is going to help you gauge the customer's intent to leave you a review or a rating better.
How to ensure that all the reviews you get are positive?
Now, collecting reviews is one thing but ensuring that these collected reviews are in fact, positive and can actually benefit you is a whole other ballgame altogether!
Close to 86% of people hesitate to do business with a company if it has negative online reviews. You don't want to miss out on any sales opportunity obviously. So, here are some tips to bear in mind to help you get more positive customer reviews.
1. Create different spaces to leave reviews
Before customers make an online purchase from your store or subscribe to your paid newsletter, or install that mobile app of yours, they prefer to learn more about your brand. This means that your online presence matters on other third-party review sites as well when the customer does their online research about your company and the value you offer.
While you obviously should collect reviews on your own website, you should also cover the following platforms (subjective to your niche and market):
Google
Amazon
Facebook
JustDial
Apple App Store
Google Play Store
Angie's List
Choice
Trustpilot
Glassdoor
TestFreaks
Which?
ConsumerReports
Compare Camp
HundredX
Consumer Affairs
TripAdvisor
Yelp
Citysearch
Yahoo! Local Listings
Influenster
FinancesOnline
G2 Crowd
TrustRadius
GoodFirms
Salesforce AppExchange
Better Business Bureau
Manta
Capterra
Foursquare
Superpages
Top Ten Reviews
2. Optimize your content
Optimize your website, blog, social media profiles, app store listings and other digital profiles to provide easy accessible portals through which customers can write reviews and even view reviews dropped by others. You can achieve this by:
Add website badges to easily direct to your review forms, pages and profiles
Have a responsive website that is mobile-friendly for viewing/ submitting reviews
While asking for reviews via email, SMS and other channels, keep your message crisp and start slow
3. Add incentives
Your customer's time is valuable, so while you do ask them to drop a review, make sure you persuade them by giving them a good reason for the same.
You can create and offer incentives to them if they leave you a review. These could be discount codes for their next purchase, reward points, gift cards – anything that suits your business model!
For example, a number of mobile apps share a custom discount code on their paid plans to those who review their apps.
Pro tip: Ensure you have the ability to monitor and manage the reviews closely.
4. Respond to every review – even the negative ones
It is okay to make mistakes. But as a brand, it is only okay as long as you own up to it and make an effort to rectify it.
When you receive a bad review, take time to respond to it thoughtfully, without being too defensive. Try to understand the customer's experience, the sentiment behind the review and resolve the issue.
The best way to do this is to have a powerful social media monitoring tool like Radarr by your side. The tool lets you keep track of all the reviews that are being posted online across all platforms and between conversations. It comes with a sentiment analysis module that further helps you understand the reviewer better, helping you resolve their concerns in a more contextual manner.
5. Share positive customer reviews you've already received
When you receive a very good customer rating, review or testimonial, make it a point to share it with your customers. This will act as a persuader for others to add their personal happy experiences of shopping from you as well.
For that matter, reviews and testimonials make for really good social media posts as well that can double up as ad campaigns.
6. Leverage social listening
If you closely 'listen' to all the conversations happening on the internet about you, across social media platforms, online review websites and publications, etc, you get a chance to actually reach out to customers, engage them in conversations that lead to positive reviews.
For instance, when someone has bought something from you and needs help in how to assemble it, if you're social listening, you can reach out to them in time with a how-to guide before they get frustrated; similarly, if someone is not happy with your service and mentions it on their Instagram story for instance, or submits a review to a review site, you can reach out to them and ask for feedback, what happened and use that information to turn their negative experience into a positive review.
But the trick to nailing this part of the process is having a social media listening tool that brings all the conversations onto one dashboard. Radarr pulls in conversations from 100+ data points per day, helping you listen in closely and engage your audience.
Bonus tip: Start understanding your consumer sentiments
Customer reviews are a long term game and will never stop being of importance when it comes to growth. If you want to ace them, you need to understand your audience and your customers better.
This is where sentiment analysis comes in alongside social listening.
It basically enables one to not just tune into the ongoing conversations on your socials and other channels, but also understand the sentiment that they stem from and help you identify where you can improve or how you can reach out to that particular customer.
With Radarr Sentiment API, you can now make sense of your own data sets and uncover the unsaid to understand your audience's sentiments better. When you understand your audience better, you are able to deliver a better experience to them and in the long run, get more positive reviews for your business.
Conclusion
With 2022 just a few days away, it's time you focus on growing your business sustainably and through your customers.
And make social proof an independent growth strategy for your business in a competitive ecosystem!
Whether you're a mobile app developer, a service provider, agency, software company, or a publishing website, don't wait another day on social proof.
Here is the complete guide to Instagram social listening.
Get better at getting reviews with social listening with Radarr. Book a Radarr demo today.