On the day India's Prime Minister, Narendra Modi, declared the currency demonetization, the country witnessed a mixed reaction from its people. The very next day, the whole of India was in turmoil and rushed to exchange these notes from banks and their ATMs, – only to find that banks and ATMs were struggling to meet these suddenly increased demands. Widespread chaos ensued across the nation and hundreds of thousands of people were adversely affected, most evidently the lower strata including farmers, daily wage earners, middle class and SME's. Even large corporates in India were forced to shut operations for multiple days and lay off hundreds of employees. Other incidents representative of the impact of demonetization were the endless long queues of harried, starving and deprived men and women in front of ATMs and banks, once flourishing street stalls and shops, now a deserted scene.

The decision made by PM Modi to demonetize 86% of the notes in circulation was one that was initiated with various interests in mind. The one thing that it has undoubtedly successfully accomplished, is that of the widescale adoption of digital payments technology by Indians of all strata, nationwide.
In the wake of this massive push towards digital payments technology and moving towards a cashless, economy in India – one of our payments solutions clients saw this as a great opportunity to leverage their presence and services. The global payments company sought to identify more growth opportunities for their business and to increase share and adoption of its digital payments solutions in India. At such an opportune time, in order for it to reach out to this massive audience, it was extremely crucial to identify and understand the voice of public opinion, thoughts and issues surrounding this new loss of currency. An understanding of what the masses felt, what were their pain points and issues, could help the brand provide a solution in the form of its services which at its core was all about going cashless and embracing digital means of payments.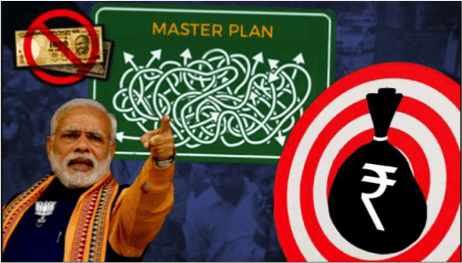 This is where Radarr, our proprietary social intelligence and listening platform, helped the brand achieve insight and clear view into the opinions, thoughts and trends of the consumers moving to digital payments in India. A continued study of competition has also helped the brand keep a close tab on competitors as well as payment wallet solution providers' activities of interest.
We at Circus Social, leveraged data from 20/Twenty to deliver daily insight reports which informed the brand of key developments and areas of opportunity in India with the following assessments –
• Consumer sentiments towards demonetization
• Identification of pain points of consumers as well as SME's
• Tracking various campaign efforts of the government and competitors to learn what worked and resonated
• Tracking daily updates of other e-wallet companies like Paytm, MobiKwik etc.
• Measuring and categorizing different types of consumer engagement
• Identifying key influencers
Content opportunities – DemonetizationThe client also leveraged our social listening platform to get daily automated alerts when there were key issues being discussed, changes in consumer sentiment as well as growing trends. Alerts were based on keywords and consumer sentiments, when they reached a particular threshold the client received a notification. These e-mail alerts helped our client to be alerted to new and important updates and changes around India's demonetization fiasco. With the help of 20/Twenty, the team was able to tap into the pulse of the masses and understand their sentiment on the whole demonetization drive.
Here are some of the interesting trends and insights from this crucial period:
• Over a period of two months' people have understood that downloading an e-wallet app to pay bills is very convenient. Hence, adoption has been quick and easy with people using their e-wallets for to pay almost everything now including mobile bills/recharge, utility bills, cab bookings, movie tickets, etc.
• Post demonetization, e-wallet companies like Paytm, MobiKwik and FreeCharge have seen a huge surge in their daily transactions like never before. Paytm, MobiKwik, FreeCharge have already been in the overdrive to reach out to small traders to commence transactions on their platform. From running full-page ads in newspapers to making their presence felt on TV and digital, Paytm, FreeCharge, MobiKwik etc. are focusing on educating the consumers, expanding their user base and promoting cashless transactions.
• Moreover, since a lot of merchants don't have card readers for debit/credit transactions, they have started to accept e-wallets as a mode of payment.
• Despite the positive developments post demonetization there still exists a section of people who are unhappy with PM's decision of currency ban as they are forced to stand in long ques to withdraw their own cash. Also there are shops which still don't accept any form of e-payment
• Infrastructure still a problem as its unable to cope with demands for new cash. ATMs are constantly out of cash and long queues till the wee hours of the morning persist resulting in severe consequences for consumers with them unable to pay and support their day-to-day consumption.
Whether or not India will benefit from the demonetization drive is still a big question mark but Mr. Modi's demonetization initiative has definitely been a boon for India's e-payment providers and they definitely have right future.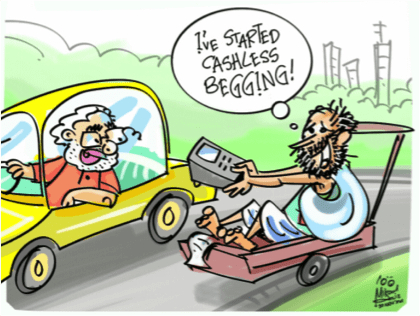 The future of e-payment providers in India:
• The future seems to be extremely strong. Smaller restaurants, vegetable venders are now open to accepting e-wallet payment, some merchants do not accept credit/debit cards but are now accepting e-wallet transactions.
• There has been a constant increase in the number of electronic transactions since demonetization started. Out of the 700 million debit card users in the country, 450 million earlier used the facility only at ATMs. Now, they are swiping cards at PoS (point-of-sale) terminals. This is encouraging for a move to a cashless economy.
• E-wallet transactions are convenient as these are conducted through mobile phones with internet connection.
• This is the time, for Digital Wallet Companies to grow further and be the next way of growth because people are moving towards digital life by accessing internet facility to their life.

So far so positive, but what could hold back this trend?
Having specified the benefits of electronic payment system, it is necessary to mention its drawbacks:
• Restrictions: Each payment system has certain restrictions regarding the maximum amount in the account, the number of transactions per day and the withdrawal amount.
• The risk of being hacked: As more and more people download and figure out how to use mobile wallets such as MobiKwik, FreeCharge or Paytm, there is also increasing concern over the security of transactions on these apps. If one follows the security rules the threat is lesser. Most reputed wallets adhere to all RBI security specifications and also have extra layers of security. However, most wallet apps only require a simple click for its operation. So, if you lose your phone, whoever finds it has control of your wallet. Only thing which may save you is a PIN or fingerprint protection when you send or transfer money. Though all apps are inherently safe, or as safe as your bank account, there are a few things a user has to do to ensure the financial information or money on their phones is not misused.
• The problem of transferring money between different payment systems. Usually the majority of electronic payment systems do not cooperate with each other. In this case, you have to use the services of e-currency exchange, and it can be time-consuming if you still do not have a trusted service for this purpose.
• The lack of anonymity. The information about all the transactions, including the amount, time and recipient are stored in the database of the payment system. And it means the intelligence agency has an access to this information.
• The necessity of Internet access. If Internet connection fails, you cannot get to your online account.
In general, the advantages of electronic payment system outweigh its disadvantages and they have bigger opportunities compared with ones of traditional wire transfers.