With its intelligently written, subversively humorous and delightfully witty script, The Simpsons continue to poke fun at itself and almost everything in its wake; being the longest running television show unknown to none.
We know you missed no episode of the show that is now in its historic 26th season. But we would be really pleased to know if you haven't missed out on their Facebook page – that's what we expect from hard core Simpsons fans!
Well, as usual we were browsing through the most famous Facebook pages of all times and we stumbled upon a name that we just couldn't scroll past. The Simpsons page has been in the talks for many years (with so many more to come). But we all know that pages aren't like the series that you get glued in front of and clearly this page had something that others missed out on – a great content strategy.
We know you have heard a little too much about content marketing, but we can't help it! We need to keep you posted with the latest in the circles – "at all times". We can easily pass off as page stalkers, but we make sure you get the best out of it.
Here are a few things (and tips) you are going to come across on their page and mind you, you are going to stop and admire – who? The marketers running this page of course!
The Typical Simpsons–ness At The Start.
See that? That's how we want our profiles to look and while we keep planning, the marketers for this page seem to have gotten it right.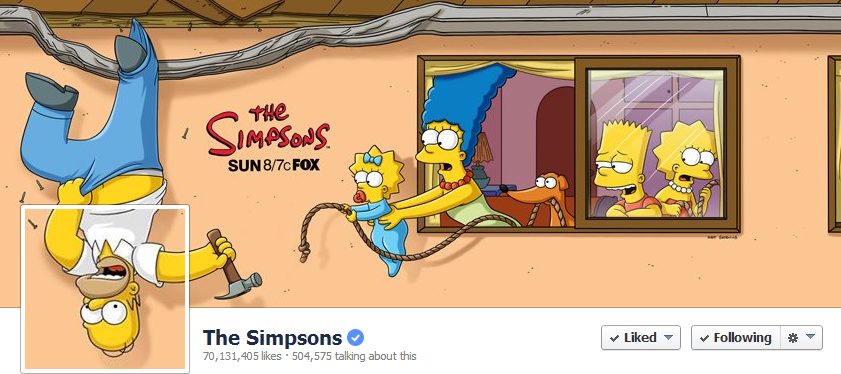 With Homer Simpson hanging upside down (the usual clumsy him!), we just can't help but admire how they managed to connect the two pictures. Unlike other Facebook pages of many brand names that have separate pictures in place, the change is most welcome.
Tip: We know how you want to showcase your brand name in the pictures, but dare to be different. Take to telling your story through the pictures. Wake that creative side of yours with some strong coffee and get to work. We know that connecting the pictures is a tough task, but c'mon! We are sure your brand could make do with a fancy fun cover.
The Funnier, The Better!
We always say "image, the better" so we decided to change this and get emotions in the limelight. If you have missed out the secret to content virality, you better catch up! The emotions play a vital role in the success of your page posts, which determine the success of your page on the whole. Posts that render the viewers amused are clearly the ones doing well. Everyone has time for a good joke!
Tip: Okay, we admit being funny can be difficult at times (and for most brands), but instead of sharing the usual content all the time, how about picking up a few 'light' topics trending in your circles on some days?
Always In The Loop, Aren't We?
With the ever-changing trends (and technology), there is always one news or the other that you can play around with. In this case, make fun of maybe?
Tip: We know it is hard to keep track of the worldly news amidst all the hard work for a successful social media campaign, but maybe you could have someone keep track of the news related to your brand and news that you could express your views on.
Newsworthy.
An upcoming event? Contest? Something! Well, don't forget to get your audience involved as well. Even if they can't be present 'physically' for that event of yours, you'll be surprised by the numbers present on your page.
Tip: Keep them posted at all times.
Ahaaaa..The Image-r, The Better!
Ok, we did say we are changing this line, but no! Images are and will remain the most shared post type on Facebook. Stock up on some images – different moods, different themes; probably get an image series going for your brand.
Tip: Don't forget to cheer your favorite team!
Peek-A-Boo!
Deep down everyone likes snooping. Not to sound too creepy, all we mean is giving out a sneak peek into an upcoming episode or a product of your brand is certainly a good idea. The curiosity generated escalates the interaction viewers make with your page almost instantly.
Tip: Social media campaigns are all about promoting your brand's products in the right place and at the right time. Investing in paid campaigns for some of these previews will let you reach out to a larger audience. Share videos. They are the next most shared type of post after images. So you can offer small clips of events, promotions or even your brand products. And if you don't already know this, storytelling is your cheat sheet to viral videos.
Quoting It Right!
It's no longer considered cliché to have a quote or two doing rounds once in a week. It only shows how aware you are of other things except for your brand.
Tip: Try and keep the quote around your brand. It shouldn't sound vague.
Answer Me!
Have a weekly question–answer round with your fans. The amount of engagement you draw in by asking one simple question can be unbelievably LARGE.
Tip: If you do end up with such sessions, don't forget to be prompt in answering because people tend to get bored really quick.
If you haven't had enough of The Simpsons, here's another thing this page taught us:
Be Consistent!
Pages that become popular amongst their targeted audience, tend to start taking it for granted and offer lesser content to their fans, with time. The only thing that this results in is the loss of audience.
Tip: Don't overdo it, but post regularly.

Can we get back to watching The Simpsons now?
Book your Radarr demo today!