Social media as of late has become more of a beast that businesses are trying to tame, rather than a powerful tool to be used to enhance their business. With this changing social media landscape, what was once presumed to be a fad and expected to meet the same fate as the dot com bubble burst, ceased to occur. Social media has impacted the revenues of the traditional marketing, along with the ways of the advertising world. This can be seen by the emergence of the ads in YouTube and the growth of targeted Google & Facebook ads.
While social media has impacted the world around it in a large way with its own landscape, there are so many dynamic changes happening that being on top of it has been a challenge that has been faced by the businesses and professionals alike. Sometimes it is the platform deciding to change its way of functioning. For example, Facebook has been known to change its layouts and ad policies almost without any prior intimation which tends to impact the planning and other times a relatively new platform, or an app becomes a fad or an obsession while one that was a rage a day ago becomes oblivious. A classic example of this is Facebook taking over Orkut which overshadowed MySpace.
The social media ecosystem requires the social media managers to essentially be more creative in their approach than technical. Information needs to be shared rather than merely collected. This makes it essential to be aware of certain approaches while planning a social strategy:
Content Focused Approach
The focus has drastically shifted from profile creation to a more content focused one. Engaging content drives the individual to share it within their network which in turn translates into the traction for the brand. Aim should to be to educate and entertain those who visit the page.

German business software company SAP, one of the largest software companies in the world, is an ideal example of using content for engagement. Its SAP Community Network, has more than 2 million members, has been functioning since 2003.  There are over 5,000 members, including customers, partners and outside developers, who blog on the network, creating a huge database of feedback for the company. Seven hundred other members moderate tech-focused conversation threads, covering topics from scripting languages to sustainability. A constant flow of webinars and e-learning materials keeps everyone in the community up to date. Not only is the network a valuable resource for the companies, clients and thousands of employees, it's created an extended culture.
Experiment With The New, Stay Loyal To The Old
Social networking platforms are cropping up fairly frequently. So its natural to have the knee-jerking reaction of wanting a presence in all of them to capitalize the trend to the maximum. While the intention of the approach is right, it is impossible to sustain the entire gamete of activities on all the platforms. Keeping the focus on a few and integrating the rest on a single platform is a good way to begin. Each of the new entrants can piggy back on the existing established players. Facebook is an excellent platform to integrate the other social media activities.
Space Is A Commodity To Be Used Wisely
Every bit of internet is a marketplace. Make it a place not just to share ideas but to exchange them. This enables possibility to capitalize the space.
Capitalize Existing Social Media Assets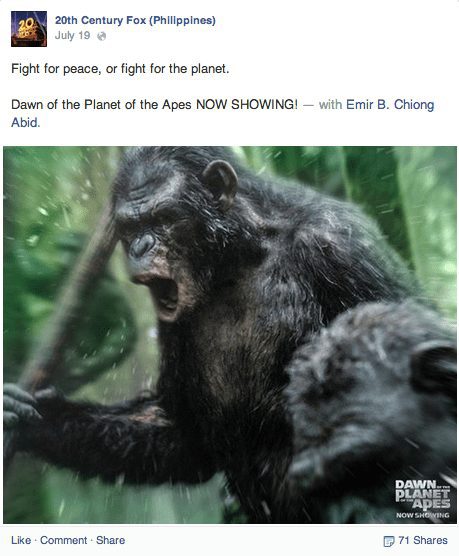 Instead of chasing the volume of new followers its important to leverage on the community on your owned properties. The key is engagement. The volume will automatically follow. One of the interesting example of this is one of Hollywood's biggest film studio-20th Century Fox. Fox not only manages its own core page but also has region specific page (for eg. Fox Indonesia/Fox Star Studios India) which are active with the ongoing activities of the studio. The studio also creates movie-specific pages as per the release schedule. All these pages are promoted actively and audience is kept engaged even after the movie is released. When a new release is around the corner every single page is activated which then reaches a wide target audience.
Paid Campaigns
Most social platforms are making their free memberships restrictive and hence to reach the right audiences the advertisers will have to be more open to pay. But the use of the advance tools will be effective in getting an edge over the competition.
Social Sells
Social Media is no longer just a passive marketing tool. Through the emergence of Ecommerce social media can play a powerful ally to the sale of products and services
Collaboration
It is becoming increasingly essential to think as collaborators rather than individuals in the social media ecosystem. Like individuals businesses too need to be leveraging on each other connects. This can either be done with brand partnerships or sharing interesting content of other relevant brands. Thinking individual gain is quite passé as a thought in the increasingly social world.
Clear Ideologies
Its extremely essential for the brands to be true their identity and remain so to stand apart from the clutter
While traditional media is sure to dominate the advertising world for quite a while social media is being taken more seriously. Businesses are more open to adapt the changing scenario. With minimal but focused efforts the social media platforms will emerge as a powerful ally rather than just another activity a company has to indulge in to align itself with its potential target audience.