Today's audience relies heavily on the internet to share positive and negative experiences, voice their opinions, and influence others. This makes it vital for businesses to actively engage in online reputation management to monitor and respond to feedback effectively. 
Online reputation management software and services help businesses maintain a positive online image and protect their brand. These tools enable companies to promptly monitor and respond to customer feedback, address negative comments, and showcase their strengths.
However, to keep watch across multiple channels, you require the appropriate tool.
The following are the best reputation management tools to enhance your overall brand reputation and to keep you on top of your game.
List of the best online reputation management software
While there are plenty of tools and technologies that can help businesses with online reputation management, let's take a look at some of the best:
1. Radarr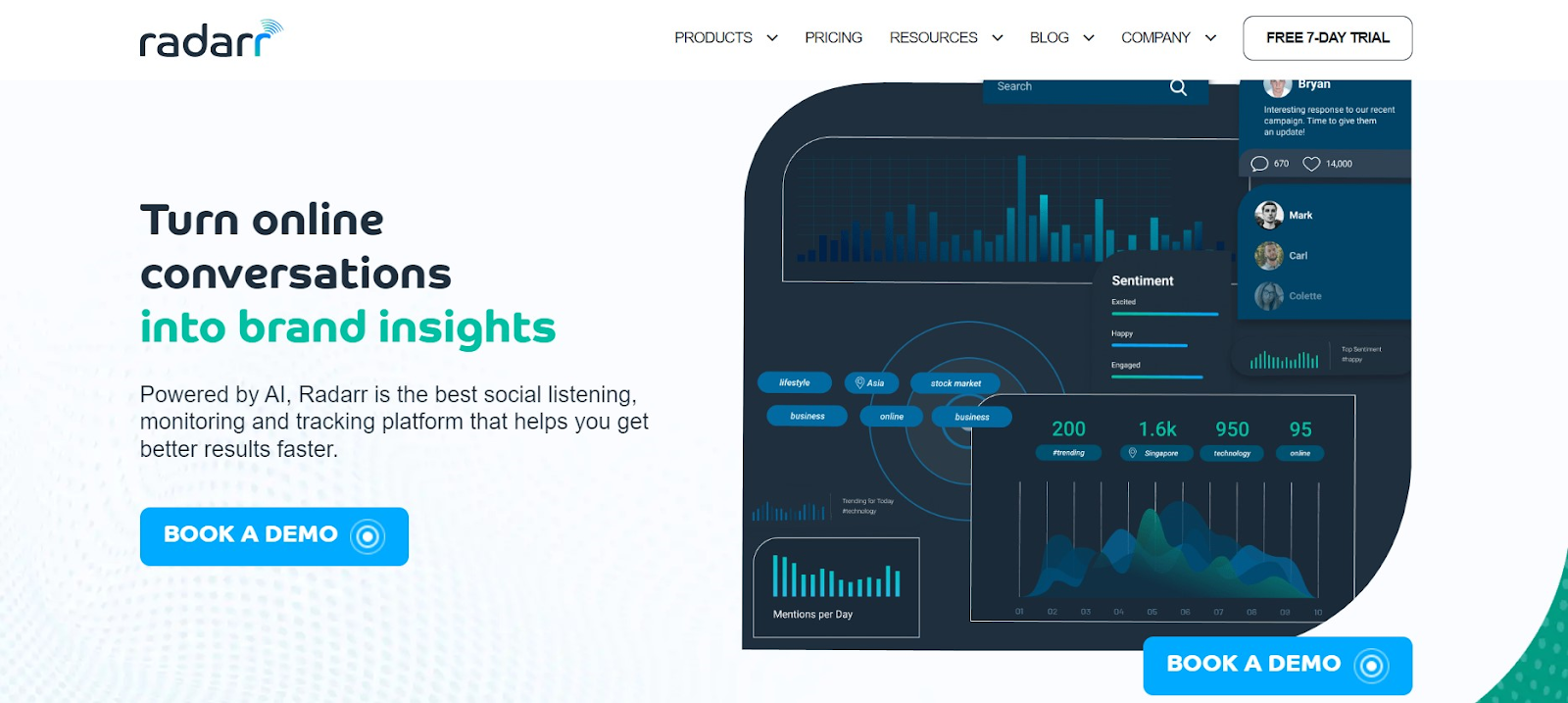 Radarr is a comprehensive social monitoring and online reputation management platform powered by AI, which helps you get better results quickly. You can gain a detailed analysis of your campaigns with the Al-powered social intelligence and analytics tool.
Radarr collects all digital conversations into a unified dashboard, which makes it easy for brands to understand their users. It helps brands gather real-time insights about their audience response, interests, and market trends.
Radarr helps businesses make real-time decisions using dashboards, data visualizations, and insights reporting. It tracks publicly available data across social media, news, blogs, forums, and social networks. It uses digital intelligence and social monitoring to visualize data with its command center and get consumer insights through Radarr Research.
Features:
Measure campaign ROI and reactions from your press releases
Crisis monitoring and real-time alerts
Identify top influencers and track key opinion leaders
Analyze sentiment
Track and predict trends
Monitor keywords and topics in real-time
Advanced sentiment analysis capabilities
Driven by cutting-edge NLP technology
Brings all online conversations from different digital platforms onto one dashboard
Audience and consumer analysis
Campaign analysis
Benchmark competitors
Track brand health and performance
Want to improve your online reputation management? Book a demo of Radarr today.
2. Mention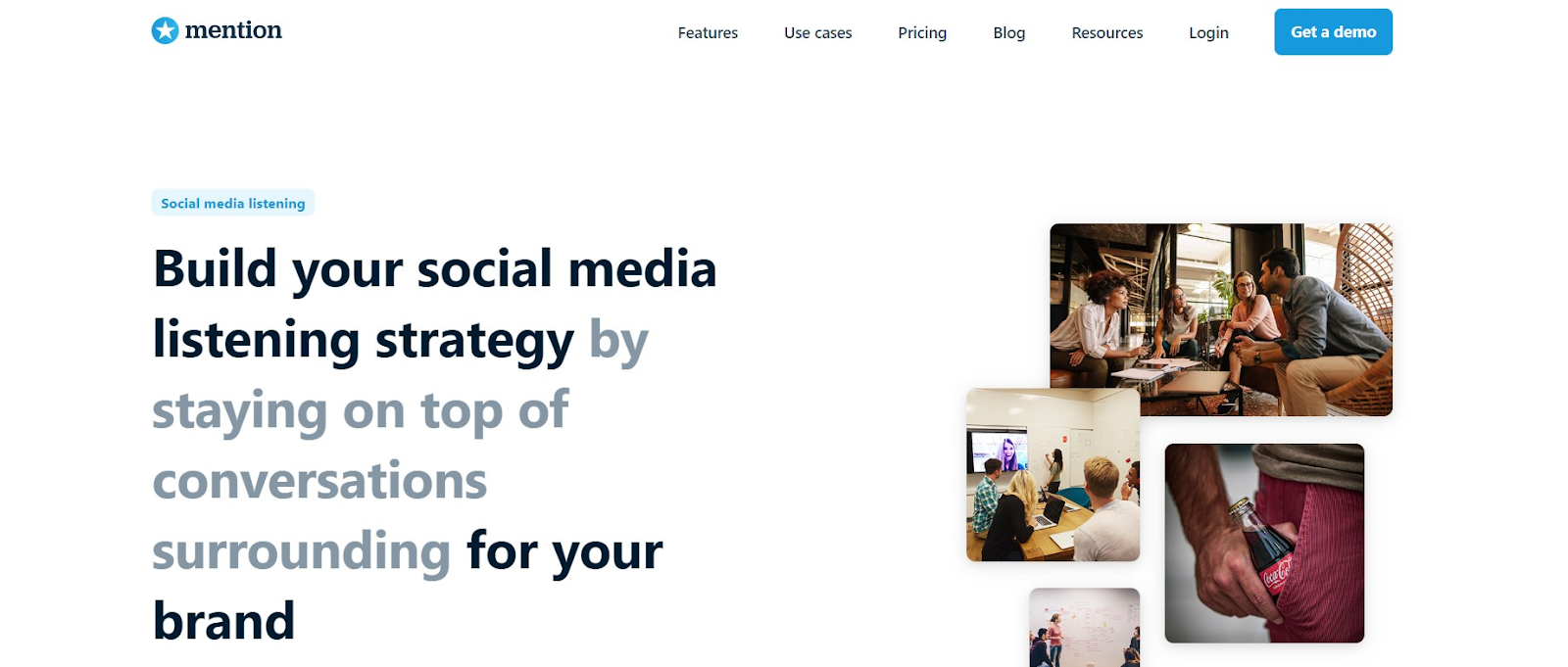 Mention is a robust reputation management tool for businesses and digital agencies designed to monitor and enhance their online image and perception. It empowers users to respond to positive and negative content swiftly, ensuring a proactive approach to online reputation management.
Features:
Sentiment analysis to measure customer sentiment
Customizable alerts for immediate response
Competitive analysis for benchmarking
In-depth analytics and reporting
Mobile app for on-the-go monitoring
3. Digimind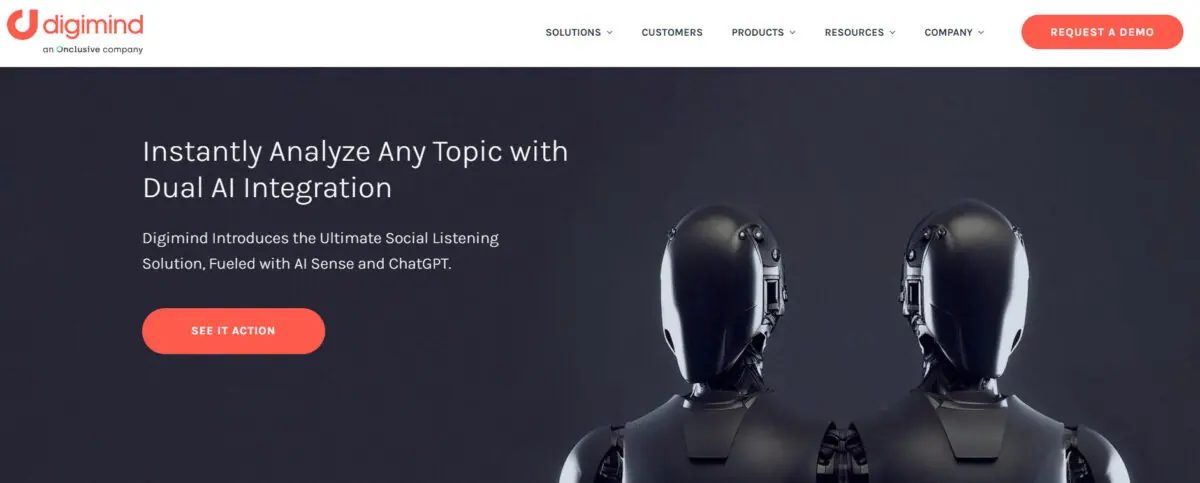 Digimind is an innovative reputation management tool that utilizes advanced AI-driven technology to monitor various online sources, including social media, news, blogs, and forums, providing real-time insights into brand mentions. Comprehensive analytics and customizable alerts allow users to make data-driven decisions, respond proactively to online chatter, and maintain a positive digital image.
Features:
Sentiment analysis for understanding public perception
Competitive benchmarking to gauge industry standing
Collaboration tools for team coordination
Integration capabilities with other software
Multilingual support for global reputation management
4. BirdEye

BirdEye is a comprehensive reputation management tool that integrates with over 3000 software, empowering businesses to monitor, analyze, and enhance online discovery. It offers several functionalities, like review management, generation, customer messaging, referral marketing, and online reviews.
Features:
Respond directly to consumer reviews, engage, and answer queries using a single inbox
Send automated, customized review requests to customers after every purchase
Enable brands to manage and respond to reviews, improving their reputation
Conduct automated surveys to collect customer feedback
5. Podium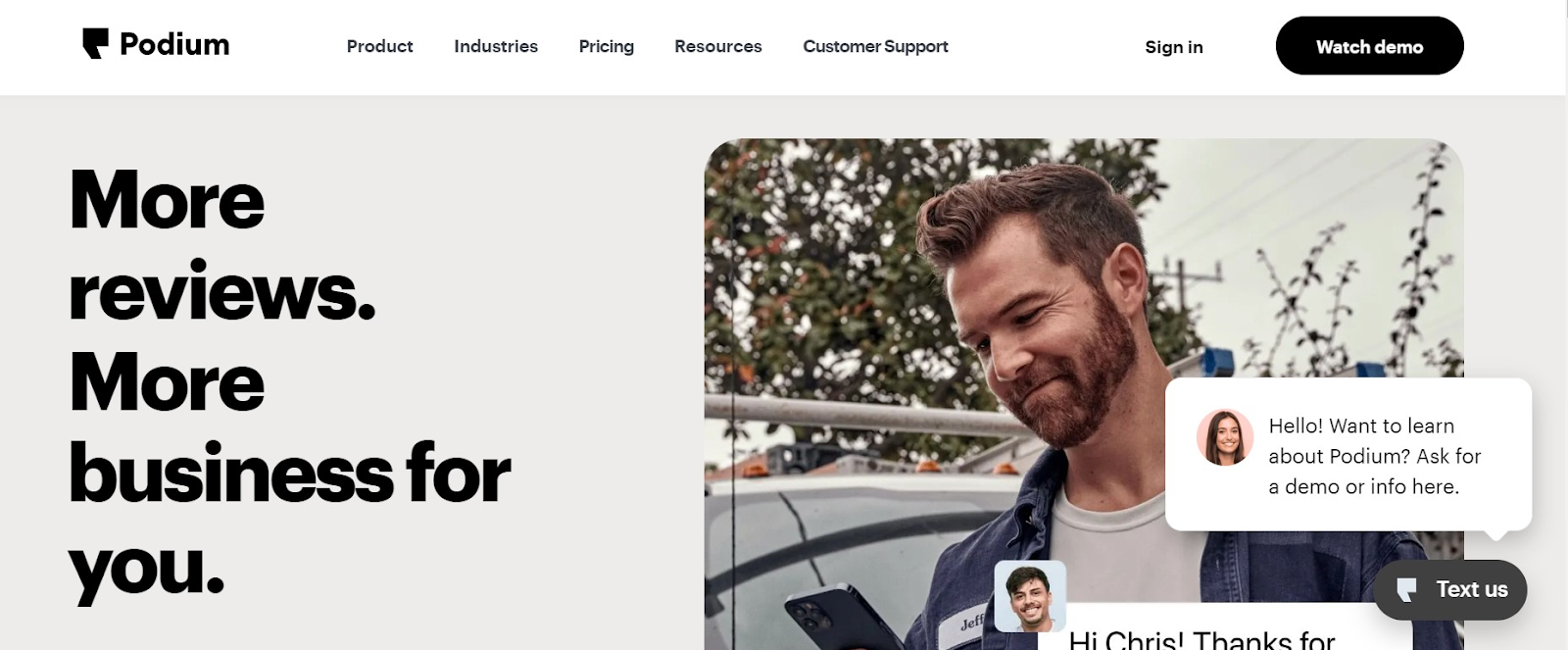 Podium is an effective reputation management tool that streamlines the collection and management of customer reviews from multiple platforms, simplifying the process of responding to feedback. Its versatile features allow businesses to improve their online reputation, increase customer engagement, and make informed decisions.
Features:
Collects and manages reviews from various platforms
Sends automated review invitations to customers
Facilitates communication with customers via text
Provides insights into customer sentiment and trends
Manages multiple business locations from a single dashboard
6. Yext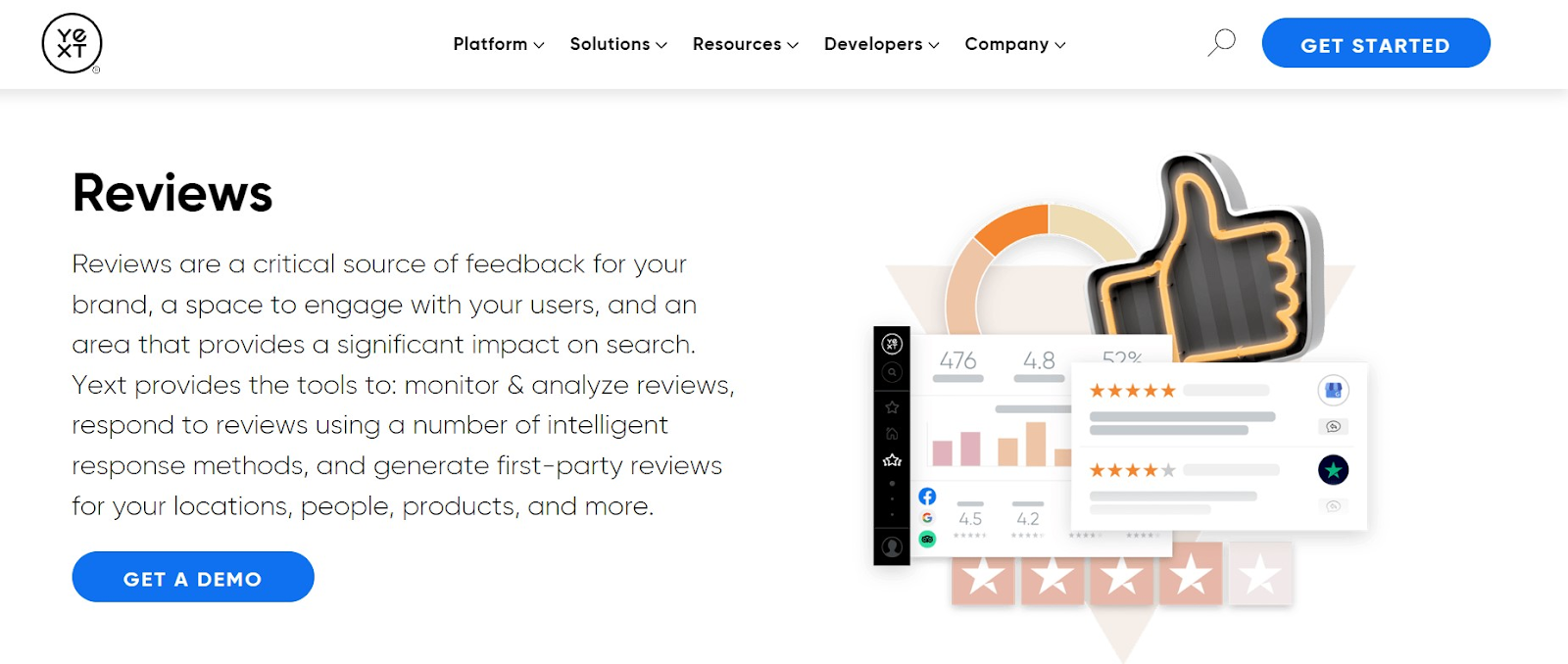 Yext is a comprehensive digital data management platform that enables enterprises to manage and update critical business details, such as locations, hours, and contact information, across various digital channels, including search engines, directories, and social platforms. Yext ensures data accuracy and consistency, improving local search visibility and customer engagement.
Features:
Monitor, filter, and assess reviews from the web
Create reviews by sending requests to your customers
Gain access to analytical insights, like review analytics and sentiment analysis
Gain inputs on your competitors' performance against you
7. Brandmentions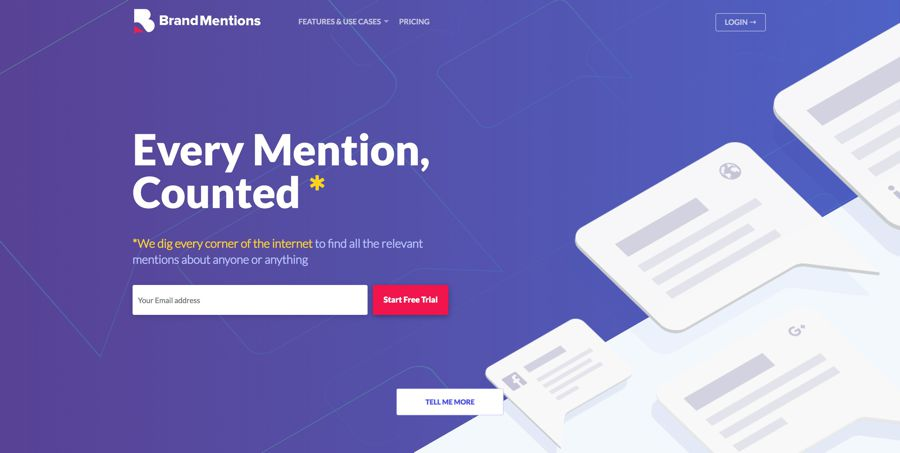 Brandmentions is a robust online reputation management software that tracks brand mentions in multiple languages, including social media, news, blogs, and forums. With sentiment analysis and real-time alerts, this tool helps brands quickly respond to customer feedback and manage their online image effectively.
Features:
Notifies users instantly about brand mentions with real-time alerts
Monitors competitors' online mentions with competitor tracking
Provides insights into brand performance with analytics and reports
Provides access to historical data for trend analysis
Identifies key influencers discussing the brand
8. Trustpilot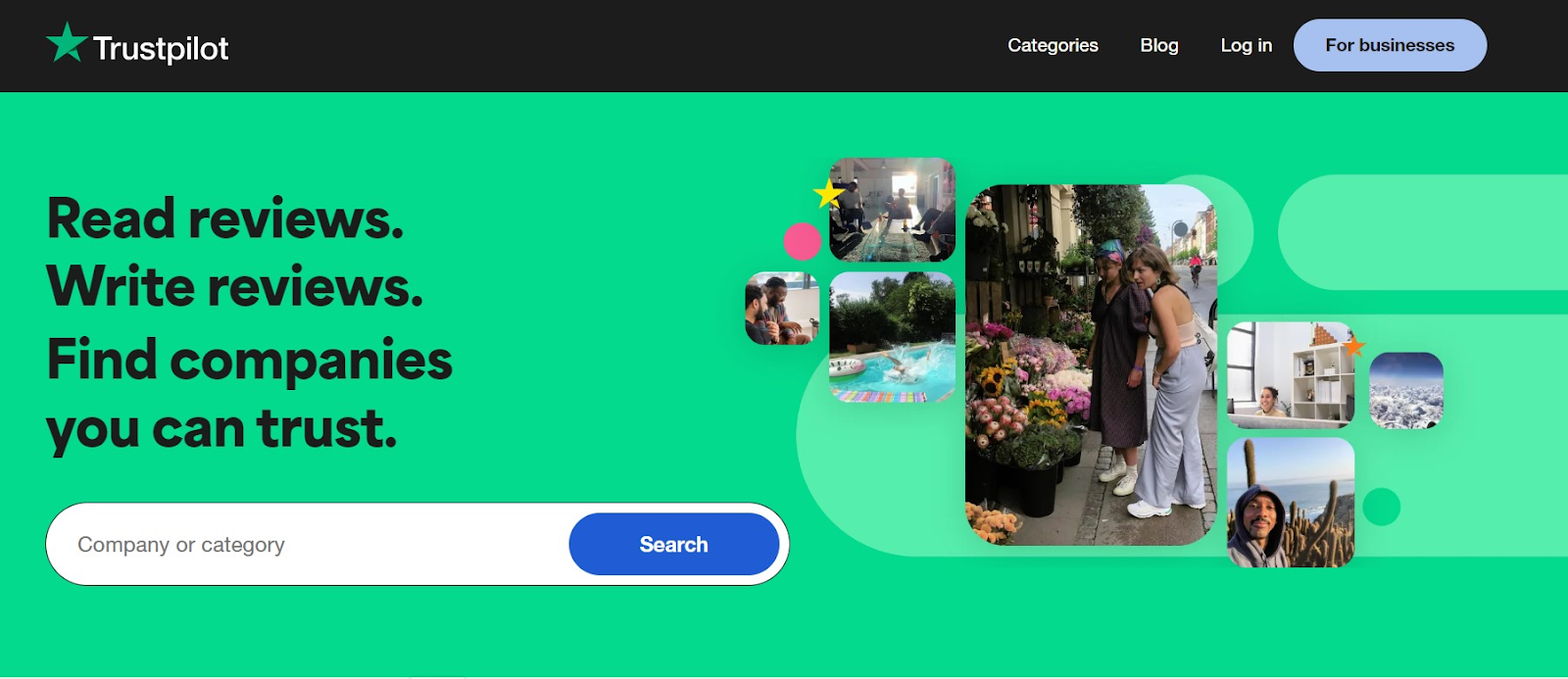 Trustpilot's transparent and user-friendly platform helps foster trust between customers and businesses, eventually driving growth and credibility in the digital marketplace. It allows users to leave reviews if they have purchased or interacted with a particular business, making it an excellent consumer resource for online reputation management services.
Features:
Solicit, gather, showcase, and analyze customer reviews
Display reviews on websites and marketing materials with TrustBox widgets
Respond to customer feedback and resolve issues with review management
Gain SEO benefits by improving search engine visibility with Trustpilot reviews
9. Brandwatch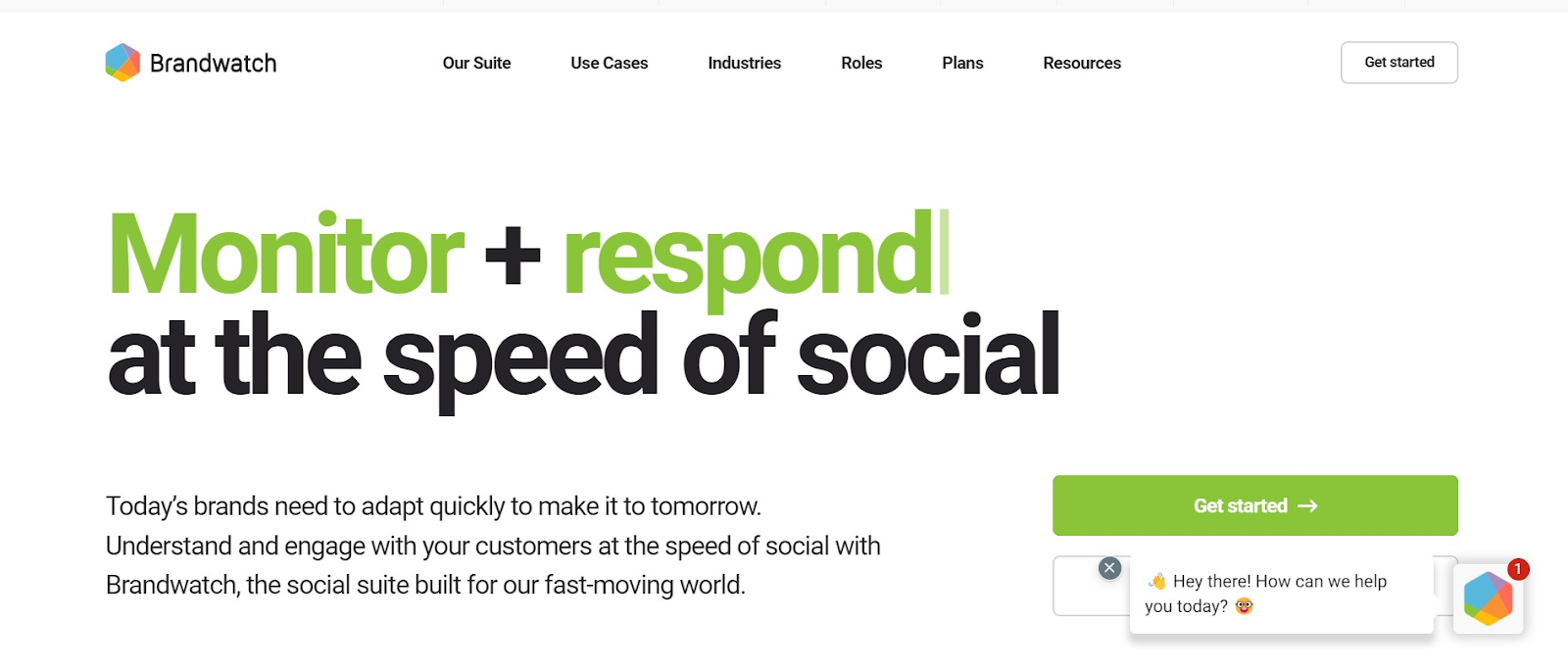 Brandwatch is an online reputation management software that merges tools for social media monitoring, marketing strategy building, and sentiment analysis. Its centralized customer profile hub lets brands identify and respond to comments immediately. It connects social media, reputation, and CX management, aiding marketers to map data, plan, execute, and test, all in one place.
Features:
Compile customer interactions in individual profiles
Customer profiles allow for highly targeted segmentation
Protect your brand in any emergency with crisis management
Rank mentions and messages by importance with a unique prioritization algorithm
10. BuzzSumo

BuzzSumo is a resourceful reputation management tool that helps users monitor their online presence by tracking social engagement, content performance, and influencer outreach.
Features:
Identify key influencers in specific niches
Use competitor analysis to compare content strategies and performance
Highlight trending topics in real-time and build data-driven insights for content creation
Get notifications for specific keywords or topics with content alerts
Assess the quality and quantity of backlinks with the help of backlink analysis
11. Google Alerts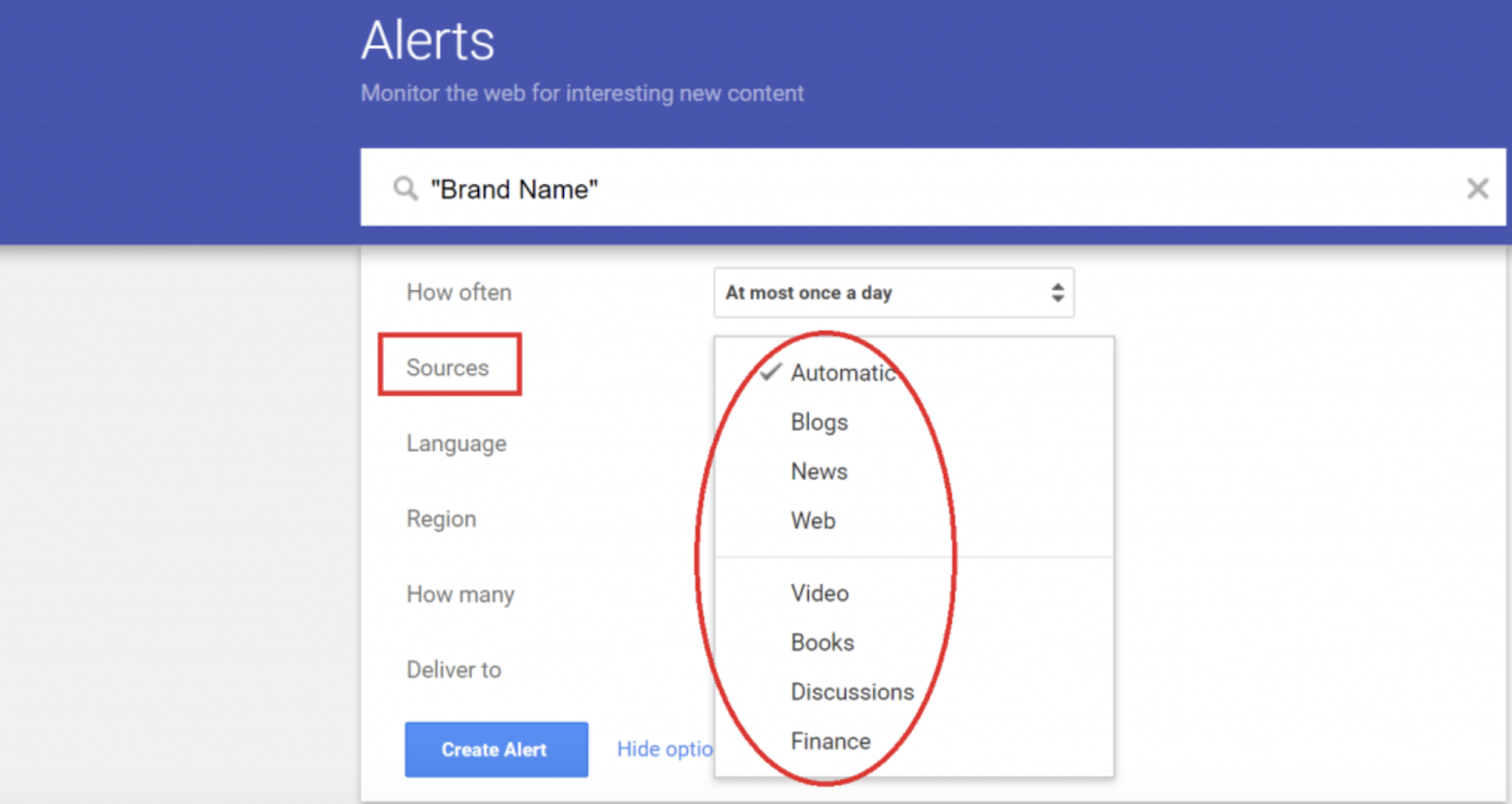 Google Alerts is a valuable reputation management tool that monitors online content related to a specific keyword or brand, helping individuals and businesses stay informed about their online presence. By delivering real-time notifications whenever new content is published, Google Alerts enables users to track mentions, reviews, and news articles, facilitating quick responses.
Features:
Receive email notifications with real-time alerts when new content is found
Customize alerts for frequency and sources
Monitor news articles, blogs, forums, and more
Observe mentions of competitors using competitor analysis
Manage online reputation and image by addressing mentions promptly
12.Reputology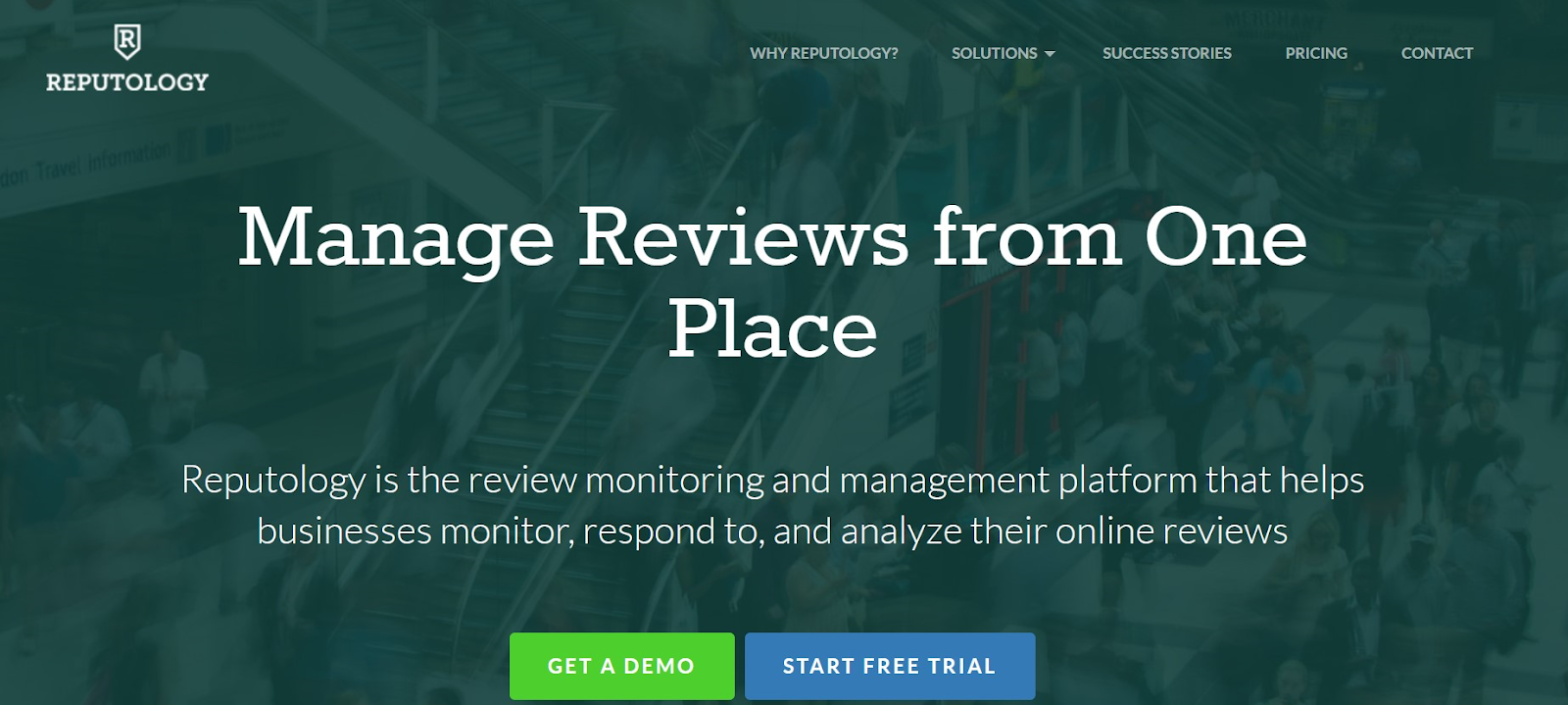 Reputology is a versatile reputation management platform that consolidates customer reviews, ratings, and feedback from diverse online sources, allowing for sentiment analysis. It offers real-time notifications, streamlining the response process to customer comments and concerns.
Features:
Monitors customer reviews and comments across various online platforms
Provides instant notifications for new feedback
Streamlines responses to customer comments and concerns
Compares reputation metrics with competitors
13. Reputation.com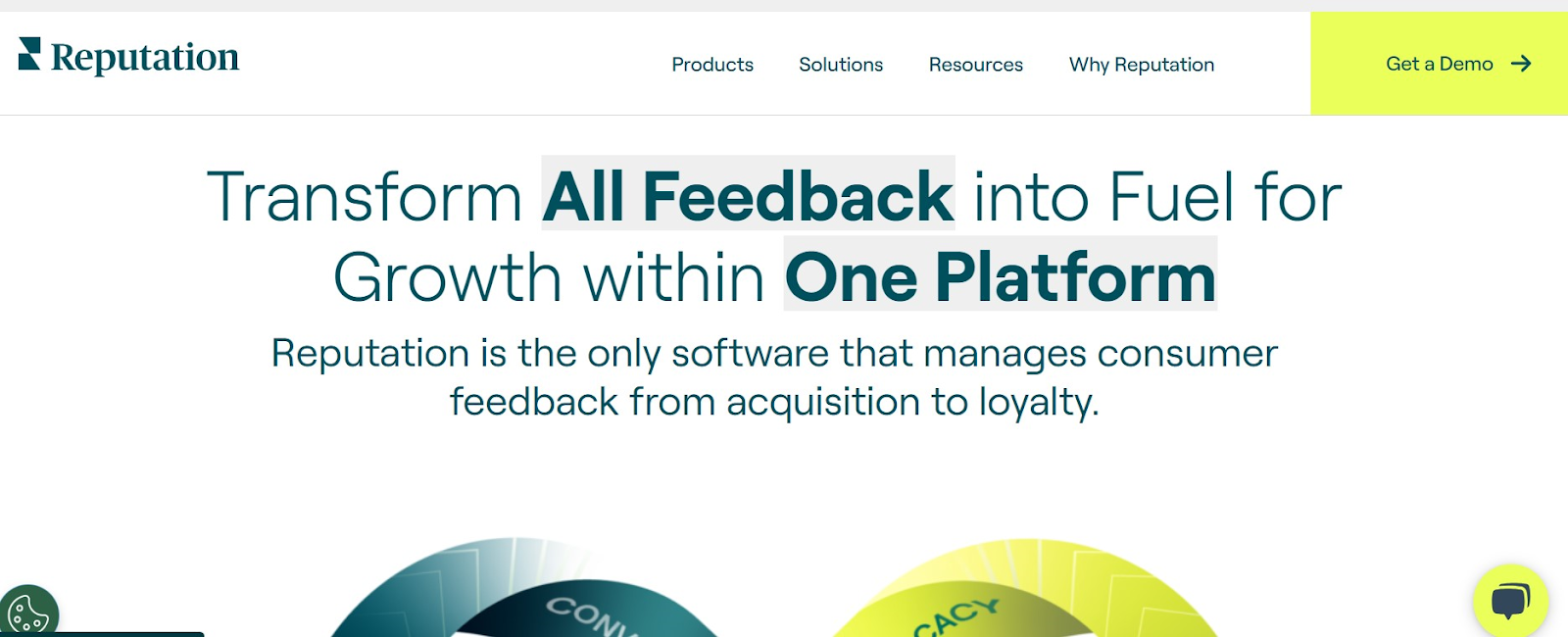 Reputation.com is a cloud-based reputation management and CX tool that helps multi-location businesses track and enhance their online reputation by monitoring and optimizing customer feedback, reviews, traffic, and social media engagement. The tool has a machine learning-based AI program that offers customized references to improve the consumer experience.
Features:
Analyze customer feedback sentiment for insights
Ensures accurate business information across online directories
Collects feedback to improve products/services
Calculate reputation score in real-time
Provides data-driven recommendations for reputation enhancement
14. BrandYourself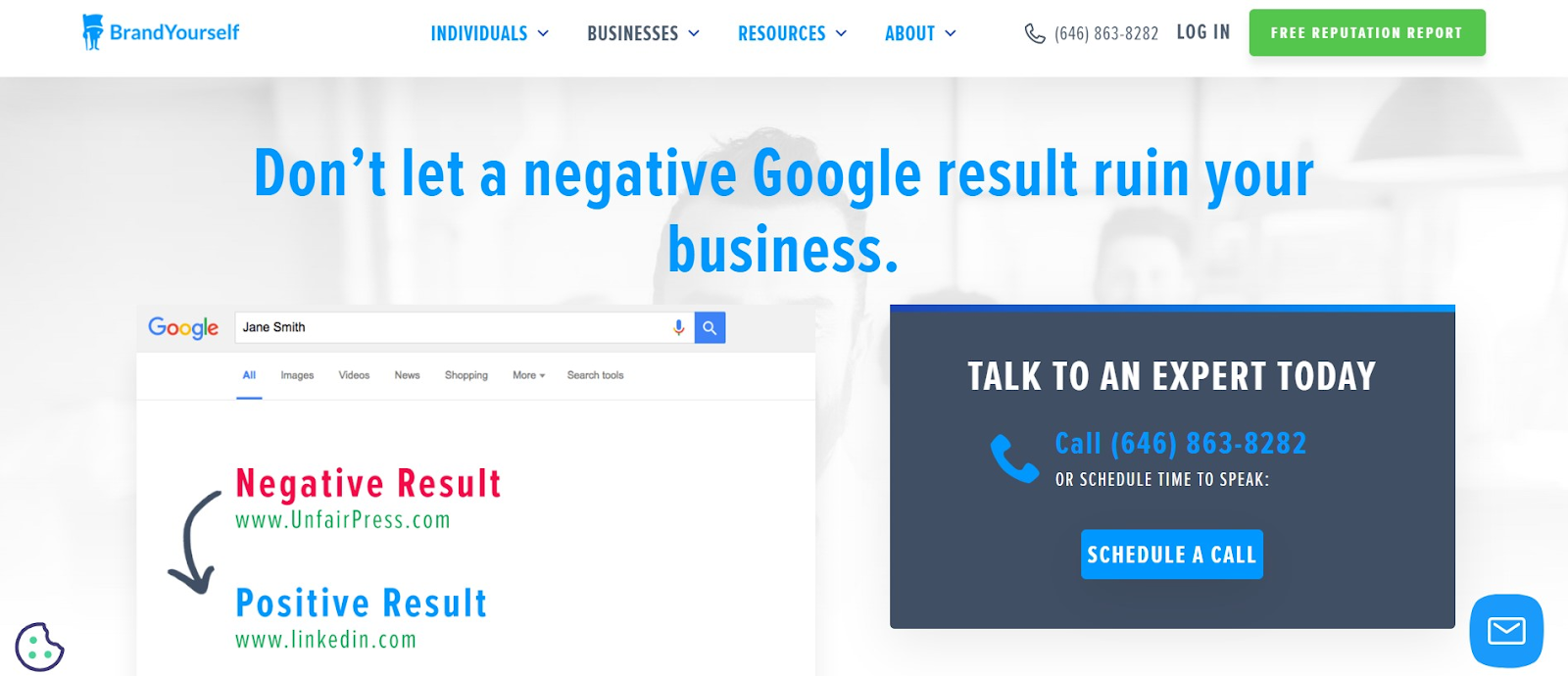 BrandYourself is an online reputation management and personal branding platform that offers tools to enhance online visibility, suppress negative search results, and curate a positive digital presence. With features like website creation, social media optimization, and content development, BrandYourself helps users build a solid personal brand.
Features:
Boost your search engine rankings
Suppress negative content and push down unwanted search results
Create a professional online presence and ensure it maximizes your career opportunities
Generate and manage online content
16. Mentionlytics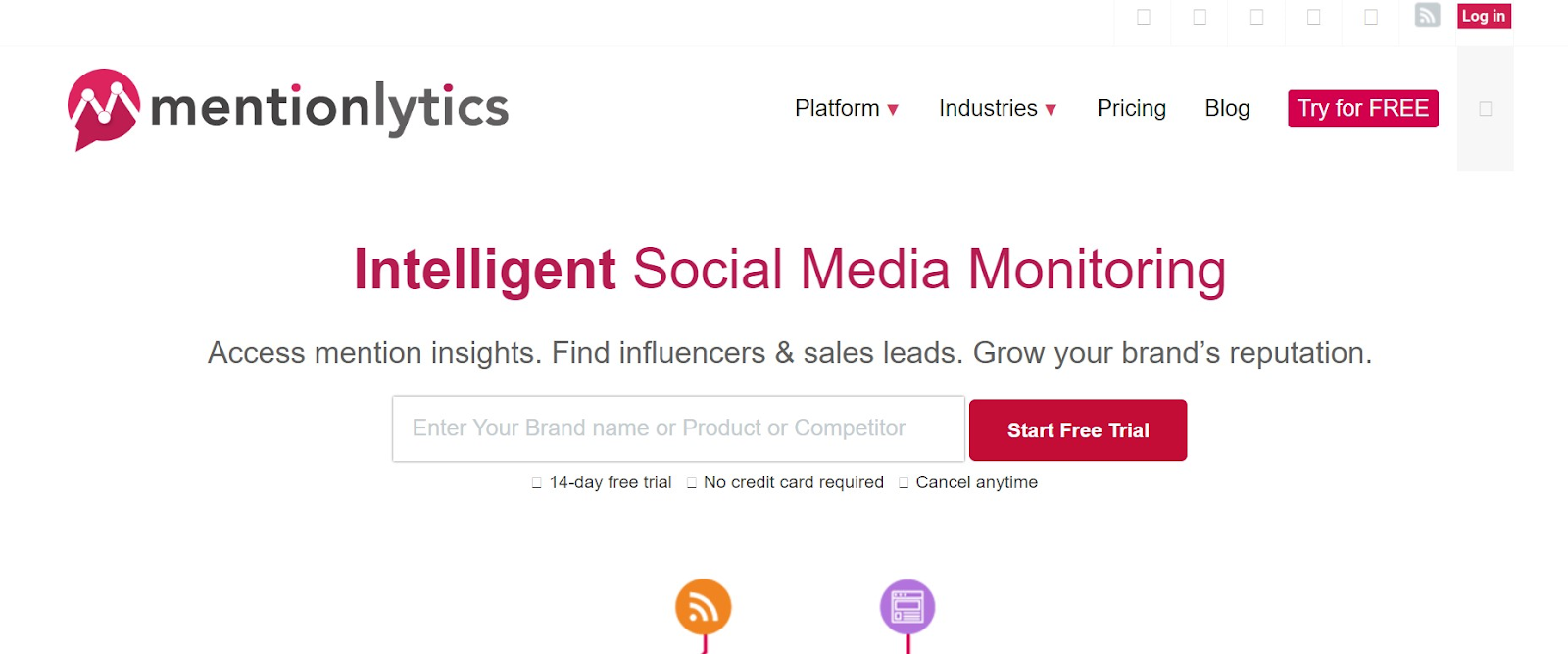 Mentionlytics is a versatile online reputation management software that empowers businesses to monitor social media, web, and news mentions in real-time, analyze sentiment, and track competitors. With customizable reporting and influencer identification, Mentionlytics provides valuable insights to enhance brand image and respond effectively to online conversations.
Features:
Generate detailed insights and shareable reports
Monitor online presence beyond social media
Filter and streamline the most critical information to manage your reputation
Use AI to pick out the most relevant content instead of swamping your inbox with every mention
17. Statusbrew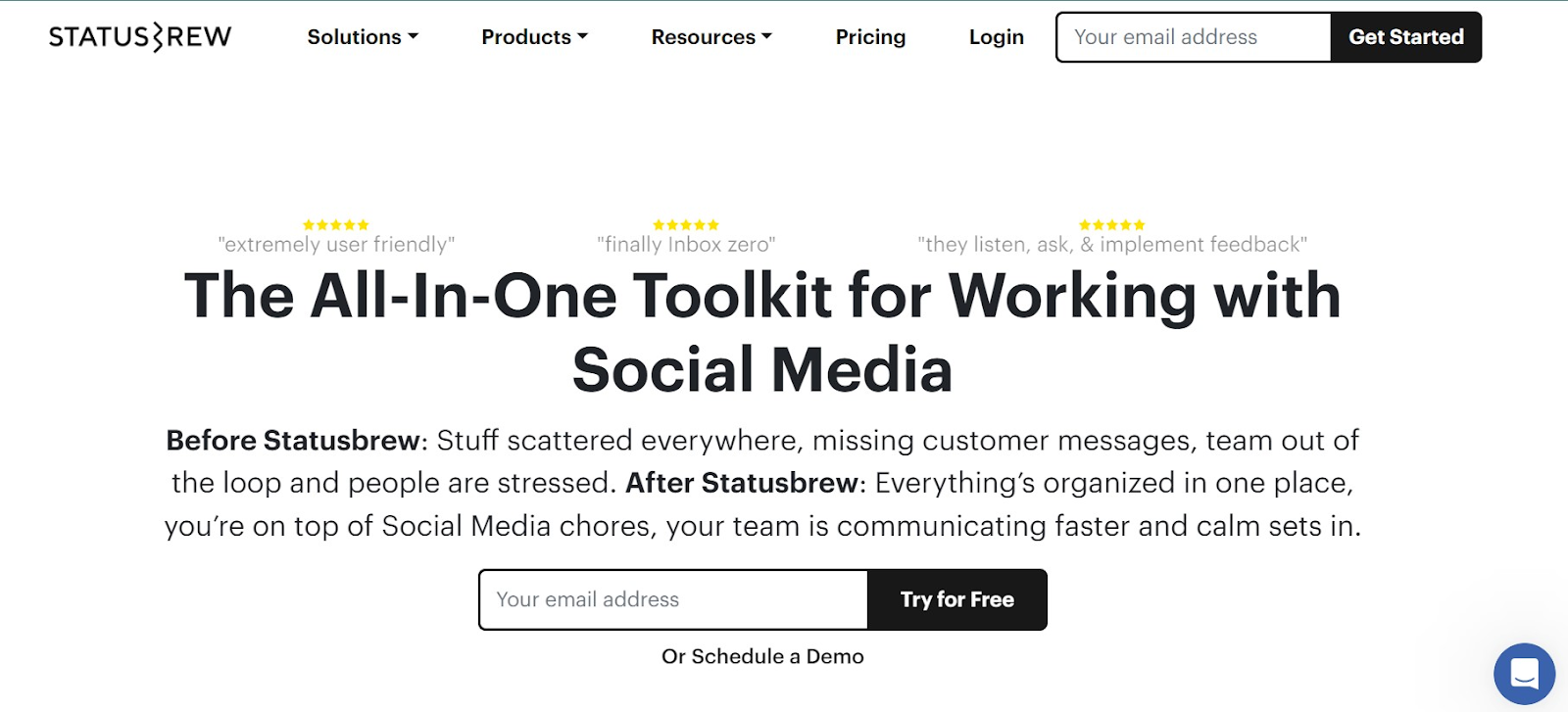 Statusbrew is an online reputation management software for enterprises to track mentions across social media platforms, analyze sentiment, and respond to customer feedback promptly. With real-time alerts and detailed analytics, Statusbrew aids in identifying reputation threats and opportunities for improvement.
Features:
Streamline posting and scheduling across multiple platforms
Track performance metrics and audience engagement
Understand your followers and their behavior
Track mentions and sentiment for brand image
18. Reputation Resolutions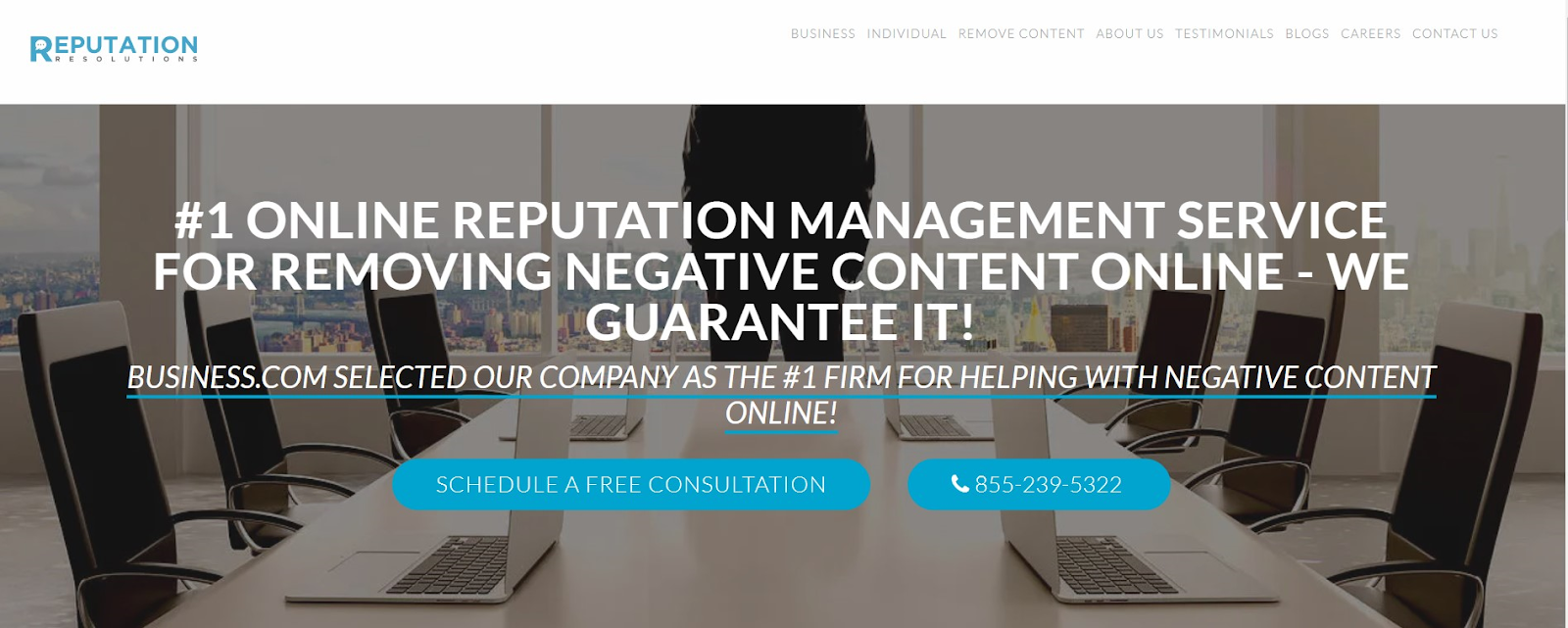 Reputation Resolutions is an online reputation management service for resolving reputation attacks. With features like crisis management, content removal, and reputation monitoring, the tool offers personalized services to enhance your business reputation. It provides advanced tracking to pinpoint reputation issues, offers strategies for addressing negative content, and assists in promoting positive narratives.
Features:
Evaluates public perception
Offers insights for positive image building by providing actionable steps
Monitors interactions with stakeholders
Helps mitigate reputational crisis
19. dashClicks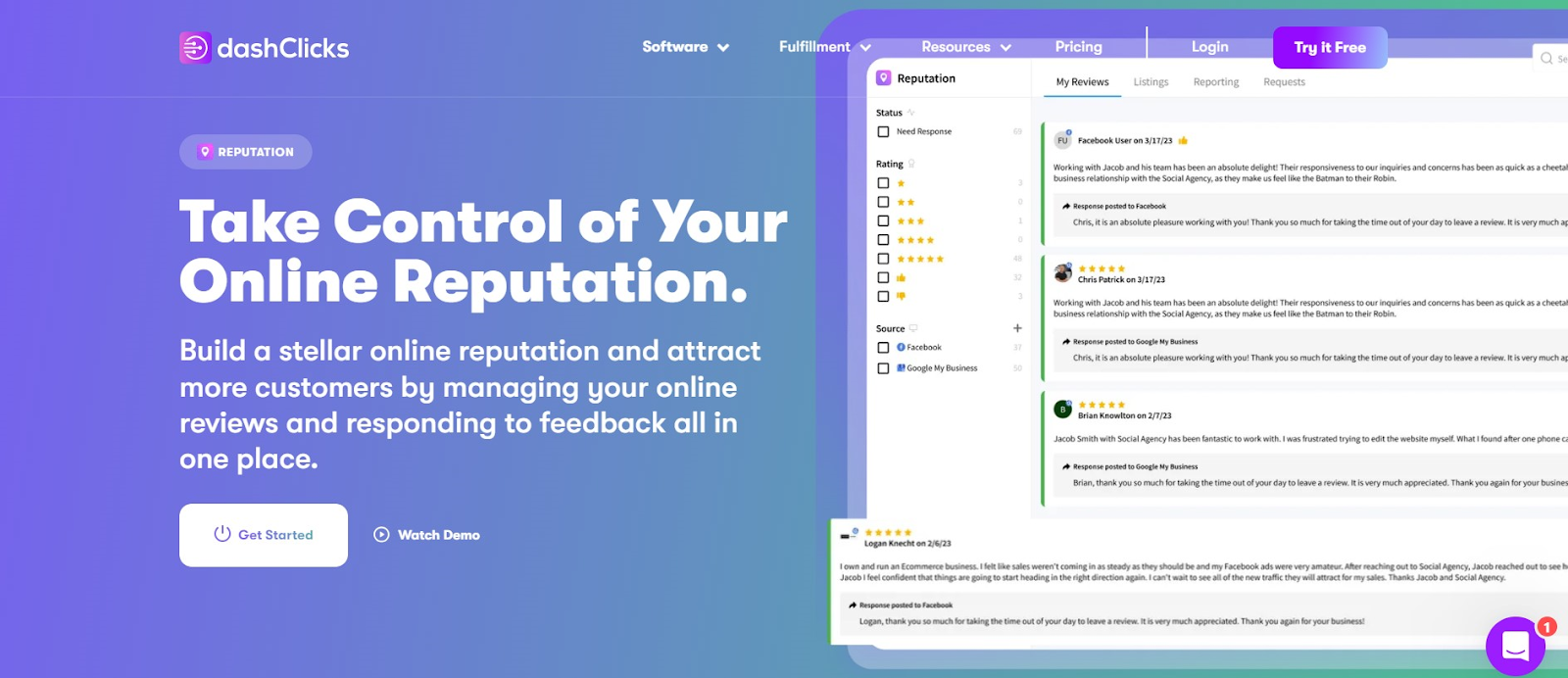 DashClicks' reputation management software enables businesses to monitor and manage reviews across different sources from a single dashboard. You can invite customers to leave reviews by sending emails and SMS so that they can share their feedback, which makes collecting reviews extremely easy.
Features:
Manage your reviews across multiple sources
Share your public review page with customers
Integrate Facebook reviews and Google My Business reviews
Track your average rating and best review sources
20. Meltwater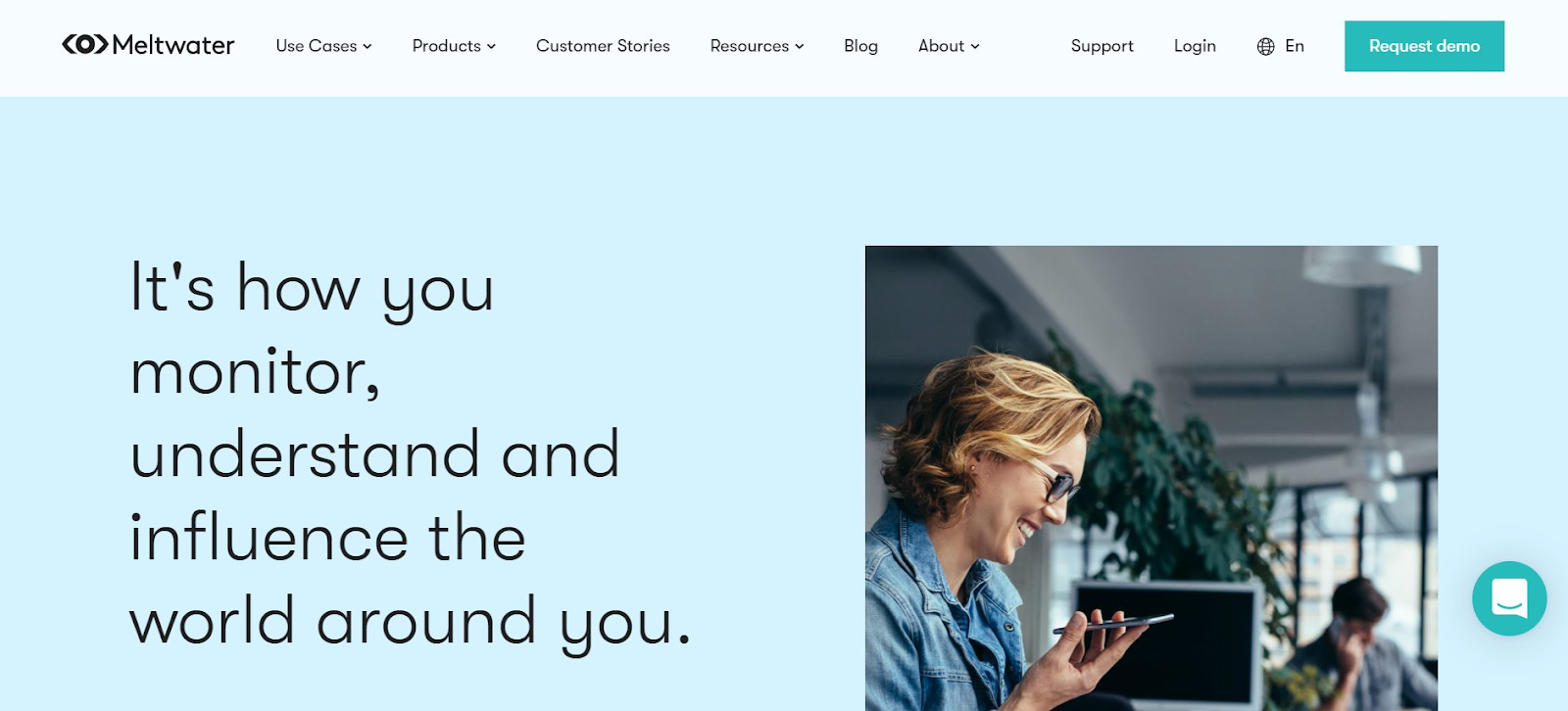 Meltwater's reputation management tool offers real-time monitoring of social media, news, and review platforms, allowing companies to address potential issues and seize opportunities promptly. Its easy-to-use media intelligence services include media monitoring across print, broadcast, and podcasts.
Features:
News and Review Platform Tracking
Real-time monitoring of mentions
Advanced Sentiment Analysis
Historical Data Archive
Wrapping Up
Online reputation management is a critical aspect of digital life. It involves monitoring, controlling, and enhancing one's online image.
In a world where information travels rapidly, managing your online reputation is vital for personal and professional success, trust-building, and maintaining a positive digital identity.
Online reputation management software does the heavy lifting for you, allowing you to use your time to run and grow your business. These tools are essential for maintaining a positive online presence in today's interconnected world.
This is where Radarr comes in.
Using artificial intelligence and natural language processing, our platform can monitor online conversations across the digital landscape, in real time. This gives you the ability to stay on top of conversations happening around you that could potentially hamper your reputation.
Our social analytics and sentiment analysis dashboard further helps streamline this data into actionables to improve your reputation.
Want to know more about online reputation management?