It's incredibly hard to get hardcore data around the number of entrepreneurs in the world, but at the beginning of 2012 – the number was pegged to be around the 400 million mark. Two years later, I\'m positive that that number has dramatically increased.
With hundreds of millions of entrepreneurs around the world kickstarting their business and trying to get things moving for them, digital media has become the number one source for them to execute their marketing campaigns on. It's cheaper, it's faster, it's easier and it's measurable. What's more, there are now excellent social listening and media monitoring tools available to help with the process.
For entrepreneurs looking to save time and money on the products that they use for marketing – this list should come in handy. I picked out the five marketing tools that all entrepreneurs should be using to make their marketing efforts a lot more efficient.
1. Buffer
This is probably the only… "straightforward" marketing tool you're going to see on this list.
We love Buffer, we use Buffer. Buffer is love, Buffer is life. All of that. Jessica Wysocki of Beta21 did a really neat cover piece on Buffer a while ago, talking about what's great about the service and what works on it. What I like the most about Buffer (and what will come in handy for entrepreneurs) is that you can very easily schedule all the posts you want to put up on your Facebook, Twitter, LinkedIn and G+ channels very easily with Buffer.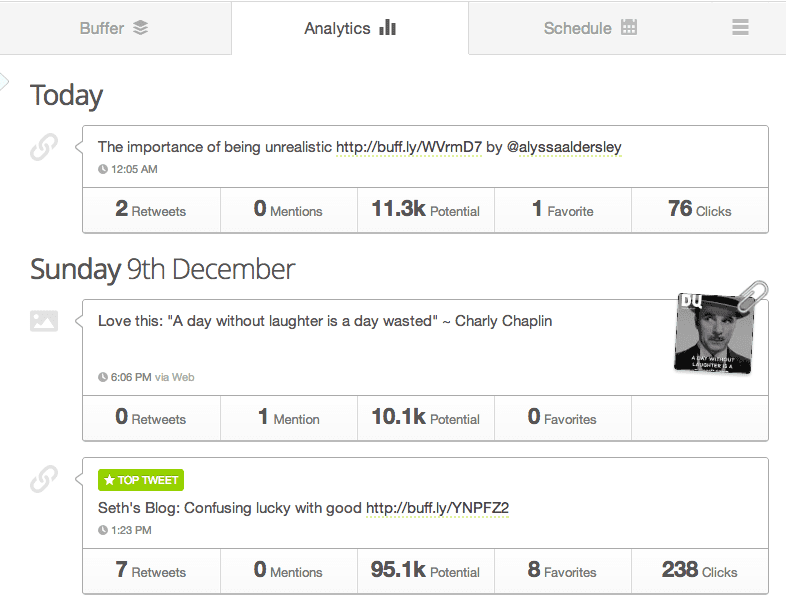 Analytics as an offering in here is incredibly useful as well.
Depending on the amount of updates you have on a regular basis, Buffer works really for you to quickly (10-15 minutes) schedule your updates for the day and for you to come back at the end of the day and see what worked and what didn't. The ability to also attach images to your tweets natively is a big bonus.
Buffer has various plans you can choose from, ranging from a free one to a $10 plan to ones that go much higher if you're looking at connecting 100+ accounts. Their social media customer service is fantastic as well, any time we've had any problem with Buffer we tweet to them and they get back to us within minutes.
2. Post Planner
Sure, while Post Planner can count as a marketing tool often mentioned by various people as well – the usability of the product and what it does for you means that I'm going to list this out here. Coming up with what to post on your Facebook page can at times be a real hassle. Creating content calendars and coming up with "timely" content is a big pain – and PostPlanner does just that for you.
No, it doesn't automatically throw up a content calendar for you. But it definitely gives you some amazing suggestions. I'm not going to go into a deep review of the tool, instead I'm going to link to Amy Baumcratz's post – who's done a fairly good job of reviewing the tool a few months ago.
She also put together a really interesting little graphic with pointers that list out everything that you need to know about Post Planner and what it does for you!
3. Social Media Hangout
Wait – what the hell is this? Isn't this SMHangout, that group of communities on Google+ about Social Media? How is this a marketing tool?
Forget about going through every single article on your Feedly, you no longer have to comb through all your RSS feeds to find that right piece of content which is worth your time. Four amazing Google+ communities ensure that you get all the information you need (along with expert opinions) in one place.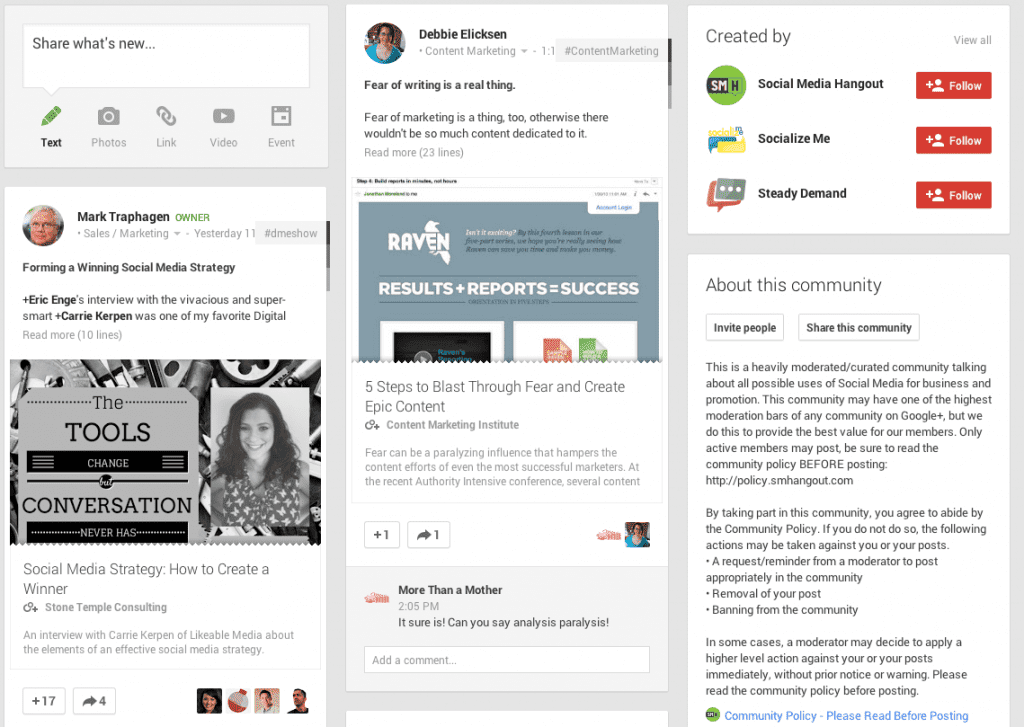 A quick look at the Social Media Strategy community.
As the above screenshot might suggest, it's a great place for you to take a look at what's going on in social media, what's being talked about, what you should do, and interpretations of the latest social media news. The traditional way of getting information was for you to dive into an article, analyze it, understand it and then wait for expert opinions to surface on other websites and blogs.
Thankfully, due to the incredibly active staff of the G+ communities, you only get the highest quality content in each of these communities – along with a really informative and insightful comments section where people discuss ideas and interpretations of what\'s happening. You need to join those communities right now – and stay abreast with what's going on in the social media and marketing world!
4. Circus Social
Facebook reach has dropped. Facebook post and page likes now mean a lot less than they used to, and there's no point in you chasing after those vanity metrics. So what do you do? Facebook has now morphed into a traditional marketing platform for brands and companies – there's no denying it.
Giving your fans an "experience", like we did with the Social Marketer's Quiz is one way to get the attention of your fans and to engage them, but you can also use simpler contests like Photo Contests, Sweepstakes giveaways, Video contests etc that really engage your fans – Circus Social has a free tool for you to create these!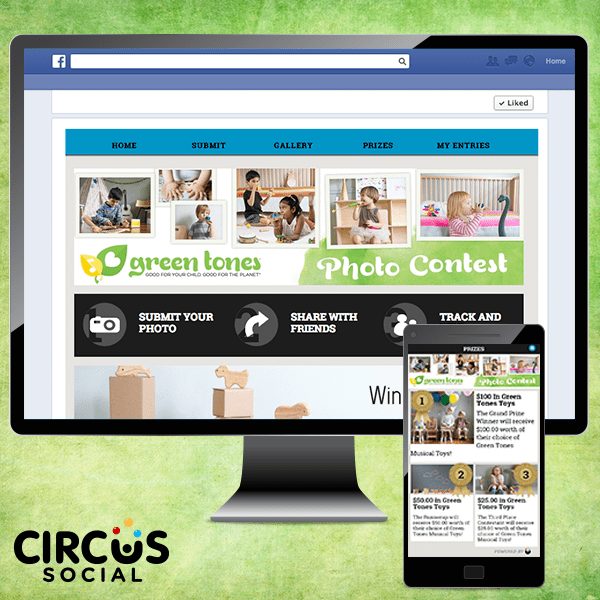 Set up photo contests like these!
That morph now means that you should pay very close attention to the data you gather from it. The importance of being able to collect your customer's e-mail addresses to reach out to them in a better manner cannot be overlooked either. Facebook apps allow you to do this exact thing.
5. Google Analytics
The importance of GA has to be stressed. In fact, this point stems from one of the discussions I had in the Google+ communities I mentioned above.
While most think of GA as an analytics and as a tracking tool – the kind of insights it can give for your marketing should not be underestimated. It shows you where your important traffic is coming from, where the quality traffic is coming from, which piece of content is generating the most amount of value for you in terms of SEO, which websites are sending you high quality referral traffic, and a million more insights.
A lot of marketers often overlook the value of GA in their marketing plan and stick to measuring metrics like likes, shares and comments – but the incredible value of GA needs to be stressed.
While there are tons of tools out there that help you with your marketing, I feel these are the very essentials that you as an entrepreneur can focus on to get more out of your content marketing and marketing plan. Plenty of tools out there provide insights, allow you to manage accounts and it all comes down to your preference and what your basic needs are – but these will definitely reduce a lot of the headache that comes with digital marketing in 2014. 🙂
Book your Radarr demo today!