There is an increasing trend towards using social media management tools that allow marketers to search, track, and analyze conversation on the web about their brand or other topics of interest. This can be useful in PR management and campaign tracking, allowing the user to measure return on investment, competitor-auditing, and general public engagement. Tools range from free, basic applications to subscription-based, more in-depth tools.
There are thousands of articles already there talking about Buffer features, but this article serves a different purpose. This article is not about all the features and all about how Buffer works but rather how this small company, has mastered the Twitter game and has become one the most successful social media management tools out there.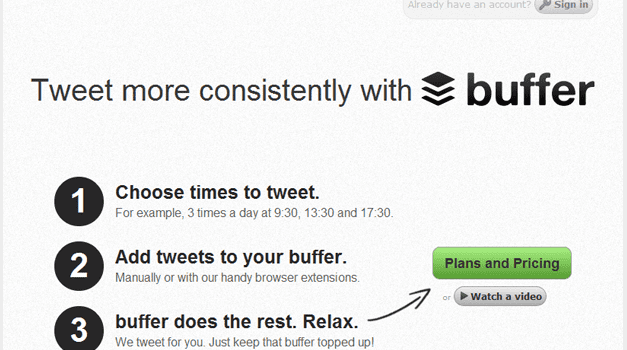 Tweet With Buffer.
Fun Fact: Using Buffer's social sharing scheduler which works with Twitter, Facebook, LinkedIn and recently added Google+ you can time your updates to post throughout the day. Buffer was launched on November 30th 2010 and it started with 0 users and has grown to over 1 million as of September 2013!
1. You are provided with seamless automation
We all know that when it comes to social media marketing, "Content is king". So Buffer keeps your content in mind to provide consistent quality content at the perfect time your audience is online.
Buffer also offers a variety of ways to access the app, you can add updates via a browser extension and you can share any page in seconds! Through a phone or tablet, Buffer is there for you to share your content super quick and easy. Via these channels, Buffer gives you the opportunity to invite team members so they can manage the app via a different portal you choose from. Buffer will share your content with just a click of a button.
The Buffer web extensions are the reason alone for this tool being seamless and effective; it's available for Chrome, Safari and Firefox. Once installed, scheduling posts is as easy as clicking the button "Add to buffer", it automatically will shorten your link. Buffer provides you with apps for iPhone and Android by making it convenient and giving an opportunity to users to use the services from wherever they are. This tool being user-friendly is an understatement. They have 16,204 paying customers and 87, 798,149 posts shared!
2. External integration
Buffer has already and gone ahead to integrate with the best social media networks including Facebook, which has 1.15+billion users, Twitter, has 600+million users and Google+ has 500+million users.
Buffer provides a simple button that can be easily integrated into your RSS readers, Twitter, Chrome, SocialBro, WordPress, and 50+ other tools that are used to discover awesome content. If your favorite app isn't integrated with Buffer yet, you can definitely get around this. Buffer authorizes IFTTT access to your Buffer account so that you can link lots of apps together in different ways, making for nonstop content workflow
3. Transparency
What would happen if everybody in your company knew everything about your business-your revenue, everyone's salaries, how the company pitches itself to investors, even how much you slept last night? That's right, Buffer believes in complete transparency with their employees as well as their users.
Below I have included Buffer\'s view on being a transparent company and what it means:
List provided from Buffer Blog: http://buff.ly/LdHAsW
By Buffer making the decision to become a transparent organization it sent out a message to the stakeholders, employees and users a sign of commitment and trust. Not money companies would follow the rule of transparency. With Buffer providing transparent they have built a brand of trust and have fostered a long term relationship with its users.
The users of Buffer are 98% free users. Buffer believes in providing great customer service out of their 10 employee team, 3 ½ people are working full time for customer service alone. Buffer considers their customer response as the marketing team. It seems to be working because for a free service when a customer receives a response for their queries it creates a "WOW' effect and thus they spread the word.
4. Blogging
A blog about productivity, life hacks, writing, user experience, customer happiness and business." – Buffer Blog
The most original of company blogs are no different than brochures as they on about their products. Buffer, on the other hand, talks about experiences and interesting content which makes it a good read. They give out great tips through how they behave by being strong personal brands, great storytelling, and embracing blogging, talking about experiences in a way of connecting with peers and lastly they have stellar customer service where they go out of their way to answer questions, be helpful or troubleshoot any issue you are having. Like one of the articles on their blog "8 common thinking mistakes our brain makes every day and how to prevent them" has a lot of shares, likes and comments even though not relating to their product/service, it makes a great read and personal by sharing with their users.
Tweets with images received 150% more retweets + 9 platform changes you need to know.

— Buffer (@buffer) January 16, 2014
Buffer has increased their credibility by continually writing guest post for other trusted brand sites. Leo Widrich, co-founder and CMO of buffer, provides great content on social media platforms and specifically Twitter featuring how Buffer can make all social media activities easy and simple. Here are some links from various sources around the world:
lifehack.org
12most.com
bloggodown.com
michaelhyatt.com
5. Last but not least, Buffer provides you with easy analytics
When any company is running their social media platforms one of the most important measurements is their analytics, to check and see if they even receiving the measurements they had in mind for traffic or to see who is clicking on their posts. Well, Buffer already has that all figured out for you, giving you the whole pie, not just the slice.
"Understanding social media analytics lets businesses can take control of myriad of online user data and information to make smarter decisions regarding customer needs, attitude, opinions, latest trends and various factors that influence the same"
-Adam, Social Media Data
Buffer gives you an Analytic Dashboard where you can see how effective a particular post/update was, broken down by network. How does this make them the masters of Twitter? Simple, with providing you with these analytics they are giving you all the tools to perfect your tweet times, mentions or posts. They will even highlight your "Top Post" or "Top Tweet" so you can quickly see where all your engagement is at.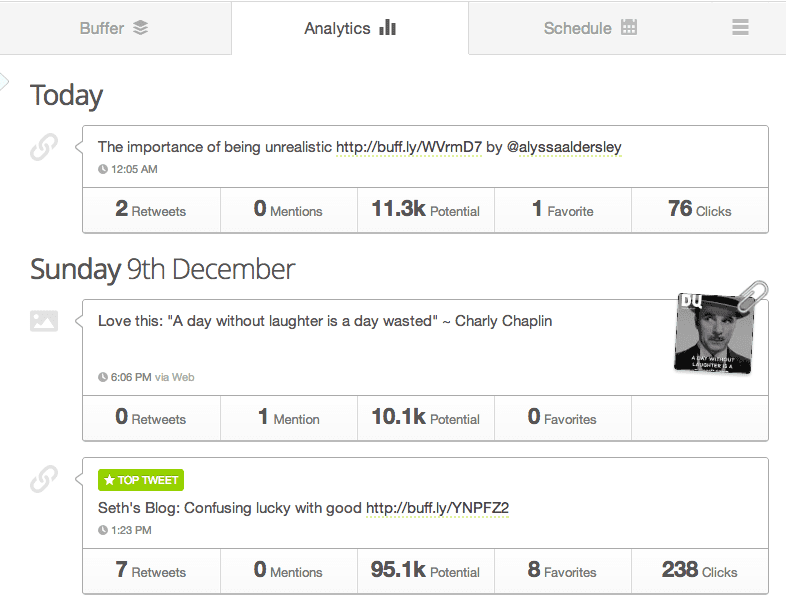 Buffer's Analytical Dashboard
How has Buffer perfected your Twitter game? Leave your experiences in the comments below.
Book your Radarr demo today!