What Does A Community Manager Do?
In an agency, as we all know, there is a client servicing team (always coordinating, and almost always on phone calls), a creative team (busy thinkers of ideas), designers (carefree and yet sometimes overworked), and then there is the social media team. Usually, the most over-worked and with almost-constant stress on their face as the community managers. It's not easy to do community management. This job requires a combination of skills such as:
Identifying amazing content that would work the best for your social communities

Making sure that you meet all the brand guidelines and social media guidelines

Be vigilant about online reputation management i.e. make sure all comments are responded to, especially if they are negative

Discipline your schedule, so that you can manage multiple communities at the same time and, also multiple platforms for the same brand
It's a vicious circle of writing content, approvals and analysis that every community manager would relate to. As a solution here is a list of 5 most basic social media management tools for community managers – guaranteed to make your life much easier.
1. Feedly: Best Source For Content
So while, a lot of tools are available that aggregate content, I frequently find myself checking out Feedly. It is a content aggregator website. You can easily select the magazines, blogs or websites you want the content from. You can see which articles are trending, which articles are the latest and also individual feeds of articles for individual websites.
 As a community manager, I've often resorted to Feedly to find content. Within Feedly, my favourite sites I usually check out content from depend on the brand I'm working for. However, I like to see Mashable, Tech Crunch, Wired, Digital Blog Buzz and more to keep myself updated regarding what's trending on the web.
2. Buffer: Always Update On Time
Once you've identified the content and got them approved by your clients, schedule your posts on social media in advance so that you can use your time wisely for other tasks. A tool that I've frequently used for scheduling tweets and FB posts is Buffer. If there is a same 'post' or 'tweet' that you would like to update on various pages and accounts at the same time – you can do that too.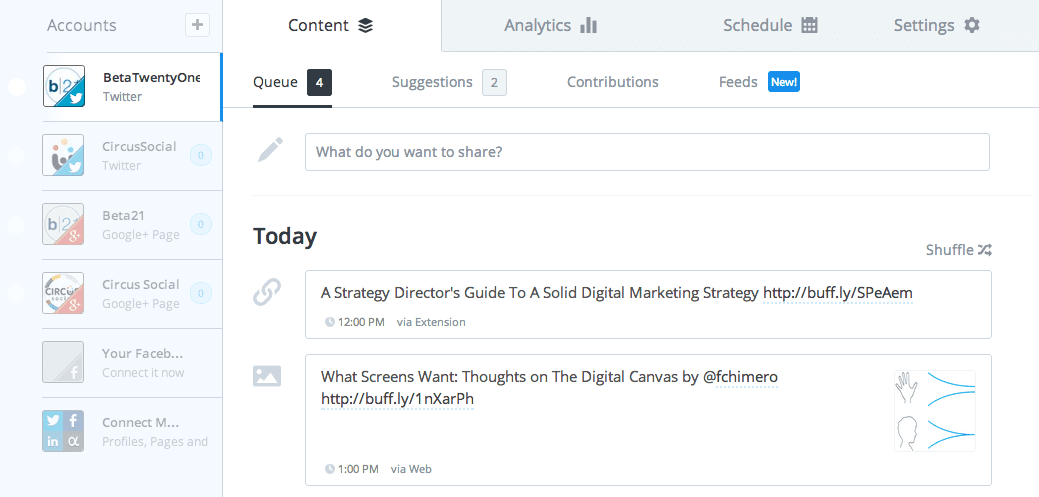 Schedule your posts across as many social media accounts as you wish. Buffer offers 3 different plans for your personal or business needs.
Buffer also provides analytics that help you to assess the performance of your posts and helps to prepare reports for the same. It's a pretty useful tool, available as free and paid versions, however I've preferred the paid version (which obviously works better for an agency), unless you're a freelancer (even then, a paid version would just make your life easier). To show you much the folks at Beta21 loves Buffer, check out this post.
3. Canva: Create Visuals In A Jiffy
It has been observed time and again, that Facebook posts with attractive images ensure higher engagement with it. Simply put, plain text posts do not work as well as the posts with images do and you need good images to support your post. But, the designer in your team is probably overloaded with work, and your client is not going to pay for every creative created for social media updates. So, what do you do?
Canva is a highly recommended tool to design images. It is customisable, and with a great repository of images (mostly free and, some are paid). It's got a great user interface, easy to use and works well for social media updates.
4. Facebook Apps: Run Engaging Contests On Your Page
It is not an easy task to keep your fans and followers engaged in activities. Interesting conversation is not enough. Sometimes, you need to pep up your audience with different activities. Some of the apps they have are:
Business locator – if you've got multiple branches, you can use this app to help your customers find you.
Slogan contest – it's like a caption contest! Simple and one of the best options for a contest you can use.
Quiz – Run a quiz for your Facebook Fans. Keep the questions MCQ or Objective, it's upto you.
Sweepstakes – Run a sweepstakes for your Fans and they'll love it.
… and many more cool apps.
These apps are easy to configure and with intuitive designs. It's easy for the community manager and for the Facebook Fan to use these apps. Both back-end and front-end are great.
5. HootSuite: Social Media Analytics
While there are multiple tools to assess data for independent platforms for example – Facebook Insights for Facebook, Alterian SM2 to get a gauge on online sentiment about the brand, Twitonomy for twitter data, Hootsuite is one tool which can give you a detailed report on all platforms together. It's quite user friendly to generate a report as well. You can also use Sysomos for Online Reputation Management, especially for twitter. It gives quite detailed data by analysing your online presence.
Share with us the tools that you have been using to make community management more effective!
Book your Radarr demo today!