One of my favorite social media sites to not only use but also write about is Twitter; a great marketing medium for brands and people who know how to use it properly.  Twitter has also become a platform for engaging customers to receive feedback, positive or negative.
Let me explain the "know how to use it properly" statement a little bit more; the reason I emphasized this was to simply put, yes, anyone can get a Twitter account but that does not mean everyone should post to Twitter, especially when it comes to your business.
Businesses have taken course of all different strategies when it comes to how they market their brand on Twitter, some examples would include; creating community chats by employing hashtags, which makes the chat trackable, tweeting to gain traffic to a specific landing page or push out relevant content to create a sense of authority.
Some businesses use Twitter for the sole purpose of building relationships and giving a personality to their brand. Then you have businesses who are self promoting, ignore the community, don't understand the science of Twitter or leave their brand in the hands of an inexperienced social media account manager who makes mistakes handling multiple accounts and ends up sending out drunk tweets…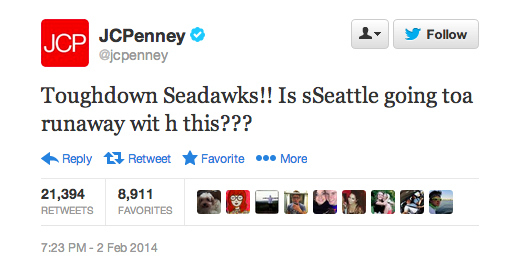 Was @JCpenney Twitter hacked or is their tweeter drunk?

— Ad Age (@adage) February 3, 2014
So it is time to be brutally honest and tell you why your biz is losing followers on the daily and don\'t be upset when I explain why you need to put an end to some strategies you had considered brilliant. Remember this is all for you!
1. #Enough #Of #The #Hashtags
Using too many hashtags is a pretty common mistake among the Twitter community, particularly made thinking that when potential customers or customers are searching it will help get your Tweet to pop up first. But listen close, too many hashtags make your updates difficult to read. It also shows that you\'re really not focused about the message and the conversation and this is where you will end up loosing some followers. Keep your motto for hashtag use at a maximum of three per tweet.
Still not quite sure how to break your habit of abusing the hashtag, well take a look through this website for everything you need to know about understanding the hashtag.
2. Stop talking about yourself
I am sure you see it when you use your own social media sites, the new mom who wants you to know every time little Johnny needs a diaper change or your friend who wants to let you know how out of shape you are by constantly posting gym selfies or status updates about how much muscle they gained over the weekend, we cannot stand these people, so don't be that guy on Twitter when representing your business.
If you spend most of your time on Twitter promoting your business, people will first ignore you and then they will \"unfollow\" you. We cannot stand the person who constantly talks about themselves on our social media so were not going to like a business that does it either, especially when you are pushing a product or service.  You have to remember that Twitter is a "social" network, you must learn how to communicate and build good quality relationships without bombarding them with promotions.
Follow the 80/20 rule. Post 80% helpful or entertaining content and save 20% for the self-promotional stuff.
3. No more Mr. Roboto
Drop all the marketing- and sales-speak. One great result of social media is that it has allowed businesses and organizations to speak in a more casual voice with their fans. This means you can be funny and loose in the ways you get your messages across. Write to your fans like they're people, not customers, clients, or donors, because that's exactly what they are.
4. I am waiting for a response please..
You came to Twitter to be social, so when someone goes to make contact with your company don't leave them hanging. Whether they reach out to your company with a positive or negative response it is important to you respond to every DM or mention you receive. When your customers realize they can just shoot out a tweet to your company and get a response they are more likely to interact and acknowledge the fact to their followers that they got a response from you.