Social media is not just a fad amongst teenagers anymore, businesses are using it for marketing purposes and a lot more the world over. It is increasingly being recognized as a platform where customers can raise their concerns (good or bad) related to that business's products/ services. "A lot of people think that Twitter is a fad and you can't really use it effectively to talk to customers," said Bianca Buckridee, Vice President of Social Media Operations for JP Morgan Chase clearly indicating that there are many businesses out there who haven't explored the full potential of even the most popular social media platforms – Twitter and Facebook.
Marketing and customer service are poles apart and shouldn't be confused. Even though one platform might serve as a great marketing avenue, it might not really up your customer services. Considering that both Twitter and Facebook have millions of users the world over, which platform serves as the best for businesses to up their customer services?
Facebook vs Twitter
Facebook founder and CEO, Mark Zuckerberg reaffirms that the company is all about "connecting everyone and improving the world through sharing". While on the other hand, Twitter CEO Dick Costolo calls Twitter the "global town square" of social media. The company states its aim as "to give everyone the power to create and share ideas and information instantly, without barriers."
Even though the visions seem to overlap in terms of delivering a platform for connecting and sharing to everyone, both have distinctive features making Facebook known more for "connecting" and Twitter popularising for "sharing ideas and information." If the ongoing competition between the two confuses you too and you can't decide which platform you can use to deliver promising customer services, here is a comprehensive breakdown of each.
Twitter As A Customer Service Platform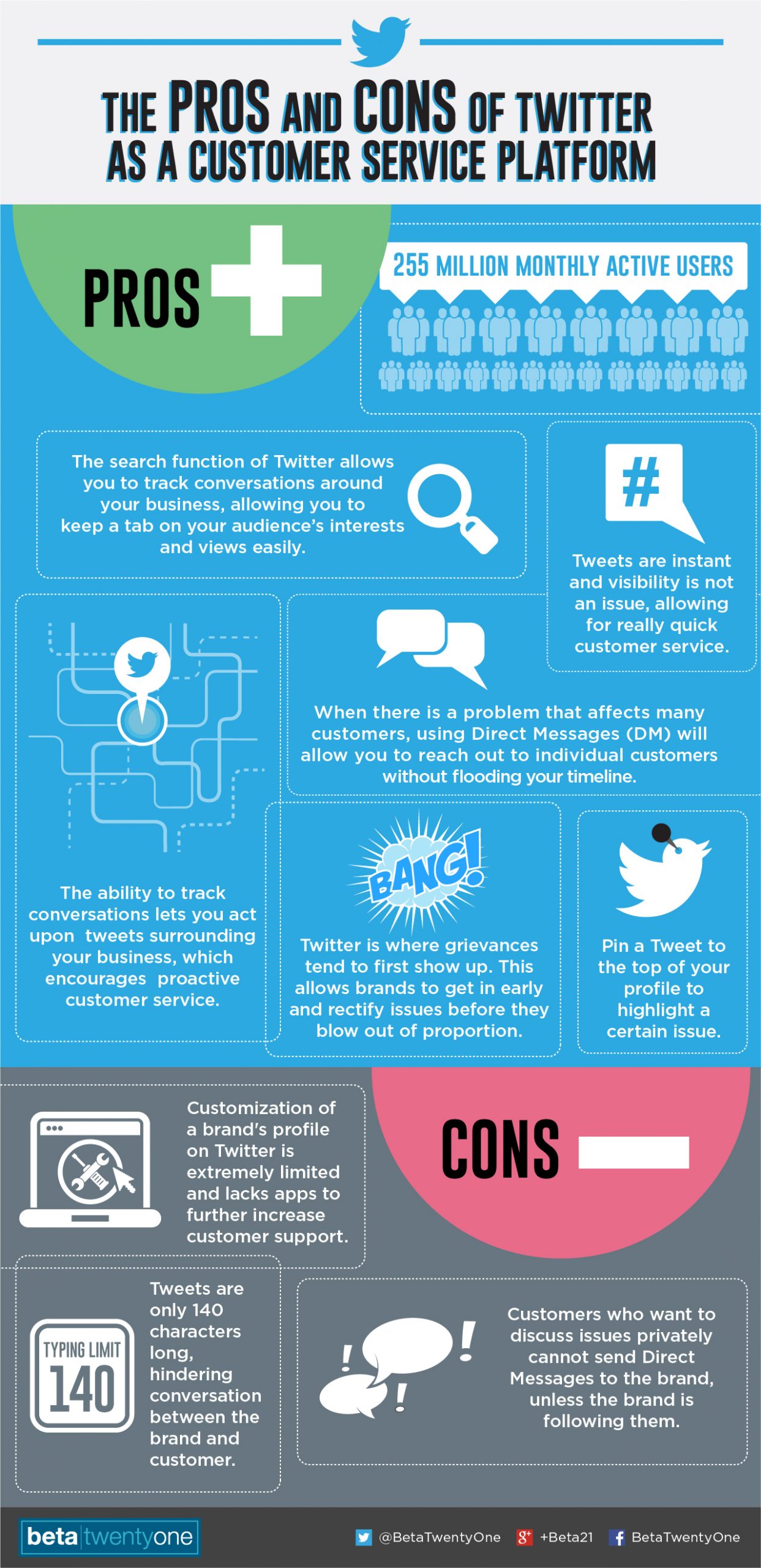 Chirag Shah, the Senior Manager (Digital Marketing), Group Marketing at Singapore Post Ltd says, "In my experience so far, I have found that Twitter is great for one on one conversations – most complaints/ feedback are conversation starters – consumers gravitate towards Twitter to have those conversations – and hence, Twitter is a great platform to immediately address service/ product issues customers are facing."
Though he also believes that depending on the demographics of the organization, each platform can turn out to be great customer platform. "Facebook on the other hand is great for creating a community like environment that shares knowledge/ experience about a company's product/ service – and hence, a good place to bring your customers to for education and for FAQ," says Shah.
Facebook As A Customer Service Platform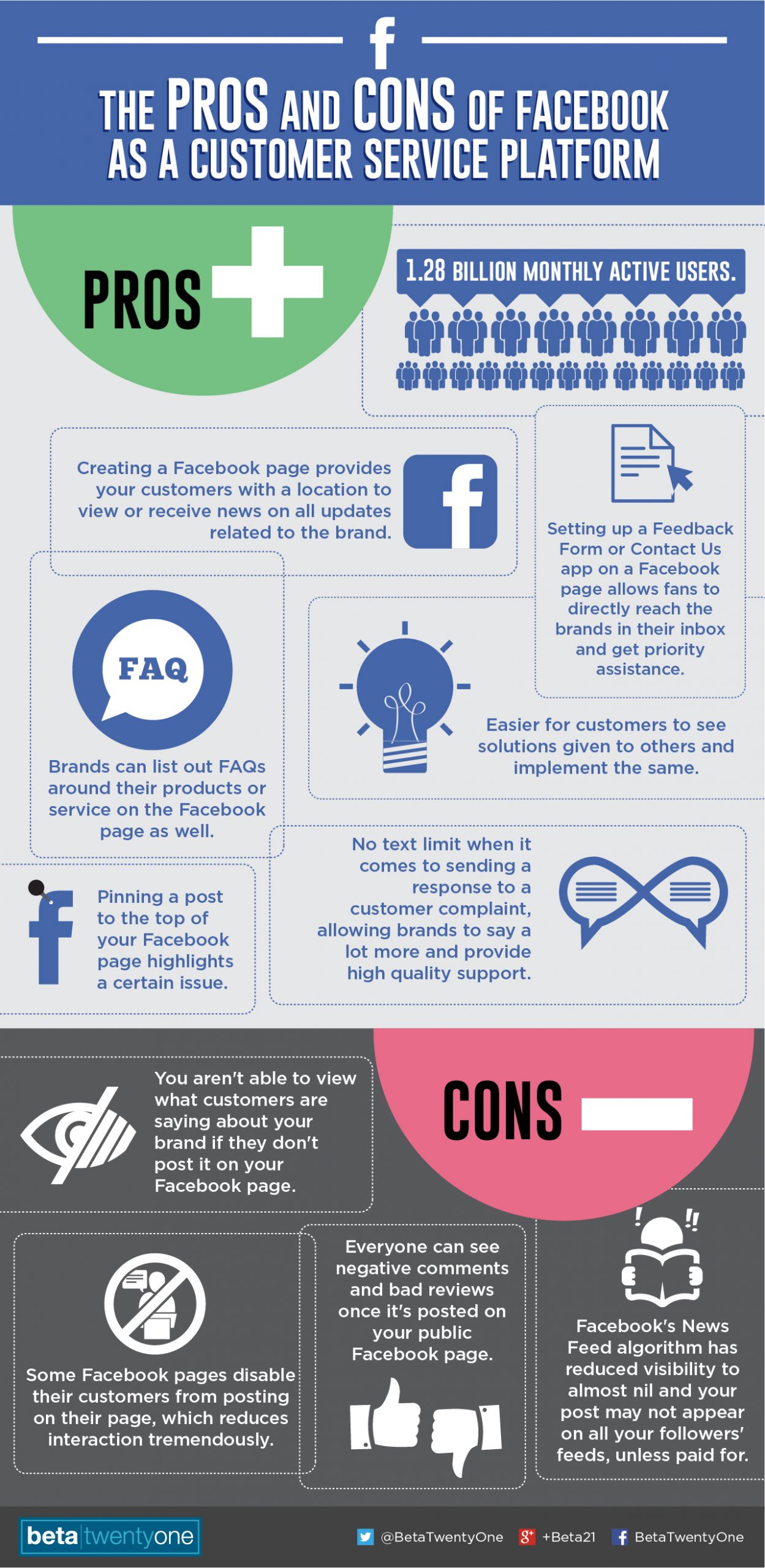 Alex Stojkovic, Marketing and Communications Manager at Blue-Pencil Information Security Inc. says, "Personally, I believe Facebook is the better customer service platform for many reasons. Without an understanding of your audience or market place and speaking in generalities, Facebook offers a more robust platform for customers with problems or concerns to reach out."
Many businesses out there are already using this platform actively for customer services and Stojkovic breaks down the primary reasons for them to do so:
As a customer with a question or concern, it would be extremely difficult to explain to customer service representative your problem within 140 characters. Facebook definitely has the advantage over Twitter in this regard.
Given its sheer popularity, Facebook is far more advantageous over Twitter. Twitter's audience of users tend to be younger and stark contrast to Facebook which has a wider demographic user-base.
But being in the business for long, he too has one tip to share:
"The determination of which platform to use for customer service should ultimately rely on reaching out to existing customers in the form of an online or email survey and see what they say. If 90% of your customer base is on Twitter and you decide to go to Facebook, such a decision is going to have catastrophic business consequences."
So Which Is The Better Platform For Customer Care?
As seen from the infographics above, both platforms are far from perfect in terms of features. Ultimately the decision you make while choosing the social platform(s) for customer service depends on where the majority of your audience is active on. Should there be an a 50/50 or 60/40 spread of your audience across both platforms, the platform that you choose should be determined by the demographics of your audience and the the products and services of your business. We would suggest going on board both platforms to better connect with your audience, but if you have to choose between Twitter or Facebook, we'll conclude with:
Twitter is great to track conversations around your business, promoting your products and resolving your customer\'s issues in a swift manner. You can join in conversations with your followers as well as others outside of your community, creating more effective social customer care.
Facebook is better platform for creating communities to share in-depth information of your products or services. The posts and replies published on your page can also be seen by everyone in your community, increasing the effectiveness of broadcasting announcements.
With so many other social platforms springing up alongside them, businesses might feel the need to be visible on all but that\'s not true. It\'s the audience that determines where you need to be present to reap the maximum benefits from social media.
Did you know that irrespective of the platform you chose for your customer service, you can get real time social data from that platform augmented with AI only on social listening platform provided by Circus Social.