If you don't have nearly $50 a month or $600 a year to spend on professional products Adobe produces, there are literally hundreds of graphic design web apps available out there for you to use. But which one? I took at look 3 of the most commonly used graphic design web app – PicMonkey, Canva and Sprites. A time limit of five minutes was used for each app because that's all you'll have time for when the boss rushes in and says.Give me a blog post with a creative image. These three apps are rated according to these factors:
Ease of use
Functionality
Usability of their free features
User control (the freedom to do a lot of different things without barriers)
Sprites

Website: Spritesapp.com
Cost: Free with no add-ons for extra design stuff as of yet. The website says they're not ready to accept payment but I say they're not ready to provide something you'd pay for.
Easy of use: When a website says "developer-friendly," unless you speak JavaScript, interspersed with a little CSS, Ajax or JSON run for the hills. Sprites advertises itself as web-friendly needing no Flash and using HTML for its animation of imagery but the tool is just not intuitive for the non-developer. While I may not be the smartest monkey in the barrel, it took me far too long to do simple graphical additions such as image title, text on image, color changes and so on. It's like these guys have never heard of drag & drop.
I had to hunt to find the place to upload an image instead of using the limited graphic images provided by the app. All in all, I created a subpar "animated" image that I couldn't even download but only got an embedded URL link to, which didn't even up work. See here. It was a bad experience.
Rating: 2 points
Functionality: The app functioned well once I figured out how it worked. I uploaded an image but took forever to place the text in the foreground instead of in the back of the image. Ever heard of "Send to Front"? For someone that would just want to demo the app, Sprites definitely makes it a troublesome process, having to sign up for an account to enjoy other basic features such as saving.
Rating: 4 points
Best Free Stuff: The free icons you can use to create infographics are pretty sparse. Even though everything is free on this app right now including the upgraded features, there isn't much to offer here.
Rating: 2 points
User Control: There is a tremendous lack in features. You won't be able to create an intermediate piece of design from this tool. The animation tool would only work well for someone that can design great experiences.
Rating: 4 points
Total: 12 out of 40 points (Pass on this one.)
PicMonkey

Website: Pickmonkey.com
Cost: Free to do photo editing. $4.99 a month, or the annual plan at $33 a year, for more fonts, editing options, and no advertisements.
Ease of Use: Called the "poor man's Photoshop," by one happy blogger, PicMonkey is a favorite among the faithful. It features an easy interface, lots of free options, and easy-to-use graphic tools. Within seconds I had an image uploaded and began tinkering, cropping, resizing, rearranging and adding text, etc.
PicMonkey Interface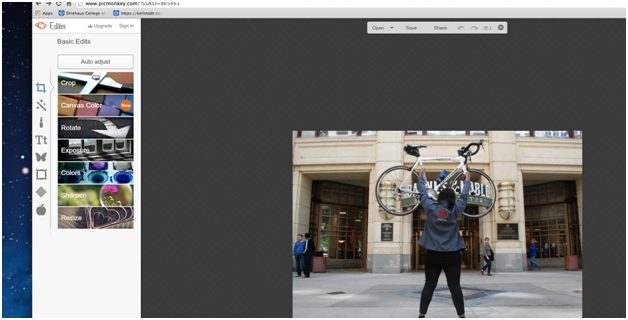 Even if you want to start from scratch to create your own graphics, it may take a bit of doing but it is easily achievable. However, PicMonkey may be a little too simple. It reminds me of the decorative digs you can delve into in say Shutterfly or Walgreens Photo Book apps.
Rating: 7 points
Functionality: A lot of granular stuff that designers just know – what image size is best for print or online, glossy or canvas finish, PicMonkey takes care of it all for you.
The functionality of the app was lovely. Easy, breezy "Drag & Drop," reverse arrows for "Undo" and "Redo," all the scissors to represent "Cropping," all the iconic familiarity a time-strapped content creator could want. You can do an incredible amount of operations using PicMonkey for free including:
Adjust image sizing,
Crop image
Adjust exposure
Add text
Add shadows
Add image art (you're own or icons from their library)
Even add logos, watermarks and other icons on photos.
Rating: 8 points
Best Free Stuff: As aforementioned you get a lot for free but not a lot of imagery. And the imagery is fairly Shutterfly-ish. The text offerings are fairly robust but some are a bit cartoony for the business setting. But with a little ingenuity you can create professional looking graphics with just a few clicks. And our image we created in five minutes: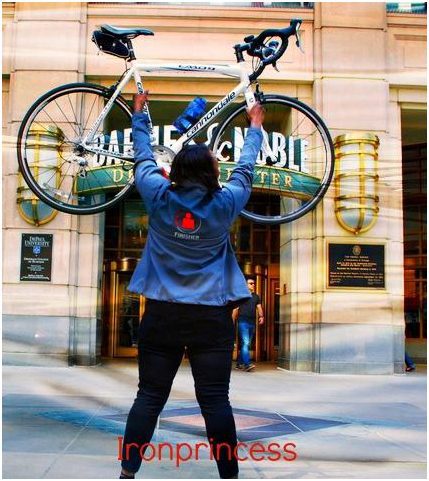 Not bad eh?
Rating: 9 points
User Control: You have all the freedom and control over this app and you'll have no problem doing what you want to do with his app if creating simple image ads and blog post imagery is what you want to do. But if you want more sophisticated graphic design artistry, infographics, data analysis charts and so on, PicMonkey may not be the app for you.
Rating: 7 points
Total: 31 out of 40 points
Canva
Website: Canva.com
Cost: Free to use but $1 add-ons for Canva-marked images and special effects. More polished than PicMonkey, less cumbersome than Sprites, Canva is the Goldilocks of this pictorial graphic trio. It fits perfectly for marketing professionals who want a sophisticated-looking graphic without all the time and talent it takes to use Photoshop correctly.
Ease of Use: When you start an account with Canva it immediately gives you this five-image tutorial that's a bit annoying if you're know what you're doing but incredibly helpful if you don't. As this screenshot shows it automatically configures your settings and choices by what type of graphic you're creating.

It literally has all the choices that any quick-thinking marketer would need right at your fingertips making it incredibly easy to use.
Rating: 10 points
Functionality: Once you click on those icons you can create anything you want and have the perfect dimensions. Here's my 30-second Facebook Cover Image:

We could literally spend all day creating stuff with this app. It was so amazingly easy and professional and had so many functions.
As soon as you've completed your graphic Canva offers you a URL, choice of png or pdf of the image right away.
It is literally the easiest, coolest graphic to publishing interface tool that's out there. Photoshop doesn't even do that. Don't have images? No problem, they have thousands available but shopping could get pricey as they charge about $1 an image. Canva also doesn't bog you down with every font known to man or color text available instead offer you color palettes to choose from and recommended fonts for ads, graphics etc. Again this takes the guess work out of creating graphics and adds amazing functionality to the application.
Rating: 10 points
Best Free Stuff: Canva offers you free quality narrowing down it's choices of text, overlays and effects. You can always tell when a non-designer discovers a graphics tool because they break all the design rules with three fonts per text overlay. Canva doesn't let you wander into such dangerous tacky territory offering you limited but quality choices in fonts, color palettes and imagery.
Rating: 8 points
User Control: If you use your own photos, you have unlimited free control with Canva. If you don't, you still have a lot of options to choose from. Again, Canva does all the thinking for you but let's you delve into the creative instead of the technical issues of dimensions, scripting and so on. You can create amazing graphics and have them instantly available to use and reuse at your will.
Rating: 10 points
Total: 38 out of 40
Final Verdict
Just two points shy of perfect, Canva is the best graphics creation tool for professionals and amateurs alike – low barrier to entry for some amazing outputs. Their warm welcome e-mail from "Hazel, Customer Happiness," is a nice touch so we're giving it a 40 out of 40. Leave your horror or success stories in the comments below!
Book your Radarr demo today!