Struggling to understand if social media really works? Introducing attribution model.
When using social media platforms for marketing, businesses are often not able to attribute a specific channel to their business objectives, goals, or conversions. This often leads to either them feeling that social media doesn't work well for them or a point where they create social media strategies based on assumptions.
Does your business want to understand the customer conversion journey better? Or even draw insights from their marketing efforts? Are you also looking for ways to track your social media conversion?
That is where an attribution model comes into play.
An attribution model is used by businesses to understand how customers arrived at their website and what actions they took once there. They help you determine how many people convert from each source, how much revenue each source generated, and how much revenue each source contributed to your overall revenue.
An attribution model helps you answer a key question: "Which sources brought the most value?"
What is an attribution model?
The attribution model is a way of calculating the value of your social media marketing. It's helpful when deciding on which platforms are worth investing time into.
The attribution model is a method of measuring the effectiveness of a marketing campaign. The idea behind the attribution model is to determine which channels are driving conversions and sales and how much value each channel adds to your business.
It's important to understand the attribution model because it helps you determine how much of your sales come from different sources, such as online ads or word-of-mouth recommendations from friends and family.
For example, let's say you run a campaign on Facebook, Instagram, Twitter, and LinkedIn. You want to know which channels are driving the most revenue to prioritize your efforts in those channels. The attribution model allows you to do just that.
With an attribution model, you look at the buyer's journey in reverse. You then assign value to the interaction points. These are those points that motivate your customers to buy the product.
How did the customer hear about you, and what did they see or do before buying the product? By using attribution models, marketers give credit to certain touchpoints. These are the interaction points that the customers had with the brand.
Why is an attribution model important?
If you're a marketer, you know that attribution modeling is important for social media marketing. Here's why:
Social media is a channel where the consumer journey can be tracked. It's one thing to follow your customers' journeys through different channels and see how they interact with your brand across the entire conversion process. But it's another thing entirely to track their social media behavior and see what influences them most when they decide who to buy from.
By knowing which factors influence your audience, you can optimize your campaigns to drive more conversions by tailoring content to appeal to those factors. The more personalized your ads are, the more likely they will resonate with potential customers who are already familiar with your brand.
Social media attribution models also provide insight into brand equity because it allows marketers to measure how positively their audience perceives their brand overall—and how much that perception has changed over time due to specific campaigns or events (as well as positive or negative word-of-mouth).
What are the different types of attribution models?
Social media marketing is a powerful way to reach your audience and drive sales. But, if it's not done right, it can be an expensive waste of time. That's why you must understand the different types of attribution models in social media marketing and how they work.
Let's take a look at six types of attribution models and figure which works best for your brand: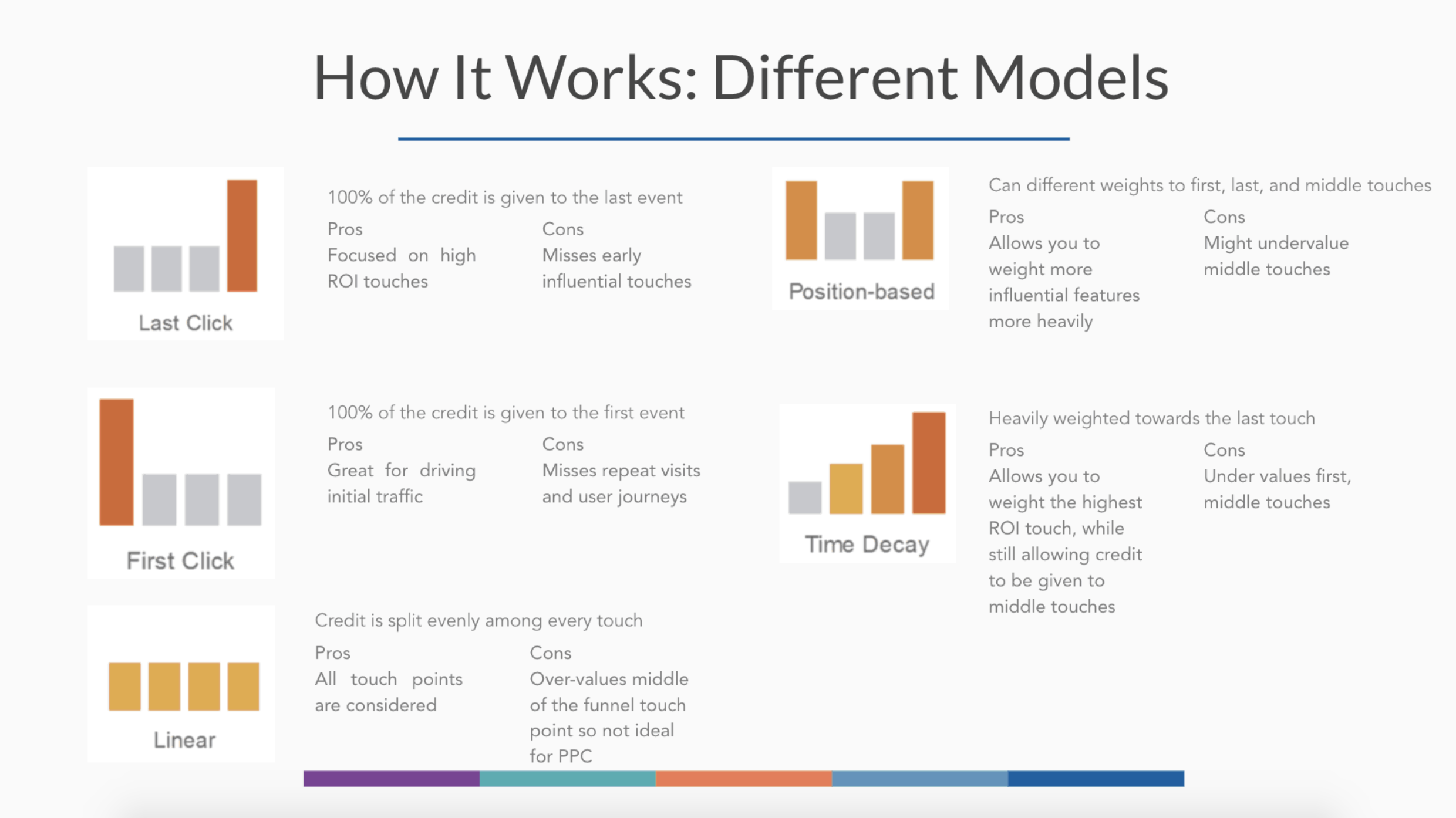 1. First-Touch attribution model
This model attributes credit to the first touchpoint where a customer interacts with your brand. This could be an email, ad, or social media post that was seen by a prospect before they made a purchase.
For example, if a customer first sees your brand through a Facebook ad and then later buys from you on Amazon, Facebook is attributed with the sale because they were the first platform to interact with that customer.
This attribution model is not perfect because it doesn't consider other factors like consumer behavior or competitive products in play at any given time. Moreover, this model does not fit B2B organizations as there are a lot of touchpoints before a lead converts. But it's useful for estimating how well an individual campaign or ad set has performed relative to its competitors over time!
Pros
Easy to set up and track
There's not a lot of analysis or calculation involved
The focus is more on the demand distribution rather than weight distribution
Cons
This model has a higher margin for errors
Emphasis is only on the beginning of the customer journey
Difficult to optimize the marketing process since you don't know what motivated the customer to buy
Many touchpoints that led to conversions aren't credited even though they make an impact
When to use this model?
This model measures the effectiveness of top-of-the-funnel marketing campaigns and nothing apart from that. But, it does help you optimize your lead generation process.
2. Last-Touch attribution model
Unlike the first-touch attribution model, the last-touch attribution model measures where the lead first came in contact with your business. This model attributes the sale to the latest channel used by the customer before they made their purchase decision.
Even Google Analytics employs the last-touch attribution model as the default attribution model. It ignores what came before the conversion and gives credit to what caused the lead to convert.
This is an easy model because it doesn't require much data collection or analysis; however, it can lead to inaccurate results if a customer uses multiple channels before making a purchase decision.
For example, if a customer uses Facebook Ads and then purchases on Amazon after reading about your product there instead of directly from you on Facebook itself, this model would still attribute credit for the sale back toward Facebook even though Amazon was responsible for converting them into paying customers!
Pros
Directly showcases which channel led a customer to convert
Suitable for those who prefer conversion-based metrics
Easy to use and no learning curve present
Cons
Discards everything else that led to the conversion
Difficult to analyze every aspect of your funnel like the effectiveness of the ads, and campaigns.
Like the first-touch model, the last-touch model doesn't give the entire picture of the process
When Should You Use This Model?
You should use it only if you are concerned with conversion rates for your campaign. Plus, it lets you know which part of your messaging works best. So whether it's the copy on your landing pages or your email newsletters, this model will help determine it.
3. Linear attribution model
The linear model attributes equal importance to all the touchpoints for lead conversion. It starts from the first touchpoint, then to the lead creation, opportunity creation, and customer closing.
Usually, marketing attribution cannot figure out which touchpoints are the most important in a customer's conversion journey. In the case of the linear attribution model, the answer is to treat all touchpoints equally.
Pros
Comparatively better than the first-touch and last-touch models
Offers a complete view of the entire customer conversion journey
Treats every touchpoint equally
Easy to set up and compare results from other data models
Cons
Optimization of touchpoints is impossible as they all can't be equally important
No clarity on which touchpoint converted a customer when you give equal credit
When Should You Use This Model?
This model works best when you have a small team and your marketing process involves a long sales cycle. It's when you know which touchpoints convert a lead without putting a lot of effort. This model fills gaps caused by the first- and last-touch attribution models.
4. Time-Decay Attribution Model
The time-decay attribution model is more concerned with the touchpoints closer to the step when the conversion occurred than the top of the funnel. Like the linear attribution model, this multi-touch model gives credit to the middle and bottom of the funnel. However, time-decay treats them with more significance as they're the points that led to the conversion.
This attribution model isn't perfect for measuring the effectiveness of social media campaigns. For example, it doesn't consider that your lead might've interacted with your ad and signed up for your demo and later bought the product because of a link in your blog post. Will this blog post receive more credit than the ad? Highly unlikely.
Pros
Touchpoints closer to the point of conversion gain the most credit
This model optimizes touchpoints that directly converted the lead
Cons
It devalues the first touchpoint
Ignores fact that the first touchpoint played an important role in the conversion
When Should You Use This Model?
If your business has a long sales cycle, the time-decay model is for you. With this model, you can ignore the top of the funnel and focus on the latter stages that led to a conversion. It'll help you optimize lead generation.
5. U-Shaped Attribution Model
The U-Shaped Attribution Model is a model that focuses on the lifetime value of an account or customer. It considers all of the touchpoints that led to an individual becoming a customer, including social media platforms, organic search results, and paid search results.
The U-shaped (position-based) attribution model credits three main touchpoints. 40% credit to the first and last touchpoint and 20% credit to the middle touchpoint. This weight modeling first emphasizes the first point where the leads come in contact with your business. After that the last touchpoint at which the lead converts. However, unlike the other models, everything else in the middle gets counted in.
Both the first and the last touchpoints are important in marketing. But, do not ignore the middle touchpoints. The middle touchpoints might be having an impact that is necessary for the lead to convert.
Pros
The U-shaped model considers both first and last touchpoints important
This model even optimizes the first point of interaction of a lead with the business
Cons
Sometimes the first can be more important than the last touchpoint. Do analysis in this case
When Should You Use This Model?
This model is not for businesses with long sales cycles or campaigns aimed at lead nurturing. It works more when a lead engages with your content and immediately decides to buy your product.
6. Algorithmic Attribution Model
This model is one of the most accurate ways to measure a user's journey from lead generation to conversion. It's an incredibly accurate method for measuring the impact of your marketing efforts on your conversions and sales.
Here's how it works: You identify all of the touchpoints that drive traffic to your website or landing page, then assign a weight to each one. You do this based on your own data and performance.
For example, if you see that your email marketing drives a lot of traffic and conversions, then you might give it a higher weight than Facebook or Twitter. This takes into account what's working for your brand and gives you an accurate picture of how much revenue is coming from each channel.
The only downside is that it can be hard to set up this model without the help of someone who understands data analytics well—like a data analyst or marketer with advanced knowledge of statistics and regression analysis techniques.
Pros
Touchpoints that matter most to your business receive credits
Provides the most accurate data from the consumer journey
Cons
Complex process and involves a lot of calculations
Not understood by everyone, requires skills of a data analyst and advanced tools
Smaller businesses cannot afford to use is model because of the expertise needed
When Should You Use This Model?
This model is not for businesses that have a short or simple sales cycle. On the other hand, use this model when you have a complicated sales process that involves marketing qualified lead (MQL) and sales qualified lead (SQL) reporting. This model allows you to do an in-depth study of each stage of the funnel.
How to set up an attribution model for social media marketing?
If you have multiple channels and lots of traffic coming from different sources (like paid ads and organic searches), setting up an attribution model can be a huge challenge.
If that sounds like your situation, we're here to help! Here are some tips for setting up an attribution model:
1. Decide on your social media goals
Before you even think about setting up an attribution model for your social media campaigns, you need to decide what those campaigns are trying to achieve. Are you trying to build brand awareness? Are you trying to drive sales? Are you trying to get users to take action on one specific site or app?
The answer will determine the metrics by which you measure success. If your goal is brand awareness, then measuring engagement might be more important than sales or other actions. If your goal is sales, then measuring sales might be more important than engagement or other actions.
2. Set up UTM tagging
UTM tagging is essential if you want to track the impact of your social media efforts. A UTM (Urchin Tracking Modules) tag lets you track how users found your content—and help you see how specific campaigns perform against one another so that you can more effectively target audiences in the future.
You can even find the type of traffic that comes to your page and whether it's related to a particular campaign. When there's UTM tagging in social media, you receive insights like which platforms are good instead of the social media channel as a whole.
3. Shorten links or vanity URLs
Shorten links or vanity URLs with Bitly or Google URL Shortener. This will make it easier for you to track which links are clicked on by users.
Bitly is a link management platform that shortens URL links into a unique one. When you have subscribed to their paid plan, you even get to add a branded one. So, whenever you shorten any of your URL links it can have your brand name in it. Radarr also integrates with Bitly so that all your links are automatically shortened.
4. Use surveys
Surveys are a great way to collect information about what people are clicking on as they browse through your website and what they think about what they see.
For every new customer who seeks out your brand, include a survey question about how they heard about you. The responses will at least hint at the marketing efforts that are working—and following that you can check the type of attribution model that's been working for you the best.
4. Make use of a social media analytics tool
As you scale the number of campaigns you run on social media channels, it will become more and more important to keep a close watch on your attribution models and key performance indicators, alongside the conversations your content generates.
This is where we recommend having a social media analytics tool in your strategy to foolproof your attribution model. Tools like Radarr help you capture campaign performance in real-time, across all channels, enabling easy and proactive optimizations for better ROI from every campaign.
Wrapping up
The social media space is a constantly-evolving one, and to keep pace with the ever-changing landscape, you need to be able to adapt your strategy accordingly.
One of the most important things you can do is identify what attribution model works best for your brand. This will help you track the success of different social media campaigns and understand which ones result in actual sales.
If you're looking to improve your social media marketing strategy, you need a tool to see what works and what doesn't, who your audience is and what kind of content they prefer. This will help you tailor your content to the people who will be most interested in seeing it, ultimately leading to more conversions. In addition, having a social media analytics tool like Radarr comes in handy to understand your audience better and how they choose to interact with you, enabling better attribution.
Want to have a better understanding of your social media analytics?