Vin Diesel. A celebrity name that has become synonymous to the Fast and Furious series comes across as the most 'liked' celebrity page on Facebook. We aren't surprised, are you? Those of you, who have been following the series closely, would be as much in love with the actor (and the cars) as we are.
Like every other fan out there, we went straight to his Facebook fan page to drool over him some more. And guess what? The actor's fan page is far from being furious! We came back admiring the amount of engagement the posts on his page generated. Now that's not just celebrity promotion, that's some really awesome social media marketing going on out there. And we could certainly learn from them.
Every brand hires social media marketers in the hope of having content related to their products or services put across in such a manner that their audience can't help but share. The need for content marketing is rising and it knows no bounds, putting marketers in a tight spot.
What to post? When to post? How to get maximum engagement? These are just a few of the questions that a marketer has to answer every day. And amidst all the hard work a marketer puts in, he starts to sound more like a robot doing his duties losing that personal touch post after post.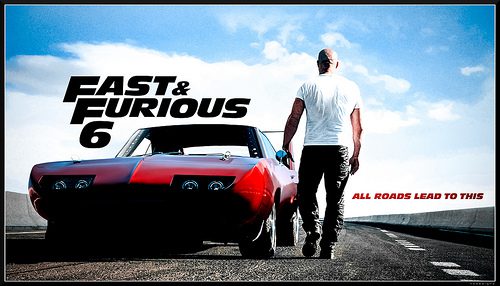 Usually when we come across brand pages, or for that matter even celebrity pages, all we see is a 'third person' tone used in all the posts addressed to their audience. Even though they are shared and liked by the loyal ones, it leaves a bitter taste with some of them. Believe it or not, there are many out there who are aware of the fact that celebrities don't have the time to run their own page and still expect the posts to be more 'personal'.
I know what you're thinking. Why pick Vin Diesel? He's a massive movie star – of course, he'll have a ton of fans and it'll be easy for him to get engagement. I\'m just starting out my own little start-up dammit, I need better advice! Why is Vin Diesel's page that popular, and not Leonardo DiCaprio's? Or Al Pacino's? Or Scarlett Johansson's? Precisely. Think of him doing better than all his peers (which he is) – which is why we're taking a look at his page.
The one thing that makes Vin Diesel's page a benchmark for all the other brand names out there is its human approach to marketing. Even though there are a few mistakes – spellings and grammar, the posts sound like him. And that's how his page is THAT famous!
His posts are a mix of his own pictures, sneak peeks into next releases, videos and most importantly – insights to his personal life! His page shares pictures with family that automatically gives the audience the impression that the page is run by the man himself.
Considering that many brands out there are clueless how to sound 'human' because clearly, they aren't! Here are a few things we learnt from Vin Diesel's page:
The One To One Engagement.
Everyone out there wants to interact with a celebrity or a brand directly. But getting a chance to do that, let's be honest here, is – one in a million. People want to be heard – good or bad remarks; the brand's fan page should be ready to accept them. It builds the rapport of being a good sport and customer friendly brand. Who doesn't like being given importance?
The Sneak Peek.
Giving your audience a sneak peek into an upcoming product or service of your brand, generates the one emotion that is going to work wonders for you – curiosity! Human tendency to find out answers to the unanswered or find out something before others is certainly going to up the engagement on such posts. Now isn't that the whole idea behind running a social media campaign?
Pictures Always Work – ALWAYS!
Whether you are running a brand page or a celebrity fan page, the one type of post that always works wonders are pictures! So stock up on some really up close and 'family' kind of pictures because that is what your audience wants. They don't just want to relate to your products, but also to you. And making them feel like a part of the family is the trick to success.
Film It.
Now we came across some really nice videos on this page. Instead of just posting images all the time, turn them into a slideshow or a video as most of us call it. According to the latest research, after images videos are the most shared type of posts. Don't Forget To Look Good!
Write Like You Talk.
When you give your posts that personal touch, they become more relatable and people don't feel like they are corresponding with a robot. Of course you mean business, but is it what you need to do all the time? No. Focus on increasing the user interaction with your page; the sales will automatically go up.
Different Strokes For Different Folks.
We have said this before and we'll say it again, vary the topics that your content covers. No one likes to go through the same kind of post day after day. Do a little research around your brand and what is trending in your circles to check what you might have missed out on. And to make the going easier, learn How To Use Swayy. You won't have to rack your brain so much to come up with fresh ideas.
It's Not Just About You!
Being a marketer, you are well aware of the stories doing rounds on social media platforms. When you relate your brand name with the others in line, you build a rapport of being friendly and show how much you respect your competition.
After all, it isn't just about promoting you, building relations by giving appropriate credit to others is certainly a good idea.
Respond To Fans!
Let your fans reach out to you. Message or posts, welcome what they have to offer. This way they will know that you are interested in interacting with them because many out there feel that all brands care about only one thing – sales.
Worried how you are going to get going with all the above? Here are a few things you could get down to executing before you consider the above:
Look Good! Engaging profile photos are certainly what your brand should be aiming at. Because, first impression just has to be the best. You can change profile pictures every now and then to keep your page looking livelier.
Cover Photo Story. Since you are clearly past the stage of telling your brand's story now, come up with a fancy cover photo that gives out the story of your brand. We all know, everyone has time for a good story!
Update your 'about section'. A brief description about your company along with the link to your site is a great way to drive traffic to your website as well as get people to browse through the rest of the content offered by your page.
Create A Content Calendar. Get to work and create your content strategy. Vary posts according to the themes you decide to post on assigned days. Tap that creative side of yours and start with a few series that people can't help but follow!
Tag Others! You have seen how tagging goes on Facebook, then why not use it? If your content is about a certain topic or a brand name, don't forget to tag them!
Star Them. Highlight those posts that you want your audience to see for sure. The starred posts get pinned to the top of your page and there is no way one would miss the first post of a page.
I can't leave you with so much to take into consideration, so I'll leave you with another tip that could be your cheat sheet to a sure shot successful 'human' brand page:
Assign Duties. Now we know how busy marketers are. They really don't have the time to respond promptly to their brand's fans. Keeping this in mind, assign someone with the task of being the brand's ghost writer. Not only will this take care of the promptness, it will take care of sounding 'human' too! After all, staring at walls may sound ok, interacting doesn't and honestly, no one does!
Got any more ideas to add? You're most welcome to add to the already long list..
Book your Radarr demo today!