The 71st Golden Globe Awards showcased how twitter's taken over Hollywood.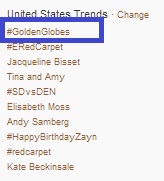 A night to remember, it was made even more special by outstanding coverage on Twitter with celebrities chirping away to glory and #GoldenGlobes trending.
#GoldenGlobes saw an average of 3600 tweets per hour. It ranked in the top 10% of popular hashtags of all time with more than 28 million impressions. In total, Twitter saw 1.6 million tweets out of which 60.7% were retweets, with 436 pictures and links!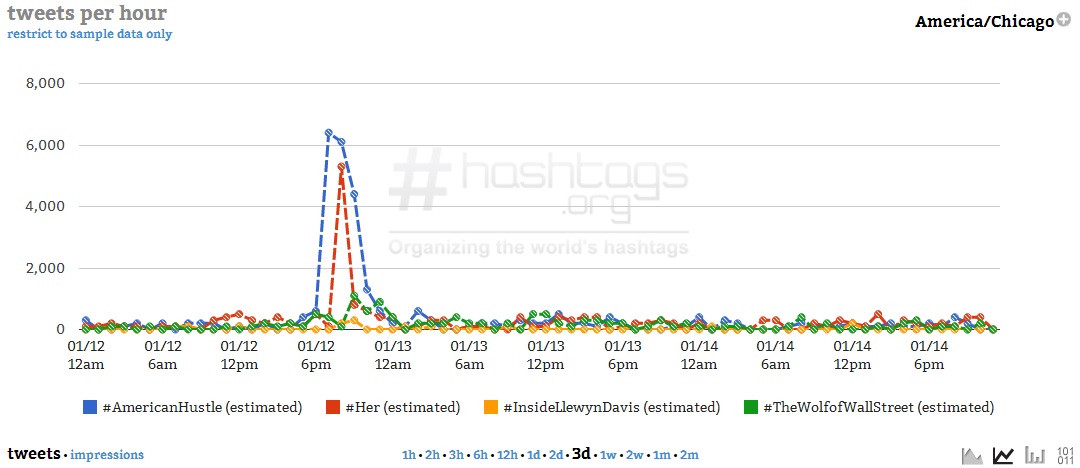 Tweet Activity for #GoldenGlobes
The timeline of tweeting showed that the maximum number of tweets happened after 12 p.m. and up to 3 a.m. immediately after the conclusion of the Globes. The maximum word mentions included "globes", "best", "dress", "Jennifer" and "winners".
Perez Hilton did an outstanding coverage of the Awards covering every aspect from who were the winners to who was the worst dressed. In fact, Jacqueline Bisset\'s meandering walk had Perez Hilton tweeting, "If you give anyone over the age of 68 an award, you can\'t expect them to give a brief acceptance speech!\"
#GoldenGlobes 2014: Complete Winners List! — Perez Hilton (@PerezHilton) January 13, 2014
The common man on Twitter, watching the show in real time tweeted about their favourite celebs and who won what. Other people tweeted extensively about the movies they were rooting for and the celebs that looked best. #AmericanHustle garnered the most tweets followed by the seminal 12 Years A Slave. CNN was the most influential tweeter about the Golden Globes with over eleven million followers.
#JacquelineBisset is one classy dame; She sure made up for lost time at the #GoldenGlobes on @PiersMorganLive tonight!#JobWellDone!

— richgarciamiami ♎ (@richgarciamiami) January 16, 2014
The power of the twitter trend could be witnessed when a deliberate slip of tongue by the hosts got Tam Honks trending on Twitter. Within minutes, a a German Twitter account with the same was already in place with, of course, a picture of Hanks on a bus stop bench from 1994's "Forrest Gump."
Daisy manicure for the #goldenglobes by @TomBachik

— zooey deschanel (@ZooeyDeschanel) January 12, 2014
The best art of the trending hashtag was celebrities taking to twitter. They showed off everything from their wardrobe choices to their manicures; there was hardly an aspect of the show that wasn\'t spoken of. Other celebrities like Jesse Tyler Ferguson and Monica Potter posted pictures. Celeb tweets showed us a side of the Globes that we hadn\'t seen before such as this gem:
One of my favorite things about #goldenglobes is getting to watch the snipers on the roof!

— Kelly Osbourne (@KellyOsbourne) January 13, 2014
There were also some brands like Dominos who used the trending hashtag to get attention.
Not to be upstaged by the #RedCarpet #360cam, we've created our own 360 pizza cam. #GoldenGlobes

— Domino\'s Pizza (@dominos) January 13, 2014
So, how did the Golden Globes go viral?
1) The Big gets Bigger
It cashed in on the immense popularity of a major event that\'s the third most watched award show in the world after the Oscars and the Grammy. Events that go viral are either extremely popular or so obscure that they become quirky be default. Golden was a natural trend. It's had to escape the glitz and glamour when your feed is inundated with your favourite celebs tweeting and instagramming.
2) Did you see what Jennifer Lawrence wore?
Celebrity engagement fueled the fire that got people hooked. After all, more people follow Lady Gaga than the Golden Globe Awards. When someone important says something, it\'s bound to hook people up and spread the word around. Quirky humour and cute celebrity moments helped to get the #GoldenGlobes trending. In this case, Jennifer Lawrence's dress was parodied across twitter even by celebrities who latched onto the absurd simplicity of the dress. It spurned the new hashtag #Lawrencing. This joined other trends such as actress Julia Louis- Dreyfus, who jokingly refused a selfie with Reese Witherspoon to the misspelled hastag of Bryan Cranston.
3) No incident too small
From Diane Keaton\'s singing tribute to Amy Poehler\'s make-out session with Bono, no moment was too small to grab attention. Twitter\'s innate simplicity led people to tweet about the big and the small. Everything mattered. If it's worth thinking about, it's worth putting on Twitter. So, what can brands learn from the glitz fest? The most interesting take-away from the pre and post award tweeting is that the public and critics change their opinion quickly when faced with views and attention on social media.
The analysis of the top movies predicted to win changed swiftly. The key lesson for marketers is to adapt quickly and grasp the public mood while making a pitch. Also, most brands treated the Golden Globes in a very lukewarm fashion when it was a great opportunity to capitalise on public attention and reflected glory from celebrities. People share positive reviews and excitement during award shows which translates into more eager and receptive customers during that phase. Brands should be aware of key happenings across spheres and try to capitalise on them as and when they happen.
Identifying, tracking and using hashtags will get your message across faster. In conclusion, our very own Beta21 shared the excitement with this tweet:
1.6 million tweets have been sent out about the #GoldenGlobes so far, 77,588 in the last hour! #GoldenGlobesStat

— Beta21 (@BetaTwentyOne) January 13, 2014
See you at the after party!
Book your Radarr demo today!