Social listening is a powerful tool to help businesses gain valuable insights into their customers and the market. It involves monitoring conversations on social media platforms to understand the brand's target market. Of course, performing social listening has its cost, and the question is, is social listening worth the price? Can social listening increase a brand's sales?
To answer the question, we are looking at how Radarr, an AI-powered social listening tool, can leverage its features at every stage of the 5A Consumer Purchase Journey Model. The 5A Consumer Purchase Journey Model was proposed by Philip Kotler in "Marketing 4.0", which explains the consumer behavior shift from the traditional time to the digital era.
Here's how social listening can help your brand through all 5A phases.
Aware
In the aware phase, customers are passively exposed to a long list of brands from experience, marketing communications, and/or recommendations. This is the gateway to the entire customer journey. A customer with previous experience with a brand will likely be able to recall and recognize the brand. Advertising driven by companies and word of mouth by other customers is also significant source of brand awareness.
There are two ways for a social listening tool to help in this phase. The first is to use Brand Share of Voice to unravel the volume of conversation that mentions your brand and your competitors' brand across social media. With Brand SoV, the brand will be able to analyze its brand awareness compared to other competitors and develop a strategy to increase or maintain its share of voice.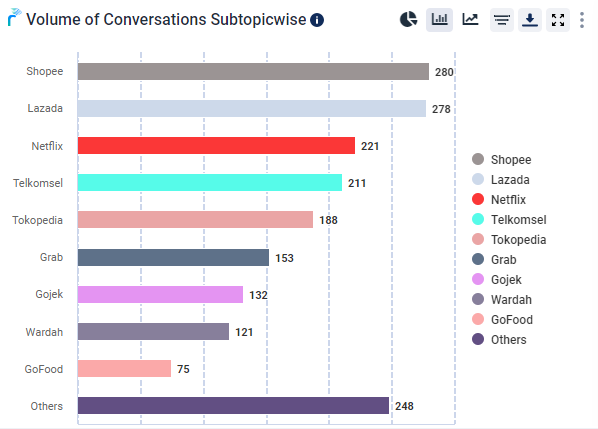 Radarr's Brand Share of Voice Feature
The second is to utilize the Platform Analysis feature. Platform analysis enables you to know where your target market talks about your brand the most. Hence, brand activities on the said platform will have higher penetration and make it easier for the market to hear what your brand says.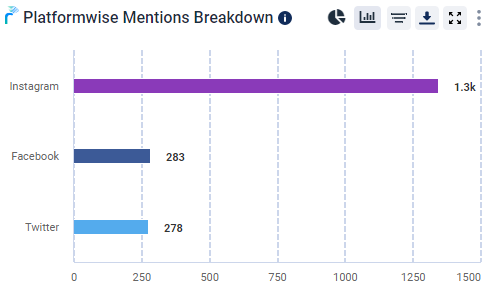 Radarr's Platform Analysis Feature
Appeal
As they have become aware of several brands, customers then process all the messages they are exposed to—creating short-term or amplifying long-term memory —and become attracted only to a short list of brands. This is the appeal phase. Memorable brands—with wow factors—are more likely to enter and even go higher on the shortlist. The brand appeal must be more robust in highly competitive industries where brands are abundant, and products are commoditized (e.g., the consumer packaged goods categories). Some customers respond to brand appeal more than others. Youth, for example, are usually among the first to respond. That is why they are more likely to be early adopters of new products.
Social listening is instrumental in monitoring the trend in your industry. By utilizing Radarr's social listening tool, you will never miss the latest trend you can implement in your brand activities. Radarr can calculate a post's engagements over time to determine whether a post has enough traction to go viral. Keeping in touch with the market's latest trends is the best way to create a wow factor for your brand, ultimately increasing your campaign's appeal to your consumers.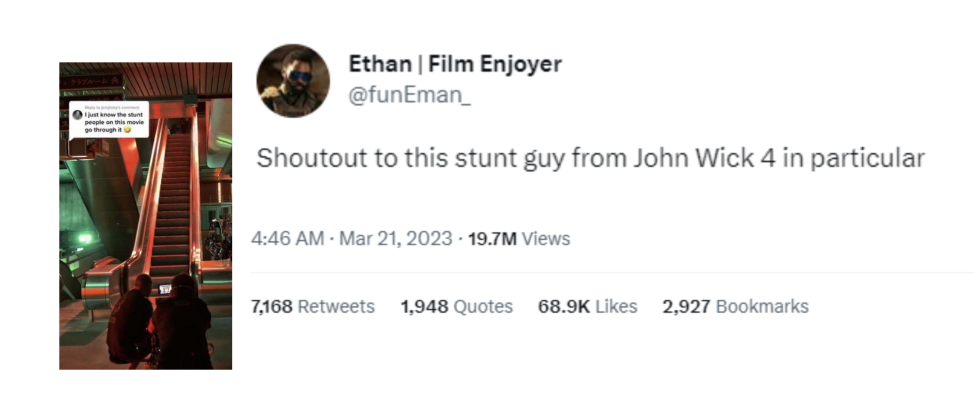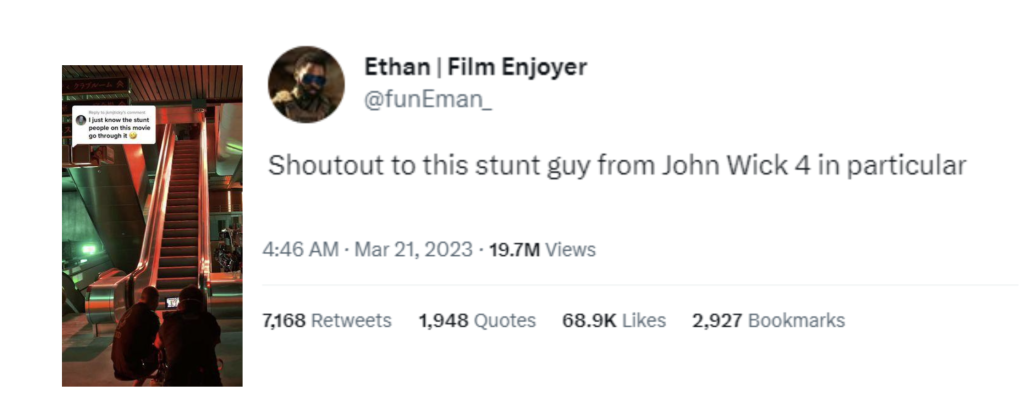 The "John Wick: Chapter 4" trend can lead to brands hosting movie ticket giveaways for their customers.
Ask
Prompted by curiosity, customers usually follow up by actively researching the brands they are attracted to for more information from friends and family, the media, and/or directly from the brands. This is the ask stage. When researching some brands further, they might contact the brand's call centers or talk to sales agents for more information. They might also compare prices and even try out products at stores.
Radarr's Response module can automate and streamline your business' customer service processes. Using machine learning and artificial intelligence, Radarr can analyze customer interactions and identify patterns and trends to help companies to improve their support operations. For example, Radarr can analyze chat logs and other customer interactions to identify common questions or issues and then suggest responses or resolutions that can be used to address those inquiries more efficiently in the future. This can help businesses provide faster, more accurate customer support while freeing employees to focus on more complex or personalized interactions.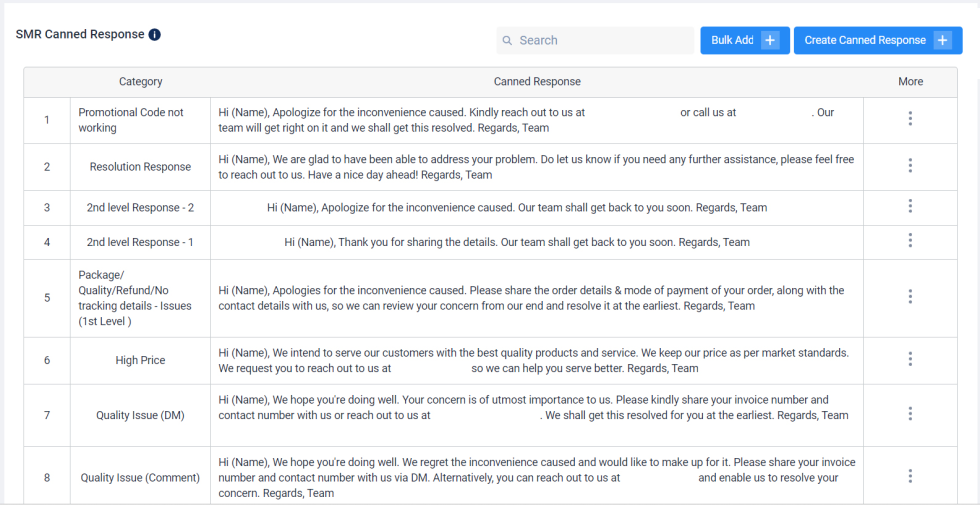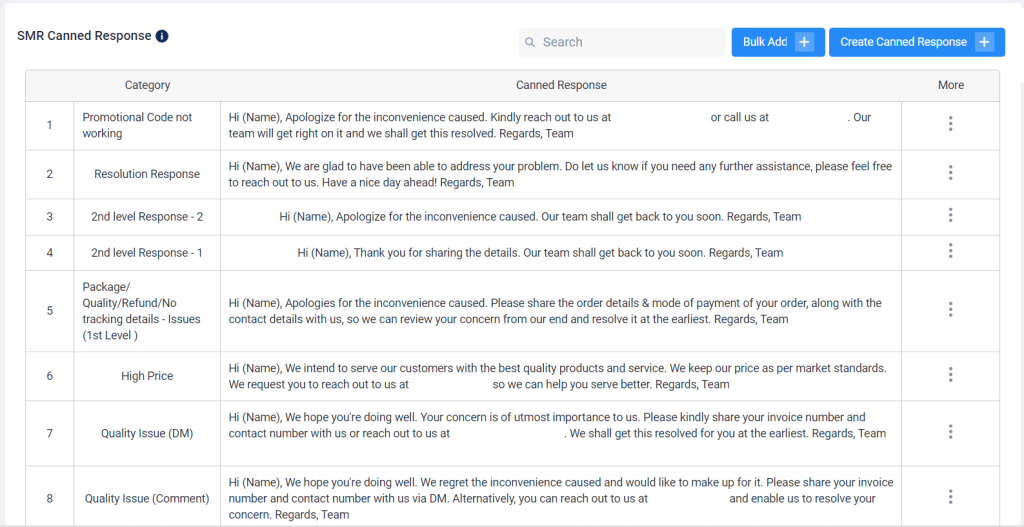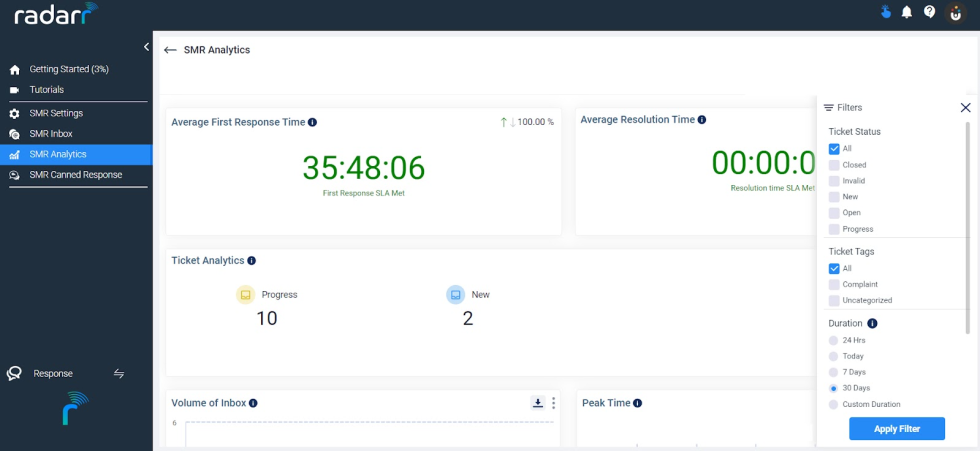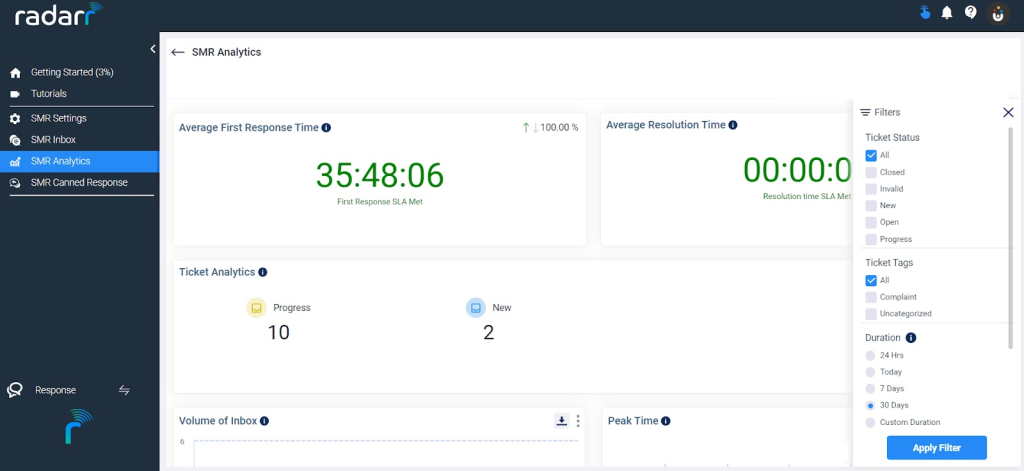 Radarr's Response Analysis Module
Act
Customers will decide to act if they are convinced by further information in the ask stage. It is important to remember that the desired customer actions are not limited to purchase activities. After purchasing a particular brand, customers interact more deeply through consumption and usage and post-purchase services. Brands must engage customers and ensure their total ownership and user experience is positive and memorable. When customers have problems and complaints, brands need to pay attention and make sure the customers receive solutions.
At this stage, Radarr's Sentiment Analysis help to simplify your target market's response and reactions toward your brand. With our sentiment analysis, you will be able to notice every positive and negative review of your brand. We then collated all positive and negative posts to understand your market's purchase triggers and barriers. Sentiment analysis is also integrated well with Radarr's Response module for you to respond quickly to your customer's problems and complaints.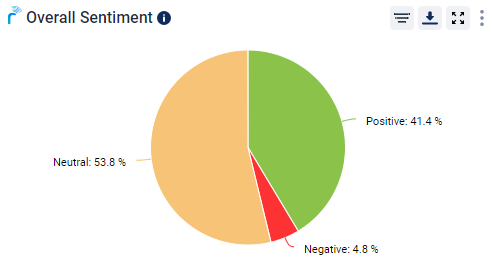 Radarr's Sentiment Analysis Feature
Advocate
Over time, customers may develop a strong sense of loyalty to the brand, as reflected in retention, repurchase, and advocacy to others. This is the advocate stage. Active advocates spontaneously recommend brands they love without being asked. They tell positive stories to others and become evangelists. But most loyal advocates are passive and dormant. They need to be prompted by either a query or negative advocacy to recommend and defend the brands they love. Since loyal advocates take risks recommending certain brands, they are also more likely to buy more of those brands in the future.
You can boost your consumers' advocacy through the use of influencers. Having social media influencers confirm your consumers' advocacy will bring more trust to your brand. In 2023, we are expecting the rise of Nano and Micro (less than 100K followers) influencers. Radarr's Influencer Discovery feature can help you determine the most effective influencers for your brand, ultimately amplifying your brand's reach to the market.

Radarr's Influencer Discovery Feature
In the digital era where everyone is connected through the internet and social media, social listening is a must-have for every brand, big or small, to gain insight into every phase of their consumer's purchase journey. You are losing millions of dollars worth of potential sales by not using social listening tools. Curious to learn more insight from your target market? Contact us at sales@www.radarr.com right now!
Daffi Ranandi is the Associate Insight Manager at Radarr. With years of market research experience, he often found himself mesmerized by new insights generated from the market that couldn't be discovered through traditional, questionnaire-based research alone. Tap into his analytical prowess and insights by working with Radarr!