Reaching out to the influencers in your field can not only be tiresome, but troublesome as well. The research it takes to find one influencer with maximum followers can be hectic and the process after that doesn't get any easier. They sometimes don't respond to the dozen of mails you send to them requesting a mention of your brand 'once' to their following. In the rare cases where they do respond, it is a known fact that it doesn't guarantee you long-term success, just some short-term attention that may or may not up your market value.
So what now?
A fairly reasonable and practically doable list has been the secret behind all those who stand successful today; after all, it takes meticulous planning to rise to the top. In the race to come first on social media, no marketer really has the time to stalk influencers or face a technical hurdle. So how do you go about drawing in maximum engagement? Use Listly.
Nick Kellet, the co-founder of Listly firmly believes that his tool is bound to take all social media strategies back to the basics – making lists. "People love lists not just to organize but also to consume information. Lists posts account for 30% of the content and a greater percentage of views and shares. Yet lists as social objects in HTML have been forgotten. HTML tags are not enough to serve the needs of the social participatory consumer. So we're elevating lists to be on par with slides and videos. Think of us as YouTube for lists", says Kellet.
"Most people make their lists in a completed form. This is a big mistake. Don't try and prove how smart you are. Let your audience show how smart they are. Leave room for people and ask for their help. I'd begin a list with 3-4 items and miss the obvious content. Then people will feel compelled to contribute. Miss Pele or Beckham off a list of Soccer players, for example. Make a list of top Bollywood actor and miss out all the big names. People will contribute. We love order and completeness. It tips us to act. Make your list and share like mad. The first five contributors to your list are the hardest, but beyond that people can see it's genuine and social and will be willing to join in", says Kellet letting out the secret of the many successful lists built on Listly's interface.
Here's a quick walk through to help you set up your brand on Listly: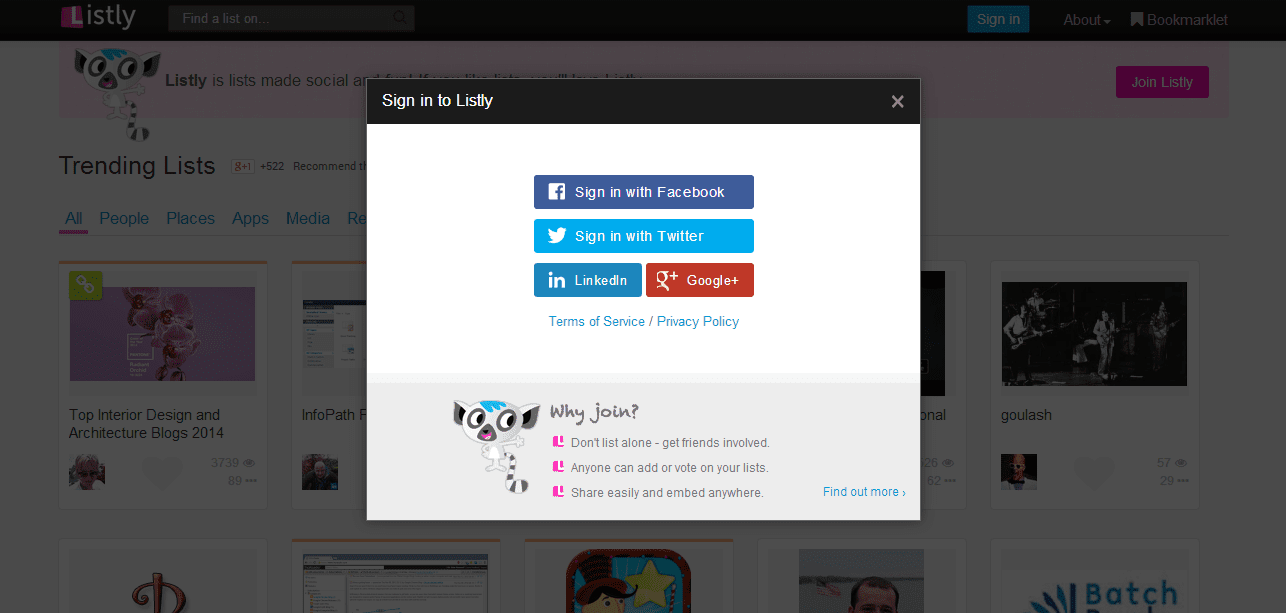 Joining Listly!
It's as easy as it could get. If you are a social media marketer, you are certainly on one of the social media platforms trending today. Listly allows you to sign in with any of your social profiles and redirects you to the homepage in a matter of a few seconds.
But how can you use a list to encourage interaction and up your organic reach? Create a list of your brand's products, services, events or blogs and ask your target audience to add what you might have 'missed' or vote for the best thing on the list. The best feature of this tool is that the lists you create on Listly's interface are highly sociable. "We make lists embeddable and extensible. It's a crowdsourcing platform – a collaboration tool. Lists become social communities – people who care and identify with the same topic. A living reference graph – Our biggest list has one million views, all organic.
Know What's Trending.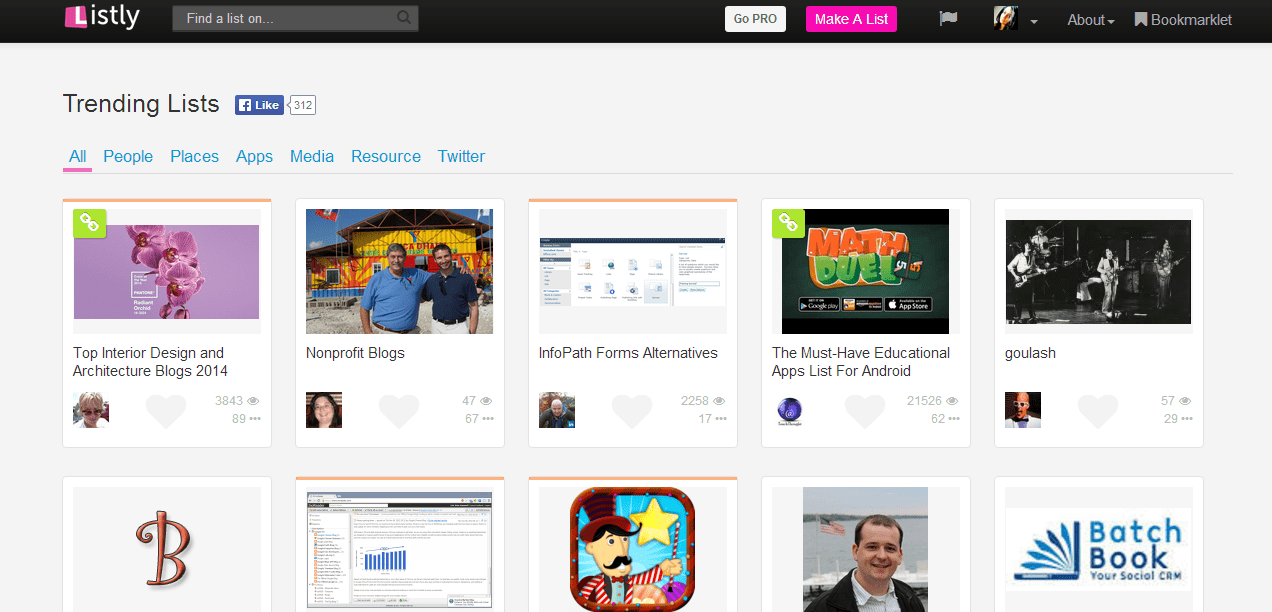 Listly allows you to create a list of just about any trending topic that revolves around your brand. Be it the products or services you offer, or the various mentions you have gathered on various social platforms, a list offers a perfect summary of it all. "We trust lists – they say 'I'm skimmable', 'I'm on <insert topic>', 'I've got 10 items – 2 minutes to read.' Lists are like Vegas; they offer random rewards. Some are good, some are bad, some awesome. Lists keep us coming back for more. From a marketing perspective, we do a hard job. We help brands build engagement; we help brands engage actively with their crowds (their helpers) to create more useful content. 60% of out traffic is organic. We tag your lists perfectly for search engines and people to comprehend. No list is ever complete, and our lists get better every day, but not because you do the work. For marketing, that's a big deal. Their normal content decays over time – we call it list rot. We help brands create socially compelling content with less effort. We help marketing get views, engagement, and social discovery", says Kellet reinforcing the fact that even if a brand's list is superficially scrolled past, it conveys the brand's USP loud and clear.
It's always a good idea to take a good look at some of the existing trending lists to get a grip on the topics that are currently drawing in maximum interaction. It lets you be on top and not miss out on the many potential 'helpers' your list might generate.
Setting Up a List.
If you are a Twitter enthusiast and are aware of Twitter lists, this tool is exactly what you\'ve been looking for. The endless research of relevant lists and digging deep down into the technicalities to add new members to the searched list is now over. With Listly, you are maintaining a list that is not on Twitter's interface yet fully accessible on it.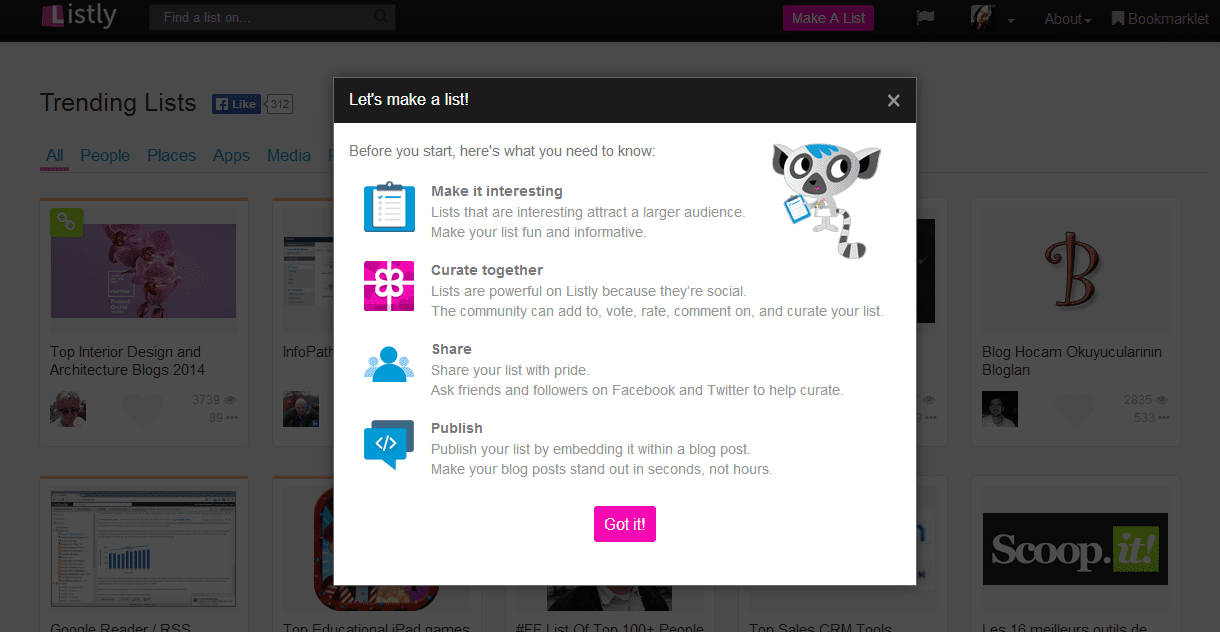 If you have no idea what the structure of your list should be like, Listly offers a step-by-step process to let you create your first list with ease and without any confusion.
Creation of the First List.
Creating a list is as easy as filling out a fully interactive submission form. Here's a look at it: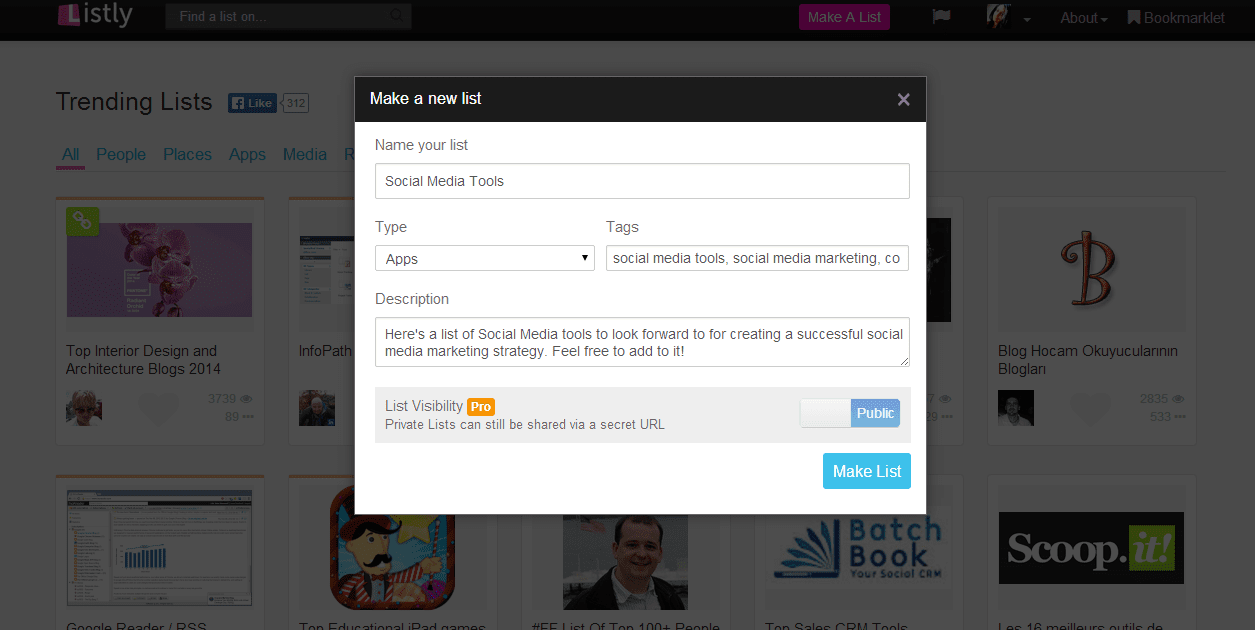 Installing the Bookmarklet.
Since once you list is created, you don't want it to be empty. Listly offers a bookmarklet that can be easily installed and moved to your browser's toolbar. This feature lets you add things to your list as and when you come across something while browsing the web. All you need to make sure of is adding the content to the right list.
The tool is currently used by an impressive cliental with maximum traction from India and the USA. Kellet confirms this with, "India is big for us, but then so is the USA. Our Hindi Songs lists is a big fave and that's spawned by many more pop culture lists in the Indian community – the cool thing is, there's an Indian community in most parts of the world. It's awake 24/7."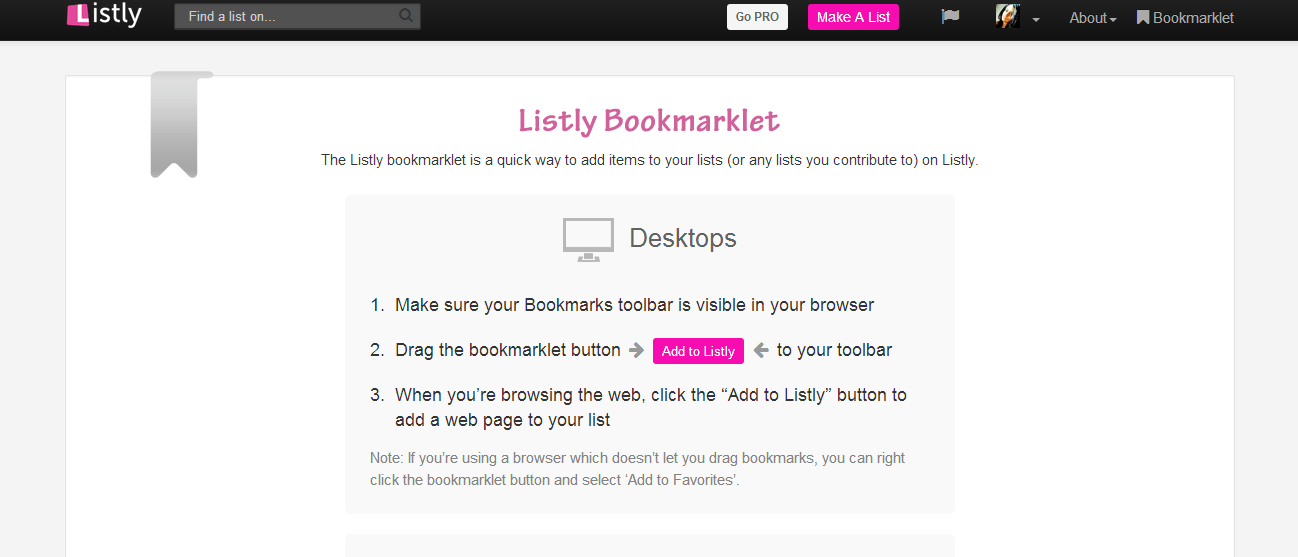 Adding to the List.
Once you have installed the Listly Bookmarklet in your browser's toolbar, all you need to do is click on Add to Listly as and when you come across something that is relevant and worth listing in your list. Make sure you add content to the right list because you don't want it to go unnoticed.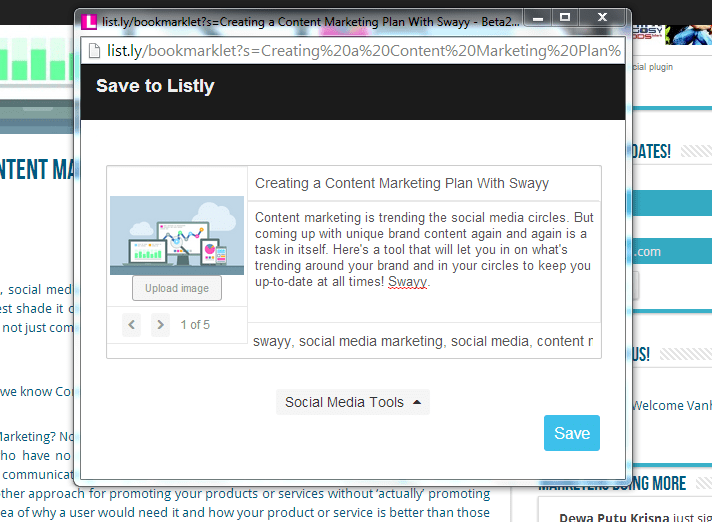 Here's what our Social Media Tools list looks like: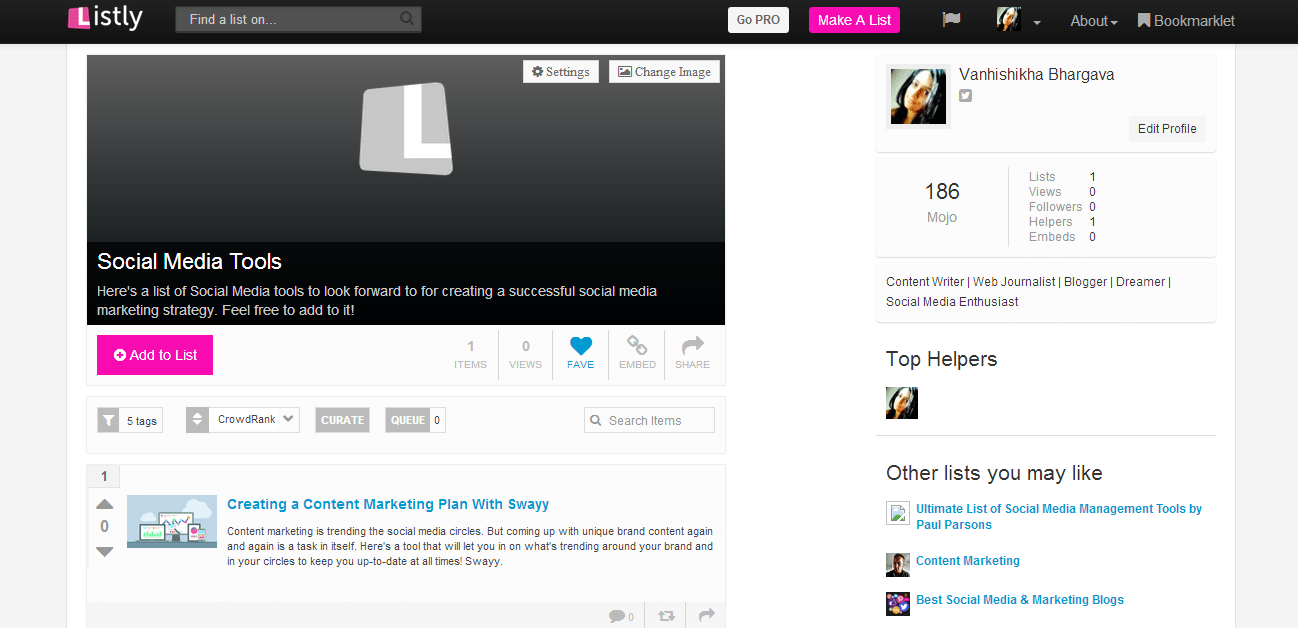 Sharing!
Once your list is ready, share it on all your social profiles and invite more people to add to your list. It works the same way as word of mouth does, so don't miss this step.
Confirming that this tool is not going to limit its features and only evolve with time to improve social media experience, Kellet says, "Twitter lists are a small part of our vision. Twitter Lists have sucked so bad on Twitter that usage has been for the minority. We make lists work for the majority and more importantly, we make them collaborative. If you are serious about Twitter, you need lists to let you focus and be effective."
And as if making Twitter experience better wasn't enough, the tool serves as a great content curation platform, as Kellet confirms, "Beyond Twitter Lists, you can use Listly to create original posts as you can gather from Eleven Reasons to Love Lists and 7 Tips for Crowdsourcing. You can use Listly to collect feedback from your customers/ community etc. You can also use Listly to curate and bookmark existing content. Listly does three things – create, collect and curate all in the social shareable format of a ranked list. We think one tool that has many applications is valuable and useful to everyone."
Stay on top with Listly lists by offering interesting and diversified content: text, images and videos. This not just helps you reach out to all genres of your audience, it helps make your list more shareable. The list becomes a source of driving in regular traffic to your website. As Kellet aptly puts, "Lists are appealing and simple."

Sick of running after Influencers? Use Listly and become one yourself.
Book your Radarr demo today!