Are you the best social media manager in the world? If you're not on the top in this quiz, chances are that you're not. Circus Social, developer of social media tools for digital marketers, launched the Community Manager's Quiz in October 2013 with the intent of helping social media marketers realize how good they truly were at marketing. After answering 40 in-depth questions spread across functions such as Project Management, Ethics, Analytics and more – Jessica Quinn came out second from top, out of 650+ community managers that have taken the quiz so far.
But what sets her apart from everyone else? Clearly it's not that she's read the most amount of books on social media, for you can't really "learn" the right ethics, and social media management is a lot about the person involved. Was she manufactured in a super secret lab in the depths of the Canadian Rockies? That was my best guess. But it didn't fly well in focus group testing. So I set out to find out what makes Jessica Quinn so good.
A communications professional currently in health promotion, Jessica manages social media platforms for Northern Health, the health authority in the northern region of British Columbia, Canada. During grad school and in the nascent stages of her career, she developed a strong focus on social media marketing and eventually created a side consultancy business for herself, called Jessica Quinn Social Media Marketing. Her aim was to help Northern BC businesses and organizations with their social media strategy, implementation and management. You can join her legion of followers on Twitter!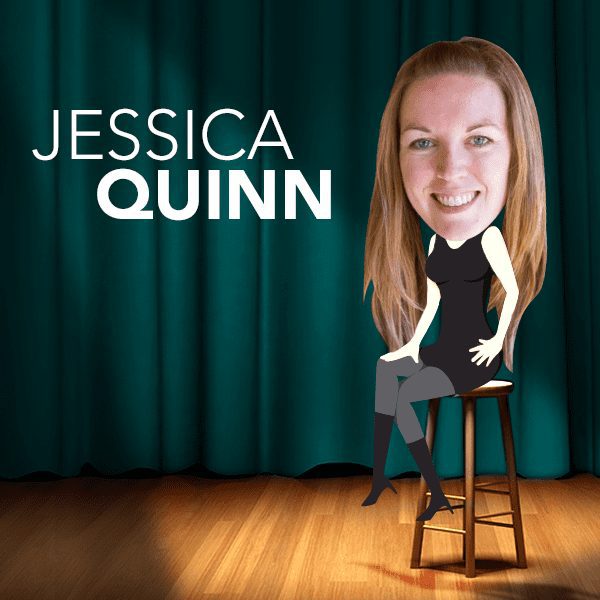 The above representation may or may not be what Jessica exactly looks like.
I tackled her in the street and forced her to answer a couple of questions!
How do you manage social media differently from the rest of the world?
I have a corporate marketing background, so my first thought when approaching social media for any business or organization is to align it to that business' overall marketing strategy. It's so important to make sure that your efforts are related to the bigger business objectives. From there, the more specific social media objectives and tactics can be created, whether they're creating awareness, educating, finding customers or branding yourself as a knowledge leader – it's all part of creating a strategic online community around a brand.
What platform generates the most amount of "meaningful" engagement for you and why?
In terms of direct, meaningful conversations, Twitter is my personal platform of choice. It's so easy to search for any topic and directly reach out to whoever you want, even influential leaders. Indirectly though, I beg people not to underestimate the power of the blog  I've heard people say that blogging is on its way out, being replaced by all the different options of microblogging, but creating engagement on platforms like Twitter and Facebook can be so much more effective when you have a social media hub — like your blog — to point people to for more substance. I blog for Destination BC and it's this content on their blog that can really drive a lot of their engagement in highlighting our province. However, I will say that Facebook is the place to be for creating significant engagement during high profile campaigns or contests. I manage a health authority Facebook page that sees a large increase in reach and activity during month-long campaigns that we run. Deciding on a platform for engagement purposes really comes down to what your social media strategy and goals are.
What's something that most social media managers are getting wrong?
I think that most social media managers do an amazing job! I'm constantly in awe of the way that some of the big brands are able to create such a huge presence for themselves online, and particularly the way that they handle issues which inevitably arise. The nice thing about social media is that there are not necessarily any hard and fast rules. There is still so much room for creativity and innovation, both in the areas of development and management.

However, I have seen too many social media managers place too much priority on simply gaining followers and fans. For example, it's a bit of a pet peeve for me when brands create contests asking people to "share" or "like" their contest post for a chance to win a completely unrelated prize. This method definitely lacks authenticity. Building a solid fan base can be slow at times, but it's the development and nurturing of that community that is the important piece – not just pumping up the numbers.

Awhile back, I put together a blog post of my top five "don'ts" in social media, mainly based on things I'd seen people doing poorly.
What's your take on Facebook apps and contests?
Facebook apps and contests can work really well as long as they're done correctly and stick to the marketing strategy. Also, they need to be relevant to the brand (see above answer about my pet peeve!). Contests (and the apps that run them) need to be easy or fun enough that people will participate; if it's too cumbersome, it's so easy to just stop in progress. Social media managers need to think about what the purpose of the contest is: do you want to highlight a product? Do you want to create awareness about something? Create something that's unique; challenge people; but keep it relevant to the brand and the interests of the community.
Should brands outsource community and social media management or hire someone to do it in-house?
Both ways can work and be very effective, but outsourcing community management does present a few extra challenges that brands need to be aware of and work towards meeting head on. No matter who is managing a brand's presence, the most important piece is consistency — in terms of content, voice and responding. This can be more difficult if the work is outsourced, but not impossible — the agency just needs to have a thorough understanding of the brand and be a part of the team. It's also important to have the "inside scoop" — what goes on behind the scenes, what's the personality of the team, what projects are high level, what's happening in real-time? This is where an in-house manager has an edge, as they're privy to all of this. It really depends on the goals of the social media activity, the size of the organization and its relationship to the social media manager (in-house or outsourced).
Got any questions for Jessica Quinn? You can ask her in the comments below! What's the one big takeaway from this interview? What did you learn from Jessica?