Who's flying in Social Media?
Brands are finally coming to terms with the fact that social media is important and its probably one of the best mediums to interact with them. This is even more important for the airline industry as they are dealing in a high involvement product- air tickets.
Big Players
Most of the airlines within India have some social media presence to speak of. Here's an interesting infographic by Unmetric that talks about the size of community that the major airlines in India manage.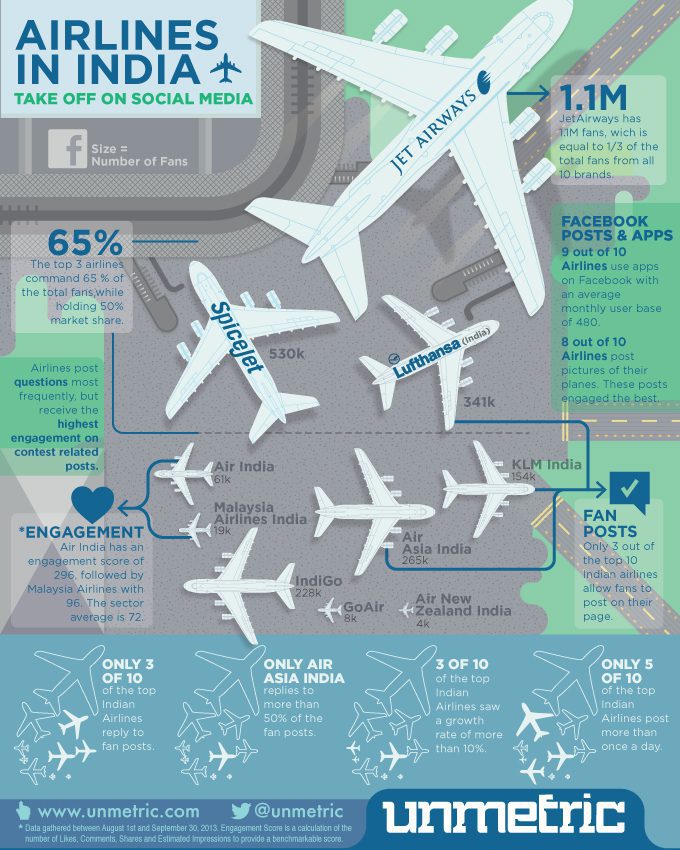 Jet Airways had the biggest Facebook community in terms of size. 1.1 million Fans! That's huge by any standard. As a brand Jet Airways pushes a lot of offers and schemes that they come up with from time to time. While the fan count is impressive, engagement metrics like PTAT aren't proportional. The page has turned into a customer service extension. Not a good spot to be in. Besides there's hardly any connect with its users.
SpiceJet has one of the most extensive operations in India. Their Facebook community is the second largest in size as far as the Indian aviation industry is concerned. They have a good Facebook community page that offers a healthy mix of product information and engagement posts. I particularly liked the album titled Christmas on Board SpiceJet. It's sweet and relatable, something that a SpiceJet passenger would like to see.
I really appreciate all that Jet Airways and Spice Jet have done but it leads me to that one question that haunts me every day.  How can you stand out with a social media strategy? Let's accept the fact that social media is an investment by itself. We see that with a good strategy, the return on investment is far greater than any form of advertising can produce. That's completely excluding the potential it has for the creation of goodwill. That's where I believe Lufthansa has outplayed its competitors.
What did Lufthansa do?
Lufthansa has been around in the Indian market for quite a while now without ruffling too many feathers.  The airline has lived up to the German reputation of being punctual and delivering well above expectations. But then what's the point of swimming if you can't make a splash.
Lufthansa India nailed it on this account by sharing communication that's meaningful and relatable. Indians have a natural weakness towards Europe and the beauty of the Alps and this has been captured beautifully by Lufthansa.  What's more is that they've made the effort of connecting with people in a way that fascinates imagination.
Let's sponsor Shivya Nath's tickets to Germany!
Enter Shivya Nath, a professional traveller from India. As an airline, it's very simple for them to sponsor a return-fare ticket to a budding professional traveller. Lufthansa sponsored her trip to Germany during the festive season of Christmas.
What did they get from Shivya Nath?
Her captive audience (The Shooting Star)
Amazing photos from markets in Germany
Great video content
Tonnes of contest entries
Free PR
If you do the math, it's really not a bad deal.
How often do you find a user saying 'WOW' on branded video content?  It's a win–win situation for both. Lufthansa rounded up this strategic partnership with a neat little contest called 'Christmas Hunt in cool Germany'.  Users had to guess the Christmas gifts that Shivya would select from markets across Germany; the people who manage to guess the gifts correctly get entered into a sweepstake for the Grand prize of a free ticket to Germany.
Is Brand-People Connect the Way Forward?
You often find brands trying to muscle their way to good figures by ad spends but such efforts aren\'t sustainable and profitable. With Facebook limiting the reach of your post it's even more important that you create a dialogue with people who can see your content, trusting them to share it. The impact of such campaigns is much greater than the regular contests or sweepstakes that brands usually run.
The tie-up with Shivya Nath is definitely the first of its kind in the airline industry and a big learning step for the likes of Jet Airways & SpiceJet to get real with its audience and think out of the box.
Book your Radarr demo today!