New Year's eve is incomplete without making resolutions and we are sure that most of you would have begun this year with at least one, if not many. With all the merrymaking, there were timeline's flooded with "check-ins" and "comments" and the photos "tagged" like never before. There has never been a moment in recent times, when Facebook has not impacted our lives or a business.
As Facebook community managers or Facebook page managers, we all are accustomed by now with the periodic changes that Facebook brings about on its platforms. These changes can get in the way of everyday management and the businesses have to completely revamp its strategies around it. Also, these changes take a mammoth size when the strategies are unplanned  or unorganized.
In 2012 Facebook introduced direct messages amongst its users and the community page. It introduced 'Featured Stories', 'Cover photos' and 'Highlight posts'. It also introduced 'Real time page insights', much as Google in the same year. The most important change that Facebook brought about in 2012 was the increased reach of its Ads from 16% to 50%.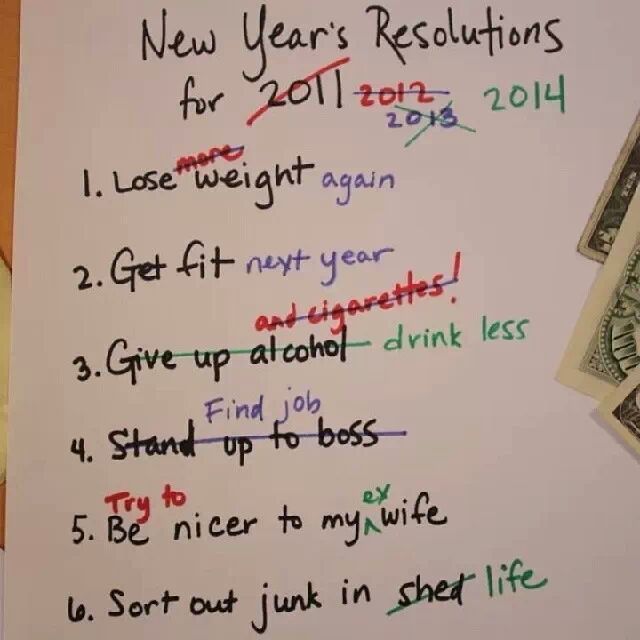 Realistic Resolutions.
Facebook brought about more changes in 2013. It began with improved 'Schedule Post' option, 'Star rating for the businesses was one more addition that Facebook enabled. It also introduced 'Facebook hashtags', a concept that is still debatable by many, including us. Another concept that Facebook borrowed from Twitter was 'Verified Pages'. It also put a full stop to sponsored stories that was introduced in 2012 and made modifications with the Page Insights.
With so many modifications the question here is: What are your Social Media Resolutions to better your Facebook Page in 2014?
Having listed the numerous changes that have taken place in a short span of two years, it is quite understandable to gear up for 2014. The New Year is here to stay and a Facebook strategy to compliment 2014 is the best gift that you can give your business.
Here's a quick list of 5 Social Media Resolutions for Facebook 2014 that would help your business to be on track:
1)  Create Facebook Content Calendar:
Take a resolution to plan relevant content for your Facebook Posts, in advance. As a Facebook page manager it should be ensured that the content is evergreen and can be tweaked without much trouble. While formalising the Posts Calendar ensure that significant posts around important events and festivals are taken care. It's not a great idea to miss a Christmas day post when the world is celebrating the festival, isn't it?
[slideshare id=25714445&doc=6-tips-for-creating-a-sustainable-content-calendar-130829064711-phpapp02]
2) Schedule Facebook Posts in advance:
Take a resolution to schedule Facebook posts in advance. Once the content and visuals are in place, this should not be a task. It would also let enough time for the page manager to be available in case of any last minute challenges.
3) Track and Monitor Facebook Pages:
Take a resolution to track and monitor Facebook page regularly. The ultimate target for any brand to be on Facebook is not only visibility but also contribute to its business revenue. However this exercise is futile without tracking and monitoring this data effectively. Planning your content strategy in sync with the response on the posts is a great start. This will help understand the engagement level of audience through each post. Also a yearly or monthly comparative analysis would help improve the strategies better.
4) Build a tribe on Facebook Pages: 
Does the feeling of not being heard excite you? The answer would most definitely be a big NO. The same is true for brands too. Respond to queries and comments instantly, whether positive or negative .Take a resolution to be interactive with your followers, engage them by means of contests, freebies (as a part of marketing allowance, of course) and most importantly listen and not just hear. Tribe building is the key to a great year on Facebook, in today's age and time word of mouth travels much faster.
5) Keep Buffer Budgets for Facebook Pages:
Remember that piggy bank, as a kid? Now, it's quite certain that the brand would have pre-assigned budget for its marketing through Facebook, however take a resolution to have minor budget as a buffer. Facebook page managers would realise that Social Media is an emotional concept and is quite personal and may open opportunities that may sound impulsive but in all practicality would help the business to get momentum. This may be either a certain trend or data that can adversely affect the brand positioning. Such scenarios don't wait for approvals, hence a buffer budget in such scenarios would help brand to cash on unplanned events.
It is rightly said "Change, is the only constant" and Facebook has obviously more plans for the New Year. It is in midst of testing auto play video ads and has made changes on its news feed tab. If your brand revolves around "Young Adults" you might want to re-look at your strategy since more teenagers are moving away from Facebook according to latest company reports.
Needless to say that Facebook's impact has been a mix of challenges as well as acceptance and hence we propose you to take a final resolution to actually stick to them and make the most of Facebook in 2014.