2013 was a year of acquisitions, IPOs, new platforms, video content and Google Plus. We witnessed big brands being taken over by bigger brands, like Tumblr got acquired by Yahoo! Twitter introduced Vine in Jan and released its first IPO as well towards the end of the year that did surprisingly well.  We saw the rise of YouTube, Vine and Instagram videos in social media marketing. 2013 was an exciting year for us and what's more, 2014 is going to be a game-changer in social media marketing.
It's better to have an idea of where we're headed to be able to devise better marketing strategies in 2014. It's always best to have an idea of what to look out for and what to look into. So here are a few social media predictions for 2014 so that you know where to put your time and energy for most effective results.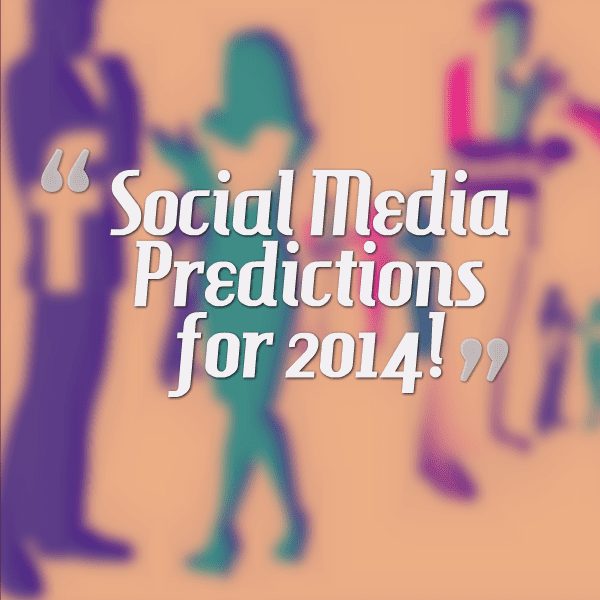 1. Embrace Google Plus
Search is an important part of marketing, and to be found you need extensive SEO to rank higher on Google. You're in luck if you're already working on your Google Plus Page  and engaging your audience there, as it adds value to your Google ranking. And, if you haven't yet started your Google Plus page, it's time you start one this year.
2. Contextual Video Content
It's true that the Future of Social is Video. But what's more important is contextual content. Simply uploading a funny video won't work. We need to upload a relevant video, that is in context of our brand's identity, value, key proposition or campaign in general. The video has to be of a good quality. With Vine and Instagram Videos it has become easier to create and share video content on social networks. As always, YouTube is always around to search for absolutely anything. I would like to stress again that YouTube is a like public library where you can find absolutely anything.
3. Year of Advocacy
You've run ads, done contests, fan-gated your Facebook apps and you've been rewarded with a good number of fans. What next? 2014 is not going to be about increasing fan numbers (potential customers or not), it's going to be about turning these fans into brand advocates. Instead of just us marketing for the brand, we will have to market together with these Fans. Word of mouth has always been one of the most powerful means of advertising, and what's better than people who love brands publicising it themselves?
4. Increase in Social Ad Spend
To gain visibility almost all social media networks will turn towards paid advertising. Pinterest, Instagram have introduced promoted pins and branded posts. Twitter has its promoted tweets. If you've got a Facebook page, to get the right visibility and reach to the customer you will have to spend. Interestingly, although at the moment Google Plus custom urls are free – they plan to charge for these urls in future (could be in 2014?) as we know – we can't afford to ignore Google Plus Company pages, this may be one of the many changes we might see in social ads spend.
5. LinkedIn Company Pages
Whether you want to be successful as an individual professional or as a huge brand, you must have your presence on LinkedIn Company Page. These pages are a great way to interact with potential clients, customers or even employees for that matter. Beautify your company page, write SEO relevant descriptions and add all your services. LinkedIn has become big in 2013 but something tells me there is going to be more from LinkedIn's in the coming year. It's definitely a platform to be give due importance.
6. Location Based Marketing
With gadgets like Google Glass and exponential rise of mobile use, location based marketing is going to see new heights. Social Media teams will have to be on their toes to ensure that a customer benefits from interacting with the brand in store. Starbuck's campaign of #tweetacoffee is a great example of location based marketing.
While these are our suggestions, here are some more of what the experts in the industry are saying about the coming year:
Russell Davies, Director at Lobster Digital Marketing – @RussellDavies71
"Brands will combine their social media marketing with their print and broadcast advertising and budgets for both will increase."
Talya Shoup, Marketing Manager at glispa – @onlyonetalya
"I predict that social media will be driven very strongly by mobile in 2014 – brands will continue to shift from web-based promotions and marketing to mobile."
Glenn Gow, CEO of Crimson Marketing – @CrimsonCEO
"Getting results will dominate social marketing. This will mean turning "engagement" into lead generation and an investment in social selling."
Simon Tam, Director of Marketing for The Slants – @SimonTheTam
"In 2014, you're going to see auto-playing video ads on multiple social media sites: probably Facebook mobile, maybe Vine. It's going to give businesses more options to create short, high-impact, ads while giving social sites more revenue. Businesses will need to think more creatively, in shorter bursts."
Jeff Davis, President and CEO of Orabrush – @davisjdd
"Brands will include YouTube in their social strategy alongside mainstays such as Facebook, Twitter and LinkedIn."
John Lincoln, CEO of Ignite Visibility – @ignitev
"With advances in analytical tools, and simply a better understanding of the medium and it's cross channel integration, all business will be involved and the more savvy the marketer, the better they will be able to use data and integration to their advantage."
Katie Knoll,­ Xelleration Social – @xelleration
"I predict that there will be a huge drop off of businesses using Facebook as a marketing & sales medium in 2014 due to the huge drop in organic reach & Facebook¹s huge push towards advertising."
Shaina Epstein, Social Media Associate at Eastwick – @shainaepstein
"1. The rise of visual social and Pinterest as a Google for images
2. Targeting via SOLOMO (Social, local, mobile)
3. Downstream analytics and monetary tracking for better targeting
4. Integrating online and offline experience"
Click here to read more of 2014 predictions by industry experts.