20 Social Media Customer Service Examples From Real-life Brands and What You Can Learn
We have been talking about offering social media customer service and discussing its benefits and related practices for making it even more effective.
In this article, we have a few social media customer service examples from real-life brands, to show you how social customer service can be put into action.
If you are planning to provide exceptional social media customer service, it's time to take notes.
Social Media Customer Service Examples from Real-Life Brands and Lessons to Takeaway
While there are plenty brands out there that offer social media customer service, here are some of our favorites:
1. Netflix
This giant of a streaming service has in many ways defined how we watch cinema and shows. It is an especially loved platform for binge-watching enthusiasts due to its ingenious recommendation algorithm. Something that's equally exceptional is their social customer service on Twitter.
Netflix is one of the best social media customer service examples in this list especially due to its prompt responses. As we see in the example here, Netflix responds within 24 hours and while taking accountability it also provides information so that customers can resolve issues themselves.
So, in your social customer support interactions, try being accountable and quick and also assist self-servicing when it's applicable.
2. Starbucks
Starbucks Coffee Company is a global brand, known for its welcoming, warm spaces and its affordable luxury for coffee enthusiasts. Starbucks' online presence on Twitter is a great example of how brands can extend their welcoming nature into online customer interactions.
Starbucks empathizes with the customer and does not leave any customer hanging. One of the key takeaways from their social media interactions is monitoring mentions and always reacting. Be it a praise or a scorn, reply to your customer to convey that they are important to you.
3. Zappos
Zappos is a popular shoe and clothing retailer brand that takes customer service very seriously. And if companies can learn something from Zappos, it would be that you can never be too serious about customer service.
Zappos makes it their mission to "wow" customers with their service and to a large extent they do this exceptionally well across channels like LinkedIn, Facebook and Twitter. Another thing to learn from this brand is to always try and surprise your customers by taking the extra step.
Even when owning up to your mistakes, show them, with empathetic social media service, that you are more than just a business brand.
4. Spotify
Spotify has surely had an impact on the world of music streaming. But equally ingenious is their approach to social media customer service, which among other entries in this list has unique bragging rights, for winning a Webby Award.
Spotify is a great example of how your product/service can be leveraged while providing support. Customers who approach them often get a handpicked song from their support team, adding to the uniqueness of each interaction. Also try to build a knowledge base like Spotify, so that you will never be in a bind facing complex support queries.
5. Nike
Nike, one of the leading ultra-giant sports brands always had the best advertising, but so are their strategies for social media customer service equally commendable. They have a dedicated Twitter account for customer support, making it easier to interact with customers; the customers know where to reach out and the brand can easily separate between their marketing account and support interaction.
Nike also stands out as a customer-centric brand primarily because of the mix of empathy and personalization. The lesson here is that for providing a great customer service experience, a good tone is also a key ingredient. Also don't forget to surprise them every now and then.
6. Wendy's
Wendy's is a global fast-food restaurant chain that is much beloved by its international customers. Besides being a foodie haven, Wendy's is also a model for good customer engagement with its Twitter account.
Wendy's always responds and responds fast. It has a unique mix of humor in its interactions. And when there is a problem, Wendy's starts by acknowledging it and thanking the customer for bringing it up. This is a good example of how it is better to acknowledge and take responsibility when any issues get brought into light.
7. Amazon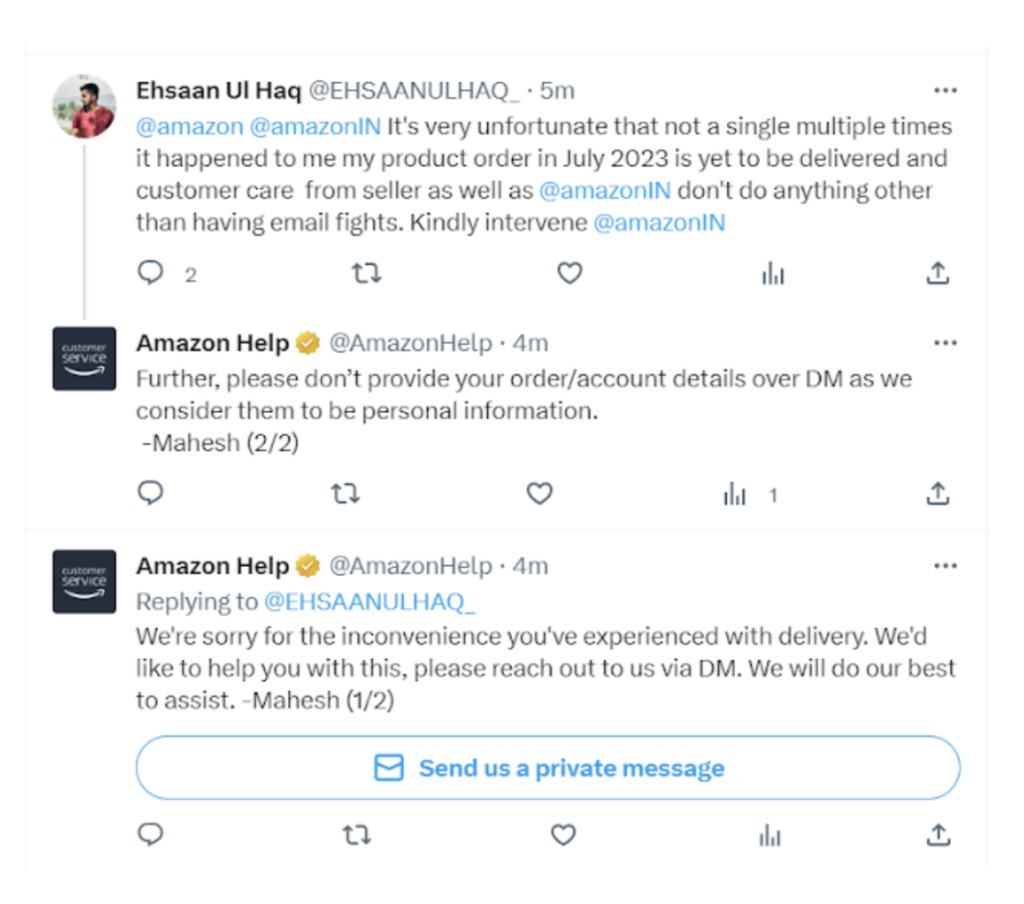 Amazon provides a variety of offerings like online shopping and OTT platforms, but with wider services, there needs to be a wider scope to its customer service experience. Amazon's support account on Twitter, Amazon Help, is competent enough to meet this requirement. 
Amazon shows how by the end of the day customer service is all about quick and effective issue resolution. Carry that out well, while protecting customer data, and your social media customer support is already golden. Another reason why Amazon has the best customer service on social media is the multiple language support, which makes social customer services accessible for people across the globe.
8. Skyscanner
In order to get you the best bargain, Skyscanner, a travel search engine, compares millions of flights and it is quite big. They have a very intuitive webpage and have always proved to pull out the best bargains for customers. The same intuitiveness is carried over to their Facebook customer service interactions as well.
Skyscanner gets personal and stays on top of customer issues to ensure reaching a resolution no matter what. They also have a unique voice that makes every interaction lively and fun.
9. BlendJet
BlendJet is a popular brand that makes blenders and their approach to social media customer service has a few things to teach. BlendJet uses their Facebook account to provide customer support, giving answers to each individual query.
Customer comments on social media can create an image about your brand for other users who subsequently view that comment. So, it is important that each one of them is taken care of. BlendJet makes the effort to satisfy individual customers while increasing the probability of public endorsement from each interaction rather cleverly.
10. Chewy
Chewy, a household name among pet food brands, provides another exceptional social media customer service example for us to learn from by showing the right way to leverage personalization.
Chewy's service team is active across channels like Facebook, Instagram and Twitter, and on all these platforms they make sure that they never miss a beat. Chewy responds, in a personalized manner, to all feedback, positive or negative, and quickly too. They also provide customers with ways to reach additional resources when needed.
11. Brooklinen
Brooklinen is a bedsheet brand that is setting standards for customer support with their social customer service efforts on Twitter. Brooklinen's service professionals are quick to react to customers and when required instantly take up the issue on the DMs.
Complaints and questions make up most of your support team's work, but Brooklinen shows how positive mentions also require your attention to further cement your relationship with your customers. So, respond conversationally, and when complex issues pop up, know when to take it to the DMs for in-depth responses.
12. Bombas
Sock and innerwear retailer Bombas knows how to keep customers happy and how to win back those unhappy customers as well. This brand too responds to every single piece of feedback they receive on Facebook, be it good or bad.
Bombas has a way of using the positive mentions as an opportunity to alert customers about their upcoming launches or their current stock levels. This is a great reminder of a social media customer service strategy to do more than just customer servicing.
13. Glossier
Being a mega-retailer brand in the beauty world, Glossier doesn't compromise anything when it comes to customer service. They live up to their claim of being a people-powered brand with social media customer service available across Facebook, Instagram and Twitter.
Glossier identifies how cross-platform presence and servicing are important as one can be everywhere where the customer is.
14. Urban Decay
Urban Decay, another major beauty brand, has a formula for customer service that stands primarily on thematic consistency. The support team doesn't miss any opportunity to engage customers through platforms like Twitter.
But the highlight here is the uniqueness they bring to every interaction by sticking to a tone of voice that goes perfectly with the brand theme. This adds personality to each and every response and adds charm.
15. Shopify
Shopify's aim is to make eCommerce accessible to all and their empathetic approach to support reflects this very well. Shopify's Twitter support page deals with most of the support requests and when needed they direct customers towards additional resources or their Shopify Help Centre.
The takeaway here is that it is not always practical to deal with everything on the same platform so switch to other service outlets when it's necessary.
16. Gymshark
The fitness apparel and accessories brand Gymshark founded by Ben Francis has grown into a global name since 2012. Gymshark Help, its Twitter support account strives to hold up its reputation with active and instant responses.
One thing to learn from them is how to use the space of a support account to further inform about and promote sales events without losing relevance.
17. Xbox
Gaming console brand Xbox's dedicated Twitter account has since its launch been a colossal customer support page. Their Elite Tweet Fleet has more than two million support tweets, meaning that no one goes unanswered. Being a console brand, support queries are bound to come up all the time and Xbox has gone the extra mile to create a well-trained and well-manned team to handle their social media customer support account.
Xbox's commitment to its social media customer service is also reflected in the way they send out follow-up messages besides the high volume of service interactions they carry out every day.
18. Taco Bell
Taco Bell, the global food chain's Twitter support account, Taco Bell Care does everything that all the other entries in the list do. But something that you can learn from their support page is the addition of info on when they are available.
This informs customers when to contact them and when to expect service so that no customers can reach out to you at 2 AM and then complain about not getting instant replies.
19. Lululemon
Fashion brand Lululemon has quite an appealing presence on Instagram. The best part about their social media presence is the way they make an effort to reply to customer comments.
They reply first directly below the comment and then take the conversation private so that in a scenario where users have to share additional info, their privacy is protected.
20. PayPal
PayPal is an American financial technology company that has greatly changed the way online transactions are made. Their Twitter account PayPal Support has consistently shown us in various instances, how to responsibly deal with negative comments. Criticism is inevitable but PayPal deals with it like a pro.
The key, as we see from the above example, is to be humble. When faced with an angry customer, try to gain more understanding about the customer's grievance and take accountability.
Level Up Social Media Customer Service with Radarr!
The above brands set great social media customer service examples that showcase how the conversational quality and the text-based as well as visual-oriented natures of social media channels can be put to use to provide the best customer service on social media. With what you have learned from them, you are ready to start enhancing your social customer service, and you don't have to do it alone.
Radarr lets you monitor and improve your social media customer support across channels and track conversations so that you never miss a beat when it comes to providing the finest customer support experience.