In today's world, the role of the PR practitioner is constantly evolving and involves so much more than press releases, press conferences, and managing crisis situations. From competitive analysis to tracking brand health, the day-to-day responsibilities of a person in Public Relations & Corporate Communications can be made much more manageable with the help of social listening.
Not familiar with "social listening"? Read our Introduction To Social Listening before proceeding!
Crisis Monitoring & Management
From unsatisfied customers to social media blunders, most brands are bound to experience a crisis situation at some point. However, what can make or break a brand's reputation is how the crisis is dealt with. Before formulating a plan of action and crafting up a response, it's important to first get the facts:
Who is talking about it?
What are they saying?
Where are these conversations happening?
Why do they feel this way?
Having a good social listening tool on hand will allow you to keep track of the relevant conversations and answer all of the questions above, providing you with the insights needed to manage the crisis.
Staying on top of every single mention can be time-consuming, which is where alerts come in handy. Our social listening tool, 20/Twenty, offers users the ability to easily set up real-time alerts to keep you updated when developments occur. There's a wide range of real-time alert options available for you to choose from. Some of the most important alerts we recommend for PR teams include:
Negative Sentiment Alert: Be notified when conversations with a negative sentiment exceed a certain threshold
Influencer Alert: Stay updated if an influential person with a significant number of followers has mentioned the crisis
Engagement Alert: Receive a notification if a mention garners a high volume of engagement
Measuring Public Relations & Corporate Communications Efforts
A lot of resources go into launching a campaign or introducing a new product, which is why it's so important to measure the impact of these efforts. Social listening can help uncover how much interest a campaign is getting, how many people are talking about it, the sentiments behind these mentions, and much more.
In addition to tracking mentions, 20/Twenty's Insights section displays important metrics to understand how a campaign has performed. Some of these include:
Volume of Conversation: How many people are talking about it?
Conversation Themes: What are people talking about?
Conversation Sentiment: Are people reacting in a more positive, negative, or neutral manner to it?
Channel Analysis: From Facebook to Blogs, which channels are most of the mentions coming from?
Share of Voice By News Sources: Which media publications have shared the most coverage?
The Conversation Over Time chart displays positive, negative, and neutral conversations over a period of time. Want to find out more about peaks in conversations? Simply right-click on any point and you'll be able to view the actual conversations in the platform.

Competitive Analysis
Ever heard of the saying "Keep your friends close, but your enemies closer"? If you're not currently engaged in competitive analysis, chances are your competitors are already keeping tabs on you. While it's crucial to listen in on what your consumers are saying, it's equally important to keep an eye (and ear) on your competitors' organic conversations.
Social listening can provide brands with competitive insights such as:
Campaign Performance: How well do competitors' campaigns perform compared to your brand?
Brand & Product Sentiment: What do competitors' consumers think of their brand and product?
Social Media Engagement: What kind of social content generates the most engagement for competitors?
Share of Voice: Which competitor has the largest share of voice in the market?
The Share of Voice chart in 20/Twenty is particularly useful when comparing the volume of organic conversations across competitors. In the chart below, it is evident that Shiseido is driving the most conversations.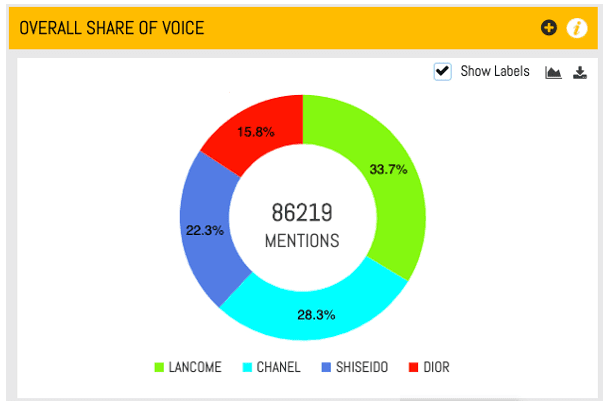 If you have any questions or would like to find out more about how Public Relations and Corporate Communications teams can leverage social listening, reach out to us at insights@www.radarr.com and we'll be in touch!