Creating a repository for your inspirations, your likes, your imaginations- an idea that inspired many is now a technology in the form of Pinterest. Surrounded by market leaders like Facebook and Twitter, Pinterest has created a niche for itself as the latest paradigm shift.
Pinterest is like the visual bulletin board of the web. It helps its users create boards of distinguished categories, marked by capturing images which can be pinned or followed by other users of like interests, on their boards.
Launched in March 2010, Pinterest got listed among the top 10 largest Social Networking sites with over 11 million visitors per week. The site which provides a few million of your favorite things has got many aides to it. Creating a fan following at Pinterest, like Facebook or twitter, needs constant 'pins' at regular intervals. The key is to actively engage your followers with new content and now that can be done without manually pinning every next hour.
Creating a fan following for on your Pinterest accounts made easy? Viraltag is the answer to that one. Earlier known as Pingraphy, Viraltag is a scheduling tool for Pinterest that allows you to schedule, analyse and share your pins on their dashboard.
"Viraltag is a value proposition for the small and medium scale businesses to market their images and products on Pinterest, Tumblr, Fancy, Visual.ly. We have a team of six members, two of us in the USA and four in India. We have a business that aims at driving better traffic towards social media. Our USP is the time that we save for our users. For example, if my user is in the business of fashion accessories, we help by providing insights into details like what accessories are your followers interested in and we guide them to those links thus helping them create further content," said Mr, Sudheer Someshwara, Founder, Viraltag.
The man who caused chaos when he declared the closure of Pingraphy, came back with a big surprise in the form of Viraltag.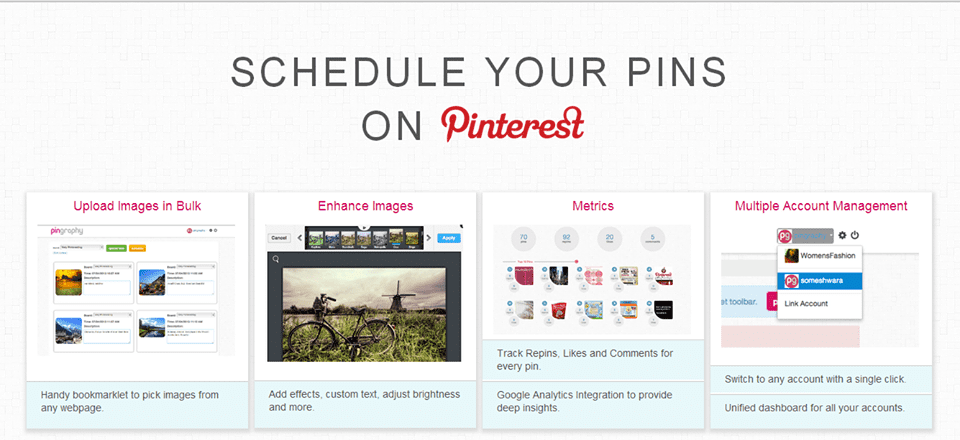 Viraltag- Helps you Schedule, Bulk Update, Track you Pins on your Pinterest Account
Features of the Tool
Bulk Uploading
This option forms one of the USPs of Viraltag. Users can upload images in bulk, if required, all at once in a particular board or different boards. This feature helps you get away with manually selecting and pinning pictures individually.
When a footwear giant or a famous handbag label wants to share their latest intellection, this would mean several photos to be shared with its users. To keep the propulsion bearable, Viraltag allows its users to schedule the their photos to be updated and pinned at regular intervals, sparing their viewers a visual blast of updates at one go or wasting precious hours in manually pinning their pictures on their dashboards.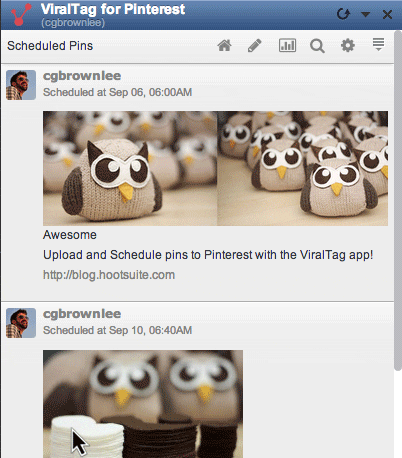 This awesome GIF courtesy – Hootsuite!
Tracking
With scheduling being just one part of it, Viraltag boasts of allowing its users to track their Pinterest accounts visibility, that means, you can analyse the fan following and Repins that you receive. With Pingraphy's incognito disappearance, most of the users of Pinterest were left to struggle with the standard measures of creating pins. However, now with the re-launch of Pingraphy under the appellation VIRALTAG is a sigh of relief to many.
Bookmarklet
Viraltag supports a Viraltag Bookmarklet which can be dragged and dropped on your toolbar. This toolbar can be used while surfing, to directly upload pins from the website you are surfing to your Pinterest account.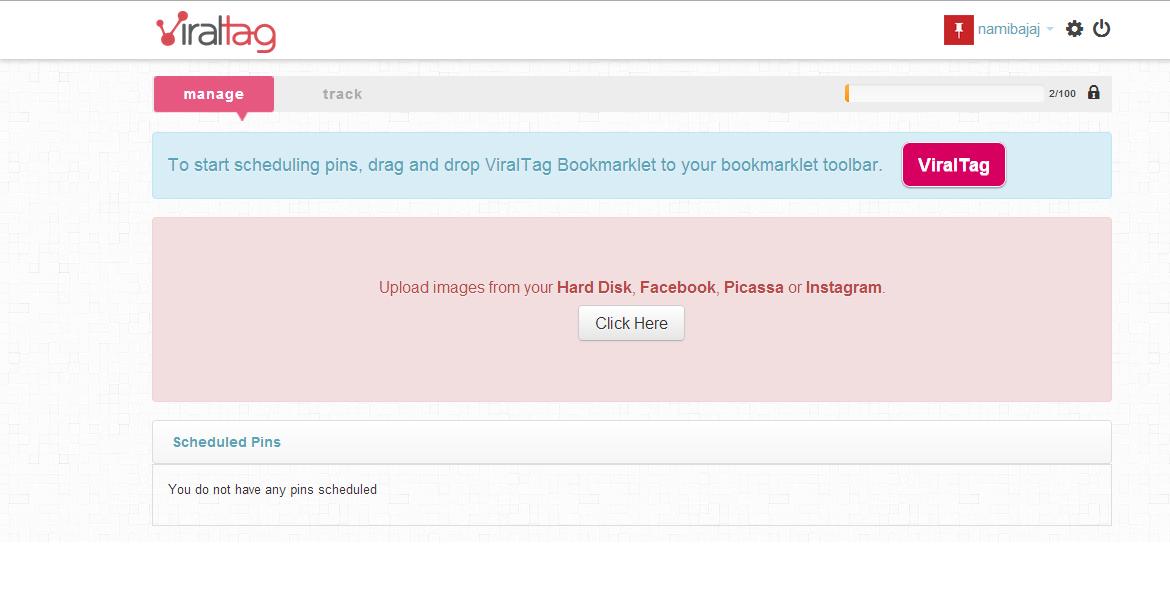 Drag – Drop ! You decide the time and leave the rest to us.
Viraltag has several competitors like Tailwind, Pinalerts, Piquora, Pinsmatic that provide various services aiding Pinterest users. These brands however, focus extensively upon the bigger brands on Pinterest. For example Piquora requires a $2,000 per month subscription fee. When asked about how Viraltag surfaced the market with such competition, Sudheer added, "They are all enterprise focused while we cater to the small and medium scale businesses. We are more like a Facebook or a BuddyMedia, where in, there is a huge market share while we maintain our league towards the small scale enterprises."
Currently, Viraltag offers paid plans at different monthly prices based on features and the volume of usage. There is also an option of a two week free trial before you subscribe. With the amount of time saved and extra sales earned, it is definitely making a stand for itself in the market. There are about 2000 paid accounts that are actively using Viraltag while they get around 3.5 million visits every month. Viraltag's major traction and market share encompasses mainly the USA while they also have a fair share of users in the UK, Australia and Singapore.
Although Pinterest is yet to claim the Indian market, India serves measly 3% of Viraltag's user base. Currently, 40% to 50% of their user base is from small and medium scale businesses while 20% to 30% are individual users like interior designers, fashion designers, food blogger, etc. 10% to 15% of Viraltag users are the big brands like Locoste, Hearst Corp (Cosmopolitan), Estee Lauder, Discovery Channel, Nanette Lepore, 99designs.
What's Next for Viraltag?
In the year 2014, Viraltag plans to encompass some most awaited attributes for its users. Firstly, in March this year, they plan on launching a service called Discover. "For example if a user who is an interior designer plans on updating something, discover would link them to the latest trending images in the interior world and other links on Pinterest, tumblr, flickr, google, etc. that they could utilize and pin or follow on their own social accounts. We also will provide for a search engine where in key words can be used to discover the desired trending images." said Sudheer when speaking with Beta21.
Viraltag's vision and mission statement constitutes helping the small and medium scale businesses drive traffic. Based on this goal, they mainly aim at helping them create an effective market for themselves. Currently Viraltag users can post, make bulk uploads and schedule them, while also tracking there uploads.
But Viraltag now plans to make things further easrier for its users with their latest developments which shall soon be out in the market. In their next release, Viraltag would be providing its users with the facility to link their Viraltag accounts with not just Pinterest, but with other accounts such as Facebook, Tumblr and other social media accounts where in they can make bulk uploads and post their updates in all these accounts simultaneously. "We would be helping them with their content management, going by our saying 'helping you in what to market and when to market it,Sudheer added.
Are you using Viraltag? What are the pros and cons you've noticed in this up and coming social media tool?
Book your Radarr demo today!