What happens when Facebook, Twitter, Google+, Youtube, LinkedIn, Pinterest, Tumbler, Instagram, Flicker and even your blog and RSS feeds – all gets rolled into one? What you get is a social network of social networks. Before you could wish such a platform really existed, someone already thought of creating it for you.
RebelMouse, touted as the social media front page, is one such platform that lets you curate content from all your social media accounts into one page in a single, sleek and smart layout. Many liken it to Pinterest in appearance. I, however, identified it more with Mashable. It, indeed, is more like one\'s own news portal, where one gather news and updates from all sources and offers it in a customized package, just like an online publisher.
It is no surprise then that the founder of this platform hails from a publishing house. That too, of no mean stature but from somewhere as tall as Huffington Post. Paul Berry, before he created RebelMouse, was the CTO of the very publication.
Let's now jump into what's in store in this new play tool. This is how Arianna Huffington's social front page looks like: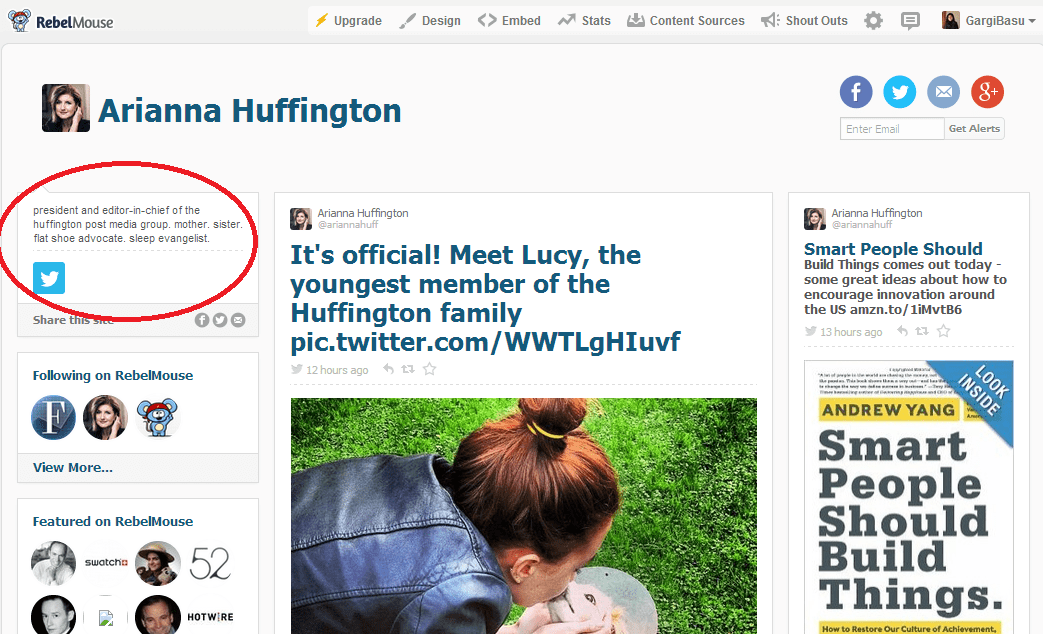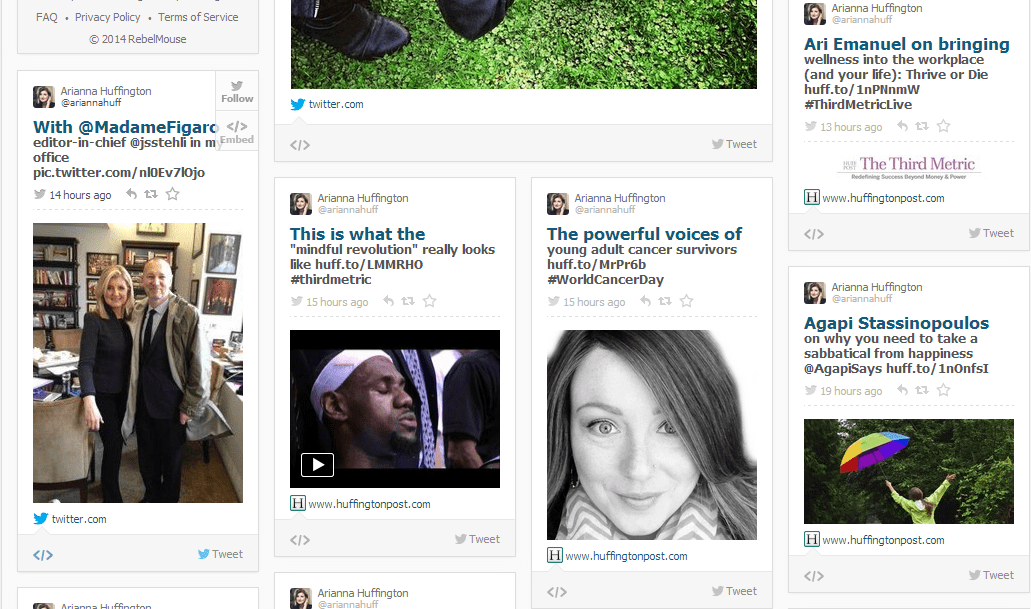 Arianna Huffington's Social Front Page
Arianna chose to have only her twitter posts shown on the platform and has provided a short description of herself on her page.
The posts on the pages can be dragged and dropped in order to display them as you like. You have the option of choosing which post to highlight on your page or freeze a post on the wall for as long as you want. You can even post content to all your social media accounts you have chosen to add, directly from this platform. You can also share the page on you SM accounts.
Here's another example of World Wrestling Entertainment (WWE) page, which looks entirely different: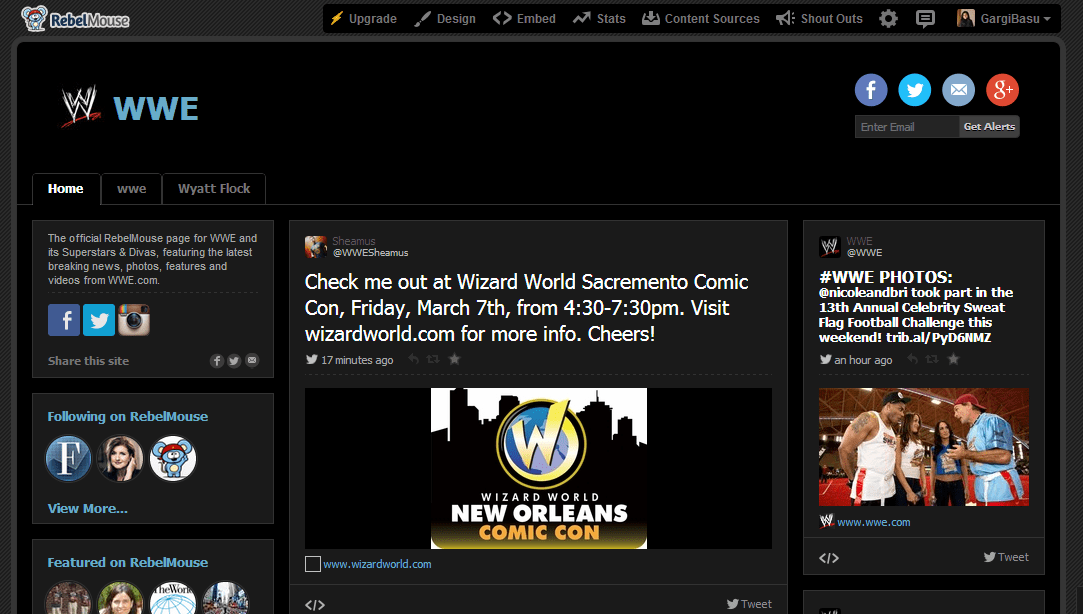 WWE Page Theme
WWE has included Facebook, Twitter and Instagram to its content sources. The platform allows you to choose different themes and layouts to suit your preferences.
You can decorate your page as you fancy with a header image and a logo or avatar. Here comes my moment in the sun ;)..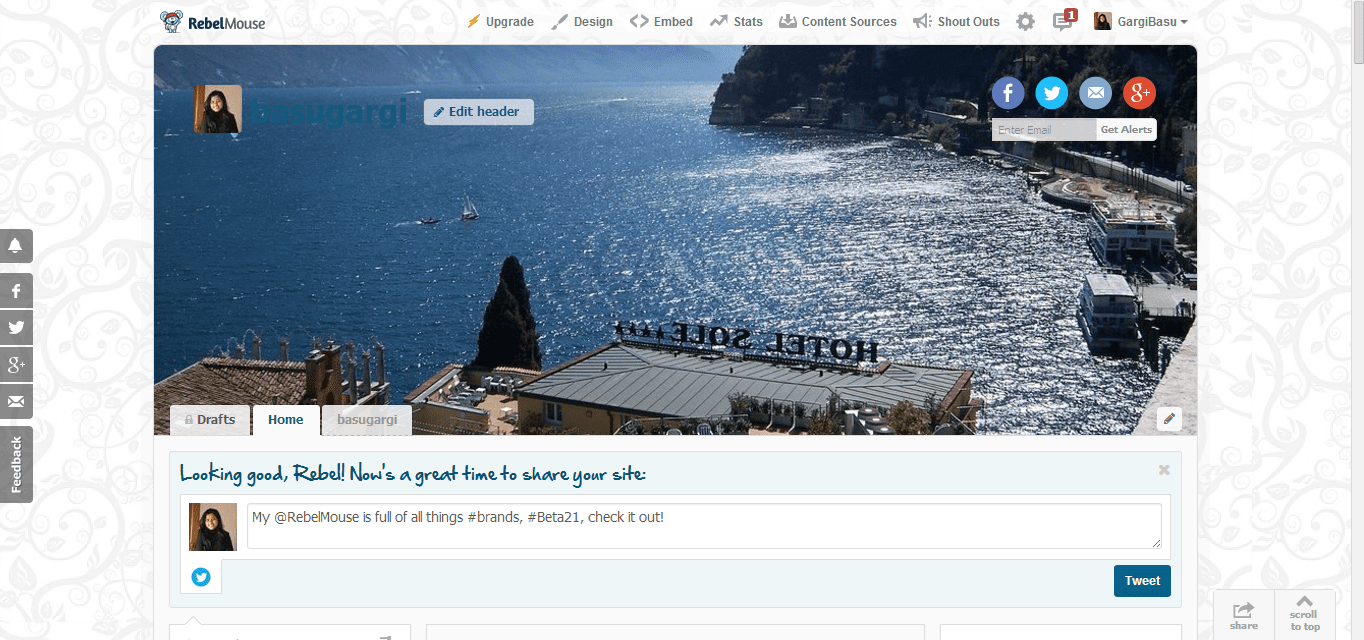 What can I say!
Embedding your RebelMouse page to your site or blog page is also allowed. In fact, you have the choice of picking different embed themes to suit the background of the sites where you choose to embed. There are many other customizable options for embedding as shown below:
Embed Options
You can add upto 25 pages of your choice on the RebelMouse platform. The content that you want to display on each of these pages can be entirely of your choosing, with enormous flexibility on content sources, filtering, and languages and so on.
You can filter posts based on #hashtags, twitter @handles, twitter lists and timelines and so on. You can have posts with media or without media, with link or without link, with a certain keyword or without it. The choices offered are plenty. The best part it is that all these gathered content doesn't have to be published instantly. You can opt to direct them to your draft page first and then pick only the ones you want to go public with.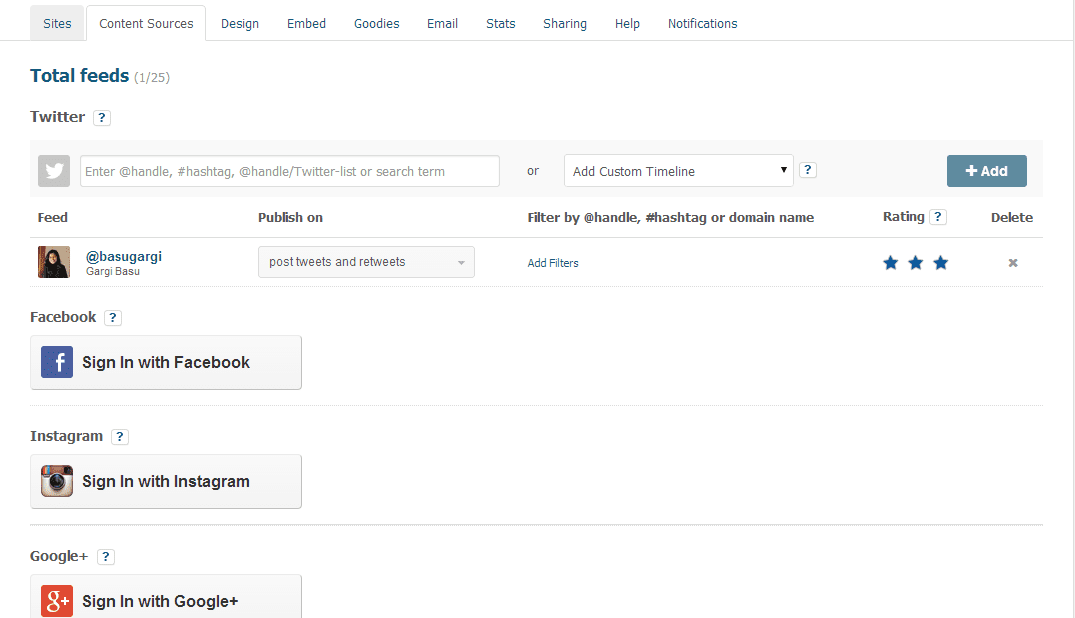 Filtering your content to choose what appears
Coming to one of the most important areas of discussion, without which no modern day marketer would lend you an ear even if you bring rocket science to social media. Yes, it is the currency called metrics. Here's all the stats this platform provides for each of your posts in a nice tabled format.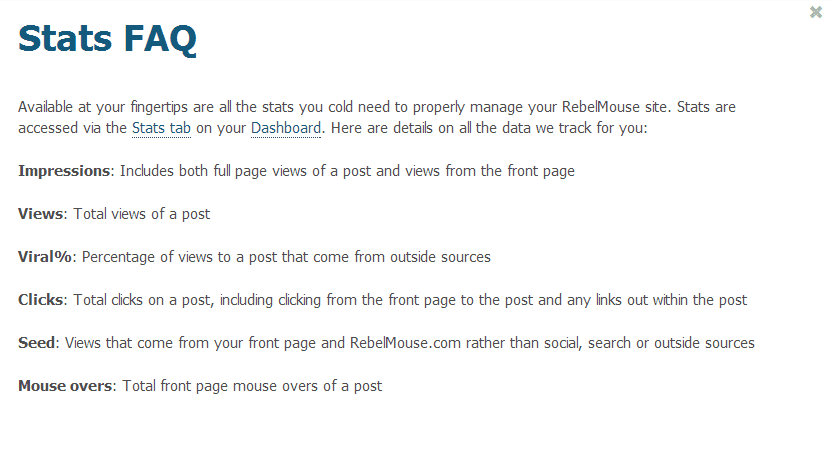 Stat Parameters
It also tells you how many views you received for your social front page when it exceeds more than 15 in number. I beg apology for not being able to reproduce the table here, as I personally suck at twitter. Yes, I finally had to make the confession.
You can directly post a blog from the platform, add media to your existing posts, embed individual posts, edit them, remove them or even share them on some other SM channel. If you are browsing the web and find something interesting, you can directly post it to the RebelMouse page from your browser through this browser button that you just need to drag and drop from the platform.

Browser Button
Sometimes your post needs that little Midas Touch in the form of an influencer who happen to repost your content and the very action causes it to go viral. RebelMouse orchestrates this process a little by allowing an interesting feature called \'Shout Outs\'. Shout Outs sends a notification to the person or entity or celebrity who is mentioned in the post.
If you intend to use your social front page as a publication then having a RebelMouse url certainly won\'t do. Therefore, the platform lets you have your own custom url. All you need to do is set it up on the platform and anyone can access your page by typing your custom url on their web browsers. Here's an example – www.lererventures.com. What is more, you can send your pages as mailers with mailchimp integration. This and some more features are available only on upgrade. Some, that are still free, may also cost you in the future, such as filtering.
RebelMouse makes your content come alive in a dynamic, navigable and aesthetically designed format. It offers tremendous flexibility and customization of your content, even, allowing improvisations on your historical social media post. It offers a refreshing new look of your social media activities in a one stop destination. How can brands benefit from it? Let's take a dive on that here:
Publishing: Different social media platforms have their own set of audience and unique story telling formats. Brands can take advantage of this platform to publish a wide variety of content spread across their social media properties and more, ensuring no content goes unnoticed by their audience. They can also promote this page back on their social media channels to gain more views. Swatch is surely keeping up with the times by doing so.
Periodic Mailer: While your brand pages may have a swell of followers but not everybody is active all the time. It is possible that you may miss engaging with many of your target audience who were just not present at the right time. Sending a periodic mailer with all your aggregated social content can help you tap into those who missed you on one or more of your channels.
Curating Content: RebelMouse does not limit content aggregation and curation just from your SM channels, it also allows you to share from different sources on the web. With pages on different topics, the platform lets you organize and share useful information with different target groups. Ogilvy Digital is making it click this way. If you are a brand with multiple products that spans across industries, you can take advantage of this platform to tailor content according to your specific audience.
Store Front: It may compete with Pinterest on this account, nonetheless, its visual aspects make it ideal for promoting your products on this platform. The funny part is, you can even use your Pinterest posts to do so here. See how Keep.com is cashing on it with style.
Your Take: Let us hear some of your ideas on how you would use it for your brand.
PS: If dropping names does the trick for you then Matt Cutts, Ashton Kutcher and Mashable – all have lapped it up.