Website: ReadingPack
App Download Link: Google Appstore
About: ReadingPack provides you with a streamlined access to discover, save and share articles of your interest, from anywhere within the web. ReadingPack provides you with a reading list based on your interest that can be shared with friends and followers. Imagine a Pinterest like tool – but made primarily for articles!
Cost of Application: Free!
Lets's say you laid hands upon a really interesting article but don't have the time to read it just then! More so, you would like to share it with a friend and also know what they have been reading. Do all that with ReadingPack – the online reading app – with a social twist!
Released in September 2013, Yuval Shoshan, founder of ReadingPack shares that most of our articles are saved according to titles or images. ReadingPack offers a different form of service.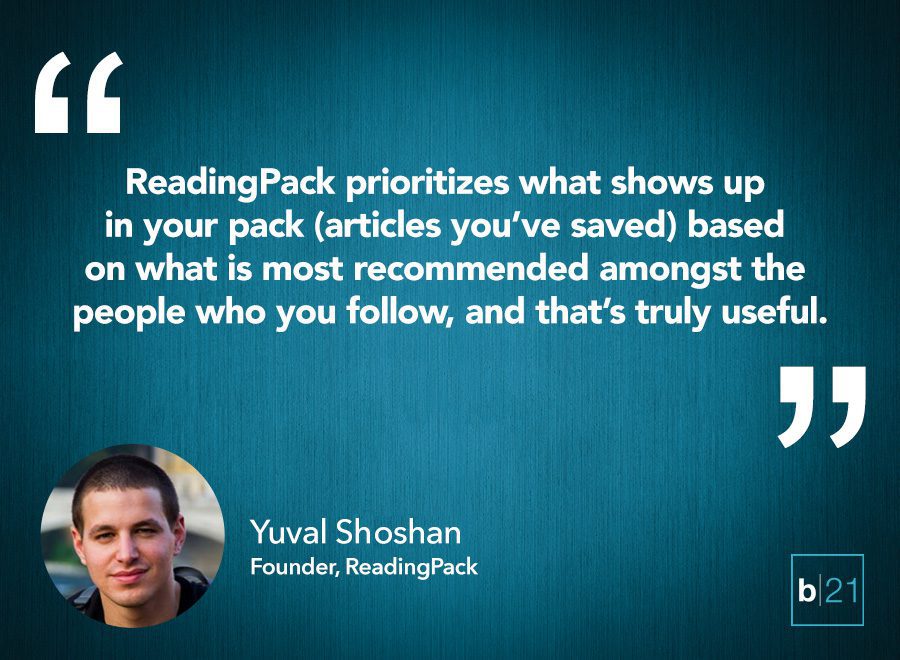 Key Features
1. Discover
With ReadingPack, you can discover new articles of your interest based on what your friends with similar interests recommend!
Recommend and save articles easily from your browser
Read articles that have been recommended by your network
Get live notifications on your activity
Get notifications of articles based on your interests
2. Save For Later
The standard feature of any read-it later app – save articles on the go and have access to the same at leisure. Reading Pack also automatically prioritizes articles that you have saved based upon what has been highly recommended. Thus, you get to read the best, first!

3. Socialize
ReadingPack makes your reading list Public! The benefit? You get to share your reading interest with others and also have access to some of theirs which are within your field of interest. Follow friends and have them follow you back, all the while getting great articles to read!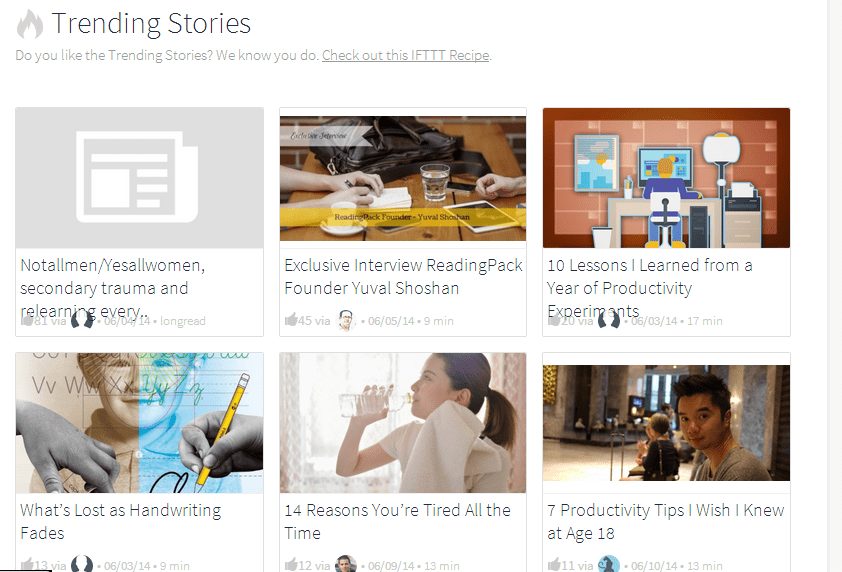 4. Shared Reading List
A user of ReadingPack can create a 'shared reading list' that displays articles recommended by them that can be seen and followed by anyone. So, if you want to know what I\'m reading, just follow my shared reading list!
5. IFTTT Channel
Short for (If This Then That), IFTTT is a service that enables customers to connect channels with personally created or publicly shared profiles called recipes. You can join IFTTT and use one of these 'recipes' to empower your reading list. Simply put, ReadingPack connects you to 110 different channels such as Twitter, Facebook, Tumblr, Buffer and even Pocket!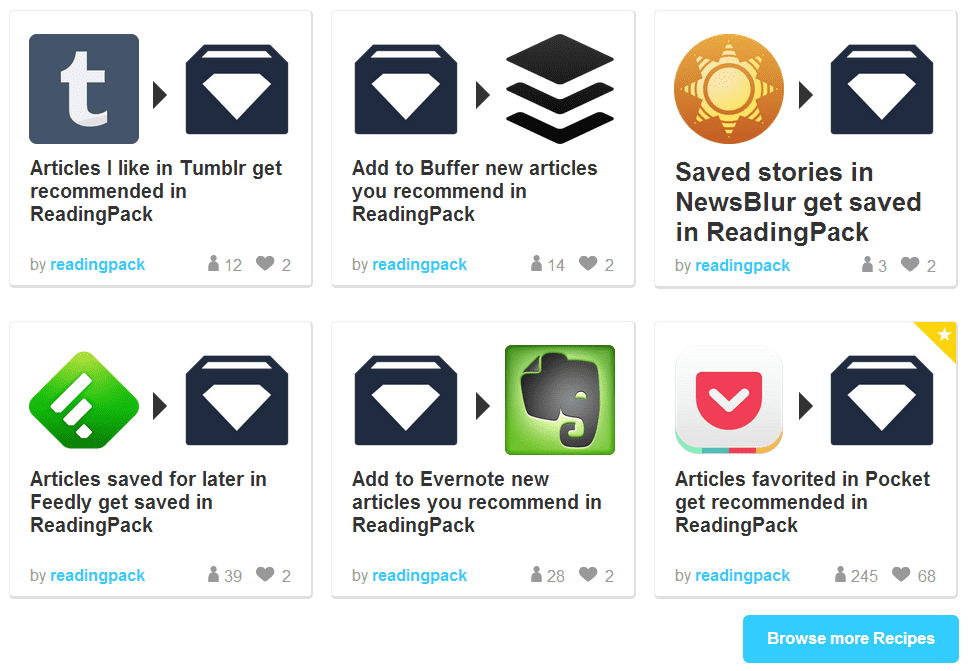 It gives it all out – yet – it works with them all!
User Interface
A fairly simple display of pages recommended by you and also the pages recommended by others makes it a no-nonsense tool. Yuval believes that the ability to prioritize your saved articles by a number of recommendations from people that you follow is one of the specific features of ReadingPack.

App and Desktop Extensions
From browser extensions in Chrome/Firefox/Opera/Safari to Mobile apps in the Google Play store and an upcoming iOS, ReadingPack is available everywhere, ensuring you get to read, save and share articles at your own time.

Bookmarklets and Emails
Granting an easy access to ReadingPack are the bookmarklets and email features that are keyed in.

Simply drag these bookmarklets to your bookmarks bar or send an email to these addresses to recommend articles.
Alternatives
What makes ReadingPack different from its competitors like Pocket, Readability, Feedly, and others is the fact that you can socialize your reading interests. The tool allows you to prioritize your reading interests and shows a list of articles recommended by others you are following and also displays your saved articles in a sequence analyzed by what topics interest you first. Feedly allows you to follow articles while at ReadingPack you can share and recommend them to others!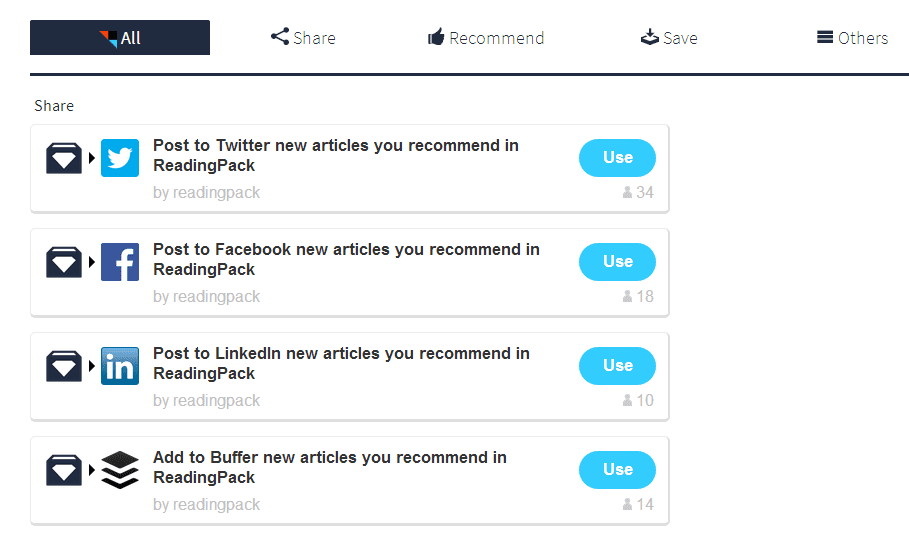 Refreshingly different!
Yuval's small but strong team of three people has created ReadingPack keeping in mind the need to share in today's social era. Granted there are competitors, some who trend differently altogether, ReadingPack has managed to create a tool that picks all that is required for a good reading experience, just spicing it up with some fun by allowing you to talk about it with your friends!
Book your Radarr demo today!