The World Cup has hit soccer fans really hard over the past week with all the flooding on social media, some sharing their rants and congratulatory posts and tweets. Thousands of brands all over the world have been trying to capitalize on this world sporting event and even social media giant Pinterest has joined in.
They launched a social campaign "Places To Watch The World Cup" last month prior to the event and encouraged their community to share worldwide locations of the best places to catch the matches. Be it restaurants, cafes or bars, any location that provided coverage on the World Cup would be featured.
Place Pins

This campaign was developed in line with their new feature that was introduced to Pinterest 6 months ago. Place pins are pins that provide addresses on a global map without having to leave the social platform. It was a very clever strategy to incorporate the new feature with the World Cup, a huge sporting event that would garner immense reach worldwide. In an interview with Forbes, Pinterest's Brand Designer, Ben Chiaramonte shared that the initiative was for football fans who were unable to travel to Brazil to still be able to catch their match somewhere convenient in their city.
Close to 1,000 locations have been received so far from community members and these locations have been categorized according to their country. Currently, the campaign only features 13 boards with different countries for each board.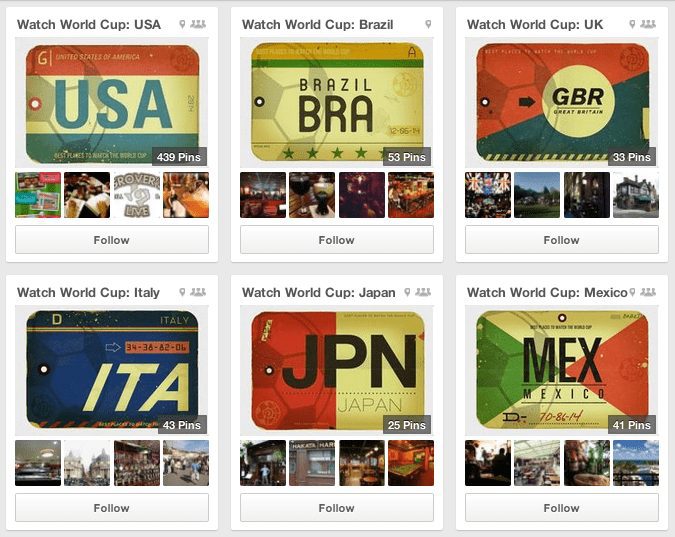 Clicking on each board will lead to a map that has pins, along with a range of places on the left panel where you can catch football matches.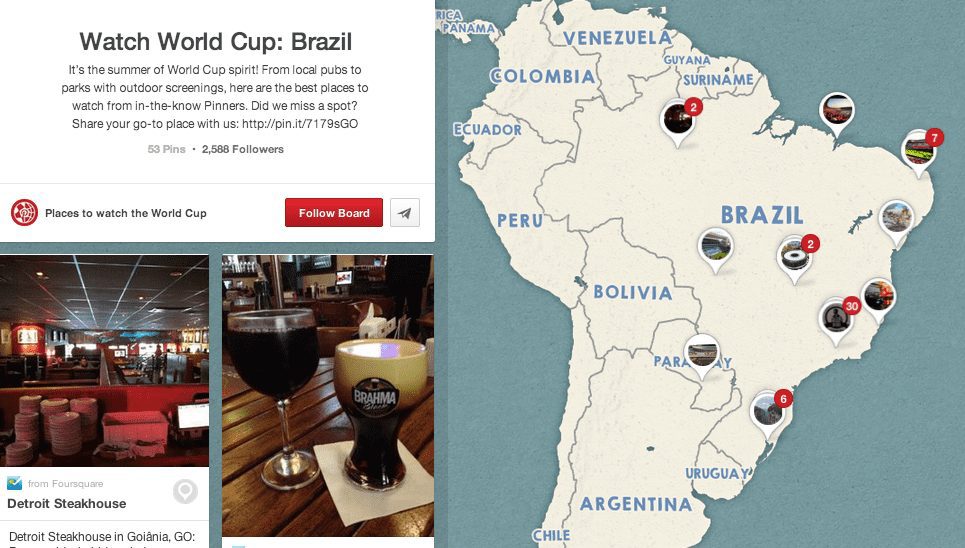 These locations also contain custom descriptions that users have entered, leaving their personal reviews on the ambiance, quality of food and beverages, or how packed the place can get. This way is a way for them to engage with their audience, showing them that the social media platform valued their opinions.

How Pinterest Could Have Improved Their Campaign
While it was an interesting campaign that was able to connect their audiences with the World Cup, Pinterest didn't achieve a huge amount of traction online as they could have. There was a lot of potentials and these are the ways they could have improved:
Featuring More Countries
With World Cup being a world sporting event, having only 13 countries featured on their campaign was not an appealing option for users that were from other countries. European countries were mostly featured and South Korea was the only Asian country that had a board on their page. Over here in Singapore, tons of football fans flock to bars and cafes that broadcast football matches. It would have been a great guide to have for us as well. Having only slightly more than 10 countries, compared to a total of 196 countries in the world is barely covering 10% of audiences.
Increasing Visibility
The visibility of their campaign was not anywhere near as high as it could have been. Being a popular social media platform, the brand could have increased the campaign\'s visibility by sharing them more often on other social media platforms such as Facebook. They could have even targeted football fans using Facebook advertising to increase their reach. They could have also created organic traction by coming with creative means of sharing this campaign.
Overall, "Places To Watch The World Cup" is a great way for football fans to check out various locations to catch the World Cup matches. But for big companies like Pinterest, we would have expected a more intricate and well-thought-out campaign as it had the potential to go completely bonkers online, which would have in turn increased engagement with current users and even get a huge number of new users.
Book your Radarr demo today!