Facebook was the coolest thing ever until the enemy – the army of the dreaded parent folk – permeated it. This was the conclusion of a survey done in the later part of 2013. 'My-only-Facebook-friend-is-my-grandma' jokes started doing their rounds.
Everyone and their cousin began heralding the death of Facebook. Just as they've been doing since, what, 2007? Every year, there will come a headline-crashing report about Facebook's popularity declining, dying, waning… but, just like 'fetch' never happened, Facebook fatigue never happened either. If anything, the social media giant just continued to grow, into the seemingly untameable Goliath it is now. So, is Facebook dying? Nope.
A study of the studies
So, let's take a look at one of the most recent studies, one done by Global Social Media Impact Study, which researched the Facebook use of 16-18 year-olds in eight EU countries. It found that as parents and other oldies flock to Facebook, its younger users are busy sprinting in every other direction. It is a different story altogether that most of the surveys that 'foresee' the site's decline have included a suspiciously small study group (40 students from eight countries. Come on, Facebook is available in more than 100 countries!). The real matter here is that Facebook seems rather unaffected by it all.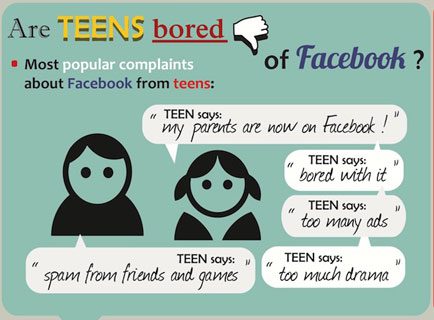 After all, more concrete reports- y'know those with real numbers- show that the brand's share price more than doubled in 2013, ending the year above $54. This reflects investors' belief that Facebook\'s users will not tire of it. It's also prudent to note that while Facebook as a mad obsession might be waning, its mobile business is growing, having claimed more than 500 million daily users! That\'s more than a few big countries' populations combined.
Let's take a look at advertising, next. According to Nielsen research, online advertising is most successful when targeted at users in the 21-34 age group, and that women aged 25 to 34 are the most profitable advertisers, when it comes to mobile devices. Teenagers? Hmm, they're nowhere close. I rest my case.
Okay, for argument's sake, let us assume all these studies are, in fact, highly telling.
Where are the teens going?
MediaBistro reported last October that 61% of teens preferred Tumblr, compared to only 55% of them who voted for Facebook. Networks and apps like WhatsApp, Instagram (owned by Facebook, FYI) and Snapchat are other popular teen hangout spots. Why? Because they offer better privacy. Snapchat (hailed as the star among teenagers), for example, erases images within 10 seconds after they're viewed. Twitter saw a doubling of teen users last year, while Path, which limits one's friends' list to 150 made in-roads into the segment too.

To address the issue of privacy, Facebook changed its policy for its 13-17 year-old demographic, allowing them to post publicly, as well as allow followers. Apparently, this hasn't brought back the (40 odd) users who left the site in 'droves'.
They will get back to Facebook
Even so, teenagers are bound to come back to Facebook once they graduate from high school and their comrades start leaving to other states, countries and continents to pursue their respective vocations. Snapchat will prove useless then, when it comes to keeping track of their million-and-one BFFs' lives and also staying in touch with the home folk. Facebook is the be all and end all of 'staying in touch'. No two ways about that. My tech-challenged father thinks so too. So, no more arguments!
Therefore, before you start worrying unnecessarily abut Facebook's health, take a chill pill. And, if you're teenager who hates Facebook, you must know Facebook gives about half a hoot.
Book your Radarr demo today!