Budweiser; hailed as the "King of Beers", and not without reason.
This mega-brand has been around for well over a century, and has built itself a royal legacy where it has become a household name among beer-drinkers, and a staple draft in just about any bar or pub you may happen upon.
Marketers around the world can take a page from Budweiser's book, as they reached their current level of popularity through expert marketing tactics over the years.
Sticking with the "regal" theme, Budweiser's latest crowning achievement in marketing is its position as the official beer of the 2014 FIFA World Cup in Brazil. As part of their promotional campaign in tandem with this event, Budweiser launched a microsite, www.riseasone.com, tailored to football fans around the world.
Today, Beta21 will be taking a critical look at this marketing strategy and providing you with lessons for your own campaign ideas in this microsite review – Budweiser.
User Interface
Right off the bat, upon entering the site, users are asked to confirm their age. This may seem excessive, but it is an important preemptive tactic that must be taken when you're company is marketing a product which comes with an age restriction. Kudos, Budweiser, you get some public relations points.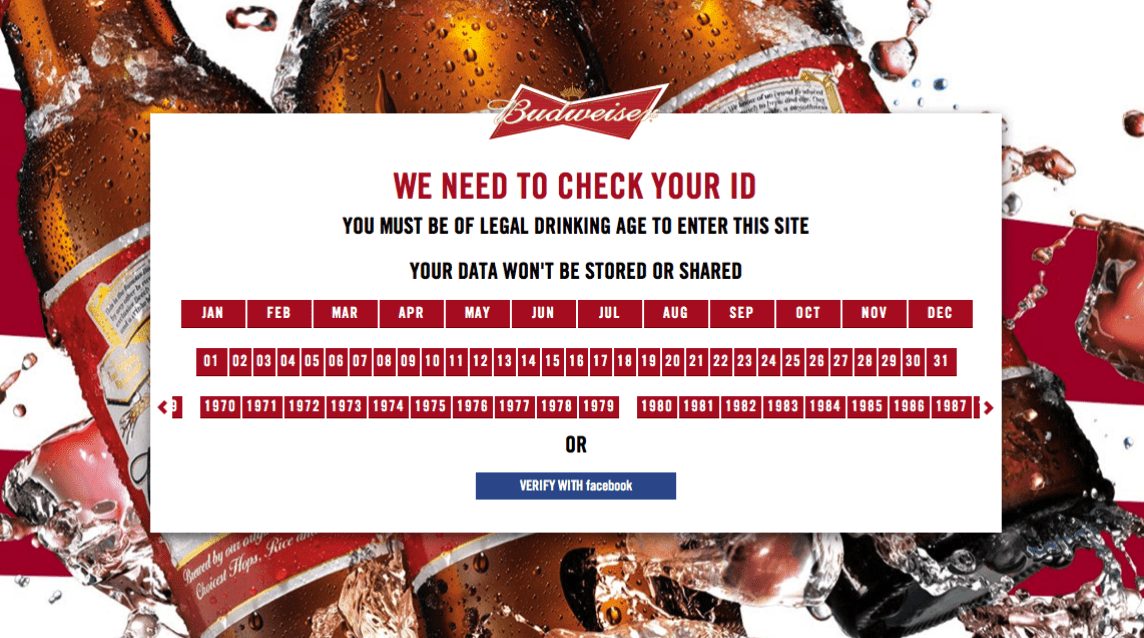 Budweiser ALWAYS checks ID
After you confirm that you are of legal drinking age for your respective country, you are taken to the site's homepage, which is quite possibly the most user-friendly interface one could imagine. The page consists of image 'tiles', similar to those seen on Window's programs and tablets. The user needs to do minimal reading, if any, and simply has to view the images which correspond to the link. And that's it! No tricky site navigation.
Budweiser's Site Layout
If for some reason, you decide that you want to give yourself the extra chore of reading, you can click the menu button at the top right of the page to reveal a side menu providing text links to all of the content More importantly, however, this same menu allows you to select your "experience", (Global, Spanish, UK, or Brazil). This nifty feature offers some extra content that is pertinent to whichever region you select.
(menu pic)
Content
Whether you are a football fan, Budweiser patron, or both, there is definitely some cool content on this site. Sure, there are some promotions directly related to Bud, such as their limited-edition golden bottles, but what is really key here is that they have tons of content pertaining to the World Cup. The site offers videos about the history of football and modern-day mini-documentaries about football serving as a global force for good.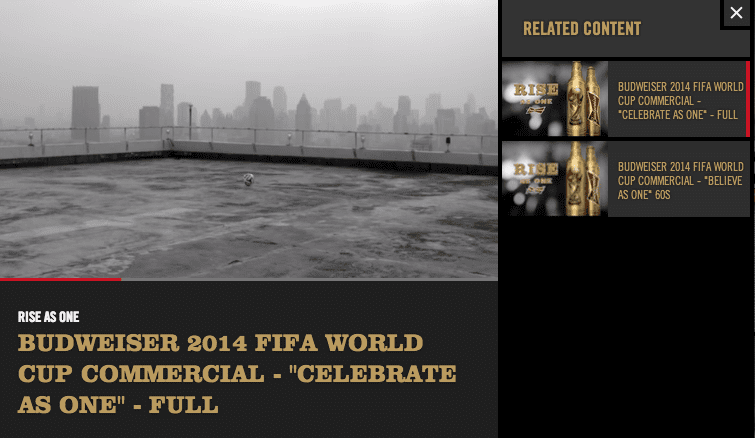 Beyond the video content, the site also features interactive content, such as the "Paint the World" app, where users can virtually paint their faces with their team's colors. Interactive content like this is great for user engagement.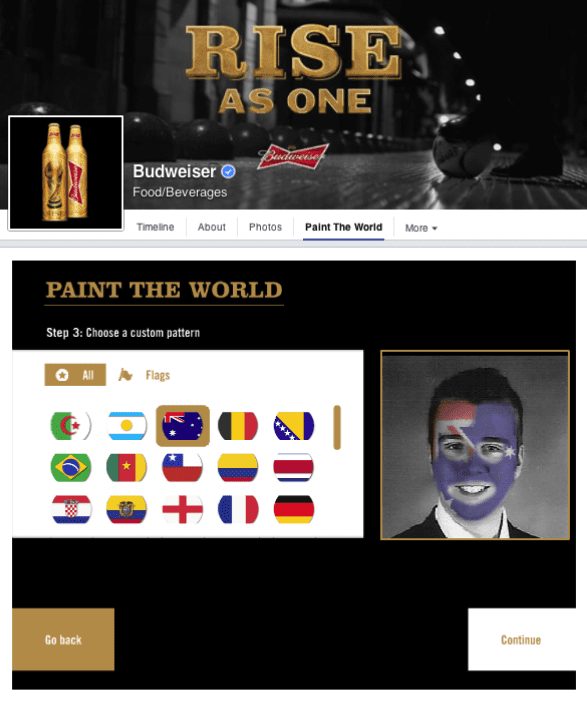 Fun with the Paint the World App
As an online marketer, it is important to remember not to simply 'spam' your audience with ads for your product. Providing content that isn't directly related to what you are selling is an unbelievably effective tool. Not only will you not be annoying your current audience, but your content can attract customers who may have otherwise not been familiar with your brand.
Unfortunately, despite all the great content on the site, we did find one issue. About half of the site's content was simply posts that were recycled directly from Budweiser's Facebook page. Without the addition of the Facebook posts, the site would only have about 6 pieces of content to engage fans.
Overall Impression
We had high expectations for Budweiser's micro-site, given their track record of being a marketing mogul–and they certainly delivered. We found ourselves spending more time than we anticipated watching the World Cup videos and playing around with the football team virtual face painter app. The recycled Facebook content was a bit of a let down, but not enough to detract from the site's overall effectiveness as an online marketing tool. This is an excellent tool that provides football fans and Budweiser fans a unique experience in celebration of a beautiful game. Beta21 gives Budweiser's "Rise as One" site a solid 9 out of 10.
Book your Radarr demo today!