Within two weeks of its launch towards the end of January 2023, the Bondee app was downloaded two million times on Apple's App Store.
Created by Metadream, a Singapore-based tech company, it was called the "new Gen Z app" and quickly spread to other countries especially Southeast Asian neighbors Malaysia, the Philippines, and Thailand. The metaverse app allowed users to create their own avatars, personalized room designs, and interact with their friends from all over the world.
Using the Radarr platform, we took a look at the notable Bondee avatar and room designs that got significant impact on social media.
Looking at the top trending designs, we can see that although it is a metaverse app that encouraged people to go beyond their imagination, people still preferred mirroring familiar places and people in their Bondee profiles. They liked incorporating popular local celebrities, local brands, and even how their living space looks like in real life. Some people also created artwork to reminisce the good old days inspired by the Bondee aesthetics.
Since its launch, the hype for Bondee has slowed down since Gen Z users discovered that there's not much features to enjoy in the app. However, it cannot be denied that Bondee was enjoyed by a lot of people (and leveraged by a lot of brands for marketing) especially from the end of January to February 2023. Do you think there's going to be another "Bondee" to be launched in the coming months?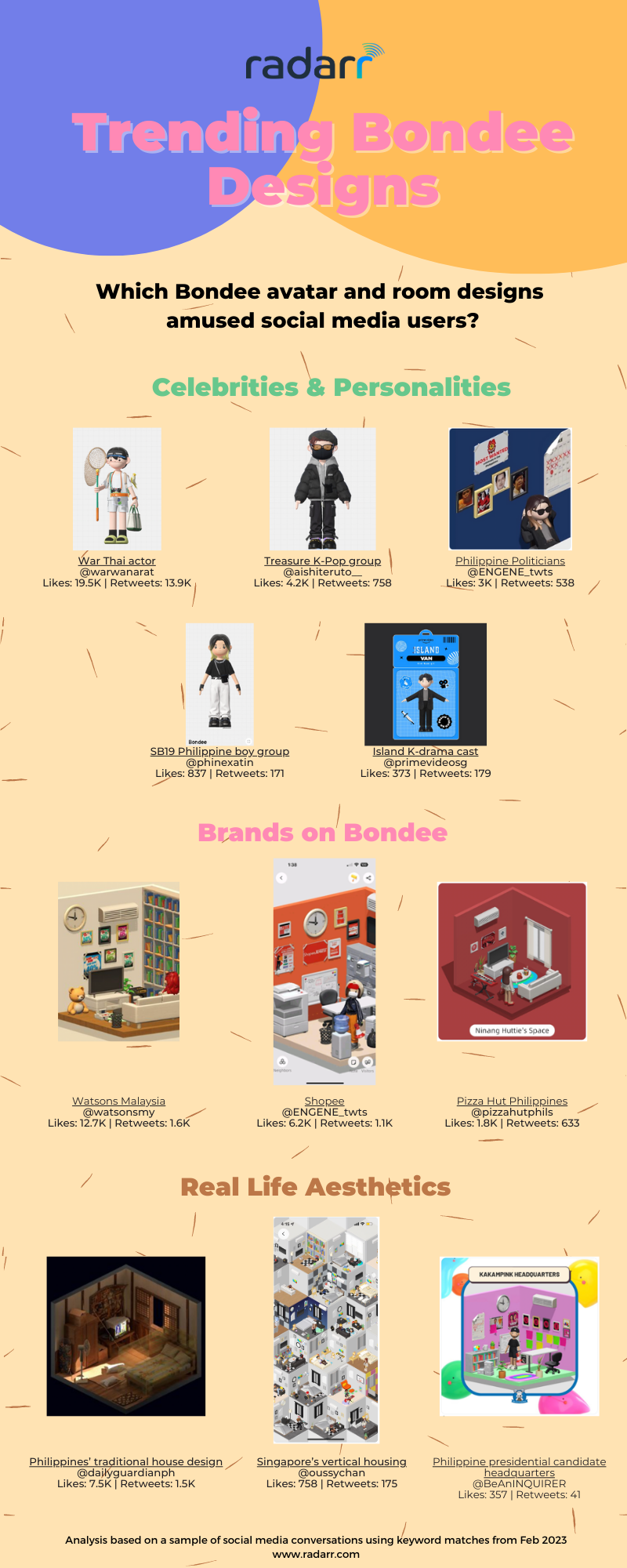 About the author
Kei, is an older millenial who enjoys playing simulation games such as Harvest Moon and Animal Crossing: New Horizons. She downloaded Bondee herself and enjoyed hanging out with her friends for a few days there but she hopes a new app comes out soon that will have more activities to enjoy!